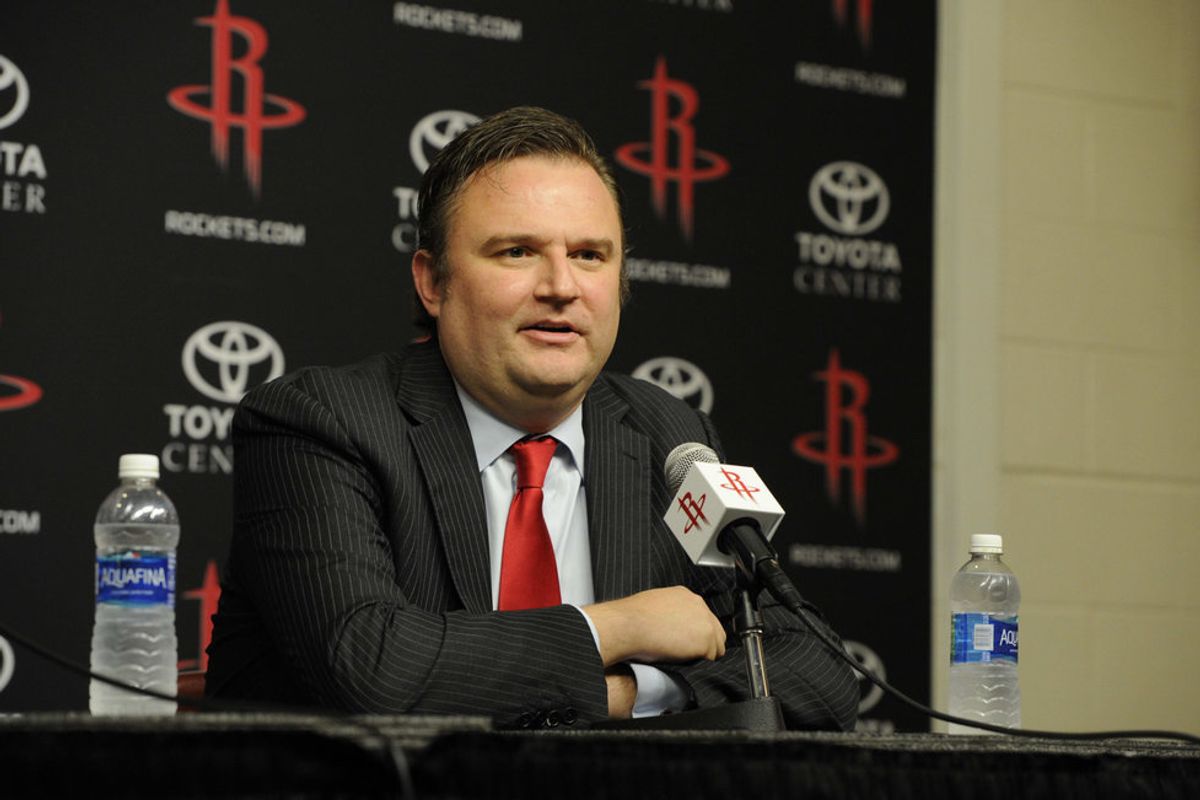 When the NBA season ended with the Toronto Raptors beating the Golden State Warriors, many saw it as an opportunity. The Warriors were hobbled by injuries to stars Klay Thompson and Kevin Durant, both of which were set to become unrestricted free agents. With Durant out for the following season and Thompson set to miss a good chink, it was like the scene from Rocky IV when Drago was cut. The machine was made human and looked vulnerable.
Enter Rockets GM Daryl Morey. He saw this as the opening he was looking for to finally take down the bully of the league. With rumors swirling of a Chris Paul/James Harden beef, Morey sought to improve the roster by any means necessary. More rumors circulated about who was/wasn't on the trade block when it was noted that the team was going after Jimmy Butler via sign and trade. Turns out, this was another swing and miss for Morey and the Rockets as Butler was dealt to the Miami Heat.
This was yet another big time talent that Morey failed to bring to Houston. Although his tenure has been an overall success, it has failed to yield an NBA title. That is the true and ultimate goal of anyone involved in pro sports who actually gives a damn. After watching Morey shoot his shot and consistently fall short, it got me to thinking: what does this remind me of?

The marriage proposal rejection guy
This has to be one of the worst feelings of rejection. Here you are poised to pop the question to the woman you want to spend the rest of your life with. You've bought the ring, planned everything about the evening out, and get down on one knee. You're the center of attention wherever you are. But when she says no, your world is crushed! You have to go back to the drawing board because there's no way you can continue a relationship with someone who feels that much differently from you. Some people never recover from this. Morey has been fortunate to recover, but he's damaged goods.
Woman left at the altar
It's finally here! it's your day! You have the ring, the dress, the venue, your bridesmaids, the cake, everything is all catered to you. That is until he fails to show up. You thought your fairy tale life was set to begin. However, he realized that hitching himself to you for eternity would be a mistake because he's not ready to settle down and have kids with someone who has as many commitment issues as you do. Morey sees players as assets instead of individuals. Until he can start to see the more human aspect of trades, he'll continue to get left at the altar.
Astroworld
For years you were the place to be when it came to spring/summer/fall fun in Houston. You could stay open for months on end because of the weather. Generations grew up knowing you were the go-to move when trying to pick up on or impress the opposite sex. But after years of the same ole same old, you failed to make the necessary changes and grew old and tired. Eventually, you had to close your doors and were forced to become a staging area for Rodeo temporary buildings until someone decides how and when you'll be developed. Morey is in danger of becoming old and stale if he can't give this team the proper facelift and wins a title.
Off brand products
Here you are on the shelf or stockroom of a random store or warehouse. You look very similar to the real Nike shoes, General Mills cereal, an Avenger action figure, or a Louis Vuitton purse. In reality, you're just a knock-off Air Max shoe, a box of Frosty Corn Flakes, a Revenger, or a pure imposter LV purse. You look really good in most cases. Sometimes, you can even pass for the real thing when unpackaged and compared to the real deal. But ultimately, you're notwhat most people look for when they want top of the line products. Morey has been the Great Value brand instead of the General Mills brand far too often. He's been the knock-off that people settle for because they've spent their money elsewhere, but they want to "look" like they can afford things they really can't. In other words: he hasn't had the money to sign or trade for top flight talent because he doesn't have the cap space or assets to make moves like that happen very often.
I'm so frustrated by the debacle that this team is in as far as roster flexibility is concerned. It'll take several years before the Rockets are in the position or draft or sign high end talent. Les Alexander told Morey he's not down for tanking and wanted to keep the team competitive while needing to rebuild. Tilman Fertitta bought the team when it was good enough to make the playoffs and already committed to Harden as a super max player. Morey has been known to wiggle his way in and out of sticky situations. He can recover from proposal rejection or being left at the altar. But can he avoid becoming an outdated relic or a knock-off version of the real deal? That is what Rockets fans want to see. For those who have stuck with this team so long and so deeply, I hope that Morey can turn this thing around enough to the point where he can be recognized as a viable brand and not a knock-off. this fanbase deserves as much. Will they get it from Morey is the ultimate question.
"Another one!"- DJ Khaled
That's the first thing that came to mind when I heard the news of Tytus Howard being shut down for the season because of a knee injury. They've had more injuries on the offensive line this season than Nick Cannon has Father's Day cards. Almost every member of the offensive line has spent time on the injury report. Howard went down in the same game in which Juice Scruggs was finally on the active roster. He missed the first 10 games due to a hamstring injury. The irony of next man up has never been so in your face.

The other thing that came to mind was the soap opera As the World Turns.
Howard had just signed an extension this offseason. So did Laremy Tunsil and Shaq Mason. They drafted Juice Scruggs, and signed a few guys too. Those moves, along with other holdovers, were expected to fill out the depth chart. Then a rash of injuries struck. At one point, only one of the original five guys expected to start was playing! In fact, they beat the Steelers 30-6 with that backup offensive line!

One can't have the expectation of backups to perform as good as the starters. They're professionals and are on an NFL roster for a reason. However, the talent gap is evident. One thing coaching, technique, and preparation can't cover is lack of ability or talent. The Texans have done a good job of navigating the injury minefield this season. While the Howard injury will hurt, I have faith in the guys there still.
As of this writing, the Texans are in the eighth spot in the AFC playoff picture. The Steelers, Browns, and Colts are all in front of them at the fifth through seventh spots respectfully. They've beaten the Steelers already. They play the Browns on Christmas Eve and their starting quarterback is out for the season. The Colts are relying on the ghost of Gardner Minshew to steer their ship into the last game of the season vs. the Texans with a possible playoff trip on the line. The Broncos and Bills are the two teams immediately behind them. They play the Broncos this weekend. Even though they're on a hot streak, this is the same team that got 70 put on them by the Dolphins. The Bills are the old veteran boxer who still has some skill, but is now a stepping stone for up & comers.
To say this team should still make the playoffs would be an understatement in my opinion. I believe in them and what they have going on more than I believe in the teams I listed above. That includes teams around them in the playoff race that aren't on their schedule. The one thing that scares me a little moving forward is the sustainability of this line. When guys get up in age as athletes, it becomes harder to come back from injuries. The injuries also tend to occur more frequently when it's a knee, foot, ankle, shoulder, elbow, or another body part critical to blocking for C.J. Stroud.
I know they just re-signed three of those guys and drafted one they believe can be a starter, but depth and contingency plans are a way of life in the NFL. We see how important depth was this season. Why not plan ahead? Don't be surprised if the Texans spend valuable draft capital on the offensive line. By valuable, I'm talking about first through third or fourth rounders. Those are prime spots to draft quality offensive lineman. Whether day one starters or quality depth, those are the sweet spots. The only guy on the two deep depth chart for this offensive line that wasn't drafted in one of those rounds was George Fant, who was an undrafted rookie free agent. While I highly doubt they spend any significant free agency dollars on the group, I'm not totally ruling it out.
The bottom line is, this team will be okay on the line for the remainder of this season. The only way that doesn't happen, more injuries. Stroud is clearly the franchise guy. Protecting that investment is a top priority. I don't care about a number one receiver, or a stud stable or singular running back if the quarterback won't have time to get them the ball. If the pilot can't fly the plane, you know what happens. So making sure he's happy, healthy, and has a great crew is of the utmost importance.
SportsMap Emails
Are Awesome