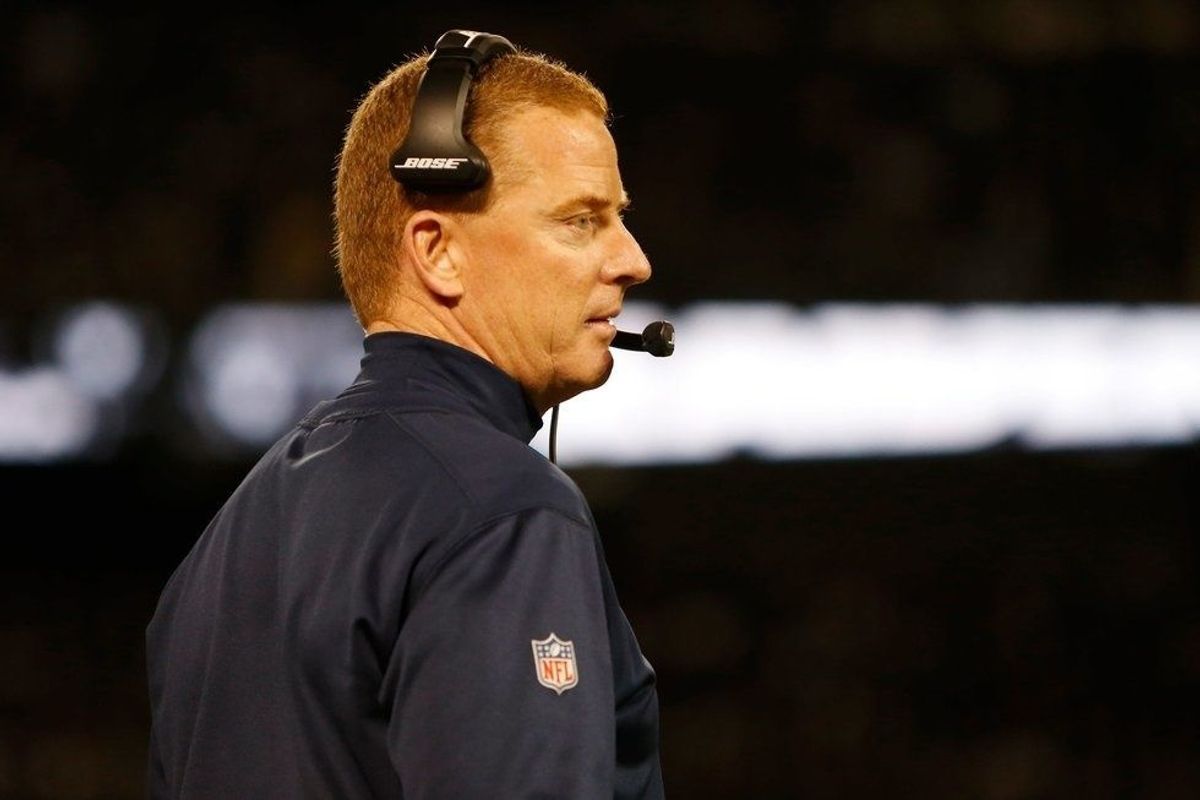 Lachlan Cunningham/Getty Images
The Dallas Cowboys (6-5) were unable to score a touchdown for the first time all year in their 13-9 loss to the New England Patriots (10-1).
Recap
The Cowboys' No. 1 offense was shut down this past Sunday by New England's top ranked defense. Dallas was unable to cross the goal line and their best offensive players were kept in check. The Cowboys gave the ball to the Patriots twice (Interception and a blocked punt) deep in their own territory that led to 10 point deficit early in the 2nd quarter.
Quarterback Dak Prescott was 19/33 for 212 yards, 1 interception, and NO touchdowns. He was forced into having his worst performance of the year so far. Prescott was unable to connect with super star Amari Cooper who had zero catches.Receivers Michael Gallup and Randall Cobb both led the team with 4 catches each.
Pro Bowl running back Ezekiel Elliott had 21 carries for 86 yards and 4 catches for 40 yards. He was unable to make any big plays as the Cowboy offense went 2-13 on third down. With the offense unable to move Zeke was unable to carry his team to a much needed win.
Dallas falls to (6-5) but luckily they stay in first place atop the NFC East because their division rival Philadelphia Eagles (5-6) also lost.
3 Things to Watch For
1.Ezekiel Elliott (Running Back): Zeke was contained this past week, but I would look for him to have a break out game this week.He will be going against another top 3 defense but the Buffalo Bills are average against the run and strong against the pass.
2.Randall Cobb (Wide Receiver): Led the team this past week in receiving and should have another opportunity to do it again with Bills lock down cornerback Tre'Davious White shadowing Amari Cooper or Michael Gallup.
3.Jason Garrett (Head Coach): Finally looks to be on the "Hot Seat" according to owner Jerry Jones.Garrett had some very questionable play calls last week and was once again out coached. Let's see if he can figure something things out and put his best athletes in position to make big plays.
Coming Up
The Dallas Cowboys (6-5) will be at home going up against the Buffalo Bills (8-3) on Thanksgiving Day in Arlington, Texas at AT&T Stadium. Kickoff is set for Thursday at 3:30 pm Central time. The Cowboys are up against a team with a winning record and so far this year, that looks like a loss for them. Hopefully, Zeke will be able to carry the team to a win with a 20+ touch game.I can see it going either way and at least it will be a very good game.
If you have any fantasy players, the only must start players are:
Cowboys: Ezekiel Elliott (RB), Amari Cooper (WR), Dak Prescott (QB), Michael Gallup (WR), Randall Cobb (WR)
Bills: Josh Allen (QB), John Brown (WR), Devin Singletary (RB)
For you gamblers out there, the Cowboys are currently - 6.5 and the over/under is 45. After last week, there is no way I can lay 6.5 points. I would lean on Buffalo but I think the under is the play here.
When Bryce Young and CJ Stroud were drafted with the first two picks of the NFL Draft, we knew they would be compared to one another for years to come.
And here we are just 11 games into the season and one quarterback has already seen his head coach fired. Panthers owner David Tepper spoke to the media on Wednesday and discussed his decision to fire Frank Reich, and also set the record straight on how they arrived at the decision to draft Young.
In so many words, Tepper basically blamed the Texans for how the top of the draft played out. He mentioned Stroud by name and said the Panthers were ready to draft him at No. 2 overall until the Texans backed out of the three-team trade with the Bears.
Tepper made a point of saying everyone in their building had Bryce Young as the top player on their draft board, despite rumors about Frank Reich preferring Stroud.
CJ Stroud and the Texans have been so much better than Bryce Young and the Panthers that Tepper clearly felt it was necessary to defend himself, and the decisions he's made for the organization.
In the end, the person that gets the worst end of the deal is Bryce Young. Coaching changes can be very difficult on young quarterbacks. And it looks like he'll have to learn a new offense in his second year when the Panthers hire a new coaching staff.
How fortunate we are as Texans fans to have DeMeco Ryans and CJ Stroud leading the team moving forward.
With all of this in mind, is there a reason Texans fans haven't fully bought in to the new-look Texans? JJ Watt was a guest on The Pat McAfee Show this week and was asked about the team's inability to fill the stadium on Sundays.
As a former player for the Colts, McAfee always thought Houston had the loudest and best fans in the NFL. And while the Texans are 9th in attendance this year according to ESPN, even CJ Stroud has asked for the fans to fill the stadium.
So there is something to it. You can see the empty seats in photos. So why aren't the Texans packing NRG with a shiny new franchise QB?
We believe the recent history of the team is why fans are slowly coming back. McAfee wasn't here for:
Bill O'Brien cussing at fans during games
Trading DeAndre Hopkins away for next to nothing
The Jack Easterby disaster
Deshaun Watson allegedly blaming ownership for why he wanted out
The Deshaun Watson scandal
Firing back-to-back coaches after one season, and the list goes on.
Don't miss the video above for the full conversation!
If you enjoy the videos, subscribe to SportsMapTexans on YouTube!
SportsMap Emails
Are Awesome