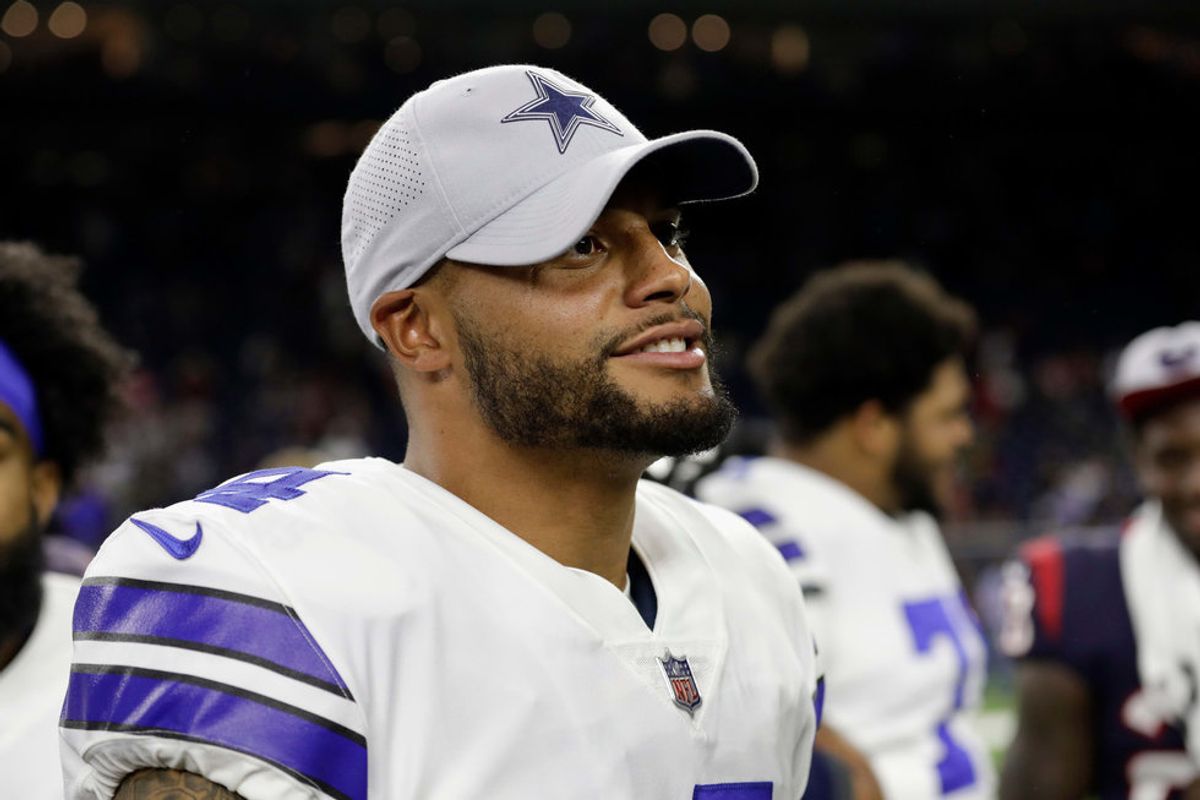 The Dallas Cowboys cruised to an easy victory Sunday afternoon when they defeated the New York Giants 35-17.
The Cowboys quickly gave up an early touchdown but went on to score touchdowns of their own on their next five possessions. Quarterback Dak Prescott was unstoppable. He finished the game 25/32 for 405 passing yards, 4 touchdowns, and ZERO turnovers. Prescott posted a perfect 158.3 Quarterback Rating while connecting with seven different receivers. A few more games like this and Owner Jerry Jones will gladly be opening up his check book when they come to terms on a new contract.
With the Cowboys having their way through the air on offense, Superstar Ezekiel Elliott only carried the ball 13 times for 53 yards and a touchdown. With it being Zeke's first game back from his holdout, the light workload seemed to be exactly what was needed.
Receivers Michael Gallup and Amari Cooper appear to be in sync with Prescott as they both posted 100+ yard-receiving days. Second year man Gallup had 7 catches for 158 yards as Cooper caught 6 for 106yards.With these two outstanding playmakers on the field, opposing defenses have to worry about a lot more than just Zeke.
The Cowboys have started the season off right with a win over a divisional opponent and look ready for a great season.
Three things to watch
1.Ezekiel Elliott (Running Back): With one game under his belt, it will be interesting to see how much the Cowboys coaching staff will increase his touches.I would expect him to get somewhere around 18.
2.Randall Cobb (Wide Receiver): With the Redskins giving up over 300 yards passing last week, I think Cobb should benefit the most this week when he lines up in the slot.There is high potential for him to make some huge plays down the field; just look at what DeSean Jackson did last week to this defense.
3.Jason Witten (Tight End): Witten scored a touchdown last week in his first game back from retirement, and was targeted six times. Prescott seems to use him as his security blanket, let's see if the future Hall of Famer can keep producing as he fights father time.
Coming Up
Sunday September 15th, the Dallas Cowboys (1-0) will be taking on their division rival Washington Redskins (0-1) at FedEx Field in Landover Maryland.Kickoff is set for 12:00 pm Central time.As for the game, I expect a lot of the same from the Dallas offense.The Redskins were torched through the air last week and I believe Dak and company will be Dak'ting a fool again.Washing ton is going to be without their starting running back Derrius Guice who is out with a knee injury.This should be a good spot to pick up anther easy win.
If you have any fantasy players, the only must start players are:
Cowboys: Ezekiel Elliott (RB), Amari Cooper (WR), Dak Prescott (QB), Michael Gallup (WR)
Redskins: Chris Thompson (RB) maybe, and only in a PPR league
For you gamblers out there, the Cowboys are -4.5 and the over/under is 46.That is a pretty big line because they are on the road but I think the over is a good safe play and the only one I am going to make.
Rockets' Alperen Sengun recently was a guest on Paul George's podcast and spoke about a conversation he had with James Harden.
He said Harden told him he was proud of him. This led George to saying he thinks this means the torch has been passed from Harden to Sengun.
Which made us wonder, is this now Sengun's team? Or is that a little premature and the true leader of the team is head coach Ime Udoka or Fred VanVleet?
Plus, Jalen Green has responded positively from being benched. Is this proof that Ime Udoka has the team taking more accountability and heading in the right direction?
Be sure to watch the video above as we break it all down!
If you enjoy the videos, subscribe on YouTube for our latest content.
Related Articles Around the Web
SportsMap Emails
Are Awesome