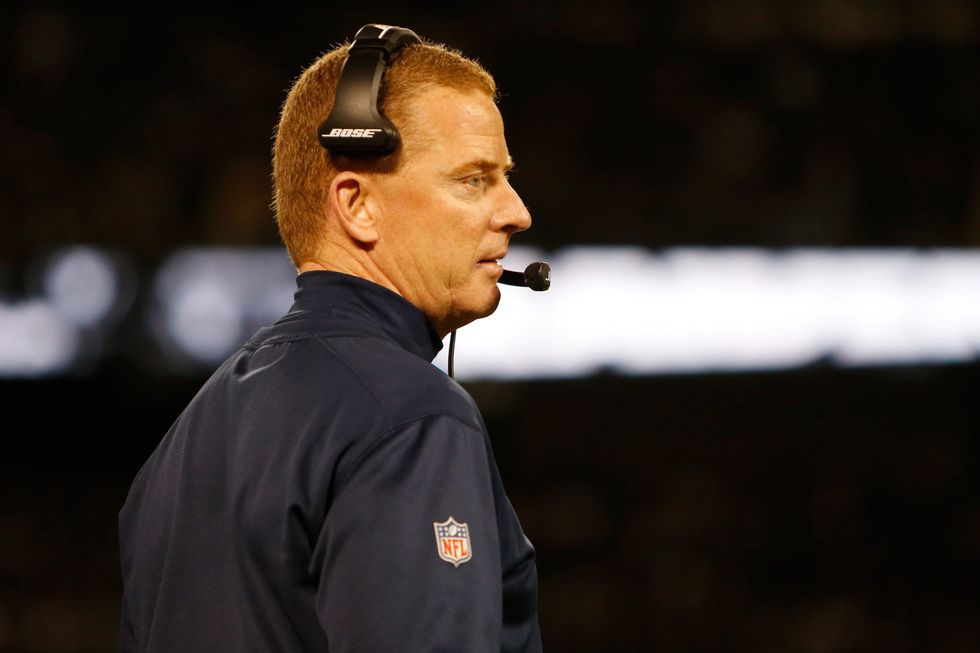 Jason Garrett and the Cowboys need a big second half. Lachlan Cunningham/Getty Images
The Dallas Cowboys enter Week 9 of the 2018 NFL season with a record of 3-4 and in third place of the NFC East.  They are one game behind the Philadelphia Eagles (4-4) and two games behind the first place Washington Redskins (5-2).
The Cowboys three wins have come at home and they have not had a record over .500 all year.  Luckily, they are coming off a bye week and they will be taking on the Tennessee Titans (3-4) at AT&T Stadium in Arlington, TX.  
Currently, Dallas is the No. 1 defense in the league in terms of total yards allowed (2196) and points allowed (123).  Their bye week has come at a good time which has given their best defensive player Sean Lee an extra week to heal his injured hamstring although he did play against Washington.  In his absence rookie linebacker Leighton Vander Esch and second year linebacker Jaylon Smith have really stepped up and combined for 111 tackles and 3 sacks.  If they can keep it going along with Lee, the Cowboys defense could become elite before the end of the year.  
With the Dallas defense playing well and not allowing opposing teams to score much, the Cowboys offense has been what has held them back from winning a few other games.  Head coach Jason Garrett and the front office have made some moves since the Cowboys last played. Garrett made his first ever in season coaching change by firing offensive line coach Paul Alexander.  They have named former Cowboy offensive lineman Marc Colombo as the new OL coach; he was an assistant under Alexander.
The biggest change the Cowboys made was the acquisition of two time Pro Bowl wide receiver Amari Cooper.  Dallas traded their 2019 first-round pick to the Oakland Raiders for Cooper. Many have said that they paid too high a price for him because he hasn't had a good season since 2016.  In reality, it's not that bad of a trade. The Cowboys are the 30th best passing offense in the league and should instantly improve.  Cooper is a big play threat and with him on the field, it helps fill their need for a No. 1 receiver.  He is only 24 years old and has already proven he can play in the NFL. He had a 1,000 yard seasons in both 2015 and 2016.  There are no superstar receivers entering the draft next year and Dallas would probably be picking somewhere between 15 and 20.
Dallas has nine games left to play this season; five of them are currently against teams with losing records.  
Players to Watch
Amari Cooper (wide receiver): Has had a little less than two weeks to get accustomed to the play book and create some chemistry with quarterback Dak Prescott.  His 2018 stats of 22 catches for 280 yards and 1 touchdown already make him the second best receiver on the team.

Ezekiel Elliott (running back): It is going to be interesting to see how defenses adjust now that they can't key on Zeke with Cooper there to stretch the field.  He should have more running lanes to hit.

Sean Lee (linebacker): The defensive leader should be able to help keep pressure on the opposing quarterback Marcus Mariota who is very mobile and can run if he has to.
Coming up
Monday Night Nov. 5 at 7:15 p.m. Central time, the Cowboys will be hosting the Tennessee Titans.  This is a perfect opportunity for Dallas to get back to .500 at 4-4. Tennessee is second to last in total offense and has no offensive superstars.  The Cowboy defense should be able to capitalize on this, which in turn will allow the Dallas offense to control the ball with super star running back  Elliott and Prescott's new weapon Cooper.
If you have any fantasy players, the only must start players are:
Cowboys:  Ezekiel Elliott (RB), Cowboys (Defense).  Only play Cooper if you have to, I am going to wait and see how they use him before starting him.
Titans:  Dion Lewis (RB), only if you have no other option.
For you gamblers out there, the Cowboys are -6.5 and the over/under is 41. That seems like a lot of points to give but if I had to play it, I would go with Cowboys -6.5 and the over of 41.   
Rockets' Alperen Sengun recently was a guest on Paul George's podcast and spoke about a conversation he had with James Harden.
He said Harden told him he was proud of him. This led George to saying he thinks this means the torch has been passed from Harden to Sengun.
Which made us wonder, is this now Sengun's team? Or is that a little premature and the true leader of the team is head coach Ime Udoka or Fred VanVleet?
Plus, Jalen Green has responded positively from being benched. Is this proof that Ime Udoka has the team taking more accountability and heading in the right direction?
Be sure to watch the video above as we break it all down!
If you enjoy the videos, subscribe on YouTube for our latest content.
Related Articles Around the Web
SportsMap Emails
Are Awesome