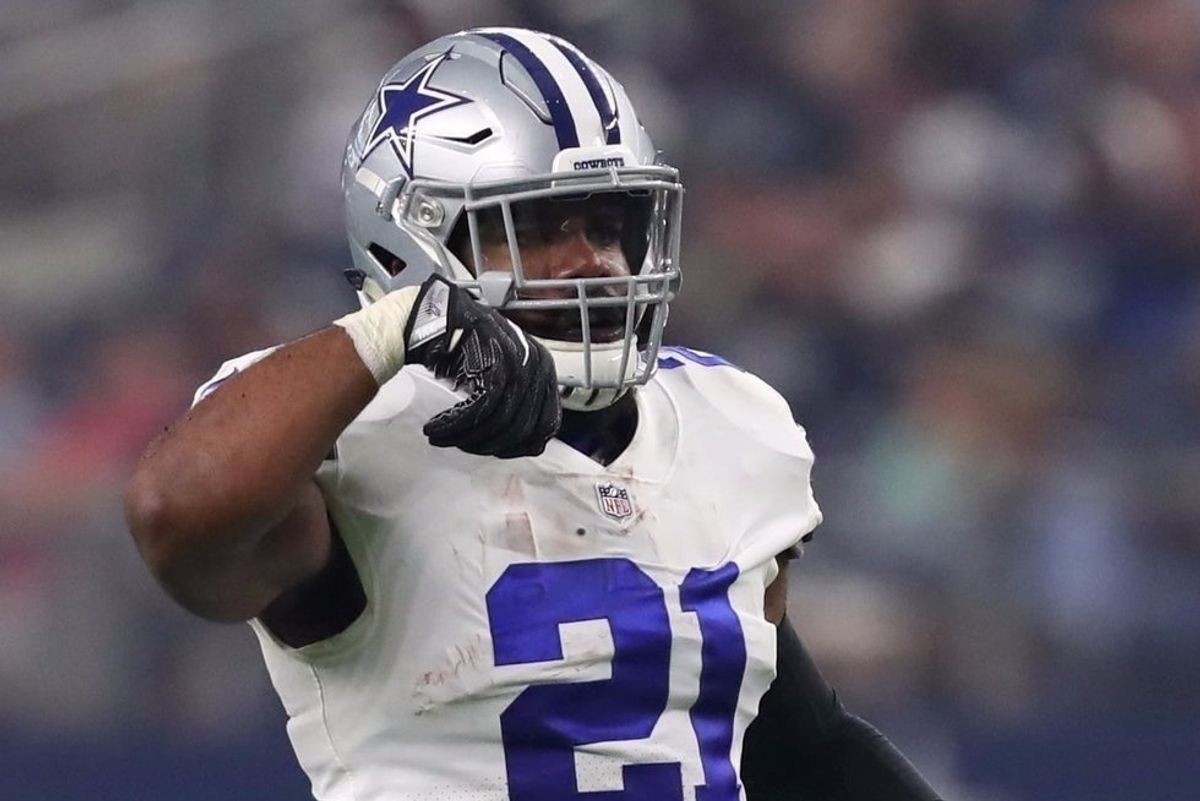 Zeke Elliot keeps rolling. Photo by Tom Pennington/Getty Images
The Dallas Cowboys (11-7) 2018 season came to an end Saturday night with a 30-22 loss to the Los Angeles Rams (14-3).They failed to win another road playoff game and were unable to make it to their first Conference Championship game since 1996.
The 8 point loss does not paint a true picture of the game. Dallas was never in a realistic position to win. The Rams dominated the Cowboys by shutting down Pro Bowl running back Ezekiel Elliott, controlling the clock, and scoring on 5 of their 7 possessions.
Elliott was held to 22 touches total, 20 carries for 47 yards (1 Touchdown), and 2 catches for 19 yards.He was never able to get anything going, mostly because the Rams kept the ball out of his hands by possessing the ball for a little over 36 minutes.
Quarterback Dak Prescott had a good game. He was 20/32 for 266 yards, one touchdown, and NO turnovers.He was responsible for almost all of their offensive production but that was all due to the Rams plan of shutting down Zeke.Dak connected with eight different receivers, most notably was a 29 yard touchdown pass to stud receiver Amari Cooper mid-way through the first quarter.Cooper had 6 catches for 65 yards and a touchdown.Their leading receiver was rookie Michael Gallup who posted his first career 100 yard game with 6 catches for 119 yards. If he continues to improve, the Cooper/Gallup duo could become one of the better tandems in the league.
The defense went into the game knowing they were up against a big challenge in the Rams' offense.They held their own for most of the first half but ran out of gas when the Dallas offense punted three consecutive times on their last three possessions before the half. Team leading tackler Leighton Vander Esch had his worst game of the year with only four total tackles, even though three were solo.The Cowboy defense gave up over 450 yards, 273 of them were on the ground. Superstar running back Todd Gurley and veteran C.J. Anderson both had over 100 yards and scored touchdowns.
Looking back, I believe the Cowboys have a lot of positives to build on and have shown that they are a good team that can become great very quickly. Don't forget that they started off 3-5 and their season could have been over a long time ago. Instead, they rallied and made it all the way to the No. 4 seed in the NFC.They have a solid core of great young talent on both sides of the ball and have to potential to be contenders for years to come.
Possible Improvements
Offense: Elliott, Cooper, and Gallup can be great weapons for Prescott.The offensive line is one of the best in the league and the only position they need to improve on is tight end. The void that was left when Cowboy great Jason Witten retired was never filled and it showed.
Defense: Jaylon Smith and Leighton Vander Esch are two young amazing linebackers that are the foundation to build around. The Cowboy D could use either a great defensive lineman and or a dominant defensive back to complement their stud linebackers. Re-signing defensive end Demarcus Lawrence is a must for the Cowboys to keep their defense in the top 10 of the NFL.
3 Things to watch for in the offseason
1.Dak Prescott (Quarterback): The Cowboys' front office needs to make a decision in whether or not he is their QB of the future. The 2019 season will be the final year of rookie current contract and his next one is looking to be a big one.It will probably be around $20 million per year.
2.Jason Garrett (Head coach): The 2019 season will also be the final year of his current contract. I think they should let him play it out and see if he can produce another great season before signing him to an extension. Dallas is almost always at a disadvantage when it comes to coaching and I believe a change is needed no matter what.
3. Earl Thomas (Free agent safety): There were rumors early this season that Thomas would like to play for the Cowboys before he was injured as a member of the Seahawks. Dallas could use this six-time Pro Bowler on back end of their defense who could be the defensive back they need to help upgrade this side of the ball.
With that being said, there are only 3 games left in the NFL season:
Sunday January 20th
NFC Championship: Rams vs Saints at 2:05 pm Central time
AFC Championship: Patriots vs Chiefs at 5:40 pm Central time
Sunday February 3rd
Super Bowl LIII (53):Kickoff is at 5:30 pm Central time
The Houston Astros and catcher Victor Caratini agreed Tuesday to a $12 million, two-year contract, a person familiar with the deal told The Associated Press.
The person spoke on condition of anonymity because the agreement was subject to a successful physical and had not been announced. Caratini can earn additional performance bonuses.
The 30-year-old Caratini spent the last two seasons with the Milwaukee Brewers and hit .259 with seven homers and 25 RBIs in 62 games this year as a backup to William Contreras.
Caratini is a .236 career hitter with 38 homers and 171 RBIs in seven major league seasons with the Chicago Cubs (2017-20), San Diego (2021) and Milwaukee (2022-23).
Yainer Díaz is expected to the Astros' starting catcher next year, and the agreement with Caratini could mean Houston won't re-sign Martín Maldonado. The 37-year-old has been with the Astros since 2019.
"I've been talking to Yainer once a week," new manager Joe Espada said Monday. "We're going to do some things in January leading into spring training to prep him for spring training. I don't want us to get to spring training and start from scratch. So this is going to be starting right now having conversations about our staff, how to attack certain lineups, things that we know that we can help him with, receiving, throwing."
Based on the value of the contract, it looks like the Astros will be going over the CBT. Which means more deals could be coming, in theory.
Astros will definitely be going over the CBT with a $6M AAV for Caratini. Since that's the case, time to get Jordan Hicks https://t.co/AYBgMexACl
— Michael Schwab (@michaelschwab13) December 6, 2023
Here's a look at his ability to frame pitches.
Victor Caratini was ranked 8th in MLB in "Catcher Framing Runs" in 2023.

CFR is a framing stat that converts strikes to runs saved.

Caratini's arm isn't the strongest though. pic.twitter.com/YD7bYespPv
— Michael Schwab (@michaelschwab13) December 6, 2023
SportsMap Emails
Are Awesome