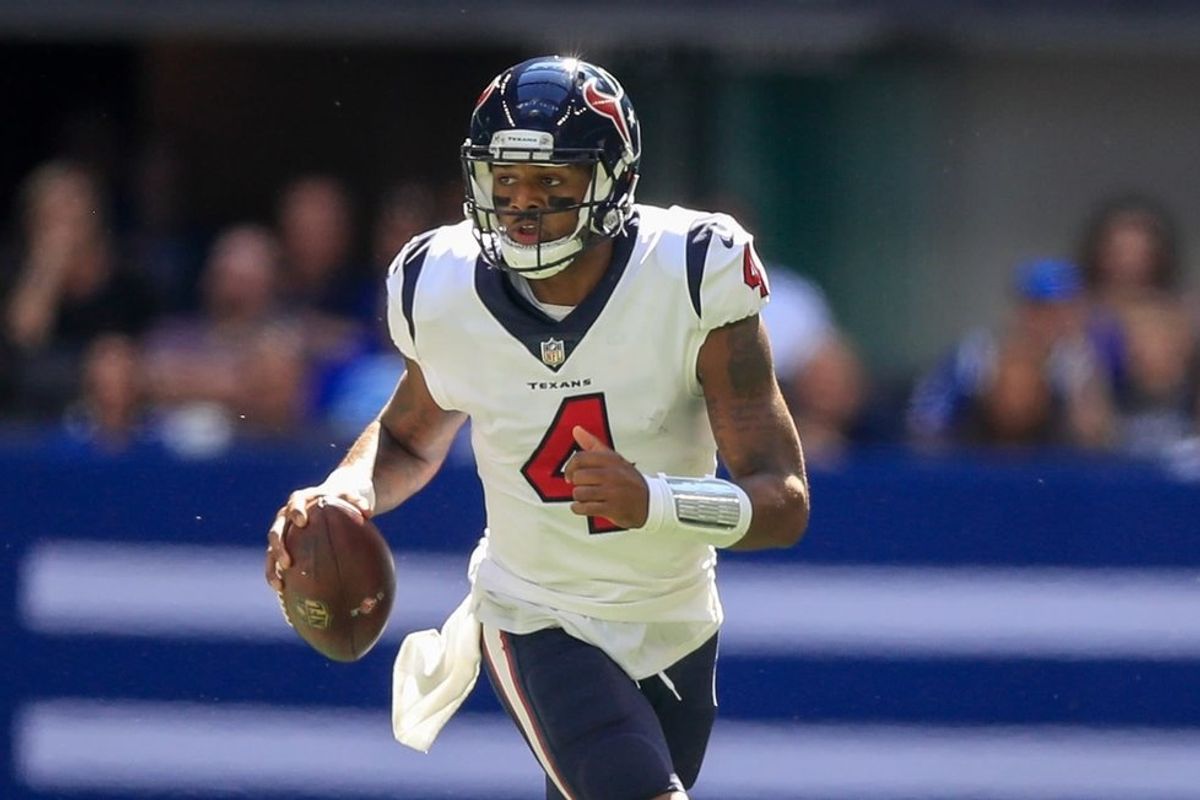 The Browns are out! Photo by Andy Lyons/Getty Images.
According to Adam Schefter, the Cleveland Browns have been informed that Deshaun Watson will not waive his no-trade clause for a trade to Cleveland.
Browns notified they're out of the running on Deshaun Watson, per team official.

— Adam Schefter (@AdamSchefter) March 17, 2022
We've heard rumors that Deshaun prefers not to play for a cold weather team, so eliminating the Browns makes sense in that aspect. And after reports from Aaron Wilson about Watson having a second meeting with the Saints on Wednesday night, it's starting to look like the Saints are the favorites to land Watson.
New Orleans Saints met with Deshaun Watson for second time while simultaneously clearing salary-cap space to acquire his $156 million contract, according to league sources. One source described general manager Mickey Loomis as "determined" and "aggressive" to land Watson
— Aaron Wilson (@AaronWilson_NFL) March 17, 2022
Not only does New Orleans look like Deshaun's favorite destination at the moment, but the Saints are making multiple moves to clear cap space, and it appears they almost have enough cap space to make the trade, according to Field Yates. We're also hearing from Aaron Wilson that Saints guard and former 1st round pick, Cesar Ruiz, could be a part of this trade.
There is still no Matt Ryan contract restructure in Atlanta, nor any agreement on one.

And the Saints can almost already afford Deshaun Watson if the quarterback wanted to go to New Orleans. https://t.co/GpMeIfki4k
— Adam Schefter (@AdamSchefter) March 17, 2022
Let's focus on the Falcons for a moment because the clock is ticking for them. Per ProFootballTalk, "Ryan is due to receive a $7.5 million roster bonus tomorrow. Which means that, if he's not off the roster by 4:00 p.m. ET today, the cap charge for a pre-June 1 trade moves to $48.025 million."
With this in mind, don't be surprised if Watson has to let the Falcons know his intentions today, so they can make a decision on Ryan's contract.
As far as the Panthers, they feel like a long shot at this point. Watson has met twice with the Saints, so it would be very surprising if Watson picks the Panthers. But anything is possible, we'll see. Bottom line, I believe Watson makes his decision today, but we might not hear about it right away.
One of the big factors that led to the Texans' loss to the Jaguars on Sunday was the secondary. Multiple flags for pass interference gave Jacksonville more opportunities to pick up first downs and score points.
Can confirm #Texans backup CB Shaq Griffin was cut.

Griffin started 6 games this year when Derek Stingley was out with a hamstring.
— DJ Bien-Aime (@Djbienaime) November 29, 2023
So it's no surprise that DeMeco Ryans is making some changes to his defense this week. According to several reports, Texans corner Shaq Griffin has been cut.
Nickel corner Tavierre Thomas was flagged for PI more than once on Sunday, and was burned badly by Jaguars receiver Calvin Ridley for a touchdown.
DeMeco was asked after the game if he considered replacing Thomas with Desmond King or Shaq Griffin. Ryans didn't give a definitive answer, but it looks like we got one today.
One has to wonder if Desmond Kings' experience playing nickel was the reason for his promotion to the active roster and why Griffin was released. If Thomas continues to struggle, King looks like the next man up to replace him.
#Texans activate Denzel Perryman, promote Desmond King to active roster, release Shaq Griffin, sign Matt Ammendola and Garret Wallow to practice squad, released Gerrid Doaks from practice squad and placed Tytus Howard (knee-patellar tendon surgery pending) on injured reserve https://t.co/knyyoqo7yC
— Aaron Wilson (@AaronWilson_NFL) November 29, 2023
The Texans also made some other adjustments to their roster on Wednesday, per Aaron Wilson. Linebacker Denzel Perryman returns from suspension, kicker Matt Ammendola and linebacker Garret Wallow join the practice squad. They also released Gerrid Doaks from the practice squad.
The other big piece of news involves left guard Tytus Howard. He heads to injured reserve, ending his season after hurting his knee against Jacksonville.
SportsMap Emails
Are Awesome