JOIN THE BRACKET CHALLENGE!
Enter the ESPN 97.5 BRACKET CHALLENGE 2020
Mar 2, 2020, 12:29 pm
It's that time again, ESPN 97.5's 2nd annual Bracket Madness presented by Bud Light Seltzer, supported by Four Roses Bourbon & Boost Mobile. We'll be giving prizes to 97.5 winners…..Yep the point five winner is the penultimate winner – second to last in the whole bracket. And did we mention this is all FREE?!

CLICK HERE TO REGISTER: https://www.runyourpool.com/join/pool_info.cfm?id=130926&p=espn975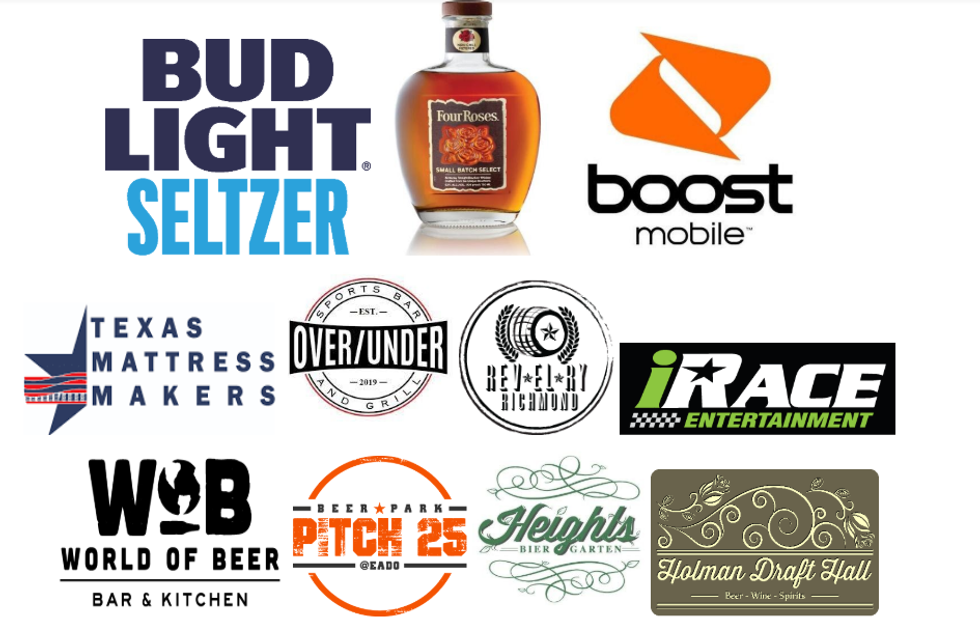 Bellaire, Cinco Ranch, and Pearland.

Prizes include a custom Texas Mattress Makers custom queen size mattress, Four Roses Small Batch Bourbon, $50 gift cards to Roosters Men's Grooming Center, iRace Entertainment, El Tiempo, Pitch 25, Heights Bier Garten, Holman Draft Hall, concert tickets, ESPN 97 .5 Listener Appreciation Party tickets a Zummo meat basket and lots more. And last but not least, the PENULTIMATE prize is an authentic autographed Carlos Correa Bat. Prizes being updated daily.
And of course, come hang out with us during the tournament as we broadcast live 11am-7pm from these locations
March 19th: Over Under Sports Bar 1416 FM 528 Rd ste D, Webster, TX 77598
March 20th: Revelry on Richmond 1613 Richmond Ave, Houston, TX 77006
March 26th: World of beer Cypress 9945 Barker Cypress Road, Cypress, TX
March 27th: iRace Entertainment 24984 Katy Rand Rd, Katy, Tx
April 6th: Belle Station 207 Gray St, Houston, TX 77002
ESPN 97.5 Houston BRACKET CHALLENGE 2019
Official Contest Rules
A complete copy of these rules can be obtained at the offices of radio station KFNC, ESPN 97.5FM, owned and operated by Gow Media LLC (collectively, the "Stations"),5353 W. Alabama, Suite 415, Houston, TX 77056, during normal business hours Monday through Friday or by sending a self-addressed, stamped envelope to the above address.
The Station will conduct the ESPN 97.5 Houston Bracket Madness (the "Contest") substantially as described in these rules, and by participating, each participant agrees as follows:
No purchase is necessary. Void where prohibited. All federal, state, and local regulations apply.
Contest is open only to legal U.S. residents age 21 or older with a valid Driver's License at time of prize pick up. Employees, agents, representatives, or affiliates of the Station, Gow Media., its affiliates, participating sponsors, other radio stations, television stations and print advertising companies serving the metro area, and their immediate family members and household members are not eligible to participate. The term "immediate family members" includes spouses, parents, siblings, grandparents, children, grandchildren and cohabiting significant others.
An individual may win an on-going contest only once per 30-day period unless otherwise specifically stated. An individual may win other seasonal or one-time contests only once for the duration of the contest.
The contest will begin on Thursday, March 19, 2020 and will run through Monday, April 6, 2020 (the "Contest Period").
All of the ways to enter and/or participate in the contest (e.g., entry forms, call in, online, etc.)
ENTRY PAGE. To access and/or enter the Promotion, log-on to the Men's Tournament Challenge homepage and click the link: https://www.runyourpool.com/join/pool_info.cfm?id=130926&p=espn975
You must complete your entry by creating a username and password and completely filling out your bracket.
HOW TO PLAY.

General. The objective of the Promotion is to accumulate the most points by correctly selecting the "winning pick" for each of the sixty-three (63) match-ups associated with the Tournament.
ENTIRE Bracket must be filled out to be considered eligible for the ESPN 97.5 Bracket Madness
Scoring. A correct pick in a given round is shown below:

Round 2: 2 points per pick
Round 3: 3 points per pick
Round 4: 4 points per pick
Round 5: 6 points per pick
Round 6: 10 points per pick
Championship: 17 points per pick

In the event a Tournament match does not occur as scheduled (e.g., due to cancellation) no points will be awarded.
Lock-time. All picks will lock at the scheduled tip off time of the Tournament currently scheduled for Thursday, March 19, 2020. Your picks for the matchups must be submitted, received and recorded by Sponsor's computer by the scheduled locktime. Selections submitted after the deadline are considered invalid. Sponsor's computer is the official time-keeping device for this Promotion.

Ties. Entrants may, but are not required to, submit a predicted score for the championship game (the "Tiebreaker Game Score"). This prediction is used for tiebreaker purposes only. If no predicted score is submitted for an entry, it is given a default prediction of zero (0) points to zero (0) points.

If it is determined that the candidate is not eligible to receive prizes, in the Station's sole judgment and discretion, another candidate will be selected for eligibility consultation and this process will continue until such time as an eligible candidate is found. In the unlikely event that no candidates are found to meet the specifications, then the prize will go un-awarded. In the event of a tie, the winner will be determined by and at the Station's sole discretion.
97.5 + the penultimate prizes will be awarded to the top 97.5 finalists + the penultimate winner in the ESPN Bracket Challenge. There will technically be 99 winners total and 99 prizes total.

All Prizes are valued at $50 or more.
Prizes will be awarded to winners based on placement in the ESPN Bracket Challenge.

For Example: If you finish in 36th place in the ESPN 97.5 Bracket Challenge, you will win the 36th prize.
| | |
| --- | --- |
| Prizes are as follows: | Prizes are updated daily: |
| Prize 1: Texas Mattress Makers Custom Queen Mattress | Prize 51: $100 Aesthetica MD Spa Gift Card |
| Prize 2: ESPN 97.5 Listener Appreciation Party Tickets | Prize 52: Four Roses Bourbon |
| Prize 3: Four Roses Bourbon | Prize 53: El Tiempo $50 Gift Card |
| Prize 4: $50 Rooster's Men's Grooming Gift Card | Prize 54: $50 Rooster's Men's Grooming Gift Card |
| Prize 5: El Tiempo $50 Gift Card | Prize 55: $50 iRace Entertainment Gift Card |
| Prize 6: $50 iRace Entertainment Gift Card | Prize 56: $50 Burger Joint Gift Card |
| Prize 7: Sam Houston Race Park Winners Circle Dinner for 2 | Prize 57: Sam Houston Race Park Winners Circle Dinner for 2 |
| Prize 8: Rudy's $50 gift card | Prize 58: Rudy's $50 gift card |
| Prize 9: Pair of Shinedown Tickets on 5/2 | Prize 59: Pair of Shinedown Tickets on 5/2 |
| Prize 10: Four Roses Bourbon | Prize 60: ESPN 97.5 Listener Appreciation Party Tickets |
| Prize 11: $50 Rooster's Men's Grooming Gift Card | Prize 61: Pair of Ron White Tickets on 5/12 |
| Prize 12: $50 Pitch 25 Gift Card | Prize 62: $50 Pitch 25 Gift Card |
| Prize 13: $50 Burger Joint Gift Card | Prize 63: $50 Burger Joint Gift Card |
| Prize 14: El Tiempo $50 Gift Card | Prize 64: Four Roses Bourbon |
| Prize 15: Pair of Ron White Tickets on 5/12 | Prize 65: El Tiempo $50 Gift Card |
| Prize 16: $50 World of Beer Gift Card | Prize 66: $50 Rooster's Men's Grooming Gift Card |
| Prize 17: Sam Houston Race Park Winners Circle Dinner for 2 | Prize 67: $50 Rooster's Men's Grooming Gift Card |
| Prize 18: $100 Aesthetica MD Spa Gift Card | Prize 68: Sam Houston Race Park Winners Circle Dinner for 2 |
| Prize 19: $50 El Tiempo Gift Card | Prize 69: $50 Pitch 25 Gift Card |
| Prize 20 Four Roses Bourbon | Prize 70: $100 Aesthetica MD Spa Gift Card |
| Prize 21: $50 Rooster's Men's Grooming Gift Card | Prize 71: |
| Prize 22: $50 iRace Entertainment Gift Card | Prize 72: $50 Heights Bier Garten Gift Card |
| Prize 23: $50 Heights Bier Garten Gift Card | Prize 73: $50 El Tiempo Gift Card |
| Prize 24: | Prize 74: Four Roses Bourbon |
| Prize 25: | Prize 75: $50 Rooster's Men's Grooming Gift Card |
| Prize 26: $100 Aesthetica MD Spa Gift Card | Prize 76: |
| Prize 27: Sam Houston Race Park Winners Circle Dinner for 2 | Prize 77: Sam Houston Race Park Winners Circle Dinner for 2 |
| Prize 28: Rudy's $50 gift card | Prize 78: Rudy's $50 gift card |
| Prize 29: | Prize 79: |
| Prize 30: | Prize 80: ESPN 97.5 Listener Appreciation Party Tickets |
| Prize 31: $50 El Tiempo Gift Card | Prize 81: $50 Pitch 25 Gift Card |
| Prize 32: Four Roses Bourbon | Prize 82: Pair of Shinedown Tickets on 5/2 |
| Prize 33: $50 Rooster's Men's Grooming Gift Card | Prize 83: $50 Rooster's Men's Grooming Gift Card |
| Prize 34: $50 Burger Joint Gift Card | Prize 84: El Tiempo $50 Gift Card |
| Prize 35: Pair of Ron White Tickets on 5/12 | Prize 85: Four Roses Bourbon |
| Prize 36: $50 Holman Draft House Gift Card | Prize 86: $50 iRace Entertainment Gift Card |
| Prize 37: Sam Houston Race Park Winners Circle Dinner for 2 | Prize 87: Sam Houston Race Park Winners Circle Dinner for 2 |
| Prize 38: $100 Aesthetica MD Spa Gift Card | Prize 88: $50 Burger Joint Gift Card |
| Prize 39: | Prize 89: Pair of Ron White Tickets on 5/12 |
| Prize 40: | Prize 90: $50 Holman Draft House Gift Card |
| Prize 41: $50 Pitch 25 Gift Card | Prize 91: $50 Rooster's Men's Grooming Gift Card |
| Prize 42: El Tiempo $50 Gift Card | Prize 92: Four Roses Bourbon |
| Prize 43: Four Roses Bourbon | Prize 93: $50 Pitch 25 Gift Card |
| Prize 44: $50 Rooster's Men's Grooming Gift Card | Prize 94: Rudy's $50 gift card |
| Prize 45: | Prize 95: Sam Houston Race Park Winners Circle Dinner for 2 |
| Prize 46: Pair of Ron White Tickets on 5/12 | Prize 96: $50 Rooster's Men's Grooming Gift Card |
| Prize 47: Sam Houston Race Park Winners Circle Dinner for 2 | Prize 97: Four Roses Bourbon |
| Prize 48: Zummo Meat Basket | Prize 97.5: El Tiempo $50 Gift Card |
| Prize 49: $50 iRace Entertainment Gift Card | Penultimate Prize (2nd to last): Autographed Carlos Correa Bat |
| Prize 50: Four Roses Bourbon | |