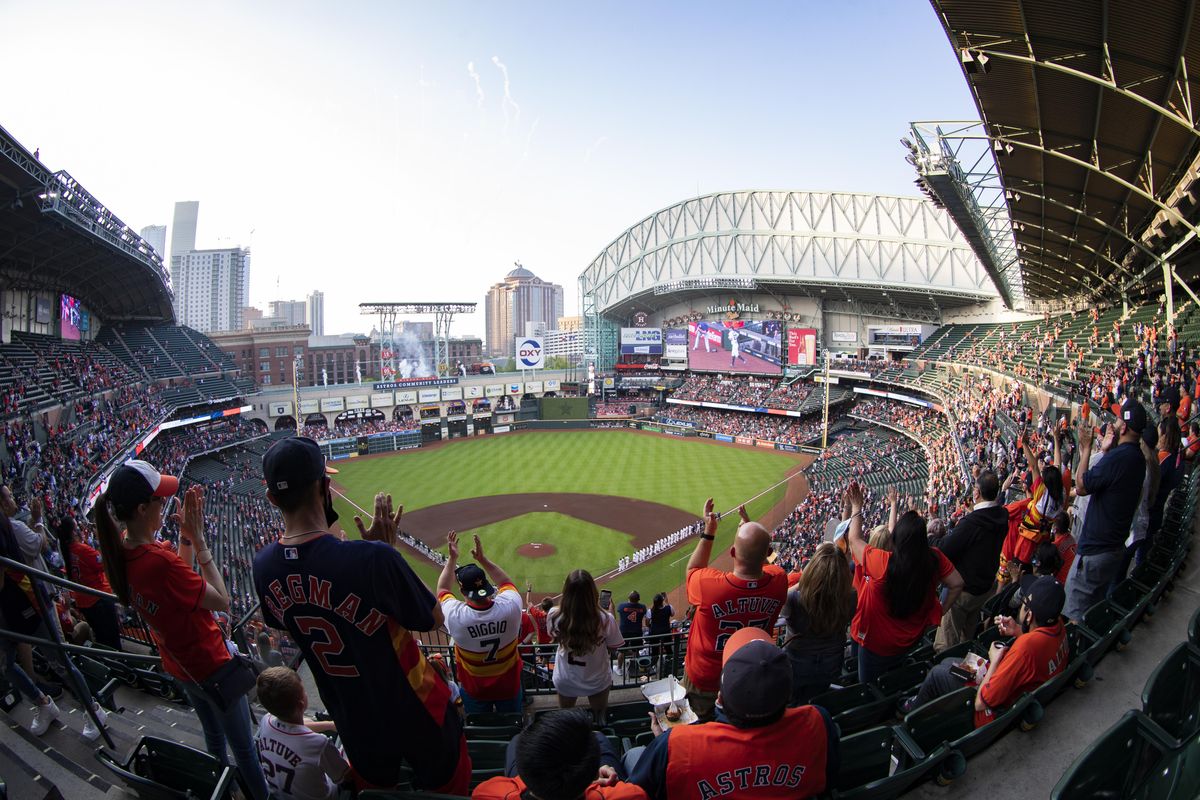 Fans aren't following the rules. Photo by Carmen Mandato/Getty Images.
Four Houston Astros, three of them key starters - Alex Bregman, Martin Maldonado and Yordan Alvarez – have come off the COVID injured list and will be in the lineup tonight against the Colorado Rockies. Utility player Robel Garcia also will be available, while Astros star Jose Altuve remains sidelined on the COVID list.
The returning players missed four games because of baseball's COVID protocols, during which the Astros slid into last place in the American League West.
Meanwhile, the COVID positivity rate in Houston jumped to 10.2-percent the past 14 days, the biggest uptick in several weeks, according to the Houston Health Department. The positivity rate in Harris County stands at 8.9, keeping the county at a Red COVID threat level. Hospital usage, new cases and positivity rates continue to be too high for the threat level to be lowered to Orange.
The Astros are averaging 18,812 fans for their six home games this season. Most have not been wearing a mask. The roof was closed four of those games.
Before Opening Day, I asked an Astros official, what will happen if a fan violates Major League Baseball's directive that fans must wear a mask at all times in the ballpark, except when they're actively eating or drinking? The official said that MLB rules give teams the authority to eject fans from the stadium if they don't abide by the mask rule. Obviously that is not happening.
If the Astros ejected every fan who isn't wearing a mask, Minute Maid Park would be a ghost town, like it was last season during the height of the pandemic.
Fans simply are not following MLB's COVID health and safety rules. On opening night, TV cameras showed Astros owner Jim Crane and Hall of Famers Craig Biggio and Jeff Bagwell sitting behind home plate in their Diamond Club seats not wearing a mask. It was not a good look.
While it's true that COVID infection, ICU occupancy and death numbers are falling in Houston and Harris County, they're not at the point where the Centers for Disease Control and MLB feel it's safe to relax safety guidelines.
"The CDC recommends people wear face masks in public settings, especially when other social distancing measures are difficult to maintain."
Like at Minute Maid Park. The Astros are not requiring social distancing in most field level sections. The team has some sections providing social distancing between fans, but most of them are in the upper levels.
Taking or not taking the vaccine, like wearing a mask, shouldn't be a political thing. In fact, the vaccine may be the only thing President Joe Biden and former President Donald Trump seem to agree on.
Biden has made vaccine availability a cornerstone of his administration. The U.S. currently is vaccinating more than 3 million people a day. Monday night, Trump went on Fox News and urged his followers to roll up their sleeves and get vaccinated.
"I encourage people to take it, I do," Trump said. "I had it (the virus) and I took it. They want me to do a commercial saying take the vaccine. They think that's very important and I'd certainly do it."
In fact, Trump is so proud of his Operation Warp Speed to develop the vaccine, he thinks the shot should be called "the Trumpcine."
Only about 25 percent of adults in Harris County are fully vaccinated. That will rise with more vaccine arriving here each week. Getting the vaccine couldn't be easier. Harris County Judge Lina Hidalgo announced Monday, "You can now simply show up at NRG Park and get your vaccine at Harris County's largest and incredibly efficient site. If you're 16+, enter via Gate 16A off Main Street. Currently no wait, only friendly staff there to greet you."
Vaccine shots are free, no appointments or registration required. You just have to be in a car, same rule as McDonald's drive-throughs. If you don't have access to a car, call the county office and somebody will pick you up, drive you to NRG Park for your shot and take you home. Whether you can convince your chauffeur to stop for a Big Mac is up to you.
Gov. Greg Abbott has ruled out "vaccine passports," which would permit businesses, including sports teams, to ban non-vaccinated people in Texas. It's a different story elsewhere. New York State has an "Excelsior Pass," essentially an online vaccine passport. The Buffalo Bills have announced a "No Vaccine = No Entry" policy for the 2021 season. Only fans who can prove that they're fully vaccinated will be allowed to attend games at Highmark Stadium. The same rule will apply to Buffalo Sabres hockey games next season.
Erie County Executive Mark Poloncarz said, "some people are like, 'well, that's unfair,' but there's no God-given right to attend a football game. You have no guaranteed rights in the Constitution to inflict illness on other people, just like you have no guaranteed right in the Constitution to attend a Buffalo Bills football game.
"Our goal is to have 100-percent full house for the Bills and Sabres starting in the fall. And that's ensuring everybody who enters the facility, the fans, the staff are fully vaccinated."
"Another one!"- DJ Khaled
That's the first thing that came to mind when I heard the news of Tytus Howard being shut down for the season because of a knee injury. They've had more injuries on the offensive line this season than Nick Cannon has Father's Day cards. Almost every member of the offensive line has spent time on the injury report. Howard went down in the same game in which Juice Scruggs was finally on the active roster. He missed the first 10 games due to a hamstring injury. The irony of next man up has never been so in your face.

The other thing that came to mind was the soap opera As the World Turns.
Howard had just signed an extension this offseason. So did Laremy Tunsil and Shaq Mason. They drafted Juice Scruggs, and signed a few guys too. Those moves, along with other holdovers, were expected to fill out the depth chart. Then a rash of injuries struck. At one point, only one of the original five guys expected to start was playing! In fact, they beat the Steelers 30-6 with that backup offensive line!

One can't have the expectation of backups to perform as good as the starters. They're professionals and are on an NFL roster for a reason. However, the talent gap is evident. One thing coaching, technique, and preparation can't cover is lack of ability or talent. The Texans have done a good job of navigating the injury minefield this season. While the Howard injury will hurt, I have faith in the guys there still.
As of this writing, the Texans are in the eighth spot in the AFC playoff picture. The Steelers, Browns, and Colts are all in front of them at the fifth through seventh spots respectfully. They've beaten the Steelers already. They play the Browns on Christmas Eve and their starting quarterback is out for the season. The Colts are relying on the ghost of Gardner Minshew to steer their ship into the last game of the season vs. the Texans with a possible playoff trip on the line. The Broncos and Bills are the two teams immediately behind them. They play the Broncos this weekend. Even though they're on a hot streak, this is the same team that got 70 put on them by the Dolphins. The Bills are the old veteran boxer who still has some skill, but is now a stepping stone for up & comers.
To say this team should still make the playoffs would be an understatement in my opinion. I believe in them and what they have going on more than I believe in the teams I listed above. That includes teams around them in the playoff race that aren't on their schedule. The one thing that scares me a little moving forward is the sustainability of this line. When guys get up in age as athletes, it becomes harder to come back from injuries. The injuries also tend to occur more frequently when it's a knee, foot, ankle, shoulder, elbow, or another body part critical to blocking for C.J. Stroud.
I know they just re-signed three of those guys and drafted one they believe can be a starter, but depth and contingency plans are a way of life in the NFL. We see how important depth was this season. Why not plan ahead? Don't be surprised if the Texans spend valuable draft capital on the offensive line. By valuable, I'm talking about first through third or fourth rounders. Those are prime spots to draft quality offensive lineman. Whether day one starters or quality depth, those are the sweet spots. The only guy on the two deep depth chart for this offensive line that wasn't drafted in one of those rounds was George Fant, who was an undrafted rookie free agent. While I highly doubt they spend any significant free agency dollars on the group, I'm not totally ruling it out.
The bottom line is, this team will be okay on the line for the remainder of this season. The only way that doesn't happen, more injuries. Stroud is clearly the franchise guy. Protecting that investment is a top priority. I don't care about a number one receiver, or a stud stable or singular running back if the quarterback won't have time to get them the ball. If the pilot can't fly the plane, you know what happens. So making sure he's happy, healthy, and has a great crew is of the utmost importance.
SportsMap Emails
Are Awesome