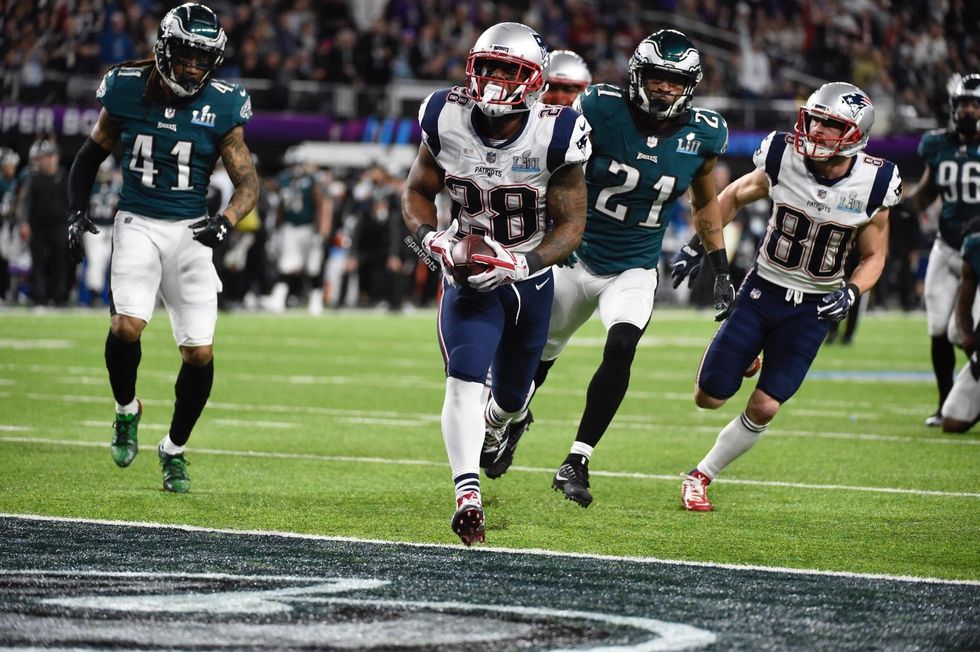 James White should be very active in a high-scoring game against the Texans. New England Patriots/Facebook
It's finally upon us. Week 1 of fantasy football, and this year is going to be even more difficult to navigate than ever. There's a lot of uncertainty as we head into the opening week, so I advise everyone to starts there studs. That's why you spent a high pick on them in the first place. Of course, Le'Veon Bell should be firmly on your bench even if he shows up and is active against the Browns. There's just no way of knowing how much work he would get. I am going to pick some players I like this week that aren't odvious starters. Everyone should be starting the David Johnson's of the world, so I'll look at some players that aren't a sure thing.
I'll be using some of the stats from the end of last season to make my suggestions, and there are clearly some flaws with these numbers. The coaches know what they need to correct in the off-season, so they work to improve their deficiencies, plus, free agency and the draft brings in new players that weren't on the team last year. Because of this, we have to take last year's numbers with a grain of salt. Without further ado, here are some plays I like for this weekend.
RB
Derrick Henry (TEN): The Titans have a nice matchup against the Dolphins in Week 1 and Miami gave up the 2nd most points to running backs from week 12 on last season. It's hard to know how the carries will be split between Henry and Dion Lewis, but we should get our answer on Sunday. Clearly, I like Henry a lot better in non-ppr. He's not a must-start for me this week, but he should be okay as a No. 2 RB.
James White (NE): The Texans had quite a bit of trouble stopping the run last year. From week 12 on, they gave up the 3rd most fantasy points to RBs. The good news for Houston is they have a lot of players back from injury on defense, but the Texans typically give up points to the running back position. It usually comes from TDs, especially in the years that the Texans had a dominant defense. Look for James White to have a nice game out of the backfield on Sunday. Brady doesn't have Edelman for the first four weeks, so I believe White will get an uptick in targets. A wheel route TD from White would not surprise me at all.
James Conner (PIT): I think Conner will have a nice game against the Browns this week. DeAngelo Williams produced at a high level when Bell has been out in the past, and I think Connor will follow suit. I know there's a lot of hype around Cleveland, but I'm not buying in. Conner is a must-start until Bell decides to show up.
Lamar Miller (HOU): Miller hasn't exactly looked spectacular, especially running behind the Texans below-average offensive line, but I think sheer volume will get him there for fantasy. There should be a lot of scoring in this game, and Miller can be used as a No. 2 RB on Sunday.
WR
JuJu Smith-Schuster (PIT): He has a great matchup against the Browns, and they'll be looking to limit Antonio Brown. The Steelers should throw the ball quite a bit this week, and Smith-Schuster can capitalize. The Browns gave up 36.5 FPTS/G to WRs from week 12 on last year, and I think Smith-Schuster will get his fair share of those points.
Chris Hogan (NE): I love Hogan this year and especially Week 1 against the Texans. I think he may have Johnathan Joseph on him, and that's good news for Hogan owners. Houston's corners typically have trouble dealing with bigger receivers, and Hogan comes in at 6′ 1". He also has pretty good speed being a 4.5 forty guy, and the Texans' corners aren't all that fast. I think Gronk will see plenty of attention, and that opens things up for Hogan and James White.
Jamison Crowder (WAS): I think Crowder has a nice opportunity to catch some passes this week against the Arizona Cardinals. Alex Smith may have pushed the ball down the field more last year, but he's been "Captain Checkdown" for most of his career. Look for Crowder to catch a lot of balls out of the slot with Patrick Peterson covering the outside receivers primarily.
TE
Eric Ebron (IND): I'm hearing some good things about Ebron in the Colts offense, and Luck's arm strength hasn't been all that impressive in the preseason. Ebron played well against the Bengals last year (83-yds, 1TD), and I think that continues this week. He'll see his fair share of checkdown passes from Andrew Luck.
Jordan Reed (WAS): He's healthy, at least for the time being. I like him for the same reason I like Crowder this week, so I think he's worth a shot. Use him before he dies.
That's all I have for this week. For more fantasy info, make sure you check out my show Moneyline on ESPN 97.5 every Sunday from 10-noon. Jerry Bo and I will get you ready for kickoff and answer any questions you may have. Also, follow us on Twitter. Good luck Week 1!
@jordanpfx
@JerryBoKnowz
@Moneyline975
One of the big factors that led to the Texans' loss to the Jaguars on Sunday was the secondary. Multiple flags for pass interference gave Jacksonville more opportunities to pick up first downs and score points.
Can confirm #Texans backup CB Shaq Griffin was cut.

Griffin started 6 games this year when Derek Stingley was out with a hamstring.
— DJ Bien-Aime (@Djbienaime) November 29, 2023
So it's no surprise that DeMeco Ryans is making some changes to his defense this week. According to several reports, Texans corner Shaq Griffin has been cut.
Nickel corner Tavierre Thomas was flagged for PI more than once on Sunday, and was burned badly by Jaguars receiver Calvin Ridley for a touchdown.
DeMeco was asked after the game if he considered replacing Thomas with Desmond King or Shaq Griffin. Ryans didn't give a definitive answer, but it looks like we got one today.
One has to wonder if Desmond Kings' experience playing nickel was the reason for his promotion to the active roster and why Griffin was released. If Thomas continues to struggle, King looks like the next man up to replace him.
#Texans activate Denzel Perryman, promote Desmond King to active roster, release Shaq Griffin, sign Matt Ammendola and Garret Wallow to practice squad, released Gerrid Doaks from practice squad and placed Tytus Howard (knee-patellar tendon surgery pending) on injured reserve https://t.co/knyyoqo7yC
— Aaron Wilson (@AaronWilson_NFL) November 29, 2023
The Texans also made some other adjustments to their roster on Wednesday, per Aaron Wilson. Linebacker Denzel Perryman returns from suspension, kicker Matt Ammendola and linebacker Garret Wallow join the practice squad. They also released Gerrid Doaks from the practice squad.
The other big piece of news involves left guard Tytus Howard. He heads to injured reserve, ending his season after hurting his knee against Jacksonville.
SportsMap Emails
Are Awesome