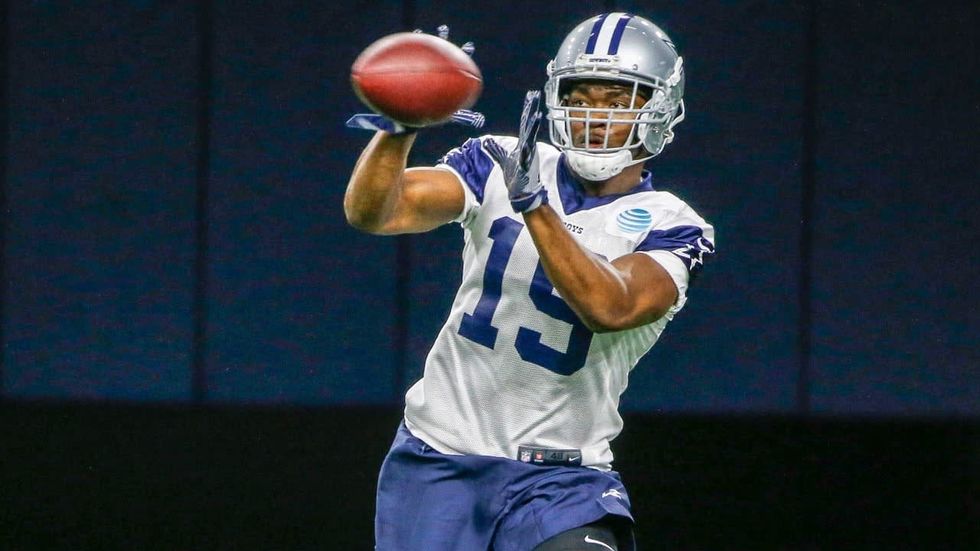 Amari Cooper should torch the Eagles' injury-plagued secondary. Dallascowboys.com
It's the first game of the playoffs for most fantasy leagues, so I'm back to give out more sleeper plays. My standard for a good fantasy game is around 100 total yards and/or a TD, and this is for PPR scoring. A game with a lot of catches helps too, obviously. Of course, the bar is a little lower for TEs. 
I followed up an 8-4 week by going 5-7 (barf), and you can check out that article here. Hopefully, I can bounce back this week with playoff games on the line. With it being the playoffs I added a lot more players to my article. I hope it helps. My plays are below and these players are in no particular order.
QB
Baker Mayfield (CLE): The Panthers have given up 14 TD passes over their last 5 games, so you'll want to get Mayfield in your lineup.
Marcus Mariota (TEN): He has a tasty matchup against the Jags on Thursday night, and the Titans need this game to keep their playoff hopes alive. Plus, he's been good the last couple weeks.
Aaron Rodgers (GB): Don't give up on him. It's crazy that I am putting him in this article, but he hasn't been his usual self all year. I expect him to have a big game in a shootout with the Falcons on Sunday.
Mitchell Trubisky (CHI): The Rams get crushed by QBs, and Trusbisky should return this week from his shoulder injury. The Rams are allowing over 32 FPTS/G over the last month.
RB
Dalvin Cook (MIN): Seattle has given up over 32 FPTS/G to RBs over their last 5 games, and Cook is really starting to come on. Look for him to make a big impact in the passing game with the Seahawks giving up the most catches (36) to running backs over their last 5.
Aaron Jones (GB): Jones hasn't exactly been lighting it up from a rushing standpoint in his last 3 games. He rushed for 40, 72, and 36 yards in his last 3 performances, but his work in the passing game and his ability to score are very encouraging. Make sure you start him this week against the Falcons who are allowing over 30 FPTS/G to RBs in their last 5 games. And I think Rodgers is going to make a statement this week.
LeGarrette Blount (DET): If Kerryon Johnson is out again (which is likely), Blount could help win a playoff game for fantasy owners. The Cardinals have allowed 5 rushing TDs in their last 4 games, and are allowing over 30 FPTS/G to the position over the last month. Make sure Johnson is out before starting Blount.
Mark Ingram (NO): I think the Saints ground game gets back on track this week and the matchup is pretty sweet against the Bucs. They are giving up over 6 yards per carry in their last 4 games, so they can be had on the ground.
Tarik Cohen (CHI): You're probably starting him every week, but just in case you're on the fence, I put him in this article. The Rams have allowed 6 TDs to RBs in their last 4 games.
WR
Amari Cooper (DAL): He's been terrific and this week he gets the Eagles. START HIM.
Allen Robinson (CHI): The Rams are allowing over 42 FPTS/G to WRs in their last 4 games and he gets his QB back...hopefully.
Zay Jones (BUF): Are you feeling dangerous? If you're thinking about starting Jones in the playoffs, you have to be feeling that way. Look, playing Jones comes with a lot of downside, obviously, he plays receiver for the Bills. If you're stuck and need a receiver this week, you could do worse. He has 3 TDs in his last 3 games. He also scored zero points in one of those games, so keep that in mind. But his matchup is good and his QB has a cannon for an arm.
Josh Reynolds (LAR): The Bears are actually a good matchup for receivers over the last month allowing over 40 FPTS/G to the position. Cooks and Woods should garner the most attention which should provide opportunities for Reynolds.
Adam Humphries (TB): The Saints have allowed 75 catches to WRs in their last 5 games, so he certainly has a chance and he's been money the last couple of weeks.
TY Hilton (IND): He's been really good against the Texans over his career, so start him if you need him. You're probably starting him anyway.
TE
Austin Hooper (ATL): The matchup is not great against the Packers, but Hooper has become a bigger part of the offense and Julio's injury may increase his usage.
Cameron Brate (TB): Brate makes this article almost every week and that's because they use him in the red zone so much. If you're considering Brate this week, you're fairly desperate. Start him and hope he catches a TD.
Trey Burton (CHI): The Rams give up over 18 FPTS/G to TEs over their last 4, so this is the week to use him.
Jimmy Graham (GB): He finally had a good game last week catching 8 balls, and I think Rodgers gets him involved again.
That's all I have for this week. For more fantasy info, make sure you check out my show Moneyline on ESPN 97.5 every Sunday from 10-noon. Jerry Bo and I will get you ready for kickoff and answer any questions you may have. Also, follow us on Twitter.
Good luck in Week 14!
"Another one!"- DJ Khaled
That's the first thing that came to mind when I heard the news of Tytus Howard being shut down for the season because of a knee injury. They've had more injuries on the offensive line this season than Nick Cannon has Father's Day cards. Almost every member of the offensive line has spent time on the injury report. Howard went down in the same game in which Juice Scruggs was finally on the active roster. He missed the first 10 games due to a hamstring injury. The irony of next man up has never been so in your face.

The other thing that came to mind was the soap opera As the World Turns.
Howard had just signed an extension this offseason. So did Laremy Tunsil and Shaq Mason. They drafted Juice Scruggs, and signed a few guys too. Those moves, along with other holdovers, were expected to fill out the depth chart. Then a rash of injuries struck. At one point, only one of the original five guys expected to start was playing! In fact, they beat the Steelers 30-6 with that backup offensive line!

One can't have the expectation of backups to perform as good as the starters. They're professionals and are on an NFL roster for a reason. However, the talent gap is evident. One thing coaching, technique, and preparation can't cover is lack of ability or talent. The Texans have done a good job of navigating the injury minefield this season. While the Howard injury will hurt, I have faith in the guys there still.
As of this writing, the Texans are in the eighth spot in the AFC playoff picture. The Steelers, Browns, and Colts are all in front of them at the fifth through seventh spots respectfully. They've beaten the Steelers already. They play the Browns on Christmas Eve and their starting quarterback is out for the season. The Colts are relying on the ghost of Gardner Minshew to steer their ship into the last game of the season vs. the Texans with a possible playoff trip on the line. The Broncos and Bills are the two teams immediately behind them. They play the Broncos this weekend. Even though they're on a hot streak, this is the same team that got 70 put on them by the Dolphins. The Bills are the old veteran boxer who still has some skill, but is now a stepping stone for up & comers.
To say this team should still make the playoffs would be an understatement in my opinion. I believe in them and what they have going on more than I believe in the teams I listed above. That includes teams around them in the playoff race that aren't on their schedule. The one thing that scares me a little moving forward is the sustainability of this line. When guys get up in age as athletes, it becomes harder to come back from injuries. The injuries also tend to occur more frequently when it's a knee, foot, ankle, shoulder, elbow, or another body part critical to blocking for C.J. Stroud.
I know they just re-signed three of those guys and drafted one they believe can be a starter, but depth and contingency plans are a way of life in the NFL. We see how important depth was this season. Why not plan ahead? Don't be surprised if the Texans spend valuable draft capital on the offensive line. By valuable, I'm talking about first through third or fourth rounders. Those are prime spots to draft quality offensive lineman. Whether day one starters or quality depth, those are the sweet spots. The only guy on the two deep depth chart for this offensive line that wasn't drafted in one of those rounds was George Fant, who was an undrafted rookie free agent. While I highly doubt they spend any significant free agency dollars on the group, I'm not totally ruling it out.
The bottom line is, this team will be okay on the line for the remainder of this season. The only way that doesn't happen, more injuries. Stroud is clearly the franchise guy. Protecting that investment is a top priority. I don't care about a number one receiver, or a stud stable or singular running back if the quarterback won't have time to get them the ball. If the pilot can't fly the plane, you know what happens. So making sure he's happy, healthy, and has a great crew is of the utmost importance.
SportsMap Emails
Are Awesome