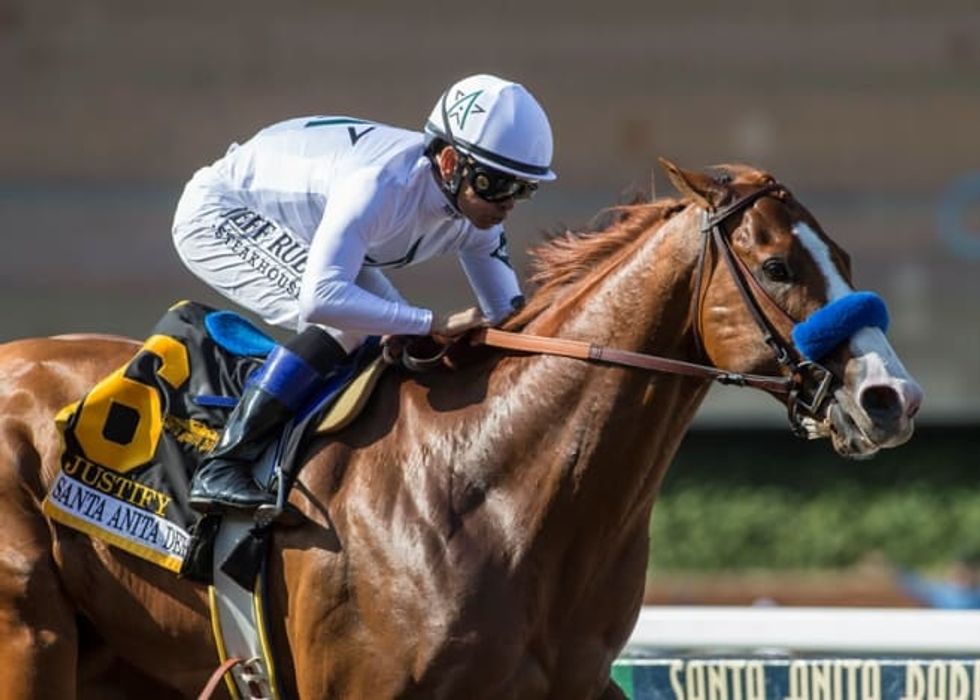 Justify is a win away from the Triple Crown. Santaanita.com
Justify will attempt to become the 13th Triple Crown winner when he faces nine other horses at the Belmont Stakes on Saturday. Here is a horse by horse look at the field:
1. JUSTIFY
Trainer: Bob Baffert
Jockey: Mike Smith
Record: 5-5-0-0
Earnings: $2,998,000
Odds: 4-5
He will beat Justify if...Well, he IS Justify. He was tested for the first time in the Preakness and he regressed, but still won. He should be lone speed, which gives him a huge tactical edge, but does he have enough left in the tank? Does he even want to go this far? Legitimate questions. Could easily win, but little value in him and worth playing against.
2. FREE DROP BILLY
Trainer: Dale Romans
Jockey: Robby Albarado
Record: 9-2-3-2
Earnings: $625,220
Odds: 30-1
He will beat Justify if...Pigs can fly. And hey, maybe this pig can. He was a damned good 2-year-old, but has regressed at 3 and a big effort would come out of nowhere. Should be able to get the distance, and we have seen bigger upsets, but would need a career race.
3. BRAVAZO
Trainer: D. Wayne Lukas
Jockey: Luis Saez
Record: 10-3-2-1
Earnings: $736,528
Odds: 8-1
He will beat Justify if...He continues to improve. While it looked like he was closing in the Preakness, he really was just grinding while Justify was backing up. His running style should be perfect for the Belmont, and he should grind his way to another solid finish. Last two have been good and Lukas horses tend to keep improving with lots of racing, so he should be sitting on his best effort yet.
4. HOFBURG
Trainer: Bill Mott
Jockey: Irad Ortiz, Jr.
Record: 4-1-1-0
Earnings: $227,950
Odds: 9-2
He will beat Justify if... He has a great shot to do just that. Love this horse. His Derby was not bad despite trouble (he finished 7th), he is well rested, he is bred to run all day and his trainer does not run horses that do not belong in a race. He has had only four races, but should continue to improve and will be shocked if he is not a part of it at the end. Hoping to get 5 or 6-1.
5. RESTORING HOPE
Trainer: Bob Baffert
Jockey: Florent Geroux
Record: 5-1-1-2
Earnings: $149,880
Odds: 30-1
He will beat Justify if... Justify falls down. Not sure what this horse is doing here. Baffert is high on him, but he has only a win against Cal-bred maidens on his resume and his only stakes efforts were a non-threatening third in the Wood Memorial and a 12th-place finish out of 14 in the Pat Day Mile on Derby Day. Bred to go this far, but if he isn't any good, does that matter? Would be a surprise.
6. GRONKOWSKI
Trainer: Chad Brown
Jockey: Jose Ortiz
Record: 6-4-1-0
Earnings: $135,644
Odds: 12-1
He will beat Justify if... His synthetic form in England converts to traditional dirt. And he runs his best race. He will take money because of his name and the fact that Chad Brown is a wizard as a trainer. But he has never run beyond a mile and was facing questionable company overseas. Might use on the bottom of exotics but unless Brown works his magic, this guy is overmatched.
7. TENFOLD
Trainer: Steve Asmussen
Jockey: Ricardo Santana
Record: 4-2-0-1
Earnings: $289,200
Odds: 12-1
He will beat Justify if... He improves significantly. He took a big jump forward in the Preakness, but flattened a little late and let Bravazo run by him and was never getting past Justify. He has every right to improve, and is bred to get the distance, but could also see a serious regression in this spot. A wild card.
8. VINO ROSSO
Trainer: Todd Pletcher
Jockey: John Velazquez
Record: 6-3-0-1
Earnings: $620,500
Odds: 8-1
He will beat Justify if... He flashes back to his impressive Wood win. He is bred to love the distance. He did not really threaten in the Derby, but was not awful, either. Pletcher horses do very well in this race. Has a decent shot to be a factor.
9. NOBLE INDY
Trainer: Todd Pletcher
Jockey: Javier Castellano
Record: 5-3-0-1
Earnings: $691,600
Odds: 30-1
He will beat Justify if...Justify fails to break, and he finds himself on an easy lead. He cratered in the Kentucky Derby after winning the Louisiana Derby. He will probably be the horse that tries to pressure Justify, and that will likely cook him off. If Justify does not show and he winds up on the lead, he might last for a piece. Otherwise it is hard to see him having an impact at the end.
10. BLENDED CITIZEN
Trainer: Doug O'Neill
Jockey: Kyle Frey
Record: 10-3-0-2
Earnings: $406,854
Odds: 15-1
He will beat Justify if... The Peter Pan Stakes was better than the Preakness. He does have a win at Belmont in the aforementioned Pan Stakes, but most of his efforts have been nibbles against lesser. Not really bred to get this far but might have enough to clunk up for a minor award.
The Texans lose a tough one to the Jags on Sunday, and the referees were certainly a factor. Are they to blame for the heartbreaker?

SportsMap Emails
Are Awesome