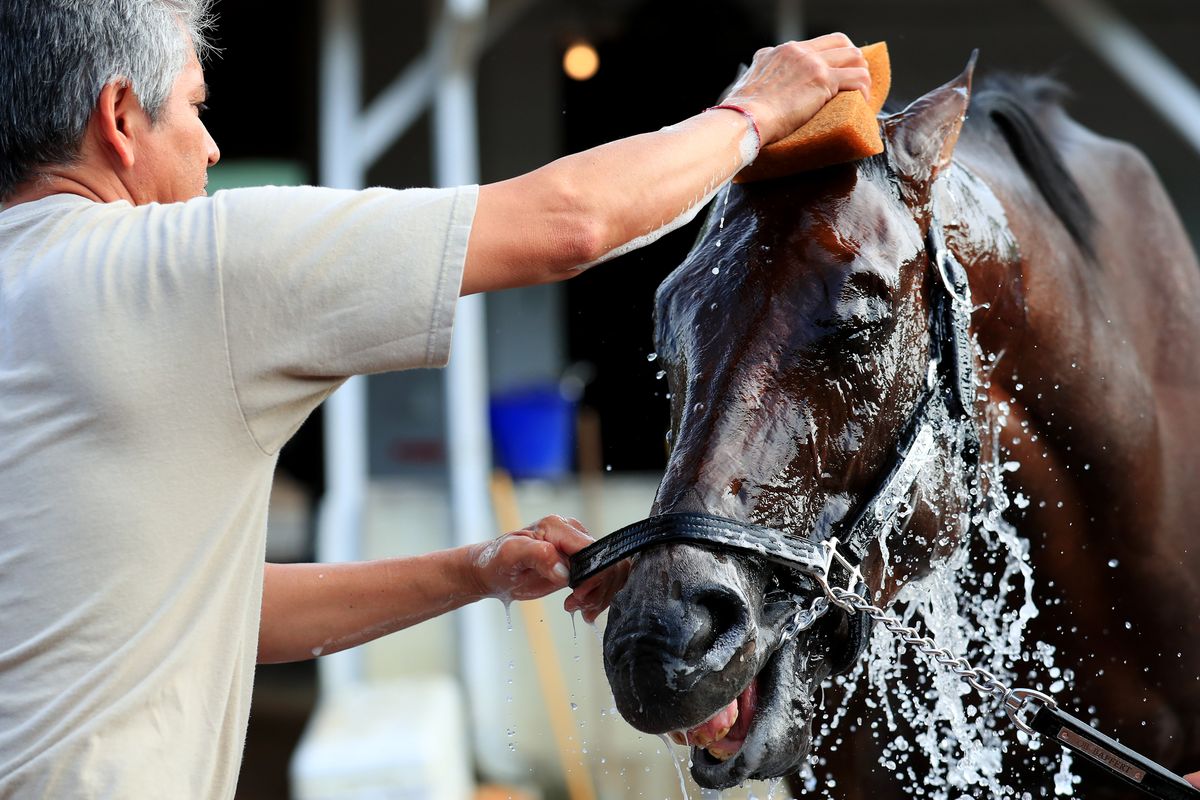 Game Winner. Getty Images.
Saturday will be the Kentucky Derby, and we are hoping to get back on track with our plays this year. If you want a look at every horse, please read this. For my premium plays, please go to pregame.com. That will give you precise trifecta and exacta plays.
The scratch of favorite Omaha Beach does hurt our plays a little, because it means Game Winner will likely be the favorite. We were hoping to get the 5-1 morning line, but that will not be the case now. Here are three plays I will be making on the Derby and Friday's Kentucky Oaks:
1) Kentucky Oaks
I like three horses here, the 1, 4 and 14. The 4 will be a heavy favorite and looks tough. I will do an exacta box with these three horses, and also play the 14 in weighted win/place/show bets (more to place and show than to win). So depending on your bankroll, a minimum play would be $2 to win, $4 to place and $8. Whatever your base win bet is, double it to place and then double again to show.
2) The Derby
I have it narrowed down to Tacitus and Game Winner to be first or second. So you can key them first and second in the exactas and tris with the logical contenders, but throw in long shots War of Will and Win Win Win. I also believe Tacitus is worth a win/place/show bet. My specific plays are on pregame,
Game Winner has been second in both starts this year after being 2-year-old champ. In his first start, he just missed against Omaha Beach despite a wide trip, coming off a layoff and losing training time because of the issues with the Santa Anita surface. In his second start, his stablemate Roadster needed a win to guarantee a spot in the Derby. Game Winner ran second to Roadster. Conspiracy theories aside, he will be 100 percent cranked up for this and we should see his best effort yet.
Tacitus has not faced the top 3 year olds, but he is bred out the ears to get a mile and a quarter, and his two starts this year were solid. He grinned out a win on the rail in the Tampa Bay Derby, then overcame tons of trouble to win the Wood Memorial. Traffic happens in the Derby, and the fact that he has already overcome it is a good thing.
Other legit contenders include Roadster, Maximum Security, Improbable. Potential long shots include War of Will and Win Win Win.
3) The pick 4
We will be playing a pick four, starting with the ninth race. It will be a .50 cent ticket. The horses to use: 1-9-10-12 with 4-10 with 2-6-9-12 with 5-7-8-16-17.
Good luck with all your wagers. Hopefully we will all be cashing tickets.
Astros GM Dana Brown has recently discussed how the club is going to approach free agency on the team's flagship station, and based on his comments, it doesn't sound the Astros are going to spend a lot of money.
He mentioned being "creative" with their strategy and maybe exploring some trade possibilities. Which is why we were surprised to hear from Jon Heyman that the Astros may have interest in Japanese pitcher Yoshinobu Yamamoto, or another "elite" starting pitcher.
Phillies are still looking at top starters after bringing back Aaron Nola. They have company, as at least the Red Sox, Cardinals, Braves, Dodgers and Astros are looking for an elite starter (and many more than just those teams are on Yamamoto, who's only 25).
— Jon Heyman (@JonHeyman) November 20, 2023
With the team right up against the tax threshold, a signing like this would certainly push them over, unless they find a way to dump some salary that's already on the books.
But the report that Houston is looking for an elite starter, certainly caught our attention. Mainly, because Dana Brown's comments about backup catcher and bullpen help being the priority, with starting pitching being more of a pipe dream considering the budget constraints.
A move like this would likely require someone like Alex Bregman being traded to make the money work. So is Jon Heyman off the mark with this report, or is Dana Brown quietly looking to add an elite starter?
Plus, just this week the Phillies signed Aaron Nola to a 7-year $172 million contract. Framber Valdez is looking for a long-term deal with 2 years remaining of club control. Will Framber's agent use this contract as a benchmark for what is client is looking for?
Don't miss the video above as we make sense of these recent reports!
If you enjoy the videos, subscribe to SportsMapHouston on YouTube for our latest content.
SportsMap Emails
Are Awesome