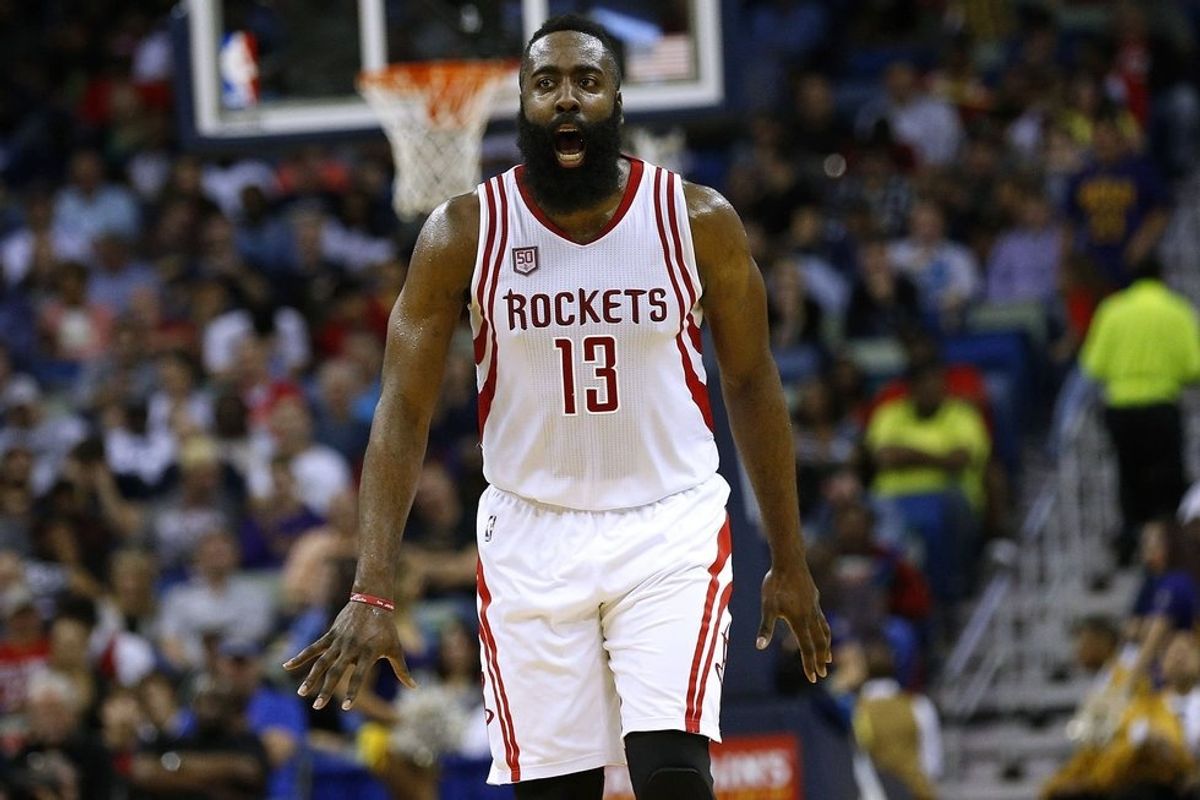 Photo by Jonathan Bachman/Getty Images
Four games, two wins. That was the story of the Rockets this past week as they split the four games scheduled. One of the wins was expected, while the other was necessary. On the other hand, one of their losses was understandable while there was no excuse for the other. Houston is now 24-18, first in the southwest division, and sixth in the western conference.
Postseason feel
The beginning of the week served up two grade-A match ups against the Western Conference leading Denver Nuggets and the league leading Milwaukee Bucks. If there was ever a moment to take stock of the legitimacy of the Rockets' current hot streak, this was it. Monday the Rockets delivered a win in a matchup that, while close, never really felt out of hand. Nuggets center Nikola Jokic did everything he could to keep the Nuggets competitive, but P.J. Tucker, Gerald Green, and James Harden's combined 19 3-pointers proved to be too much to overcome. Clint Capela added a career-high 31 points

Wednesday the Rockets took on Giannis Antetokounmpo and the Milwaukee Bucks in a prime time nationally televised showdown between two of the leagues top MVP candidates. The back and forth contest didn't disappoint as Antetokounmpo went for 27 points and 21 rebounds, while Harden countered with 42 points, 11 rebounds, and 6 assists. It was the Bucks who would come out on top, however, as they rode a 38-23 third quarter to the finish line. Despite the loss, it's become clear that Houston is perfectly capable of competing with any team in the league on any given night.


Statements and head scratchers

Friday night Houston hosted the Cleveland Cavaliers and while a win was reasonably expected, no one imagined that it would turn into the trouncing that it did. The 141-113 devastation of Cleveland could have been worse had the Rockets not sat most of their starters for the entirety of the fourth quarter. Harden continued his brilliance with another 40+ point triple-double. His 43 points, 10 rebounds, and 12 assists was one for the record books.; a triple-double in less than 30 minutes.

Sunday was a different story however, as the Rockets interrupted their home stand for a quick away game against the Orlando Magic. Houston's momentum hit a wall as the team went cold from the 3-point line when it mattered most. Despite a historically awful game from beyond the arc, Harden still finished with 38 points. It was the 16th straight 30+ point performance from Harden, tying Kobe Bryant's record from the 2002-2003 season. The loss came as somewhat of a surprise after a week of great production against quality opponents.
Looking ahead

Houston will look to right the ship immediately, as they take on the Memphis Grizzlies Monday night, followed by a Wednesday match up against the Brooklyn Nets and a nationally televised contest against the Los Angeles Lakers on Saturday.
The Rockets should see the return of Eric Gordon to the lineup at some point in the coming week, and his scoring should serve as a boost to the Rockets' depth. Chris Paul remains out and it looks like he will continue to be out until the end of the month. Despite both players being sidelined, I don't see any reason why Houston can't sweep this week.

One of the big factors that led to the Texans' loss to the Jaguars on Sunday was the secondary. Multiple flags for pass interference gave Jacksonville more opportunities to pick up first downs and score points.
Can confirm #Texans backup CB Shaq Griffin was cut.

Griffin started 6 games this year when Derek Stingley was out with a hamstring.
— DJ Bien-Aime (@Djbienaime) November 29, 2023
So it's no surprise that DeMeco Ryans is making some changes to his defense this week. According to several reports, Texans corner Shaq Griffin has been cut.
Nickel corner Tavierre Thomas was flagged for PI more than once on Sunday, and was burned badly by Jaguars receiver Calvin Ridley for a touchdown.
DeMeco was asked after the game if he considered replacing Thomas with Desmond King or Shaq Griffin. Ryans didn't give a definitive answer, but it looks like we got one today.
One has to wonder if Desmond Kings' experience playing nickel was the reason for his promotion to the active roster and why Griffin was released. If Thomas continues to struggle, King looks like the next man up to replace him.
#Texans activate Denzel Perryman, promote Desmond King to active roster, release Shaq Griffin, sign Matt Ammendola and Garret Wallow to practice squad, released Gerrid Doaks from practice squad and placed Tytus Howard (knee-patellar tendon surgery pending) on injured reserve https://t.co/knyyoqo7yC
— Aaron Wilson (@AaronWilson_NFL) November 29, 2023
The Texans also made some other adjustments to their roster on Wednesday, per Aaron Wilson. Linebacker Denzel Perryman returns from suspension, kicker Matt Ammendola and linebacker Garret Wallow join the practice squad. They also released Gerrid Doaks from the practice squad.
The other big piece of news involves left guard Tytus Howard. He heads to injured reserve, ending his season after hurting his knee against Jacksonville.
SportsMap Emails
Are Awesome