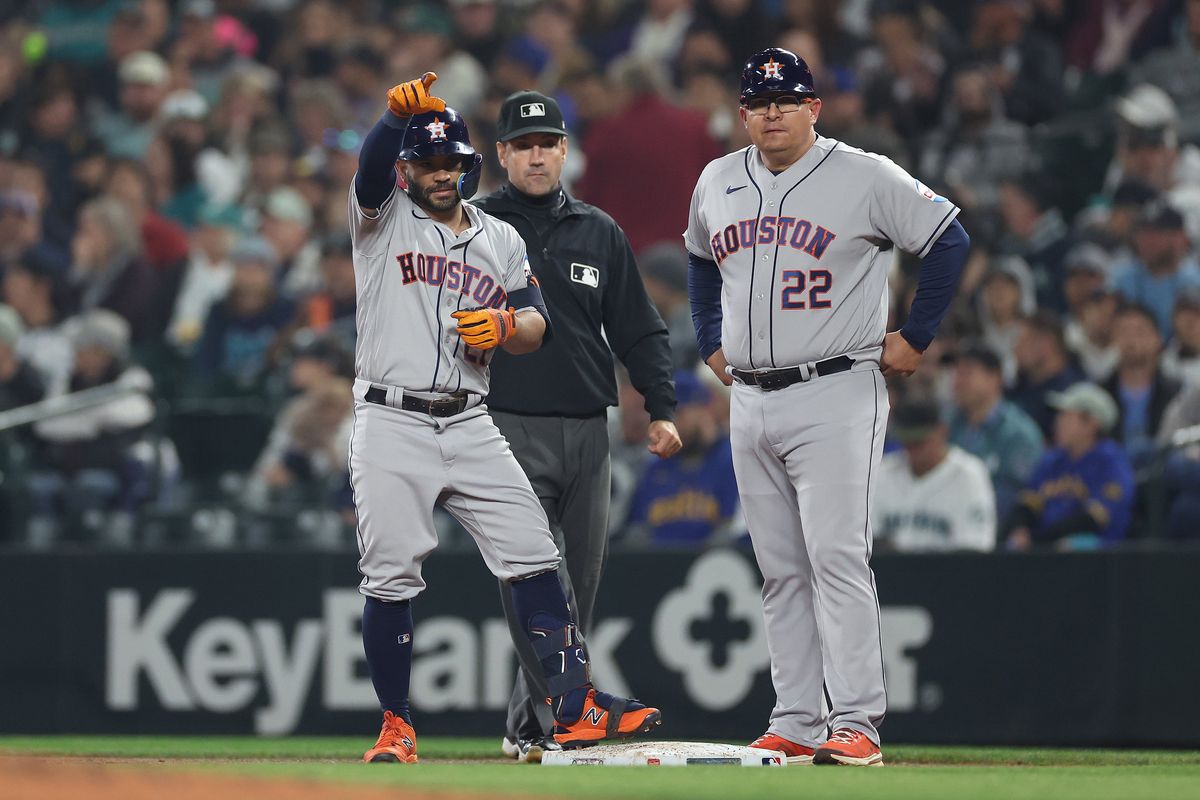 Mariners fans cheered when Jose Altuve was hit by a pitch Monday night. Photo by Steph Chambers/Getty Images.
I don't dislike the "other team." Sure, I root for the Astros to win, regardless who they're playing, but especially this week against the Seattle Mariners. This is do-or-die time for the Astros. Win, they're in the playoffs. Lose, let's not even think about lose.
I've got nothing against the Mariners players, though. Who knows? The way baseball operates these days, some of them could be Astros before spring training next season. They got any free agent lefty relievers in their bullpen?
Look at Justin Verlander. A few months ago, back on June 20, he was on the mound for the New York Mets pitching against the Astros, the team he pitched for last season. Monday night, improbably back in an Astros uniform, he just may have saved the season for the defending World Series champs. Verlander was marvelous, throwing eight innings of three-hit ball in what, no cliché for a change, was a must-win game. It may not have been a death blow for Mariners' playoff hopes, but it surely has them reeling in despair.
So cheer for the Astros. But be careful who you boo.
Except in the case of Seattle Mariners fans. What a bunch of awful jerks. They're evil.
Not all of them. But it sure sounded like most of the 39,920 fans who attended Monday night's game at T-Mobile Park.
In the ninth inning, with Mariners' playoff hopes dimming at the hands of the Astros, Seattle pitcher Dominic Leone unleashed a 96-mph heater that struck Jose Altuve on his left elbow. It looked bad. Astros fans remember that Altuve was hit by a similar pitch, a 96-mph sinker that broke his right thumb, during the World Baseball Classic back in March causing him to miss the first seven weeks of 2023.
Losing 5-0, Mariners fans cheer Jose Altuve getting hit, a player who never cheated.

Altuve has received unnecessary hate for something he didn't do. Booing is one thing but cheering getting hit?

Mariners fans are the most classless pic.twitter.com/X1DMYVip1w
— Michael Schwab (@michaelschwab13) September 26, 2023
Monday night, Altuve flipped his bat backwards, doubled over and grimaced in pain. A Major League fastball, even if it strikes a protective elbow guard, is scary business.

How did Seattle fans react? They cheered.
Idiots.
Altuve is used to being jeered in ballparks around the Major Leagues. Deserving or not, and as more information comes out, it's undeserving that Altuve is the face of the Astros sign-stealing scandal.
But to cheer for a player to get injured is just plain disgusting. This applies to all players, but in Houston, especially Altuve.
Jose Altuve is this generation's favorite Astro. I happen to think that when his career wraps up, he will be a Hall of Famer and the undeniable greatest Astro ever. He is more than a mountain of statistics. He is a role model, not just an All-Star second baseman, but a generous, charitable public servant. In 2017 he was named Sportsperson of the Year by Sports Illustrated, not just for helping his team win the World Series, but for helping his city through a devastating hurricane.
The Astros could say goodbye to George Springer, Gerrit Cole, Carlos Correa, Yuli Gurriel, yes Justin Verlander, too. The one player that management shouldn't dare think about parting ways with is Jose Altuve. He is the embodiment of the Houston Astros spirit. Fans' forgiveness and understanding have their limits.
Not that the Mariners need any extra boost to fall out of the pennant race, it's what they do best all on their own, but here's hoping that Mariners fans enjoy another October watching the Astros play baseball on TV.
"Another one!"- DJ Khaled
That's the first thing that came to mind when I heard the news of Tytus Howard being shut down for the season because of a knee injury. They've had more injuries on the offensive line this season than Nick Cannon has Father's Day cards. Almost every member of the offensive line has spent time on the injury report. Howard went down in the same game in which Juice Scruggs was finally on the active roster. He missed the first 10 games due to a hamstring injury. The irony of next man up has never been so in your face.

The other thing that came to mind was the soap opera As the World Turns.
Howard had just signed an extension this offseason. So did Laremy Tunsil and Shaq Mason. They drafted Juice Scruggs, and signed a few guys too. Those moves, along with other holdovers, were expected to fill out the depth chart. Then a rash of injuries struck. At one point, only one of the original five guys expected to start was playing! In fact, they beat the Steelers 30-6 with that backup offensive line!

One can't have the expectation of backups to perform as good as the starters. They're professionals and are on an NFL roster for a reason. However, the talent gap is evident. One thing coaching, technique, and preparation can't cover is lack of ability or talent. The Texans have done a good job of navigating the injury minefield this season. While the Howard injury will hurt, I have faith in the guys there still.
As of this writing, the Texans are in the eighth spot in the AFC playoff picture. The Steelers, Browns, and Colts are all in front of them at the fifth through seventh spots respectfully. They've beaten the Steelers already. They play the Browns on Christmas Eve and their starting quarterback is out for the season. The Colts are relying on the ghost of Gardner Minshew to steer their ship into the last game of the season vs. the Texans with a possible playoff trip on the line. The Broncos and Bills are the two teams immediately behind them. They play the Broncos this weekend. Even though they're on a hot streak, this is the same team that got 70 put on them by the Dolphins. The Bills are the old veteran boxer who still has some skill, but is now a stepping stone for up & comers.
To say this team should still make the playoffs would be an understatement in my opinion. I believe in them and what they have going on more than I believe in the teams I listed above. That includes teams around them in the playoff race that aren't on their schedule. The one thing that scares me a little moving forward is the sustainability of this line. When guys get up in age as athletes, it becomes harder to come back from injuries. The injuries also tend to occur more frequently when it's a knee, foot, ankle, shoulder, elbow, or another body part critical to blocking for C.J. Stroud.
I know they just re-signed three of those guys and drafted one they believe can be a starter, but depth and contingency plans are a way of life in the NFL. We see how important depth was this season. Why not plan ahead? Don't be surprised if the Texans spend valuable draft capital on the offensive line. By valuable, I'm talking about first through third or fourth rounders. Those are prime spots to draft quality offensive lineman. Whether day one starters or quality depth, those are the sweet spots. The only guy on the two deep depth chart for this offensive line that wasn't drafted in one of those rounds was George Fant, who was an undrafted rookie free agent. While I highly doubt they spend any significant free agency dollars on the group, I'm not totally ruling it out.
The bottom line is, this team will be okay on the line for the remainder of this season. The only way that doesn't happen, more injuries. Stroud is clearly the franchise guy. Protecting that investment is a top priority. I don't care about a number one receiver, or a stud stable or singular running back if the quarterback won't have time to get them the ball. If the pilot can't fly the plane, you know what happens. So making sure he's happy, healthy, and has a great crew is of the utmost importance.
SportsMap Emails
Are Awesome