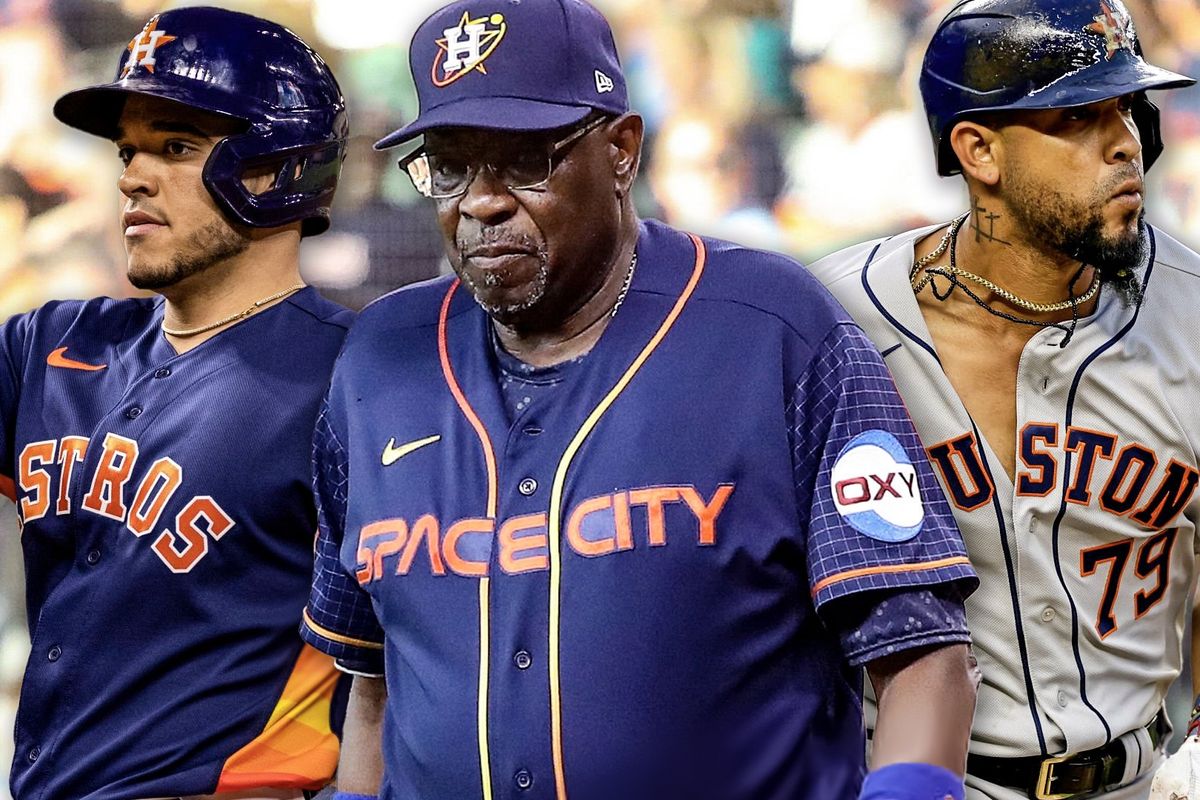 Baker couldn't stand the heat. Composite Getty Image.
Former Astros manager Dusty Baker went on a podcast last week and, after insisting all season that he paid fans no never mind ("if you listen to fans, pretty soon you'll be sitting with them") admitted that fans' pot shots helped pave his way out of Houston.
"You know, I'm kind of tired of this and tired of the scrutiny," he said. That echoed a comment at his retirement press conference where he complained that the Houston media was unfairly critical of him. "There were a couple instances, a couple articles, a couple of things that kind of made up my mind late summer."
I understood how Baker felt. It must not be fun to have your every move questioned and criticized. But then he added a comment that really disappointed me.
"There was a whole lot of criticism from 30-year-olds … that I'm not doing this, and I don't know that."
Belittling 30-year-olds is ageism, disrespectful and given the state of baseball today very misguided. Dismissing advice from 30-year-olds is no different than saying all 74-year-olds (Baker's age) are over the hill and have nothing left to offer the game.
Remember when you were a kid and your father drove you to Little League and forced you to listen to his dinosaur music on the radio? That was Dusty Baker punching the car radio buttons for the Astros in 2023.
From midseason on, Dusty Baker was challenged by general manager Dana Brown, the media and fans who made no bones about wanting rookie Yanier Diaz to be the regular catcher, or at least split backstop duties, with veteran, light-hitting Martin Maldonado.
As the noise grew louder and Brown uncharacteristically went public second-guessing Baker about the catcher's position, Baker doubled down on Maldonado and practically benched Diaz the final weeks of the pennant drive.
By doing so, Baker certainly did Diaz no favors. Baker did Maldonado no favors, either. Each time "Maldy" came to the plate in late innings, you could hear groans from the stands.
But here's where Baker really harmed Maldonado. After the season, general manager Brown declared Diaz "the main guy" moving forward and said the team needed "to get a backup catcher for Diaz."
Perhaps if Baker had played Diaz more and had Maldonado accepted a support role, it's possible that the Astros would want Maldonado another season or two. Eventually he could slide into a coaching spot.
But because Baker played Maldonado every game down the stretch, it's unlikely the Astros considered keeping Maldonado in the fold. First, Diaz doesn't need to see Maldonado on the bench, the ghost of 2023 past. The Astros don't need Maldonado available if Framber Valdez goes diva and insists that Maldonado, and only Maldonado, should be his catcher. Justin Verlander is a pro. He'll be fine with Diaz calling pitches.
Bottom line, Baker did Baker no favors by playing Maldonado every game over the wish of Brown. The Astros are Brown's team now. And Brown doesn't need a hard-headed septuagenarian who doesn't take advice, and thinks 30-year-olds, just by virtue of their age, dare not question his knowledge of the game.
Dana Brown is in his 50s, but to Dusty Baker 50 is probably the new 30.
When the dust cleared from Dusty's lovefest retirement party, he couldn't wait to leave Houston and the Astros were happy to see him go. In 2023 and beyond, younger baseball minds do know as much or more than Baker. It's a whole new ballgame. Analytics rule.
Theo Epstein was 29 years old when he became general manager of the Boston Red Sox in 2002. Two years later, the Sox were World Series champs. Three years after that, the Sox repeated as champions. In 2011, Epstein, still in his 30s, signed to become president of the Chicago Cubs. Five years later, you got it, the Cubs were World Series champs.
Andrew Friedman, from right here in Houston, was only 28 when he was named president of baseball operations and general manager of the Tampa Bay Rays in 2005. Three years later, the Rays were in the playoffs for the first time in their history and made it to the World Series. The Rays also qualified for the postseason in 2010, 2011 and 2013 under his leadership – all while Friedman was in his 30s.
Still in his 30s, Friedman was named president of baseball operations by the Los Angeles Dodgers in 2014. He signed a 5-year deal reportedly for $35 million, making him the highest-paid front-office executive in baseball. Friedman is still the boss in La La Land and the Dodgers won the World Series in 2020.
Billy Beane was 35 when he became general manager of the Oakland A's in 1997. Beane was named MLB's "Executive of the Year" three times. More impressive, Brad Pitt played Beane in the movie Moneyball.
The Astros manager when they won their first World Series in 2017 was A.J. Hinch. He was 35 when the Arizona Diamondbacks hired him as manager in 2009.
Baseball history has dozens of brilliant players, managers and executives who knew more about baseball than their birth certificates would have indicated.
Maybe Dusty Baker should have paid attention to his juniors.
"Another one!"- DJ Khaled
That's the first thing that came to mind when I heard the news of Tytus Howard being shut down for the season because of a knee injury. They've had more injuries on the offensive line this season than Nick Cannon has Father's Day cards. Almost every member of the offensive line has spent time on the injury report. Howard went down in the same game in which Juice Scruggs was finally on the active roster. He missed the first 10 games due to a hamstring injury. The irony of next man up has never been so in your face.

The other thing that came to mind was the soap opera As the World Turns.
Howard had just signed an extension this offseason. So did Laremy Tunsil and Shaq Mason. They drafted Juice Scruggs, and signed a few guys too. Those moves, along with other holdovers, were expected to fill out the depth chart. Then a rash of injuries struck. At one point, only one of the original five guys expected to start was playing! In fact, they beat the Steelers 30-6 with that backup offensive line!

One can't have the expectation of backups to perform as good as the starters. They're professionals and are on an NFL roster for a reason. However, the talent gap is evident. One thing coaching, technique, and preparation can't cover is lack of ability or talent. The Texans have done a good job of navigating the injury minefield this season. While the Howard injury will hurt, I have faith in the guys there still.
As of this writing, the Texans are in the eighth spot in the AFC playoff picture. The Steelers, Browns, and Colts are all in front of them at the fifth through seventh spots respectfully. They've beaten the Steelers already. They play the Browns on Christmas Eve and their starting quarterback is out for the season. The Colts are relying on the ghost of Gardner Minshew to steer their ship into the last game of the season vs. the Texans with a possible playoff trip on the line. The Broncos and Bills are the two teams immediately behind them. They play the Broncos this weekend. Even though they're on a hot streak, this is the same team that got 70 put on them by the Dolphins. The Bills are the old veteran boxer who still has some skill, but is now a stepping stone for up & comers.
To say this team should still make the playoffs would be an understatement in my opinion. I believe in them and what they have going on more than I believe in the teams I listed above. That includes teams around them in the playoff race that aren't on their schedule. The one thing that scares me a little moving forward is the sustainability of this line. When guys get up in age as athletes, it becomes harder to come back from injuries. The injuries also tend to occur more frequently when it's a knee, foot, ankle, shoulder, elbow, or another body part critical to blocking for C.J. Stroud.
I know they just re-signed three of those guys and drafted one they believe can be a starter, but depth and contingency plans are a way of life in the NFL. We see how important depth was this season. Why not plan ahead? Don't be surprised if the Texans spend valuable draft capital on the offensive line. By valuable, I'm talking about first through third or fourth rounders. Those are prime spots to draft quality offensive lineman. Whether day one starters or quality depth, those are the sweet spots. The only guy on the two deep depth chart for this offensive line that wasn't drafted in one of those rounds was George Fant, who was an undrafted rookie free agent. While I highly doubt they spend any significant free agency dollars on the group, I'm not totally ruling it out.
The bottom line is, this team will be okay on the line for the remainder of this season. The only way that doesn't happen, more injuries. Stroud is clearly the franchise guy. Protecting that investment is a top priority. I don't care about a number one receiver, or a stud stable or singular running back if the quarterback won't have time to get them the ball. If the pilot can't fly the plane, you know what happens. So making sure he's happy, healthy, and has a great crew is of the utmost importance.
SportsMap Emails
Are Awesome