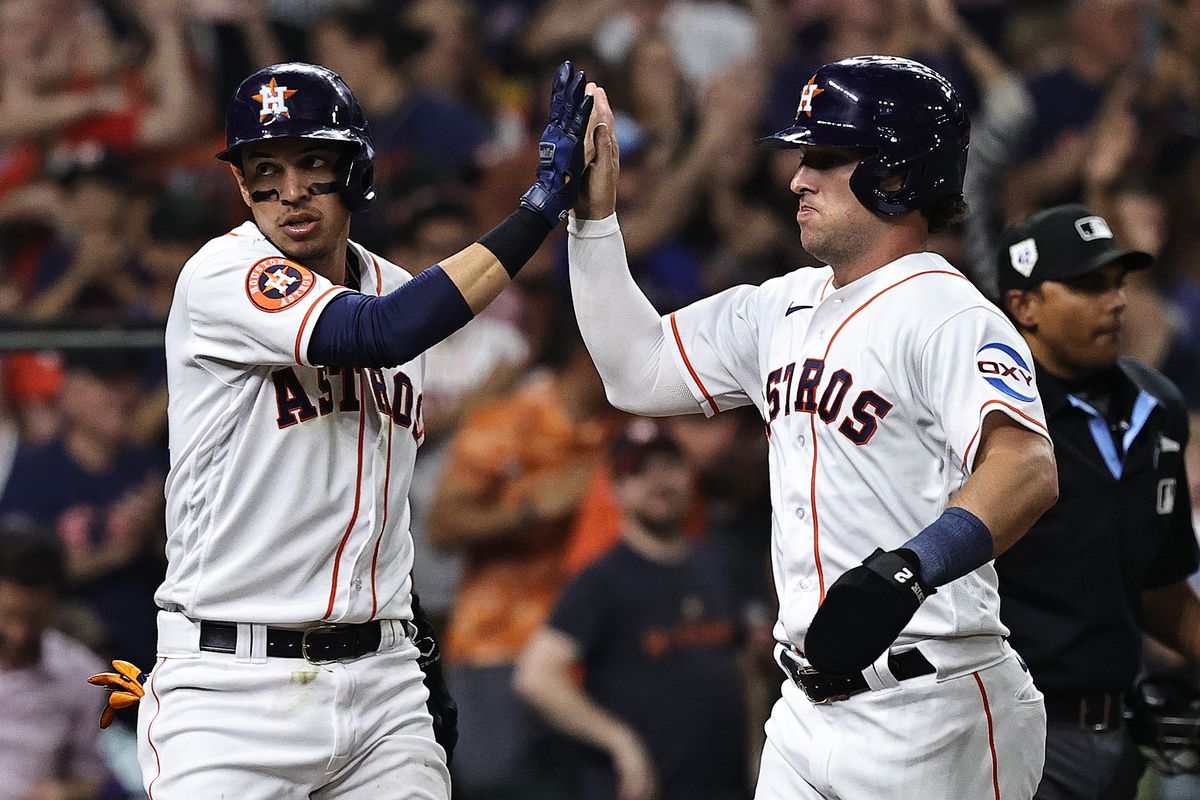 The Gold Glove Award winners are named Sunday. Photo by Bob Levey/Getty Images.
As if the Astros weren't already incentivized to improve their team that fell from a sensational World Series champion in 2022 to the American League runner-up in 2023. Now they look within their division and within their state to see the new champ. Only the Astros pushed the Texas Rangers to the brink of elimination in this year's postseason. The Rangers responded by smashing the Astros to bits in games six and seven at Minute Maid Park to win the AL Championship Series, as prelude to rolling over the Arizona Diamondbacks to give Arlington its first big league title. The Rangers finished the playoffs 11-0 on the road. Incredible. The Rangers wrapping it up in Phoenix means that over the last 10 World Series, the '22 Astros are the only team to set off its celebration by winning the clincher at home.
With the season ending Wednesday night, free agent signings can begin Monday. Unlike in the NFL and NBA when free agency begins every year, MLB does not see an immediate volcanic eruption of megadollar moves. In the unlikely event the Astros hope to make an early splash signing, it's good that few free agents pick their teams based on who the manager is. Since the Astros don't presently have one. Whatever the true extent of his involvement in hiring the new manager, on the player personnel side Dana Brown runs his first offseason as General Manager. Brown had nothing to do with the signing of Jose Abreu or the re-signings of Rafael Montero and Michael Brantley. Abreu picked it up dramatically late in the season but overall had a poor season. Any plan that has the now 37 years old Abreu starting 134 games again in 2024, is a bad plan. Like Abreu, Montero has two seasons left on his contract. Like Abreu, Montero was largely terrible this year. Abreu makes 19 and a half million dollars per season, Montero 11 and a half per. Ouch. At least Brantley's 12 million bucks are off the books.
No games until spring training also means MLB awards season is upon us. The Astros have no serious candidate to win Most Valuable Player, Cy Young, or Rookie of the Year hardware this year. Had Yainer Diaz gotten more playing time…
The Gold Glove Award winners are named Sunday. Either defense among American League second basemen was collectively very weak this season, or it's silly that Mauricio Dubon is one of three AL finalists at second base after starting just 66 games there this season. Dubon did a stellar job filling in for Jose Altuve but 66 out of 162 games is not a Gold Glove-worthy workload. Cleveland's Andres Gimenez should win for the second year in a row. Texas's Marcus Semien is the third candidate. If Dubon wins he'd join in the GG club the guy whose injury made it possible. Altuve won in 2015. Craig Biggio won four years in a row during his 1990s heyday ('94-'97).
Dubon is rightfully a finalist for the "Utility" position. He should win that for doing strong work both at second and in center field. The most absurd Gold Glove ever awarded went to Rafael Palmeiro. The juicer was a fine first baseman who reasonably won in 1997 and '98. He made it three in a row in '99, after playing only 28 games at first!
Alex Bregman is a third time finalist at third base. Toronto's Matt Chapman should win for a fourth time. Doug Rader is the only Astros hot corner guy to win a Gold Glove. "The Red Rooster" won five straight years in the '70s ('73-'77). Ken Caminiti played fabulous defense for several seasons with the Astros but didn't win until he became a vastly improved hitter after joining the San Diego Padres. A player's hitting of course should be a zero factor in consideration, but some voting is plain stupid. The voting portion of Gold Glove selection is done by managers and coaches and counts for 75 percent. A few years ago an analytics component was added, it is given 25 percent weight.
On the subject of questionable voting…
Jeremy Peña won as a rookie shortstop last year. This year Peña played more games and committed fewer errors and certainly displayed no discernible drop off in range. He's not a finalist in 2023. Peña's overall lack of progress offensively probably foolishly factored in somehow. I'm not saying Peña should definitely have won again, but there is no way that hobbled Carlos Correa played a better shortstop this year. Correa had a bad offensive season too! But he's a finalist with Yankees' rookie Anthony Volpe and the Rangers' Corey Seager.
The great Cesar Cedeño largely overlapped Rader while also winning five Gold Gloves in a row in the '70s ('72-'76). In Cedeño's day three outfielders were picked irrespective of outfield position played. In 2011 it shifted to one left, one center, one right. Kyle Tucker won in right last year and is a finalist again this. All the metrics have Tucker's defense down this year. Boston's Alex Verdugo and the Rangers' Adolis Garcia are more deserving.
Do you want to hear more about the Astros offseason outlook?
Stone Cold 'Stros is the weekly Astro-centric podcast I am part of alongside Brandon Strange and Josh Jordan. On our regular schedule a first video segment goes up at 4PM Monday on the SportsMapHouston YouTube channel, with the complete audio available in podcast form at outlets such as:
"Another one!"- DJ Khaled
That's the first thing that came to mind when I heard the news of Tytus Howard being shut down for the season because of a knee injury. They've had more injuries on the offensive line this season than Nick Cannon has Father's Day cards. Almost every member of the offensive line has spent time on the injury report. Howard went down in the same game in which Juice Scruggs was finally on the active roster. He missed the first 10 games due to a hamstring injury. The irony of next man up has never been so in your face.

The other thing that came to mind was the soap opera As the World Turns.
Howard had just signed an extension this offseason. So did Laremy Tunsil and Shaq Mason. They drafted Juice Scruggs, and signed a few guys too. Those moves, along with other holdovers, were expected to fill out the depth chart. Then a rash of injuries struck. At one point, only one of the original five guys expected to start was playing! In fact, they beat the Steelers 30-6 with that backup offensive line!

One can't have the expectation of backups to perform as good as the starters. They're professionals and are on an NFL roster for a reason. However, the talent gap is evident. One thing coaching, technique, and preparation can't cover is lack of ability or talent. The Texans have done a good job of navigating the injury minefield this season. While the Howard injury will hurt, I have faith in the guys there still.
As of this writing, the Texans are in the eighth spot in the AFC playoff picture. The Steelers, Browns, and Colts are all in front of them at the fifth through seventh spots respectfully. They've beaten the Steelers already. They play the Browns on Christmas Eve and their starting quarterback is out for the season. The Colts are relying on the ghost of Gardner Minshew to steer their ship into the last game of the season vs. the Texans with a possible playoff trip on the line. The Broncos and Bills are the two teams immediately behind them. They play the Broncos this weekend. Even though they're on a hot streak, this is the same team that got 70 put on them by the Dolphins. The Bills are the old veteran boxer who still has some skill, but is now a stepping stone for up & comers.
To say this team should still make the playoffs would be an understatement in my opinion. I believe in them and what they have going on more than I believe in the teams I listed above. That includes teams around them in the playoff race that aren't on their schedule. The one thing that scares me a little moving forward is the sustainability of this line. When guys get up in age as athletes, it becomes harder to come back from injuries. The injuries also tend to occur more frequently when it's a knee, foot, ankle, shoulder, elbow, or another body part critical to blocking for C.J. Stroud.
I know they just re-signed three of those guys and drafted one they believe can be a starter, but depth and contingency plans are a way of life in the NFL. We see how important depth was this season. Why not plan ahead? Don't be surprised if the Texans spend valuable draft capital on the offensive line. By valuable, I'm talking about first through third or fourth rounders. Those are prime spots to draft quality offensive lineman. Whether day one starters or quality depth, those are the sweet spots. The only guy on the two deep depth chart for this offensive line that wasn't drafted in one of those rounds was George Fant, who was an undrafted rookie free agent. While I highly doubt they spend any significant free agency dollars on the group, I'm not totally ruling it out.
The bottom line is, this team will be okay on the line for the remainder of this season. The only way that doesn't happen, more injuries. Stroud is clearly the franchise guy. Protecting that investment is a top priority. I don't care about a number one receiver, or a stud stable or singular running back if the quarterback won't have time to get them the ball. If the pilot can't fly the plane, you know what happens. So making sure he's happy, healthy, and has a great crew is of the utmost importance.
SportsMap Emails
Are Awesome