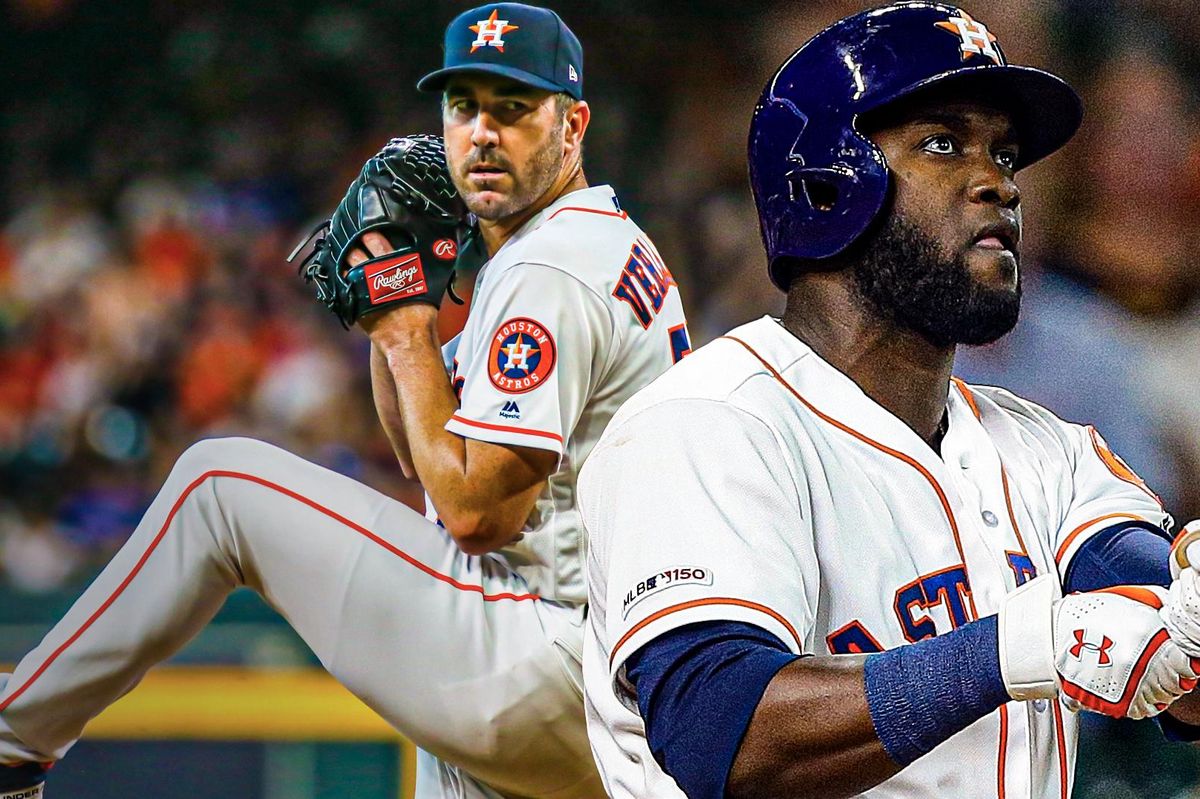 Look at the bright side, Astros fans. Composite image by Brandon Strange.
When Houston Astros ace pitcher Justin Verlander got taken out of Sunday's game against the Baltimore Orioles, fans felt butterflies of nerves moving around their stomach.
Since then, the news seems to be about the best-case of scenario the Astros could have hoped for. Verlander is heading to the 15-day injured list but reports expect it to be a short stint. Of course, the Astros are dealing with other injuries such as with Yordan Alvarez, Ryan Pressly and Martin Maldonaldo.
Tuesday saw a flurry of moves for the Astros to correspond with the short-handed roster. While injuries are never a good thing and always scary, there could be a silver lining among the wounded roster as the postseason nears.
Houston has roughly 30 games left in the season, of those, over half are against either the Texas Rangers, Los Angeles Angels and the Detroit Tigers. Those teams are not exactly a gauntlet for Houston, which holds over a 10-game lead in the AL West and a four-game cushion over the New York Yankees for the best record in American League.
It is no secret that Houston's success will be defined by what happens in October. After a run of five straight ALCS appearances, including three World Series trips, the Astros are looking to pair another world championship to the infamous 2017 title.
While the injuries, in the short term, are a bummer, and in the case of Alvarez surrounded with worry about long-term effects, Houston has put itself in a position where it can afford to allow its key players to take as much time to heal from their injuries without needing to rush.
The 2021 World Series run saw the Astros enter battle against the Boston Red Sox and Atlanta Braves without a key weapon in pitcher Lance McCullers Jr. after he suffered an injury to his arm. If there is any chance the Astros can minimize history from repeating, they should take it.
The Astros have proven they can beat the Yankees, and anyone else in the AL, on the road and at home in 2022. In the meantime, all eyes will be on Brandon Bielak, J.J. Matijevic and especially Hunter Brown when he gets activated Thursday. A new playoff contributor could be a hot September away.
Luka Doncic had 41 points, nine rebounds and nine assists, and the Dallas Mavericks prevented the Houston Rockets from advancing to the quarterfinals of the NBA In-Season Tournament with a 121-115 victory on Tuesday night.
Kyrie Irving added 22 of his 27 points in the second half for the Mavericks, who had already been eliminated. Their victory allowed the New Orleans Pelicans to win Group B in the Western Conference with a 3-1 record.
Doncic fell just short of his 59th career triple-double. That would have tied him for ninth place all-time with Larry Bird. He shot 15 of 29, 3 of 10 on 3-pointers.
"Sometimes we take him for granted, and we shouldn't," Mavericks coach Jason Kidd said. "He's about winning, but it just so happens he's a walking triple-double.
"The Mavericks, who trailed by nine points in the third quarter, grabbed the lead for good at 99-98 with 6:25 to play on a drive by Irving. Leading 103-100 with 5:25 left, they went on an 8-2 run that included three free throws by Derrick Jones Jr. when he was fouled by Dillon Brooks on a 25-footer with the shot clock about to expire.
Jabari Smith Jr.'s 3-pointer with 8 seconds left pulled the Rockets within 119-115 before Dallas closed it out.
Doncic played after sustaining a low-grade sprain of his left thumb on his non-shooting hand early in Saturday's game. He wore a wrap on the thumb.
Doncic made a hook shot from the free throw line after recovering a loose ball near the baseline.
"I'm 2 for 2 in my career on the hooks," Doncic said, saying the other came while playing for the Slovenian national team against Sweden.
Irving shot 2 for 11 in the first half, 1 for 5 on 3-pointers, with no free-throw attempts. He was 6 for 11 in the second half, hitting 1 of 2 behind the arc, and sank all nine free throws.
"I told the team, 'Played well enough to win, not smart enough to win,'" Rockets coach Ime Udoka said. "We were extra-aggressive, especially at the end of the third quarter. Had multiple players make a few dumb fouls, put Kyrie at the line and got him going when he didn't have a lot going. You can be aggressive, obviously, but slapping somebody on a 3-point shot on the arm is an unintelligent play. It has nothing to do with aggression."
Alperen Sengun had a season-best 31 points for the Rockets, who had six scorers in double figures. Fred VanVleet had 10 points and 12 assists.
The Rockets have lost all six of their road games this season. They went into play leading the NBA by allowing an average of 104.4 points per game.
The Mavericks didn't use the specially built court for either of their home tournament games, citing dissatisfaction with the quality.
UP NEXT
Rockets: Will finish a back-to-back at Denver on Wednesday.
Mavericks: Host Memphis on Friday.
SportsMap Emails
Are Awesome