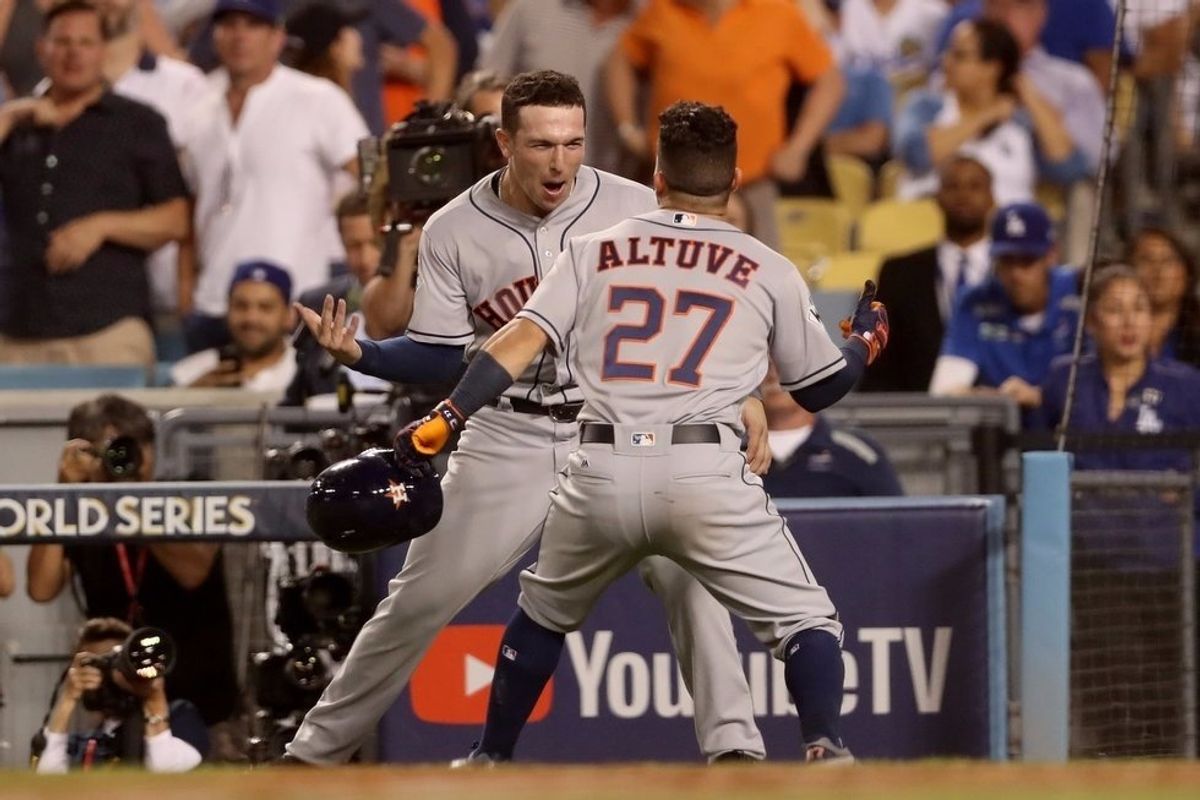 Astros magic number down to two. Photo by Christian Petersen/Getty Images.
With no game on Monday, the Astros are rested and back in action Tuesday night at Minute Maid against the Arizona Diamondbacks. Luis Garcia (13-8, 3.90 ERA) will make the start for Houston, with Zach Davies (2-4, 4.03 ERA) pitching for the D-Backs. Lance McCullers was originally scheduled to pitch, but was scratched due to an "illness."
McCullers has been scratched with an "illness," according to the Astros.

— Chandler Rome (@Chandler_Rome) September 27, 2022
Magic number: 2
The Astros currently sit atop the AL sporting a 101-53 record, 6.5 games ahead of the 94-59 New York Yankees. So the Astros could clinch the AL on Tuesday with a win over the Diamondbacks, and a Yankees loss. The Yankees face the Toronto Blue Jays on Tuesday night. The Yankees are 1.5 run underdogs according to online betting sites.
The Astros can also clinch by winning their next two games, regardless of what happens with the Yankees. Both the Yankees and the Astros are playing well currently, as both clubs have won 7 of their last 10 games.
With the Yankees game starting about an hour before the Astros take on the Diamondbacks, the Astros may know the results of Yankees-Blue Jays while they're trying to finish off the D-Backs. So be sure to watch tonight's Astros game because we could see some fun celebrations if the Astros manage to win and the Yankees fall to Toronto.

One of the big factors that led to the Texans' loss to the Jaguars on Sunday was the secondary. Multiple flags for pass interference gave Jacksonville more opportunities to pick up first downs and score points.
Can confirm #Texans backup CB Shaq Griffin was cut.

Griffin started 6 games this year when Derek Stingley was out with a hamstring.
— DJ Bien-Aime (@Djbienaime) November 29, 2023
So it's no surprise that DeMeco Ryans is making some changes to his defense this week. According to several reports, Texans corner Shaq Griffin has been cut.
Nickel corner Tavierre Thomas was flagged for PI more than once on Sunday, and was burned badly by Jaguars receiver Calvin Ridley for a touchdown.
DeMeco was asked after the game if he considered replacing Thomas with Desmond King or Shaq Griffin. Ryans didn't give a definitive answer, but it looks like we got one today.
One has to wonder if Desmond Kings' experience playing nickel was the reason for his promotion to the active roster and why Griffin was released. If Thomas continues to struggle, King looks like the next man up to replace him.
#Texans activate Denzel Perryman, promote Desmond King to active roster, release Shaq Griffin, sign Matt Ammendola and Garret Wallow to practice squad, released Gerrid Doaks from practice squad and placed Tytus Howard (knee-patellar tendon surgery pending) on injured reserve https://t.co/knyyoqo7yC
— Aaron Wilson (@AaronWilson_NFL) November 29, 2023
The Texans also made some other adjustments to their roster on Wednesday, per Aaron Wilson. Linebacker Denzel Perryman returns from suspension, kicker Matt Ammendola and linebacker Garret Wallow join the practice squad. They also released Gerrid Doaks from the practice squad.
The other big piece of news involves left guard Tytus Howard. He heads to injured reserve, ending his season after hurting his knee against Jacksonville.
SportsMap Emails
Are Awesome