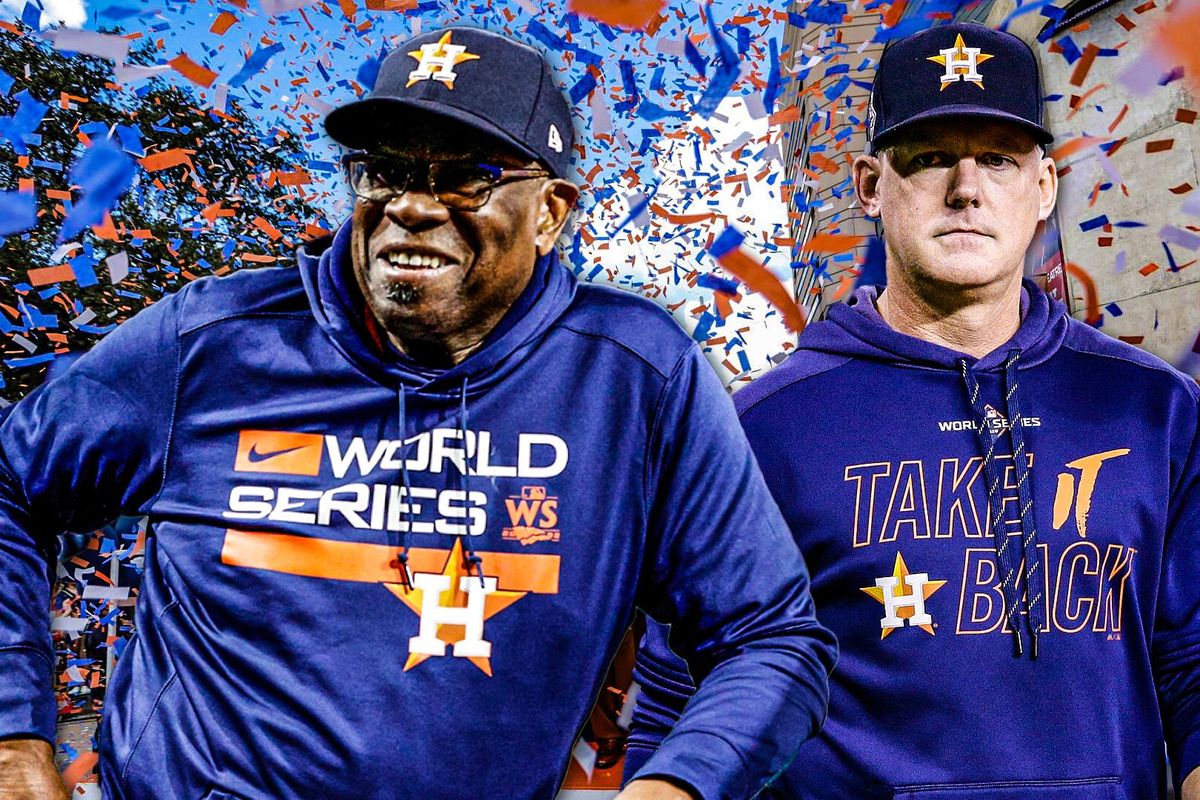 AJ Hinch seems unlikely to return as manager, but Brad Ausmus is a real possibilty. Composite Getty Image.
It is a nice ending that Dusty Baker was able to retire from his post as the Astros manager. Not as nice as doing so with a second World Series title as skipper would have been, but the Texas Rangers ended that pursuit. Baker turns 75 years old next June. Smell life's other roses while ideally keeping one foot in the game as a consultant or in whatever other role. Now that Dusty's decision is official, it is immaterial that if he chose not to step down, it would have been time to make the decision for him.
Back in 1994 barely a month after the Dallas Cowboys won their second consecutive Super Bowl, owner Jerry Jones, perhaps tipsy at the time in a late night bar chat, said that 500 coaches could have won those Super Bowls with the Cowboys' roster. That greased the skids for Jimmy Johnson's departure as head coach less than a month later. Despite Barry Switzer winning a Super Bowl with the Cowboys two seasons later, Jones's comment was stupid and demeaning of Johnson.

Many an Astros fan probably thinks that with all the talent the Astros have had during this seven year run, 500 managers could have managed them to their successes. 500 seems high, but quite likely many could have. What we do know is that Dusty Baker DID manage the team to four straight American League Championship Series, won two AL pennants, and one World Series. Dusty was a great people person, universally respected, and a man for whom players liked playing. He was not a strong strategist. With specific exceptions, Dusty's positive traits outrated his tactical shortcomings. The Astros did not win the 2022 World Series because of Dusty Baker. They definitely did not win it in spite of him.
What a life in baseball it has been for Johnnie B. Baker. To most around here Dusty is thought of and will be remembered as a manager. Baker had an excellent playing career. Dusty made his Major League debut as a 19-year-old in 1968, little more than one year after the Atlanta Braves made him their 26th round draft pick. Coincidentally enough Dusty debuted against the Houston Astros (he pinch-hit for future Hall of Famer Phil Niekro and grounded to short).

To offer some perspective on Dusty the player, primarily a left fielder, he is pretty comparable to Michael Brantley. Unless Brantley bucks the odds to put up a couple more very good seasons, Dusty had the better playing career. Baker finished 19 hits short of 2000. He was an everyday player for 12 seasons. He was a key cog on three Los Angeles Dodgers World Series teams. All faced the Yankees, losing back-to-back in 1977 and 1978 before winning in the strike-shortened 1981 season. Baker won the 1977 National League Championship Series Most Valuable Player Award. All for a guy who was initially told at 16 years old that because of a heart murmur he couldn't play sports anymore.
Not to mention (which is a funny phrase because what does anybody do after saying "Not to mention…"? He/she mentions!) that Dusty was the delivering half of what is generally considered to be the first "high five." That moment occurred after Baker homered off of the Astros' J.R. Richard on the last day of the 1977 season, giving Baker 30 home runs and making the Dodgers the first team ever to have four players hit 30 homers (Steve Garvey, Ron Cey, and Reggie Smith also hit 30+) the same season. After Baker rounded the bases and headed to the dugout, teammate Glenn Burke had a hand thrust in the air so Dusty jumped and slapped it. And so the "high five" was born.
So who takes the Astros' managerial reins? The obvious in-house candidate is bench coach Joe Espada. He has paid his proverbial dues as the bench coach, for two seasons with A.J. Hinch then four alongside Baker. What I would want to hear from Espada in his interview is where his approaches/philosophies would differ from Dusty's. If he didn't say "Yainer Diaz would have caught a lot more" I probably wouldn't hire him. Such a response or any other disagreement with Dusty would not be backstabbing. Espada was a loyal lieutenant. If you want to be my general I need honest answers. Don't disregard that as a first-time manager, Espada would work relatively cheaply.

If Jeff Bagwell's druthers carry the day, Brad Ausmus was Bagwell's closest teammate in their playing days. Ausmus last managed in 2019 with the Angels and was fired after one season in which the Angels went 72-90 despite having Mike Trout in one of his Most Valuable Player Award-winning seasons. The Angels had eight starting pitchers make at least 10 starts in 2019. Their earned run averages: 4.29, 4.58, 4.91, 5.38, 5.98, 6.21, 7.09, 7.11. So unless as a brainy catcher in his playing days Ausmus was to blame as manager of a joke of a pitching staff, his Angels' failure shouldn't be held against him. Before his brief Angels' stint Ausmus had two winning seasons and two losing seasons as manager of the Detroit Tigers.
Re: a trio of other names that have been/will be mentioned…
I don't see Jim Crane having interest in an A.J. Hinch reunion, even if Hinch could get out of the reported two years remaining on his deal with Detroit. Buck Showalter? Fine manager, but not here, not now. LaMarque native and current Arizona Diamondbacks' bench coach Jeff Banister? A Rangers' castoff? Um, no.
"Another one!"- DJ Khaled
That's the first thing that came to mind when I heard the news of Tytus Howard being shut down for the season because of a knee injury. They've had more injuries on the offensive line this season than Nick Cannon has Father's Day cards. Almost every member of the offensive line has spent time on the injury report. Howard went down in the same game in which Juice Scruggs was finally on the active roster. He missed the first 10 games due to a hamstring injury. The irony of next man up has never been so in your face.

The other thing that came to mind was the soap opera As the World Turns.
Howard had just signed an extension this offseason. So did Laremy Tunsil and Shaq Mason. They drafted Juice Scruggs, and signed a few guys too. Those moves, along with other holdovers, were expected to fill out the depth chart. Then a rash of injuries struck. At one point, only one of the original five guys expected to start was playing! In fact, they beat the Steelers 30-6 with that backup offensive line!

One can't have the expectation of backups to perform as good as the starters. They're professionals and are on an NFL roster for a reason. However, the talent gap is evident. One thing coaching, technique, and preparation can't cover is lack of ability or talent. The Texans have done a good job of navigating the injury minefield this season. While the Howard injury will hurt, I have faith in the guys there still.
As of this writing, the Texans are in the eighth spot in the AFC playoff picture. The Steelers, Browns, and Colts are all in front of them at the fifth through seventh spots respectfully. They've beaten the Steelers already. They play the Browns on Christmas Eve and their starting quarterback is out for the season. The Colts are relying on the ghost of Gardner Minshew to steer their ship into the last game of the season vs. the Texans with a possible playoff trip on the line. The Broncos and Bills are the two teams immediately behind them. They play the Broncos this weekend. Even though they're on a hot streak, this is the same team that got 70 put on them by the Dolphins. The Bills are the old veteran boxer who still has some skill, but is now a stepping stone for up & comers.
To say this team should still make the playoffs would be an understatement in my opinion. I believe in them and what they have going on more than I believe in the teams I listed above. That includes teams around them in the playoff race that aren't on their schedule. The one thing that scares me a little moving forward is the sustainability of this line. When guys get up in age as athletes, it becomes harder to come back from injuries. The injuries also tend to occur more frequently when it's a knee, foot, ankle, shoulder, elbow, or another body part critical to blocking for C.J. Stroud.
I know they just re-signed three of those guys and drafted one they believe can be a starter, but depth and contingency plans are a way of life in the NFL. We see how important depth was this season. Why not plan ahead? Don't be surprised if the Texans spend valuable draft capital on the offensive line. By valuable, I'm talking about first through third or fourth rounders. Those are prime spots to draft quality offensive lineman. Whether day one starters or quality depth, those are the sweet spots. The only guy on the two deep depth chart for this offensive line that wasn't drafted in one of those rounds was George Fant, who was an undrafted rookie free agent. While I highly doubt they spend any significant free agency dollars on the group, I'm not totally ruling it out.
The bottom line is, this team will be okay on the line for the remainder of this season. The only way that doesn't happen, more injuries. Stroud is clearly the franchise guy. Protecting that investment is a top priority. I don't care about a number one receiver, or a stud stable or singular running back if the quarterback won't have time to get them the ball. If the pilot can't fly the plane, you know what happens. So making sure he's happy, healthy, and has a great crew is of the utmost importance.
SportsMap Emails
Are Awesome