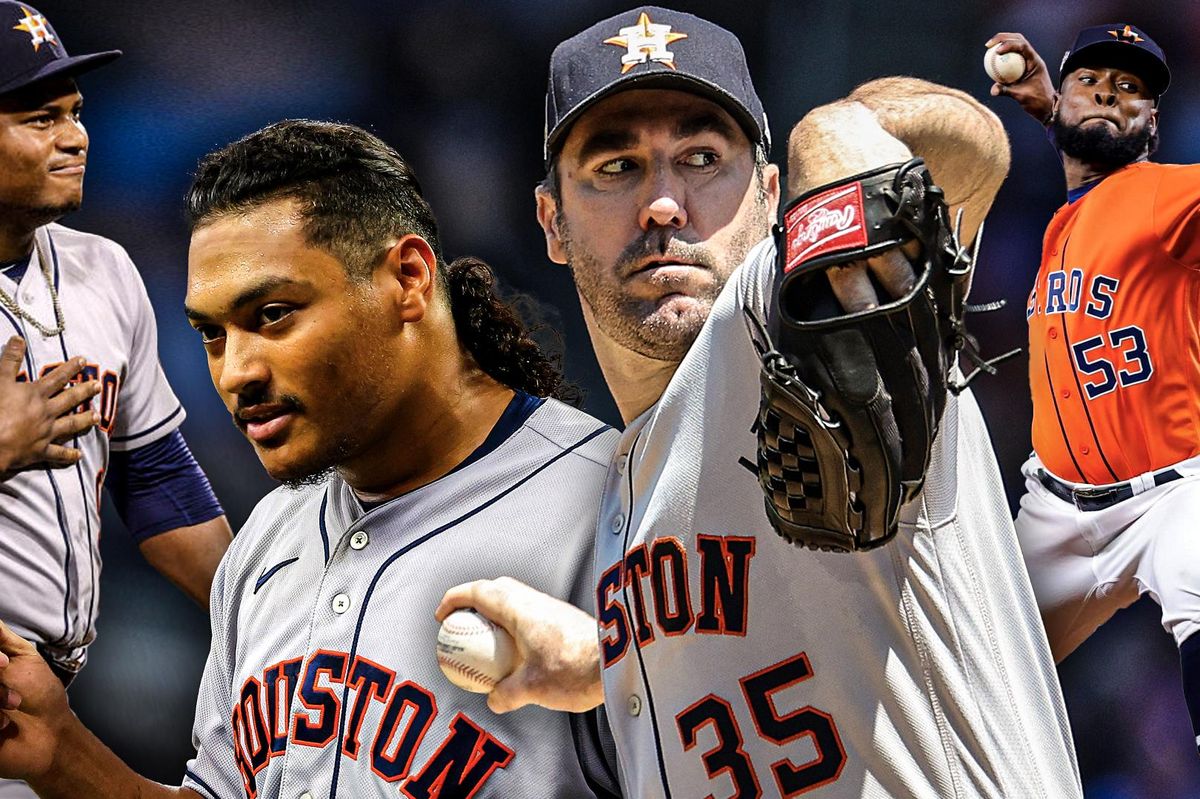 Which pitcher should start Game 2 for Houston? Composite image by Brandon Strange.
Another magnificent Astros' regular season is complete, all 106 wins worth. The 162 game marathon truly determines the best teams in a given year. Now it's the postseason sprint where a really good four weeks is what it takes for any of the twelve teams hoping for autumn glory. The path is notably easier for the Astros, Yankees, Dodgers, and Braves who earned byes past the new best-of-three Wild Card series. Since the first Wild Card was introduced in 1995 there have been 27 postseasons, so that makes 54 World Series spots over those 27 years. Only 35 percent of the time (19 of 54) has the team with the best record in its league advanced to the World Series. In only seven of the 27 years of the Wild Card era has the team with the best record in the Major Leagues gone on to win the tournament. This year the Astros are obviously the best team in the American League. The Dodgers obviously are the class of the National League. The likelihood that we get another Astros-Dodgers World Series matchup five years after the first? Definitely less than 50-50. Maybe not even 30-70.
Should Framber Valdez start Game 2?
After getting rocked in consecutive starts following his record 25 consecutive "quality starts" streak, Framber Valdez had a strong peace of mind five innings no runs 10 strikeouts showing in the season finale Wednesday. For most of the season it was quite evident that Framber would/should slot behind Justin Verlander as the Astros' number two playoff starter. But should he? Things have recently changed. On season body of work Framber is an easy call, but as the Astros can attest to from two of the last three World Series outcomes, teams don't win in October (and early November) based on their body of work. They win on what they do in October (and early November). Cristian Javier has been much better down the stretch. He's been darn near untouchable, firing 23 shutout innings with just six hits allowed over his last four starts. Lance McCullers also factors into the equation.
Game two is at Minute Maid Park. For his career McCullers has been excellent at MMP (2.67 earned run average) and not at all trustworthy on the road (4.43 ERA). He made only eight starts this season but the form chart held: 1.50 ERA at home, 3.57 away. Framber meanwhile was notably better on the road. 3.54 ERA in Houston, a sparkling 2.27 everywhere else. Javier had the most even splits, 2.26 home, 2.84 road.
Remember that with the TV-dictated schedule, if the series goes to a game four (on the road) Verlander would have four days rest if the choice was to use him trying to closeout if up two-one, or stay alive if down 2-1. Using Verlander in game four would mean if a decisive game five (at Minute Maid Park) was necessary the fourth different starting pitcher would be needed.
So…there is no definitive right answer, but I'd go Javier at home in game two, Framber on the road in game three. Then if up 2-1, McCullers in game four hoping to win then and have Verlander set for game one of the League Championship Series. If Verlander went in game four or five of the Division Series he'd be unavailable until game three of the LCS, and that would be his only LCS start unless brought back on three days rest if there was a game seven. Verlander in game four would have McCullers ready for game five, at home.
Path of least resistance
The Astros await the Blue Jays-Mariners survivor. There is no huge gap between the two but if the Astros I slightly lean toward preferring to face the Mariners. The Blue Jays' batting order is way more potent than what the M's put forth, it's a better lineup than the Astros have. On the other hand, the Mariners have the better pitching and defense. Tiebreaker? No customs to deal with in Seattle!
Some of this is on Dusty Baker
Ultimately it falls on players to perform when called upon, but it seems reasonable to cast some blame Dusty Baker's way for the generally lousy production of trade deadline acquisitions Christian Vazquez and Trey Mancini. Upon arrival Vazquez was having a substantially better season than Martin Maldonado, Mancini notably better relative to the tumbled over the hill Yuli Gurriel. Baker opted to ride the incumbents more than use the newbies. That could not have helped Vazquez and Mancini. Mancini looks broken at the plate, hitting into more double plays than he has hits over his last 45 at bats (six GIDP, four hits). With Maldonado and Gurriel obviously to be used as the primary if not every game starters, the most notable lineup decision to be made is who is the designated hitter (or plays left field if Yordan Alvarez is DHing). Aledmys Diaz looked to be making the best case, but went one for 19 to finish the season.
One of the big factors that led to the Texans' loss to the Jaguars on Sunday was the secondary. Multiple flags for pass interference gave Jacksonville more opportunities to pick up first downs and score points.
Can confirm #Texans backup CB Shaq Griffin was cut.

Griffin started 6 games this year when Derek Stingley was out with a hamstring.
— DJ Bien-Aime (@Djbienaime) November 29, 2023
So it's no surprise that DeMeco Ryans is making some changes to his defense this week. According to several reports, Texans corner Shaq Griffin has been cut.
Nickel corner Tavierre Thomas was flagged for PI more than once on Sunday, and was burned badly by Jaguars receiver Calvin Ridley for a touchdown.
DeMeco was asked after the game if he considered replacing Thomas with Desmond King or Shaq Griffin. Ryans didn't give a definitive answer, but it looks like we got one today.
One has to wonder if Desmond Kings' experience playing nickel was the reason for his promotion to the active roster and why Griffin was released. If Thomas continues to struggle, King looks like the next man up to replace him.
#Texans activate Denzel Perryman, promote Desmond King to active roster, release Shaq Griffin, sign Matt Ammendola and Garret Wallow to practice squad, released Gerrid Doaks from practice squad and placed Tytus Howard (knee-patellar tendon surgery pending) on injured reserve https://t.co/knyyoqo7yC
— Aaron Wilson (@AaronWilson_NFL) November 29, 2023
The Texans also made some other adjustments to their roster on Wednesday, per Aaron Wilson. Linebacker Denzel Perryman returns from suspension, kicker Matt Ammendola and linebacker Garret Wallow join the practice squad. They also released Gerrid Doaks from the practice squad.
The other big piece of news involves left guard Tytus Howard. He heads to injured reserve, ending his season after hurting his knee against Jacksonville.
SportsMap Emails
Are Awesome