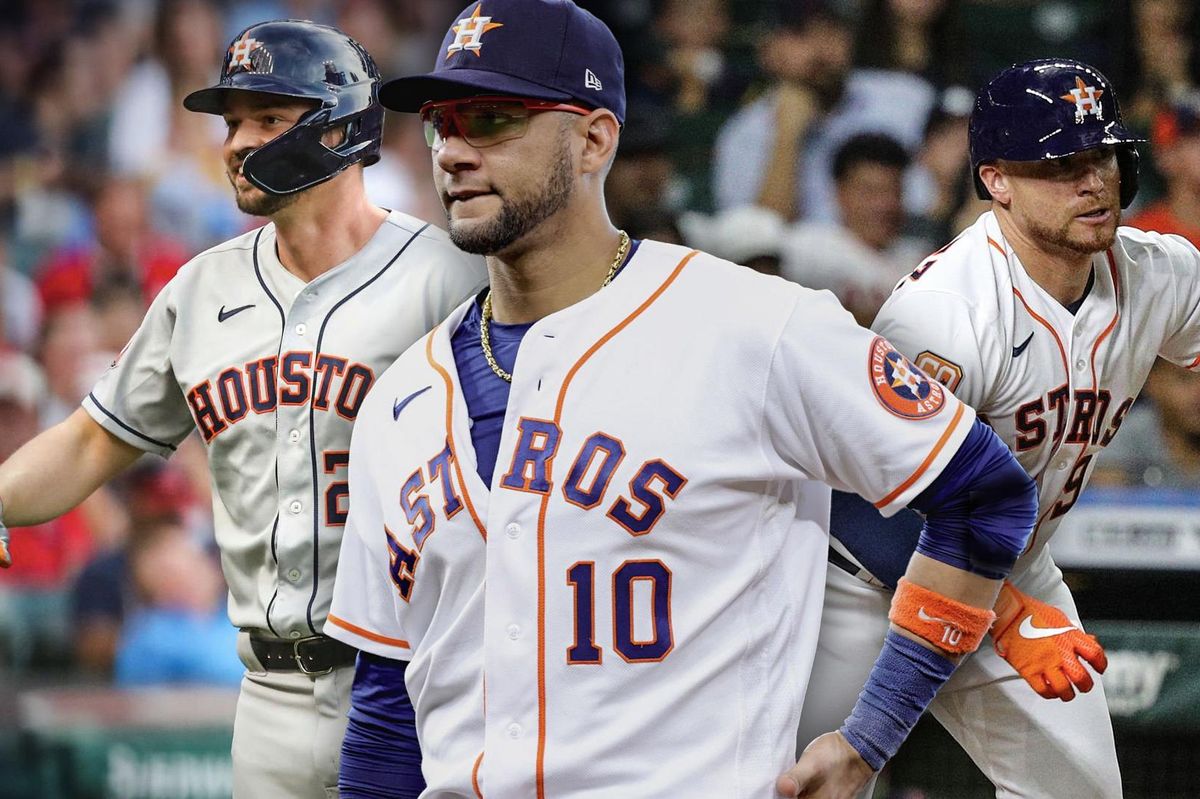 Yuli Gurriel has been a pleasant surprise this postseason. Composite image by Brandon Strange.
Since the World Series began in 1903, there have been only 21 four-game sweeps, the most recent coming in 2012 by the San Francisco Giants over the Detroit Tigers. While there are these 21 instances where a team was overbearingly good, that's more of an exception than the rule.
Especially in today's MLB, where there are, as of 2022, three rounds leading up to the Fall Classic, it's harder for teams to fluke their way into the game's final two, which is why you typically see a much more competitive series. Going into this year's World Series, the Astros are highly favored to win, with the Phillies coming in as the underdogs.
It's correct that the Astros should be expected to win as Houston has things squarely in their favor in several areas, but with what the Phillies have shown so far this postseason, they absolutely should not be taken lightly.
Getting hot when it matters most
The expanded playoffs benefited Philadelphia this year, with the Phillies making the postseason as the third and final Wild Card team in the NL. They ended the regular season with a record of 87-75, edging out the Brewers, who finished one game out at 86-76, which, if you remember, allowed the Phillies to celebrate their playoff berth at Minute Maid Park in the final series of the regular season, which Houston won 2-1 (but should not be any indicator of how this series will go).
In June, Philadelphia sat 22-29, prompting the firing of then-manager Joe Girardi, with bench coach Rob Thomson taking over the reins. Thomson has won over the team and the city, turning the 22-29 team around to a winning record and their first World Series appearance since 2009, when they fell to the New York Yankees after winning it in 2008.
Philadelphia is more of an offensive-driven team, using their top-10 offense from the regular season and middle-of-the-pack pitching staff to get into the playoffs, where they've gotten hot at the right time. In terms of the postseason, they've posted upset after upset, starting with their two-game sweep in the Wild Card round against the Cardinals in St. Louis. They then beat the defending champion Braves in four games in the NLDS before dispatching the Padres in the NLCS in five games, two teams that the Phillies, on paper, should not have handled as easily as they did.
In their eleven games so far in the postseason, they are averaging over five runs per game, with 44% of their runs coming via their sixteen home runs, mostly from their power hitters Bryce Harper, Kyle Schwarber, and Rhys Hoskins. Their offense has helped fan the flames of this hot run they are on, which has the Phillies, the last team in and the last team standing in the National League.
Pitching perfect
Houston cruised to another AL West Division win before locking up the AL's top seed with their 106-56 record, their fourth 100-win finish in the last five 162-game seasons. As that record would indicate, they were a dominant team in the regular season, with a top-10 offense and the best pitching staff (in terms of WAR).
This year's team has been centered around that strength of pitching. Yes, they still have an effective and potent offense, but it has continued to be their pitching that has been the way through. After posting a 2.90 ERA in the regular season, they've improved that to 1.88 in the postseason, having suppressed the Mariners and Yankees' offenses en route to their undefeated 7-0 record so far after the ALDS and ALCS.
While the Phillies have top-tier arms like Zack Wheeler and Aaron Nola, the top-to-bottom dominance by Houston's starters and relievers is simply unmatched. The 1-2 punch of Justin Verlander and Framber Valdez, which, if worse comes to worst, would account for four games if the series should extend to seven games, is enough to put Houston as the predictable winner of those four games.
Then there's the rock-solid bullpen that the Astros have turned to time after time with success in 2022. While they've gotten much more than that from their starters, with a bullpen this good, all Houston needs are about five innings from their starters, then they can roll out four pitchers that are more than capable of finishing things off.
The focus on Houston's pitching isn't to say that the Astros' lineup is outmatched by Philadelphia's by any means. With Alex Bregman's continued consistency, Yordan Alvarez's incredible power, Jeremy Pena's clutch hitting, and a potentially revitalized Jose Altuve to go with others like Kyle Tucker and Yuli Gurriel, they could easily win any game that becomes a slugfest. But, with pitching this good, sometimes all it's taken is a few timely hits, which the Astros have provided with several places in their order along the way.
Time to see how they match up
So, you have a team with an offensive strength going up against a team with a pitching strength. If the Phillies continue to score at the pace they have against Houston's elite arms, they'll potentially have the Astros on the ropes needing their offense to step up in big spots to overcome it. It's why, even though the Astros should win, you can't count out the Phillies.
However, if Houston's pitching tames Philadelphia's lineup and holds them to the type of low-scoring outcomes they have other offenses, then the Astros have things in their favor, forcing the Phillies to ask their pitchers to go beyond what they've provided so far. Yes, the Astros have the advantage in almost every area and have been the better team thus far, but it's never that simple.
It's what makes the World Series competitive almost every year, and why this one will be another fun one to watch when it gets underway Friday night at Minute Maid Park.

The Houston Astros were in need of some serious help in the bullpen with Phil Maton, Hector Neris, and Ryne Stanek likely leaving this year in free agency.
While some fans were getting concerned about the quiet offseason, the club has made two moves this week to get the ball rolling.
First the team signed Victor Caratini to be the backup catcher, and now they have added some relief pitching.
The Astros traded pitching prospect Carlos Mateo to the Royals for RHP pitcher Dylan Coleman.
Coleman appeared in 96 games in the past three seasons for KC, including 68 games in 2022 and 23 games last season. He has a career 3.88 ERA and 1.37 WHIP. He's fastball (95 mph), slider (81) and cutter (90) and walked 57 batters and struck out 99 in 92 2/3 innings.
— Brian McTaggart (@brianmctaggart) December 6, 2023
Coleman is under club control for the next several years, and made just over $700,000 in 2022. With the Astros right up against the tax threshold, this is a good way to add to the bullpen without having to hand out a large contract.
The Royals had a tough roster decision to make with Coleman, and the Astros made the decision easy for them by making the trade.
Something to note
There's a reason Kansas City wasn't determined to protect Coleman from the Rule 5 Draft. Despite his decent numbers over the last three seasons, 2023 was a rough year for him, posting an 8.84 ERA over 23 games.
In fact, Coleman pitched more innings (30.2) for the Royals AAA team than he did for the big league club (18.1) in 2023.
Hopefully, the Astros can get him back on track this season with some help from their highly touted player development program.
You can watch some of his 2022 highlights above.
SportsMap Emails
Are Awesome