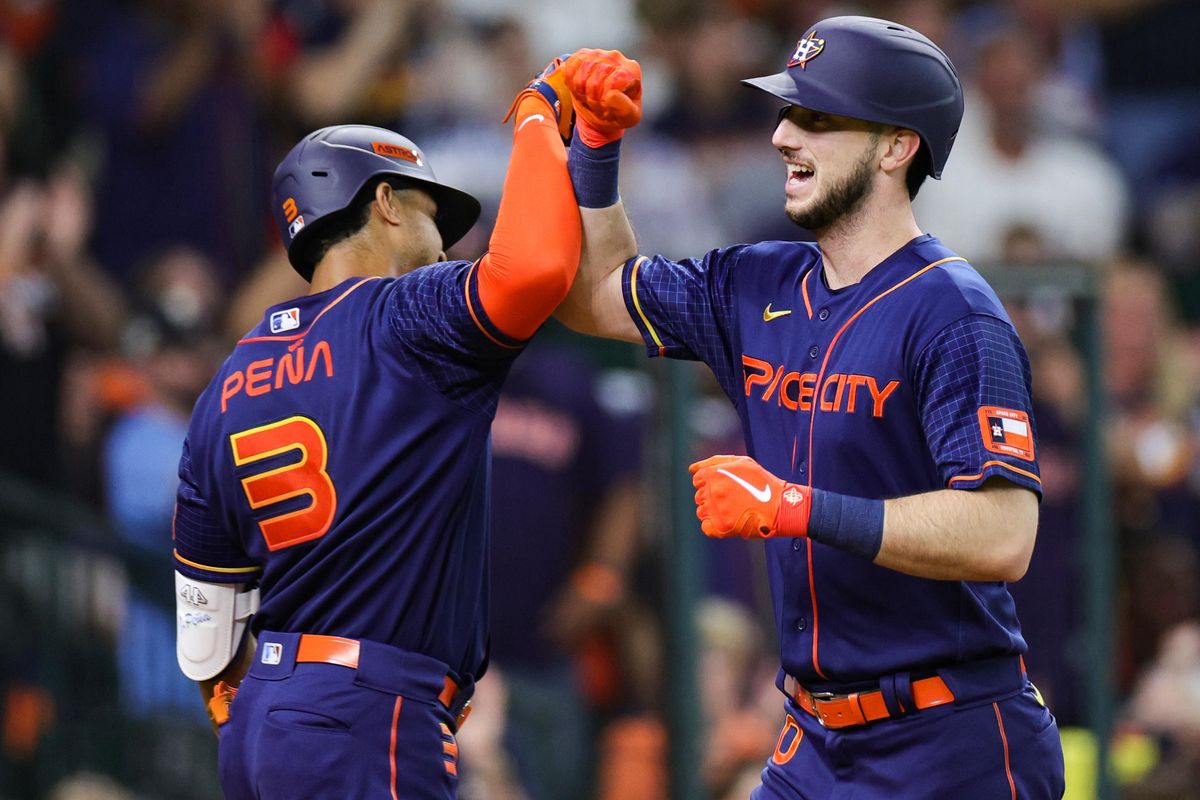 Photo by Carmen Mandato/Getty Images.
The Astros don't need to show a bill of sale to prove that they own Houston. Just take a snapshot of what happened in Houston sports the last two weeks.
The Astros, fresh off dispatching the Seattle Mariners in three straight games, gloriously and emphatically swept the dreaded New York Yankees in the American League Championship Series.
Now the Astros head to the World Series as clear-cut (-185) favorites to beat the Philadelphia Phillies starting Friday at Minute Maid Park. Tickets for the World Series opener in Houston are available on the secondary market starting at $504 for standing room. Field level seats behind home plate will cost you up to $4,000.
Walk into a sports store and all you see are Astros jerseys, caps and pennants. Local TV news anchors and radio personalities are wearing Astros gear and hosting watch parties and downtown fan fests. Schools are encouraging students to wear Astros colors. Politicians are showing up at ball games, hoping to get some Astros karma before Election Day. Houston is awash in Astros orange. Houston undeniably is a baseball town in traditionally football-crazy Texas.
You know the facts and figures: six consecutive American League Championship Series appearances, four World Series appearances in six years, five Division titles since 2017, batting titles, and Cy Young, MVP Awards and Rookie of the Year.
But more than that, the Astros own the hearts of Houston fans. They look like Houston. They fight like Houston. They are diverse like Houston.
The first baseman is a Cuban expat with gravity-defying hair and better scoops than Marble Slab. The second baseman is a pint-sized superstar and girl dad from Venezuela, probably the greatest Astro ever. The baby face shortstop was born in the Dominican Republic, played his college ball in ice box Maine and high-tailed it to subtropical Houston fast as he could, like many of us from someplace else. The smart aleck third baseman is a clutch-hitting Jew with a newborn baby and salsa side hustle. And calling the shots, a beloved old-school African-American wearing gloves and wristbands and working a toothpick into splinters.
Last week the manager Dusty Baker stopped by Kenny & Ziggy's deli to pick up some lox and bagels to help third baseman Alex Bregman break his Yom Kippur fast. That's teamwork.
The Astros starting pitcher Friday night has two Cy Young Awards, one more in the mail, a superstar model wife who's graced the cover of Sports Illustrated's swimsuit editions, and an endorsement deal with Ford. It doesn't suck to be Justin Verlander.
You may not know it in Houston, but football and basketball seasons are in full swing. The Texans and Rockets aren't putting up much of a fight for sports section headlines, though.
The Rockets? They opened their 2022-23 season by dropping three straight games before notching a win Monday night. Current odds of them winning the NBA title this season – 50,000 to 1.
The Rockets announced an opening night crowd of 18,055, a rock-solid sellout. I said "announced." Tickets for the Rockets' next home game against the Los Angeles Clippers on Nov. 2 start at $17 on the secondary market.
The Texans? They're 1-4-1, stuck in last place in the AFC South. Last week they played the equally hapless Las Vegas Raiders and lost 38-20. The only positive news to come from the Texans this year – they lowered the price of hot dogs and beer and finally (finally!) fired polarizing executive Jack Easterby. The Texans are 17,500 to 1 to win the Super Bowl.
The Texans claim an average attendance of 69,243 this season. Don't even. Tickets for Sunday's home game against the Tennessee Titans start at $31.
Sunday is a travel day for the World Series. What will be the top sports story that night? The Astros are back in action tomorrow!
After a quiet offseason the Houston Astros finally made some moves this week to bolster their roster by adding backup catcher Victor Caratini in free agency.
The club also acquired some bullpen help by trading for Royals reliever Dylan Coleman.
Astros GM Dana Brown also garnered a lot of attention this week by proclaiming Jake Meyers will get an opportunity to be the everyday starter in center field.
And while the Astros have been connected to several free agent relief pitchers by various media outlets, it appears Houston isn't looking to spend much money.
On the other hand, the Yankees went out and traded for superstar outfielder Juan Soto, and have shot past the Astros when it comes to World Series odds.
Which begs the question, have the Astros done enough to compete with the Yankees in 2024?
To be fair, we've seen this movie before. The Yankees historically out spend every team, but they've been a little more conservative over the last few years.
But now, they look like the Yankees of old when it comes to payroll.
Plus, we heard rumors a few weeks ago that the Astros might be looking to trade Jake Meyers. And now all of a sudden he's getting the first crack at the starting job in center?
Could this be a smoke screen from Dana Brown to try to elevate his trade value? We've seen the Astros value defense in center field before, they let George Springer walk and replaced him with Myles Straw.
Be sure to watch the video above as we decipher what the Astros are really trying to accomplish this offseason, and successful they can be in the AL in 2024.
SportsMap Emails
Are Awesome