5 relatable moments from J.J. Watt's big soccer announcement
May 3, 2023, 11:36 am
The Watts are now investors in an English soccer team. Photo by Slaven Vlasic/Getty Images for Sports Illustrated
Houston Texans and NFL all-time great J.J. Watt's Twitter bio reads, "Dream Big. Work Hard." But it appears that our beloved No. 99 needs something to do since retiring.
Fortunately for the Texans legend — and apparently, for his soccer star wife Kealia Ohai Watt — the (seemingly bored) future Hall of Famer has a new project. And it's far more than building cabinetry or trying golf.
In a hilarious Twitter video, Watt declared that he has "officially retired from retirement" and is now backing a football team. Not American football. The kind — as he explains in the video, brilliantly using an extending pointer and map — where "they play football with their feet."
The Watts are now investors in the English soccer team Burnley FC. The team, nicknamed The Clarets, most recently competed in the English Football League Championship — known as "the Championship" in England — but will soon play in the top-tier Premier League.
"When you invest in a club that's been around since 1882, you must have great respect for its history and tradition," the Watts noted in a statement. "We understand that not only are we investing in the squad and manager, we're investing in the town and its people." The couple even received No. 99 and No. 2 jerseys, respectively, from the squad.
That serious statement is all well and good, but we're still chuckling over the Watts' video announcement, which is 100-percent relatable for couples across the globe. Here are some of our favorite moments from their big announce.
Honey, I'm bored
In a move familiar to every married guy with a totally genius, just-hear-me-out idea, J.J. proudly pitches a road trip to a dubious Kealia. "If we rent an RV, we can hit the entire Taylor Swift tour," he explains to her, unfolding a map, "just by driving."
Kealia's "can you believe this dude?" long blink/look to the camera echoes exasperated wives everywhere.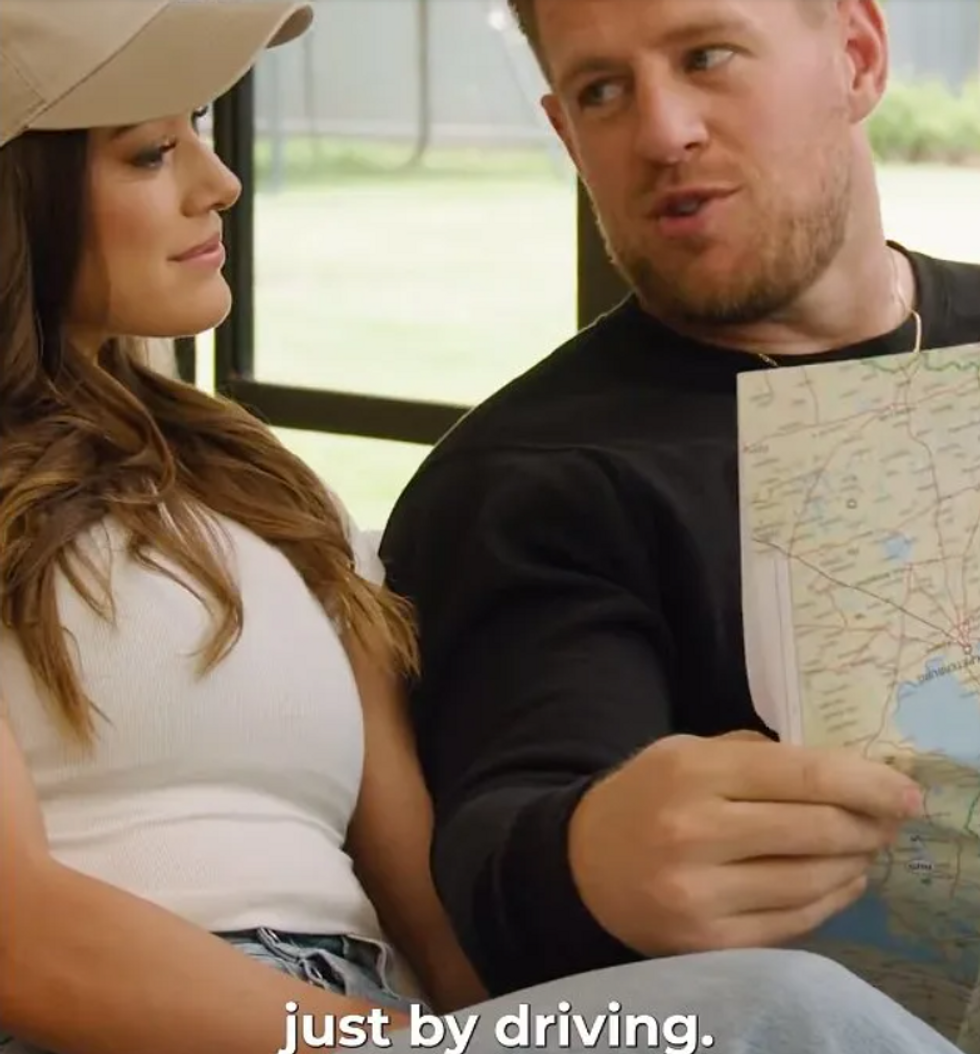 Every husband has made a pitch like this to a dubious partner. JJ Watt/Twitter.
"Look, I've only been retired for about four months," Watt, who's captioned with "Retired Guy" in the video, explains to viewers, "but I really need something to do."
Then comes his "officially retired from retirement" declaration. Kealia's a one-word response is also relatable to wives everywhere: "Thankfully."
Look out Lasso
Deftly explaining England's — and most of the world's — defining sport, our hero extends a presentation-worthy metal pointer, motions to a map of the isles (that magically rolls in from nowhere), and states, "You see, over in these islands here, they play football with their feet. Like her."
Cut to a pro soccer league highlight reel of Kealia scoring like mad on poor goalies.
Thanks, J.J., we were a little shaky on the football-versus-football thing — until the Kealia sizzle reel. Ted Lasso's got nothing on you, sir.
Justin James ... or Ryan Reynolds?
Yet another soccer-loving celeb gets a name check in the video. In another scene totally relatable to married couples, J.J. declares, "We are going to invest in European Football."

"So, you want to be Ryan Reynolds," an off-screen interviewer asks, in a nod to the handsome superstar actor' EFL club, Wrexham.
"No..." J.J starts to reply, shaking his head — immediately interrupted by Kealia, who answers, "Yes, please."
Cut to a headshot of handsome Reynolds, with J.J. giving a smiling, smitten Kealia a "heyyyy, wait a minute," glance.
Continue on CultureMap to learn more!