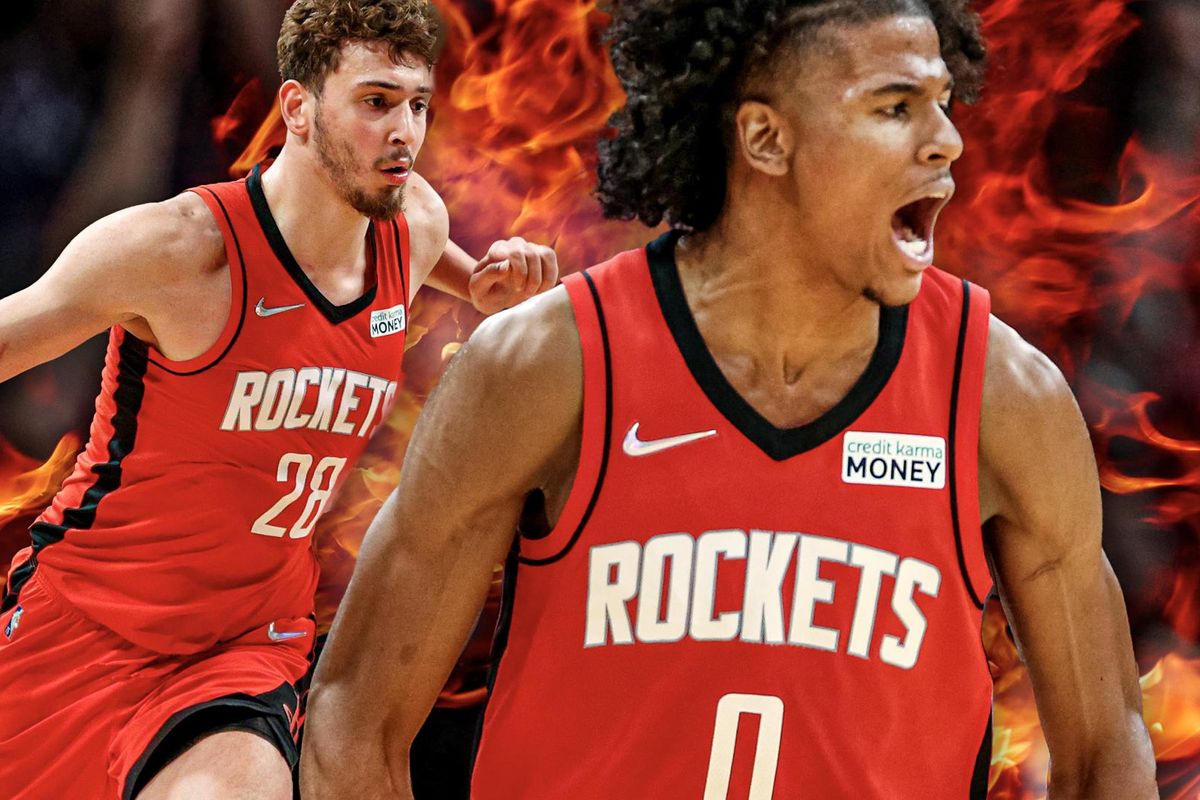 This is good news for Rockets fans. Composite image by Brandon Strange.
That was short. Last week the Portland Trail Blazers announced that its TV and radio broadcasters would cover the team's road games remotely this season.
The decision was met with such fierce backlash by fans and local media that Trail Blazers president Dewayne Hankins went on the team's flagship radio station only days later to announce that its broadcasters would be back on the road, live and in person, in 2022-23.
"I wanted to just kind of set the record straight on the broadcast piece," Hankins said. "And just say we've heard you guys in the media, we've heard all the fans. We're always trying to improve, we're always trying to be that next-generation broadcast."
I've never heard penny pinching and short-changing fans described as a "next-generation broadcast" before.
It got me thinking, is this league-wide strategy? Are the Rockets considering keeping their announcers in a Houston TV studio during road trips this season?
Not to worry. Here's the deal from the Rockets TV play-by-play man Craig Ackerman.
SportsMap: When you heard of Portland's original plan to cover road games remotely, were you concerned that it may catch on with other teams, including the Rockets? Have you been assured that you're traveling to road games?
Craig Ackerman: I wasn't necessarily concerned it would catch-on league wide, but it was worrisome because we need to be on-site for every game and my hope is that remote broadcasting is behind us. Yes, we will be traveling to road games.
SM: Have you started preparing for the upcoming season, learning the roster, talking to staff, buying a season's worth of underwear for the road?
CA: I have started preparing for the season, updating my spotting boards, etc. But, I haven't purchased any new underwear … yet.
SM: You've had experience calling road games off TV because of Covid travel restrictions. Exactly what were the drawbacks? Can you give specific examples? Did you ever miss a critical play because TV didn't show it?
CA: For me, the biggest drawback is not feeling the atmosphere of the game. Being in a studio is a bit antiseptic and even though you have natural sounds in your headphones, it's impossible to truly replicate the energy of a building. Next, you are at the mercy of what's on your screen. We are basically seeing whatever the viewer is seeing and anything that happens off that screen is missed. For example, substitutions, coaches and players reactions. You also have to rely on your stats monitor for referee calls and it's a bit delayed when you aren't in the building and don't have the benefit of being able to get some of the info from the PA announcer. Last season there was a game (I believe it was in L.A.), where a foul or violation was called, but since it occurred a bit off camera and with the officials' backs to us we weren't able to figure out what happened until one minute later. The stats monitor didn't provide that information and we and subsequently the viewers were very confused.
SM: When you're on the road, how much access to the players and coaches do you have?
CA: As much as we'd like. There are no restrictions. But I keep those interactions primarily within the practices and game times. I consider everything else the players/coaches personal time.
SM: Do you travel on the same plane with the coaches and players? Do you socialize with them on the plane? Do you stay in the same hotel as the team?:
CA: Yes, we travel with the team on the charter and stay at the same hotels. And yes, we do socialize from time to time on the plane.
SM: Do you get a per diem for expenses on the road like players get?
CA: I do get per diem, but it's not the same amount as the players receive.
SM: How long have you been calling Rockets games? Do you still get jet lag?
CA: The only time I've had any jet lag that I can remember was a trip to/from China in 2010. I've been calling games full-time since 2008 which began with radio. Then in 2015/16 I split calling home games on the radio and road games on TV. Last season was my first full season on TV after Bill Worrell's retirement.
SM: Who's the best interview on the current Rockets?
CA: Jae'Sean Tate.
Luka Doncic had 41 points, nine rebounds and nine assists, and the Dallas Mavericks prevented the Houston Rockets from advancing to the quarterfinals of the NBA In-Season Tournament with a 121-115 victory on Tuesday night.
Kyrie Irving added 22 of his 27 points in the second half for the Mavericks, who had already been eliminated. Their victory allowed the New Orleans Pelicans to win Group B in the Western Conference with a 3-1 record.
Doncic fell just short of his 59th career triple-double. That would have tied him for ninth place all-time with Larry Bird. He shot 15 of 29, 3 of 10 on 3-pointers.
"Sometimes we take him for granted, and we shouldn't," Mavericks coach Jason Kidd said. "He's about winning, but it just so happens he's a walking triple-double.
"The Mavericks, who trailed by nine points in the third quarter, grabbed the lead for good at 99-98 with 6:25 to play on a drive by Irving. Leading 103-100 with 5:25 left, they went on an 8-2 run that included three free throws by Derrick Jones Jr. when he was fouled by Dillon Brooks on a 25-footer with the shot clock about to expire.
Jabari Smith Jr.'s 3-pointer with 8 seconds left pulled the Rockets within 119-115 before Dallas closed it out.
Doncic played after sustaining a low-grade sprain of his left thumb on his non-shooting hand early in Saturday's game. He wore a wrap on the thumb.
Doncic made a hook shot from the free throw line after recovering a loose ball near the baseline.
"I'm 2 for 2 in my career on the hooks," Doncic said, saying the other came while playing for the Slovenian national team against Sweden.
Irving shot 2 for 11 in the first half, 1 for 5 on 3-pointers, with no free-throw attempts. He was 6 for 11 in the second half, hitting 1 of 2 behind the arc, and sank all nine free throws.
"I told the team, 'Played well enough to win, not smart enough to win,'" Rockets coach Ime Udoka said. "We were extra-aggressive, especially at the end of the third quarter. Had multiple players make a few dumb fouls, put Kyrie at the line and got him going when he didn't have a lot going. You can be aggressive, obviously, but slapping somebody on a 3-point shot on the arm is an unintelligent play. It has nothing to do with aggression."
Alperen Sengun had a season-best 31 points for the Rockets, who had six scorers in double figures. Fred VanVleet had 10 points and 12 assists.
The Rockets have lost all six of their road games this season. They went into play leading the NBA by allowing an average of 104.4 points per game.
The Mavericks didn't use the specially built court for either of their home tournament games, citing dissatisfaction with the quality.
UP NEXT
Rockets: Will finish a back-to-back at Denver on Wednesday.
Mavericks: Host Memphis on Friday.
SportsMap Emails
Are Awesome