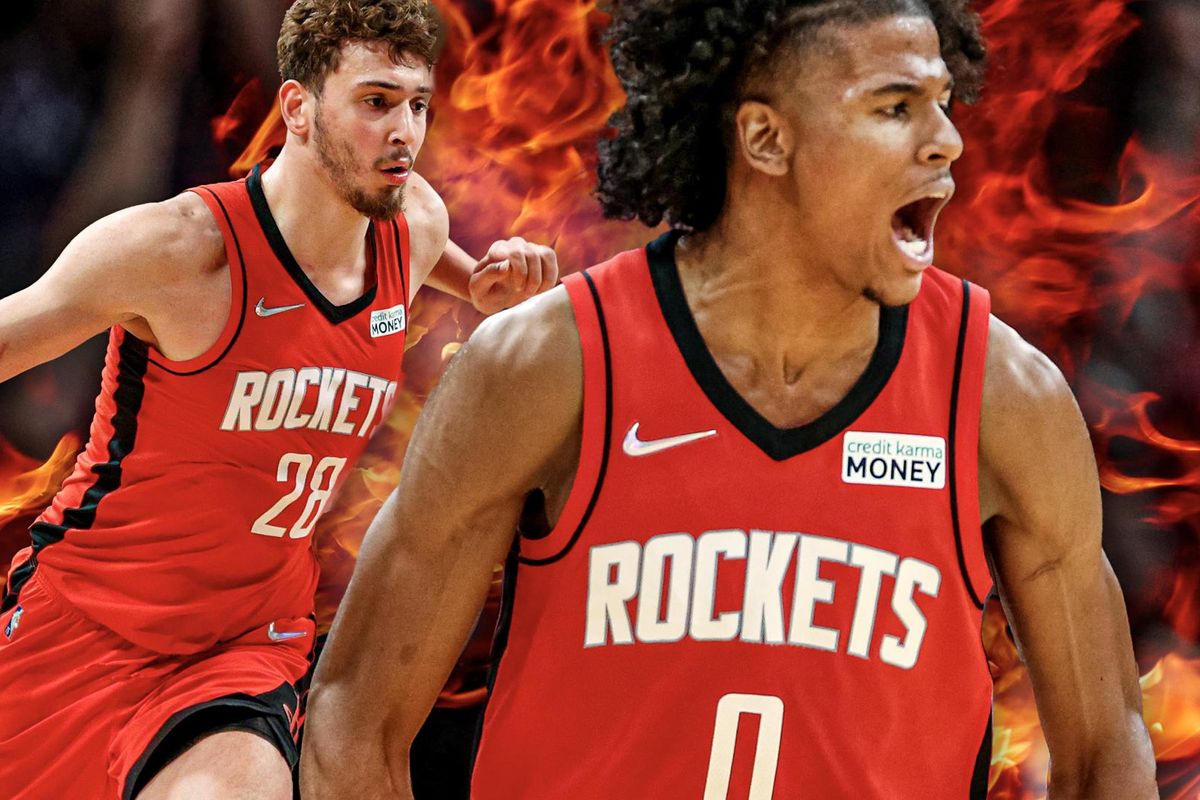 Jalen Green is poised for a breakout season. Composite image by Brandon Strange.
NBA Training Camp is upon us. That also means media day for NBA has taken place as well. Teams and their fan bases are all excited about the prospects for the upcoming season. Anticipation for what's to come is high. Teams will always keep their minds on the task at hand. It's the fans that need to stay engaged. They also can tell when a season isn't going to go well and will check out quickly if things are off the rails.
The Rockets come into the 2022-23 season with more promise than the previous couple of seasons. They have some young talent ready to breakout. They also have some vets on hand to help those young guys out. While I'm not expecting a playoff run, it wouldn't surprise me to see them challenge for a play-in spot. Here are three reasons Rockets fans should be excited for this season:
Jalen Green's continued growth and development: Green had a coming out party towards the end of his rookie year. Over his last 10 games, Green failed to score more than 23 points twice. Six of those games he scored 30 or more. His efficiency went up as he learned shot selection and choosing his spots. He started allowing the game to come to him and/or forcing the action when necessary. This kid loves the game and truly wants to get better. I believe we'll see a more polished version of Green this season. In fact, I wouldn't be surprised if he took a leap in every major statistical category. A first time All-Star? I think it's a possibility.
Jabari Smith Jr. will be everything Christian Wood should've been and then some: Wood gained a rep for being a bit aloof. He wasn't very self-aware, and seemed to be more self-absorbed than a team player. While his play as a stretch four was good, Smith Jr. can be that much better. Wood wasn't a consistent defender and his efforts showed. Smith Jr. seems to take pride in his defense. That alone is worth the change. Having a former NBA player as a dad and growing up around the game has given him the desire to be great. He's seen what this life has to offer. He knows what it takes to be great and appears poised to take the league by storm. Personally, I think he's the perfect fit for the Rockets. Future All-Star player for sure.
A playoff appearance isn't out of the question: With the NBA sticking with the play-in format for the final two playoff spots, it gives 10 teams in each conference a chance to make the playoffs. If 20 of the 30 teams make it and the Rockets can't make at least a push to get one of those final spots, I'll be shocked. These guys are young, hungry, and eager to make their marks on the league. Never underestimate a guy looking for an extension such as Kevin Porter Jr. Throw in Tari Eason, Green, Smith Jr., Alperen Sengun...and you have the makings of a feisty young squad with hunger that can only be spelled by winning.
Gone are the 20-win seasons. Heck, 30-win seasons may be a thing of the past as well. Brighter times are ahead for this team. If they show signs of being a viable contender, who's to say general manager Rafael Stone doesn't use some assets to make a trade for a superstar player they believe can help get this team to make a run in the playoffs? Armed with young talent and a bevy of picks, this team is poised to win at some point. Maybe it's this season. Don't be shocked if they end up playing past the play-in games.
The Houston Astros were in need of some serious help in the bullpen with Phil Maton, Hector Neris, and Ryne Stanek likely leaving this year in free agency.
While some fans were getting concerned about the quiet offseason, the club has made two moves this week to get the ball rolling.
First the team signed Victor Caratini to be the backup catcher, and now they have added some relief pitching.
The Astros traded pitching prospect Carlos Mateo to the Royals for RHP pitcher Dylan Coleman.
Coleman appeared in 96 games in the past three seasons for KC, including 68 games in 2022 and 23 games last season. He has a career 3.88 ERA and 1.37 WHIP. He's fastball (95 mph), slider (81) and cutter (90) and walked 57 batters and struck out 99 in 92 2/3 innings.
— Brian McTaggart (@brianmctaggart) December 6, 2023
Coleman is under club control for the next several years, and made just over $700,000 in 2022. With the Astros right up against the tax threshold, this is a good way to add to the bullpen without having to hand out a large contract.
The Royals had a tough roster decision to make with Coleman, and the Astros made the decision easy for them by making the trade.
Something to note
There's a reason Kansas City wasn't determined to protect Coleman from the Rule 5 Draft. Despite his decent numbers over the last three seasons, 2023 was a rough year for him, posting an 8.84 ERA over 23 games.
In fact, Coleman pitched more innings (30.2) for the Royals AAA team than he did for the big league club (18.1) in 2023.
Hopefully, the Astros can get him back on track this season with some help from their highly touted player development program.
You can watch some of his 2022 highlights above.
SportsMap Emails
Are Awesome