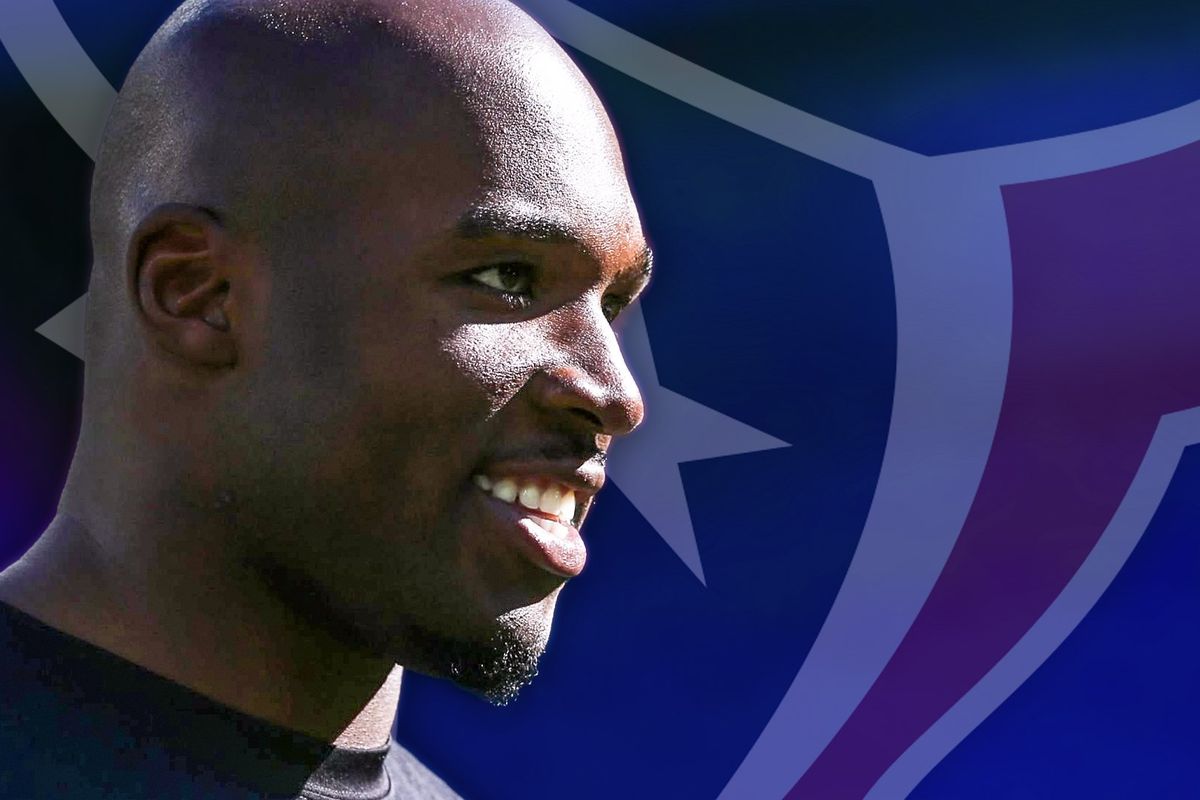 The Texans have the national media's full attention. Composite Getty Image.
Imagine coming into the league to a football crazed city and state. Houston had their team taken away by that dastardly old Grinch, Bud Adams! Dom Capers and Charley Casserly couldn't get it done. Enter Gary Kubiak and Rick Smith. They brought in the first era of winning. When they were brushed aside, Bill O'Brien came in. He pushed Smith out for his own guys. There was some relevance and winning under O'Brien, but he got himself axed (along with his cronies). Still, the city was left starving for a consistent winner.
Nick Caserio came in and was seen by some as another New England guy the franchise was obsessed with. He had some hiccups to start because he was trying to clean up a mess leftover. Enter DeMeco Ryans. Now we're cooking with some good oil! Not only did he appeal to the fans by being a former franchise great, he was also the hottest coaching prospect this past hiring cycle. He spoke and carried himself like nothing this team had previously. Caserio was busy working to acquire the groceries DeMeco needed to cook with. NOW the culture has finally shifted!
Caserio bought himself some time with DeMeco's hire. The draft they put together infused hope with the new-found faith the fans had in the organization. After a 2-2 start, there's more than faith, hope, and a culture shift. The Texans have arrived as a team to be taken seriously. Don't believe me?
There's a reason why national shows are looking to talk to C.J. Stroud. He came in with the hype of being a top prospect and one of, if not the most accurate quarterbacks in his draft class. He's living up to the hype and breaking the mold of what's expected of rookie quarterbacks. Setting passing records is one thing, but he's leading his team. The story of him hosting dinner every night is very believable. When ESPN Houston/ NFL Network's Lance Zierlein talked about the dust up between C.J. and Texans OC Bobby Slowik during the draft process, he thought they wouldn't draft him. It led to them believing in him more because of his passion. Now it's paying off in spades.
Will Anderson Jr. is another guy they drafted out of need. They also wanted his attitude and leadership. Known as a lead by example guy from his time at Alabama, he's brought that same lunch pale work ethic to the Texans. Tank Dell was seen as too small by some. He's worked his butt off and has become one of C.J.'s favorite targets. These rookies have come in and shown what the future of this franchise will look like under this new regime.
Not only are they performing on the field, but they seem to be good guys off the field as well. All they seem to want to do is play football, practice, workout, and hang out with people who'll better them. C.J. and Tank were seen attending a UH football game with Case Keenum. C.J. was also at an all white party getting to know some high profile celebs, namely Tom Brady.
Final thoughts
There was an iconic scene in the movie Goodfellas. Billy Batts came home from prison. Tommy was a shoe shine guy before he went in. Now, Tommy is an up-and-coming mafia associate. Billy gives him a hard time and Tommy sets the record straight, not before getting offended. When Billy goes back at him, Tommy is ready to fight. The Texans are Tommy and the rest of the unbelieving world is Billy Batts. "I don't shine shoes no more" is what this team is now telling the doubters.
"Another one!"- DJ Khaled
That's the first thing that came to mind when I heard the news of Tytus Howard being shut down for the season because of a knee injury. They've had more injuries on the offensive line this season than Nick Cannon has Father's Day cards. Almost every member of the offensive line has spent time on the injury report. Howard went down in the same game in which Juice Scruggs was finally on the active roster. He missed the first 10 games due to a hamstring injury. The irony of next man up has never been so in your face.

The other thing that came to mind was the soap opera As the World Turns.
Howard had just signed an extension this offseason. So did Laremy Tunsil and Shaq Mason. They drafted Juice Scruggs, and signed a few guys too. Those moves, along with other holdovers, were expected to fill out the depth chart. Then a rash of injuries struck. At one point, only one of the original five guys expected to start was playing! In fact, they beat the Steelers 30-6 with that backup offensive line!

One can't have the expectation of backups to perform as good as the starters. They're professionals and are on an NFL roster for a reason. However, the talent gap is evident. One thing coaching, technique, and preparation can't cover is lack of ability or talent. The Texans have done a good job of navigating the injury minefield this season. While the Howard injury will hurt, I have faith in the guys there still.
As of this writing, the Texans are in the eighth spot in the AFC playoff picture. The Steelers, Browns, and Colts are all in front of them at the fifth through seventh spots respectfully. They've beaten the Steelers already. They play the Browns on Christmas Eve and their starting quarterback is out for the season. The Colts are relying on the ghost of Gardner Minshew to steer their ship into the last game of the season vs. the Texans with a possible playoff trip on the line. The Broncos and Bills are the two teams immediately behind them. They play the Broncos this weekend. Even though they're on a hot streak, this is the same team that got 70 put on them by the Dolphins. The Bills are the old veteran boxer who still has some skill, but is now a stepping stone for up & comers.
To say this team should still make the playoffs would be an understatement in my opinion. I believe in them and what they have going on more than I believe in the teams I listed above. That includes teams around them in the playoff race that aren't on their schedule. The one thing that scares me a little moving forward is the sustainability of this line. When guys get up in age as athletes, it becomes harder to come back from injuries. The injuries also tend to occur more frequently when it's a knee, foot, ankle, shoulder, elbow, or another body part critical to blocking for C.J. Stroud.
I know they just re-signed three of those guys and drafted one they believe can be a starter, but depth and contingency plans are a way of life in the NFL. We see how important depth was this season. Why not plan ahead? Don't be surprised if the Texans spend valuable draft capital on the offensive line. By valuable, I'm talking about first through third or fourth rounders. Those are prime spots to draft quality offensive lineman. Whether day one starters or quality depth, those are the sweet spots. The only guy on the two deep depth chart for this offensive line that wasn't drafted in one of those rounds was George Fant, who was an undrafted rookie free agent. While I highly doubt they spend any significant free agency dollars on the group, I'm not totally ruling it out.
The bottom line is, this team will be okay on the line for the remainder of this season. The only way that doesn't happen, more injuries. Stroud is clearly the franchise guy. Protecting that investment is a top priority. I don't care about a number one receiver, or a stud stable or singular running back if the quarterback won't have time to get them the ball. If the pilot can't fly the plane, you know what happens. So making sure he's happy, healthy, and has a great crew is of the utmost importance.
SportsMap Emails
Are Awesome