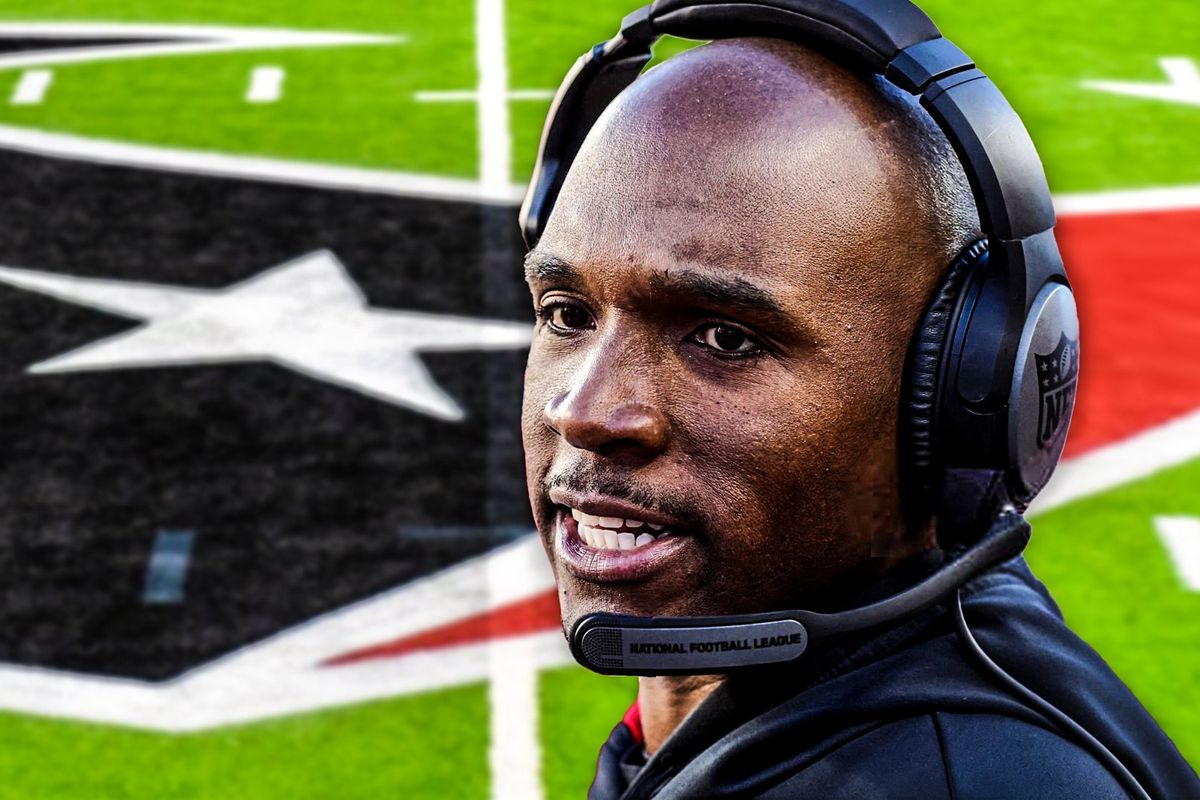 The Texans are struggling to run the ball. Composite image by Brandon Strange.
DeMeco Ryans is highly respected. Always has been, and always will be. His reputation precedes him. Since his high school days, he's been known as a leader. One who does it by example. He walks the walk and talks the talk. Not many coaches have been able to turn successful playing careers on every level into a head coaching gig at the highest level. The ones who have are few and far in between. While he's only a handful of games into his head coaching career, he seems destined for something special. When he speaks on something, everyone should listen.
If you've watched the presser above, you noticed the first two answers: one was about toughness, the other was about the run game. Playing with toughness and running the ball effectively are calling cards of a defensive-minded coach. What I found surprising is his reference to making a guy miss in the hole and forcing some missed tackles. He complimented the offensive line for their blocking (run and pass), but seemed to call out the running backs.
The offensive line has had a ton of injuries. Either on season-ending injury reserve, temporary reserve, or out for a game or two. Giving up no sacks to the Steelers was very impressive with several backups. C.J. Stroud has had time to throw and has carved up defenses. It isn't perfect, but he's had decent protection. The run game is a different story.
They average 82.6 yards per game on 27.2 carries per game, for a paltry three yard per carry average. The three longest runs this season are 15 (Dameon Pierce), 14 (Devin Singletary), and 11 yards (a scramble by Stroud). They run the ball on 42.1% of their plays. I imagine his is not how DeMeco, or Bobby Slowik, envisioned this offense looking. But who's truly at fault?
I say it's the offensive line play and the play calling. The running backs didn't suddenly forget how to run. Pierce averaged four yards a carry last year as a rookie. Singletary has never averaged less than 4.4 a carry in his career. They're at 2.9 and 3.5, respectively, this season. I feel as though DeMeco covered for the line and put some of the onus on the backs to make guys miss. That's hard to do when blocks are being missed.
The play Jeremy Branham posted was a perfect example. It's a zone run to the right side. Laremy Tunsil and Tytus Howard seal off the left side of the defensive line. Jarrett Patterson, Shaq Mason, and George Fant are all supposed to move to the right in unison to set up the run for Pierce. As you can see, Mason moves to the second level and clearly misses his assignment, leading to a big loss by Pierce. Some might say Fant blew the assignment. I can see how one would think that given that the defensive end was lined up over Fant's outside shoulder. Zone plays are designed for the lineman to block an area, not a set person. Moving to the right, where the play was designed to go, he most likely had a different assignment. Bottom line: someone messed up and it wasn't Pierce.
While this is just one example, there are plenty to pick from. Can the running backs be better? Yes. Can the line block better? Yes. Should the play calling take all this into consideration? Most definitely. The fact remains that this line has injuries and is void of some talent (and healthy talent) at the moment. Asking more from your backs is a little much. I get trying to protect your line and give those guys confidence, but not at the expense of making the backs feel as if they need to step it up. Maybe it's DeMeco's way of firing those guys up and keeping them motivated.
DeMeco didn't draft Pierce. Singletary was signed to be a complimentary back. The team extended Tunsil, Howard, and Mason this offseason. See where this is going? I feel like this is a bit of preservation in their offensive line decisions, but also a way of saying they need more talent in the backfield. Regardless, I still believe in what DeMeco is doing until he gives me several reasons why I shouldn't. I can disagree with his statement and still support his overall mission. It's called duality and fans should try it sometimes.
Nikola Jokic had 32 points, 15 assists and 10 rebounds, Michael Porter Jr. scored a season-high 30 points and the Denver Nuggets rolled past the Houston Rockets 134-124 on Wednesday night in Jamal Murray's return from a hamstring injury.
Murray scored 16 points after missing Denver's past 11 games. After starting 6-1 with Murray available, the Nuggets were just 6-5 without their point guard.
His presence led Denver to one of its best offensive outings of the season, with 19 made 3-pointers and 37 assists to just three turnovers.
"One of the security guards said, 'Hey, great win tonight.' I said it was a great outcome," Nuggets coach Michael Malone said. "I wouldn't call it a great win. It was a great outcome.
"It was the third consecutive win for the NBA champion Nuggets, who had lost four of five before their current streak.
Jokic, who was sidelined with a lower back injury in a win Monday at the Los Angeles Clippers, recorded his seventh triple-double of the season. Entering the night, all other NBA players had combined for just eight triple-doubles.
"This is pretty easy basketball when you've got someone that good with the floater, but also that good at passing," said Porter, who had 10 rebounds and made seven of his 12 3s.
Denver had lost twice to the Rockets in November, including a 19-point loss in Houston five days earlier. The Nuggets improved their NBA-best home record to 9-0 while dropping the Rockets to 0-7 on the road.
While Murray returned, Denver was without forward Aaron Gordon, who missed his third consecutive game with a strained right heel.
Welcomed with a roaring "He's back!" from the public address announcer and a hearty ovation from the home crowd before tip-off, Murray injured his ankle after he came down awkwardly on a missed contested shot at the rim two minutes into the game and walked gingerly back to the bench after a Nuggets timeout. He immediately returned out of the timeout and finished with 22 minutes played, though he described his ankle injury as "frustrating."
"The hamstring's fine," Murray said. "I've worked enough to get it back to strength. Now, it's just another thing. I've got to work on that and hopefully I'll be ready."
After that initial scare, his team had little reason to worry the rest of the night.
Led by 12 points from Porter, the Nuggets scored a season-high 41 points in the first quarter and led by as many as 19 in the period. Denver never trailed and led by double digits for all but the opening 4:16 against a Houston team that was playing the second night of a back-to-back after a loss Tuesday night at the Dallas Mavericks.
"We just woke up pretty late," Rockets guard Jalen Green said. "If we started off a little bit better, it would have been a different story."
Green paced the Rockets with 26 points, including 18 in a third quarter in which he made all six of his field goals and all four of his 3s. Alperen Sengun added 22 points for Houston, which lost for the fifth time in seven games following a surprise 6-3 start.
The Rockets were without guard Fred VanVleet, the team's third-leading scorer and $130 million offseason acquisition, who was sidelined with a sprained left thumb.
UP NEXT
Denver: At Phoenix on Friday.
Houston: At Los Angeles Lakers on Saturday
SportsMap Emails
Are Awesome