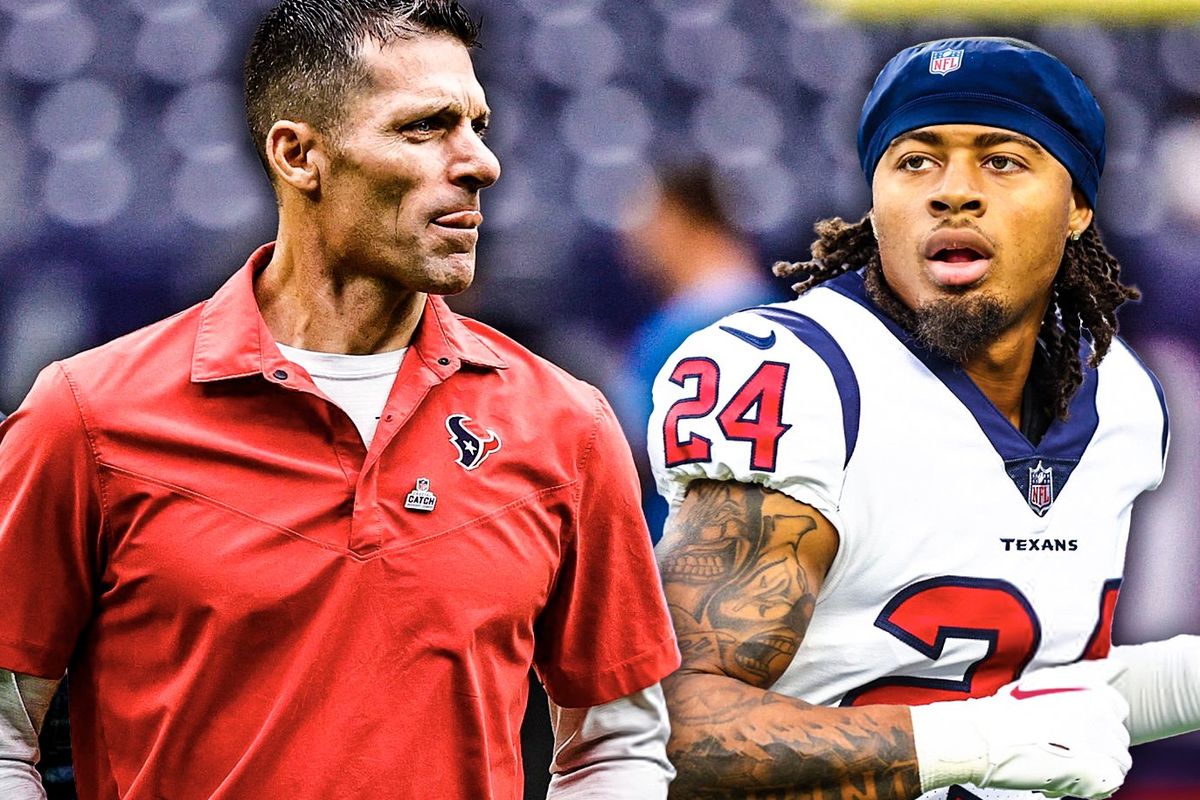 Nick Caserio's history of drafting injury prone players has become a problem. Composite Getty Image.
Nick Caserio was hired to serve as the general manager (GM) of the Texans on January 7, 2021. Some saw it as another nod to the organization's obsession with the Patriots. Others saw it as the team finally getting their guy after pursuing him previously. They were even hit with a tampering charge while trying to talk to him about the job. Since he's been on the job, there have been highs and lows.
Recently, the news about Kenyon Green and Derek Stingley Jr put a stain on his tenure. Green was placed on season-ending injured reserve (IR) and Stingley Jr is expected to be placed on IR, likely missing six to eight weeks, per Aaron Wilson. Both guys were Caserio's 2022 first rounders. Both guys are starting to look like busts and have fans a little more than just upset.
Green's case was curious because he was said to have needed surgery before he tore his labrum during the Saints preseason game. He had knee surgery this past offseason. There were knee injury concerns when he was coming out of A&M. Adding to his injuries, Green has played poorly. To make matters worse, the Chargers drafted fellow guard Zion Johnson two picks later. Johnson played all 17 games last season as a rookie at right guard and has moved to left guard this season. The pick used to draft Green was part of a trade back with the Eagles. They used the 13th overall pick to take Georgia defensive tackle Jordan Davis, a guy at a position this team could desperately use.
Stingley Jr was a highly touted recruit coming into LSU as a freshman. He played as well as any corner in the country that year. Oh, and they won a national title with arguably one of the best teams in college football history. His net two years in Baton Rouge were marred with injuries. Some believed his junior year was more him holding back to stay healthy for the draft. It worked because he was taken third overall, one spot ahead of Sauce Gardner. Gardner went on to be an All Pro as a rookie. While he's surrounded by more talent on the Jets' defense, people will forever link them because Stingley Jr hasn't lived up to expectations. He missed six games last season and is set to miss at least that many this season. When he has played, he's looked okay. "Okay" isn't what you want from a guy drafted third overall ahead of the other guy who was widely considered better than him.
For the 2021 draft, Caserio was handcuffed. He had no first or second rounders, and made a few trades that lessened his draft pool from eight to five picks. Of the five guys drafted that year, only Nico Collins seems to be a player. The 2022 draft was more productive. Although Green and Stingley Jr were the headliners and haven't played up to the hype, the others are carrying the load. Jalen Pitre and Dameon PIerce alone make that draft class dope. This past draft was seen as the one to save the franchise so to speak. Getting C.J. Stroud and Will Anderson Jr got the team a franchise quarterback and edge rusher with picks two and three overall. The price paid to move back up to three was hefty and puts more scrutiny on Anderson Jr. They appear, so far, to have also found a couple other nice players. Tank Dell being the hidden gem of this class.
While people can't, and shouldn't, base Caserio's performance strictly off of the guys he's drafted, one must call it into question. The '21 draft was a wash. The '22 draft looks suspect, but has some redeeming qualities. The '23 draft will most likely be his saving grace. But should it? Former Texans GM Rick Smith nailed almost every first rounder he drafted. Even he was almost run out of town because folks didn't like what he did. Why should Caserio be any different? So what if he cleaned up the mess by the previous regime! That's what he was hired to do!
"Keep that same energy!" That phrase is used when people try to hold others to different standards. Where's that energy everyone had for Bill O'Brien, Jack Easterby, Rick Smith, Gary Kubiak, David Culley, and Lovie Smith? When others weren't performing well, their heads were called for. I see some people holding Caserio accountable. For the most part, it appears as if he's getting a bit of a pass. I'll be interested to see if this continues should the team has another subpar season. If that pick they traded to the Cardinals is another top 10 pick and the Browns pick the Texans own isn't...if Green can't come back and/or Stingley Jr doesn't show any signs of being a lockdown corner...then what? Let's hope none of this comes to fruition. If it does, we'll have to revisit this conversation.
"Another one!"- DJ Khaled
That's the first thing that came to mind when I heard the news of Tytus Howard being shut down for the season because of a knee injury. They've had more injuries on the offensive line this season than Nick Cannon has Father's Day cards. Almost every member of the offensive line has spent time on the injury report. Howard went down in the same game in which Juice Scruggs was finally on the active roster. He missed the first 10 games due to a hamstring injury. The irony of next man up has never been so in your face.

The other thing that came to mind was the soap opera As the World Turns.
Howard had just signed an extension this offseason. So did Laremy Tunsil and Shaq Mason. They drafted Juice Scruggs, and signed a few guys too. Those moves, along with other holdovers, were expected to fill out the depth chart. Then a rash of injuries struck. At one point, only one of the original five guys expected to start was playing! In fact, they beat the Steelers 30-6 with that backup offensive line!

One can't have the expectation of backups to perform as good as the starters. They're professionals and are on an NFL roster for a reason. However, the talent gap is evident. One thing coaching, technique, and preparation can't cover is lack of ability or talent. The Texans have done a good job of navigating the injury minefield this season. While the Howard injury will hurt, I have faith in the guys there still.
As of this writing, the Texans are in the eighth spot in the AFC playoff picture. The Steelers, Browns, and Colts are all in front of them at the fifth through seventh spots respectfully. They've beaten the Steelers already. They play the Browns on Christmas Eve and their starting quarterback is out for the season. The Colts are relying on the ghost of Gardner Minshew to steer their ship into the last game of the season vs. the Texans with a possible playoff trip on the line. The Broncos and Bills are the two teams immediately behind them. They play the Broncos this weekend. Even though they're on a hot streak, this is the same team that got 70 put on them by the Dolphins. The Bills are the old veteran boxer who still has some skill, but is now a stepping stone for up & comers.
To say this team should still make the playoffs would be an understatement in my opinion. I believe in them and what they have going on more than I believe in the teams I listed above. That includes teams around them in the playoff race that aren't on their schedule. The one thing that scares me a little moving forward is the sustainability of this line. When guys get up in age as athletes, it becomes harder to come back from injuries. The injuries also tend to occur more frequently when it's a knee, foot, ankle, shoulder, elbow, or another body part critical to blocking for C.J. Stroud.
I know they just re-signed three of those guys and drafted one they believe can be a starter, but depth and contingency plans are a way of life in the NFL. We see how important depth was this season. Why not plan ahead? Don't be surprised if the Texans spend valuable draft capital on the offensive line. By valuable, I'm talking about first through third or fourth rounders. Those are prime spots to draft quality offensive lineman. Whether day one starters or quality depth, those are the sweet spots. The only guy on the two deep depth chart for this offensive line that wasn't drafted in one of those rounds was George Fant, who was an undrafted rookie free agent. While I highly doubt they spend any significant free agency dollars on the group, I'm not totally ruling it out.
The bottom line is, this team will be okay on the line for the remainder of this season. The only way that doesn't happen, more injuries. Stroud is clearly the franchise guy. Protecting that investment is a top priority. I don't care about a number one receiver, or a stud stable or singular running back if the quarterback won't have time to get them the ball. If the pilot can't fly the plane, you know what happens. So making sure he's happy, healthy, and has a great crew is of the utmost importance.
SportsMap Emails
Are Awesome