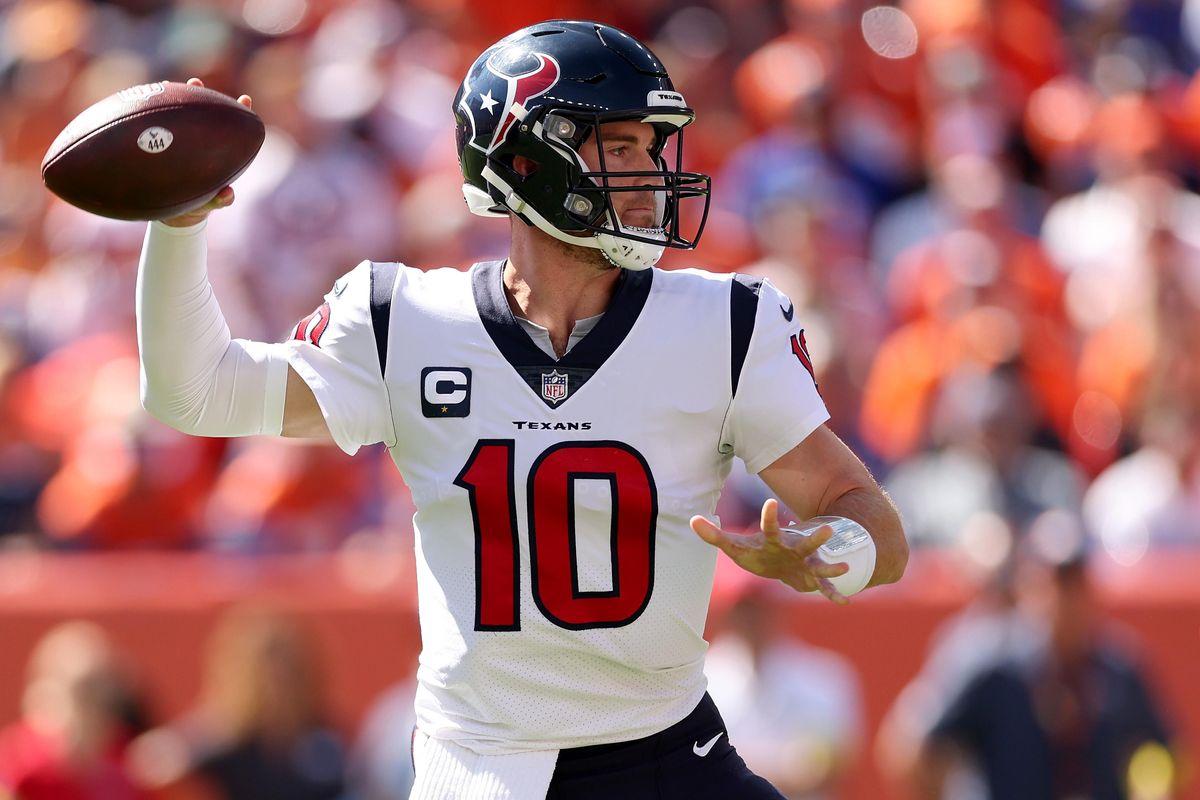 Texans QB Davis Mills struggled in Denver. Photo by Matthew Stockman/Getty Images
The Houston Texans remain winless as they lose to the Broncos 16-9. Here are 11 observations from the game.
1. The Texans seemingly let another game get away from them. If the team had executed better and had a few fewer penalties, there is no doubt they would have had their first win of the season. For a team that lives in the margins, there were too many mistakes. Denver kept the Texans in the game, and the Texans kept taking themselves out of it.
2. Davis Mills played another poor game. The second-year quarterback made some bad decisions late with the football and missed too many plays he should make. Mills throws far too many uncompetitive balls. He needs to get better in tune with the pass catchers.
3. The Texans would be 2-0 with average quarterback play. The team has not gotten average quarterback play. Davis Mills must display the ability to fix mistakes on a week-to-week basis. He didn't showcase that this week.
4. The success of Dameon Pierce makes last week tougher to stomach. It was impossible watching the rookie succeed and not think the team would have won against the Colts if he had played more.
5. Pep Hamilton makes some curious decisions when it comes to play calling. It isn't out-and-out bad, but it isn't good. There is a solid argument to be made he can only do so much with Davis Mills at quarterback.
6. Brandin Cooks can't drop touchdown passes. The Texans will never be able to regularly overcome settling for kicks when they can score. The play after was not a great one as Davis Mills didn't throw the ball quickly enough and Cooks couldn't come down with the ball in the end zone.
7. Derek Stingley had a "welcome to the NFL" day working against Cortland Sutton and Russell Wilson. There were penalties and bad coverages and blown coverages. That's ok. That's cornerbacks. Stingley did have a nice pass defense on Sutton in the endzone. Not worried about the third overall pick.
8. The third down and 16 play will haunt the Texans' defense. It was a late-game moment the team can't get wrong. It might be as simple as Derek Stingley was incorrect in assuming he had help but regardless that's a play the team can't give up and win.
9. The Texans got worn down by a ground attack again. The Broncos were having a ton of success and Houston is lucky there wasn't more focus on running the ball by Denver. It looks a lot better early, but by late in the game, the Texans don't have an answer. Several factors add up to that, including the offense not doing its job.
10. There is very little pass rush consistency. The Jerry Hughes performance last week appears to be an anomaly. The team needs to have some people win individually or generate some pressure.
11. Ultimately the Texans have not lost two times in two games like many expected the team to lose. The tough part is there seems to be a much lower level of ability than the optimistic supporters, like me, believed was present. It will be an uphill climb but getting back to Houston with a win and being 1-1-1 is an absolute necessity.
One of the big factors that led to the Texans' loss to the Jaguars on Sunday was the secondary. Multiple flags for pass interference gave Jacksonville more opportunities to pick up first downs and score points.
Can confirm #Texans backup CB Shaq Griffin was cut.

Griffin started 6 games this year when Derek Stingley was out with a hamstring.
— DJ Bien-Aime (@Djbienaime) November 29, 2023
So it's no surprise that DeMeco Ryans is making some changes to his defense this week. According to several reports, Texans corner Shaq Griffin has been cut.
Nickel corner Tavierre Thomas was flagged for PI more than once on Sunday, and was burned badly by Jaguars receiver Calvin Ridley for a touchdown.
DeMeco was asked after the game if he considered replacing Thomas with Desmond King or Shaq Griffin. Ryans didn't give a definitive answer, but it looks like we got one today.
One has to wonder if Desmond Kings' experience playing nickel was the reason for his promotion to the active roster and why Griffin was released. If Thomas continues to struggle, King looks like the next man up to replace him.
#Texans activate Denzel Perryman, promote Desmond King to active roster, release Shaq Griffin, sign Matt Ammendola and Garret Wallow to practice squad, released Gerrid Doaks from practice squad and placed Tytus Howard (knee-patellar tendon surgery pending) on injured reserve https://t.co/knyyoqo7yC
— Aaron Wilson (@AaronWilson_NFL) November 29, 2023
The Texans also made some other adjustments to their roster on Wednesday, per Aaron Wilson. Linebacker Denzel Perryman returns from suspension, kicker Matt Ammendola and linebacker Garret Wallow join the practice squad. They also released Gerrid Doaks from the practice squad.
The other big piece of news involves left guard Tytus Howard. He heads to injured reserve, ending his season after hurting his knee against Jacksonville.
SportsMap Emails
Are Awesome