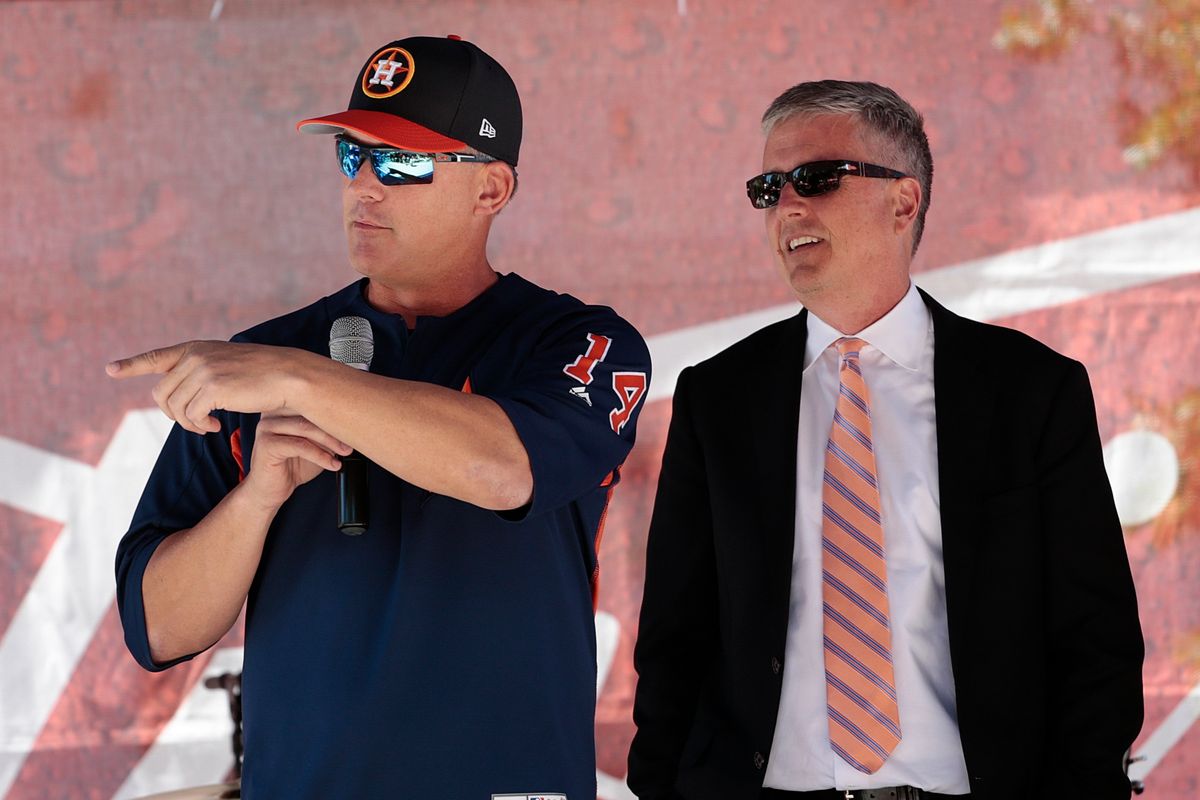 My friends are degenerates
But I'd never change them
Liars, cheats, and hypocrites
Not the type for saving
- A Day To Remember
If you listen to the Blitz, that is the second hour intro. And if you have been paying attention to Houston sports this week, you know it has been filled with liars, cheats and hypocrites. Many have said it was the worst 24 hours in Houston sports history. From a national attention standpoint, it might be the best, because finally the rest of the nation has noticed the sports scene here.
For years, Houston sports fan has chafed that their teams don't get enough attention from the national media.
They are getting plenty of attention now. Congrats, Houston, this is what your sports teams are known for after one of the most bizarre weeks in Houston sports history.
The liars
University of Houston quarterback D'Eriq King made the odd decision to red shirt after four games, with the presumption he would return in 2020. He constantly repeated that he would be back. On Tuesday night, clearly hoping to avoid the spotlight, he announced during the national championship game his intent to transfer.
He insisted he was staying several times, despite rumors that turned out to be true that he never had any intention of returning. It was a bad look for coach Dana Holgorsen, who banked his 2020 season on King, and a worse look for King, who could have just said "as of now, I am planning on staying." Instead he was intentionally misleading.
And the national media noticed. Even though it happened during the championship game, the story made the front page of ESPN.com, and it mentioned all the times King said he was staying. It was a subtle way of highlighting the lies.
It was a bad look for everyone, and closed out a rough day for Houston sports fan.
The earlier news, of course, was The Big Lie.
The cheats
Well, that's easy. The Astros were hit with a loss of draft picks, a fine, and year-long suspensions for their manager and GM.
Shortly thereafter, owner Jim Crane fired GM Jeff Luhnow and manager A.J. Hinch. Major league baseball's discoveries were damning.
There is no doubt the Astros cheated. It's hard to believe that everyone in the organization did not know. But the statement exonerated Crane. We can debate if the punishment was enough, but lost in all of it was that it was a "player-driven" scheme. MLB chose not to punish the players, presumably since there is nothing in the collective bargaining agreement to allow it. Regardless, it leaves a lot of questions. Which players? All of them? Just the stars?
Make no mistake, this has been a major national story from the beginning. It dominated talk and headlines on Monday, even in the wake of NFL playoffs and the college championship. The national opinion? The Astros are cheaters and should have been punished more. If you are a fan, you likely don't care. Or you blame the whistleblower. But the nation has a different opinion. If the team struggles in 2020, you can bet the narrative will be that they can't win without cheating. This one isn't going away. But the controversy let someone else off the hook...
The hypocrites
Rest assured, no one was happier to see the Astros announcements than Bill O'Brien, whose epic, historic collapse in Kansas City was swept to the back pages. His inane comments that "we are headed in the right direction" went without being called out. His poor decisions went unnoticed. His inability to look at his organization and recognize change is needed was lost.
We have been saying that in Houston for years. But after his flaws were exposed to a national audience, finally the rest of the world realizes he is in over his head. Several national outlets said he should be fired.
O'Brien said again he won't hire a GM. He said that defensive coordinator Romeo Crennel is expected to return next year despite two years of terrible defense. His complete power over the organization makes it clear meaningful change is not coming. We get that O'Brien is not going anywhere, but his stubborn reliance on yes men and cronies and refusal to bring in a legitimate offensive coordinator or replace Crennel means there is no hope for the franchise to take the next step. Sometimes you need new voices. O'Brien's just gets louder and louder and drowns out everyone else's.
Since he became coach, the other three teams in the AFC South have made the AFC Championship Game. The Texans are the only team to fail to do that. Yet they are going in the right direction, according to O'Brien.
What does it all mean? 
The city's teams are finally getting national run. Whether or not it is for good reasons in immaterial. Houston is in the national spotlight. If you are a fan, all you can do is embrace the liars, cheats and hypocrites, and roll with it. And wait for the Rockets to find a way to make news.
The reality is this has been going on for decades. Baseball in particular is a sport that welcomes cheating. Athletes and teams have been lying to you for years. Speaking of hypocrites, if you ripped the Patriots but defend the Astros? The bottom line is fans love to turn a blind eye. And that's just fine. But pretending this isn't a reality is naive.
As fans, you want to believe you are rooting for good people. You wear their jerseys. But the reality is when that much money is on the line, people are going to do whatever they can outside the rules. Maybe it is overly cynical, but the truth is most of them grew up in a culture of cheating and taking short cuts and trying not to get caught. Should we act surprised when they do? Bad people exist in all walks of life. Money attracts more of them.
There is a LOT of money in sports.
And to think it is just Houston is silly. Players like Cody Bellinger saying the Dodgers did things the "right way" might want to hold off. More will come out, and you look even worse when you say stuff like that and your team is the next one.
That leaves Houston fans to just embrace and accept reality. And before you say, "this is harsh and unfair..." is there anything in here that is not true?
Oh, and enjoy the 2017 World Series, because at this rate, that is all you will be able to hang your hat on.
But at least the national media notices you now.
Astros GM Dana Brown has recently discussed how the club is going to approach free agency on the team's flagship station, and based on his comments, it doesn't sound the Astros are going to spend a lot of money.
He mentioned being "creative" with their strategy and maybe exploring some trade possibilities. Which is why we were surprised to hear from Jon Heyman that the Astros may have interest in Japanese pitcher Yoshinobu Yamamoto, or another "elite" starting pitcher.
Phillies are still looking at top starters after bringing back Aaron Nola. They have company, as at least the Red Sox, Cardinals, Braves, Dodgers and Astros are looking for an elite starter (and many more than just those teams are on Yamamoto, who's only 25).
— Jon Heyman (@JonHeyman) November 20, 2023
With the team right up against the tax threshold, a signing like this would certainly push them over, unless they find a way to dump some salary that's already on the books.
But the report that Houston is looking for an elite starter, certainly caught our attention. Mainly, because Dana Brown's comments about backup catcher and bullpen help being the priority, with starting pitching being more of a pipe dream considering the budget constraints.
A move like this would likely require someone like Alex Bregman being traded to make the money work. So is Jon Heyman off the mark with this report, or is Dana Brown quietly looking to add an elite starter?
Plus, just this week the Phillies signed Aaron Nola to a 7-year $172 million contract. Framber Valdez is looking for a long-term deal with 2 years remaining of club control. Will Framber's agent use this contract as a benchmark for what is client is looking for?
Don't miss the video above as we make sense of these recent reports!
If you enjoy the videos, subscribe to SportsMapHouston on YouTube for our latest content.
SportsMap Emails
Are Awesome