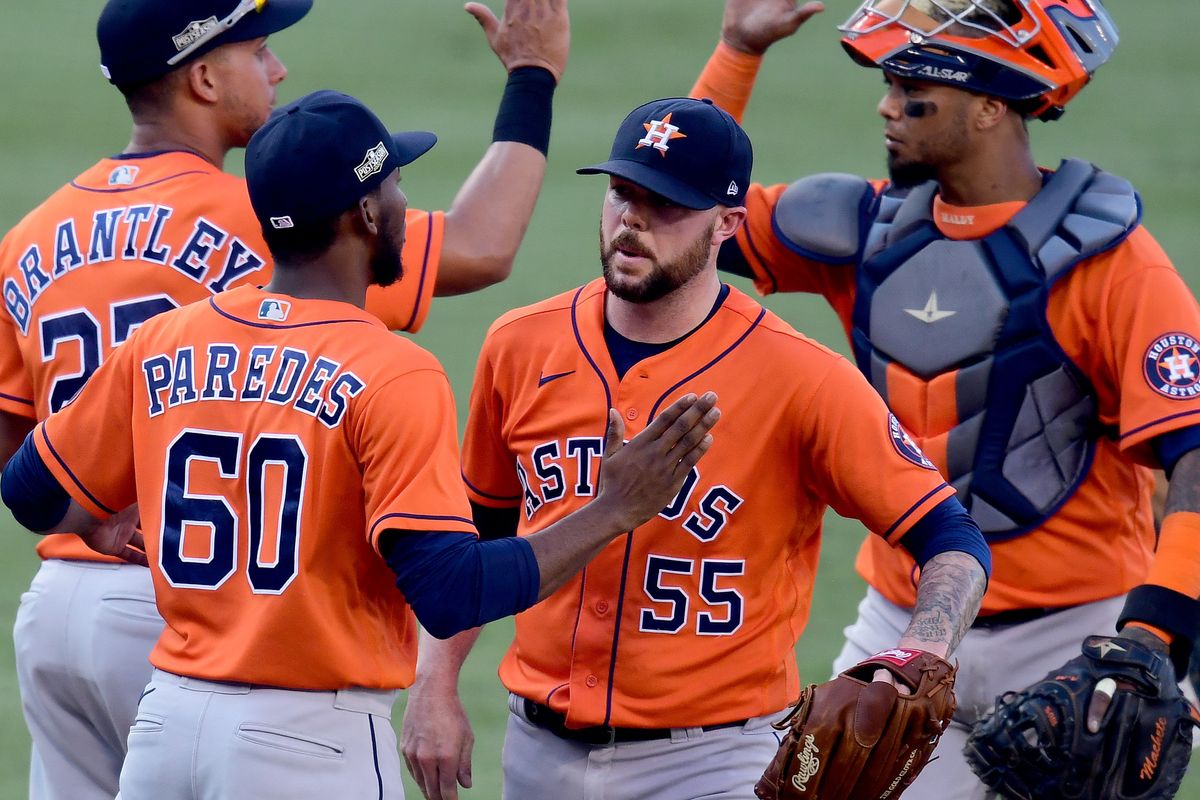 The Astros now have several arms they can depend on. Photo by Harry How/Getty Images
Most people considered the Houston Astros bullpen to be the team's biggest hole. Considering Will Harris and Hector Rondon left in the offseason, while no veterans were brought in to replace them, Joe Smith opted out of the shortened COVID season, and Roberto Osuna threw less than 60 total pitches, it makes sense that the 'pen would be thin. Even former bullpen mainstays like Chris Devenski, Brad Peacock, and Josh James missed most or some of the season with injury. The exodus of talent and numerous trips to the IL presented some young arms with an opportunity, and a handful of them seized those opportunities.
Ryan Pressly
Once Osuna went down for the season, Pressly stepped in as the team's closer, and he did an admirable job. He converted 12 of 16 save opportunities, had a 3.43 ERA, 12.43 K/9, and 3.00 BB/9. He wasn't lights out by any means, but he certainly wasn't poor.
The advanced numbers say the Astros should be comfortable with Pressly as their closer next season. Pressly's 2.74 xERA (Expected ERA) was lower than his ERA, and same with his 2.81 FIP. Pressly was even better in his 7.1 postseason innings, when he had a 2.45 ERA and 1.42 FIP.
Pressly has two traits the Astros envy:
Pressly was in the 99th percentile in curveball spin. Only Garrett Richards and Lucas Sims had higher spin rates on their curveballs. He was also in the 95th percentile in fastball spin, and he pairs that with average fastball velocity of 94.6 MPH.
All-in-all, Pressly does a great job of limiting damage and free bases while missing bats. His walk rate spiked in 2020, but it was back in line with his career norms by the postseason, signaling that the walk issues could be tied to the quick ramp-up of Spring Training 2.0. Aside from that, the numbers being as high as they are (which aren't even that high), seems to stem from some bad luck.
Enoli Paredes
Paredes burst onto the scene in 2020, bailing the Astros out of tough situations with electric stuff and moxie. By season's end, he was the team's second most reliable reliever behind Pressly.
Was Paredes' breakout a fluke or is he legit?
Similar to Pressly, Paredes is elite in two categories: velocity and spin.
Paredes was in the 90th percentile in curveball spin and 75th percentile in fastball spin. His 95.7 MPH fastball was in the 86th percentile. Put simply, Paredes has some electric stuff.
He also has a trait that new Astros General Manager James Click likely envies: a unique look.
Paredes has a release point just 5.1 ft off the group. He's an old school "drop-and-drive" pitcher, so despite being 5'11" tall, the ball comes out of his hand nearly a foot lower than that to the ground. His fastball explodes out of his hand with incredible life, and it's why he got so many swings-and-misses on a fastball that he threw 68% of the time.
Now, it isn't all good news. Paredes' 5.76 xERA is significantly higher than the 3.05 ERA he actually posted. His 3.63 FIP is closer, but it's still higher than how he actually performed. His 4.79 BB/9 is high.
All that being said, Paredes is only 25, has incredible stuff, a great attitude, and the best pitching coach in baseball to aid his development. As he continues to develop his secondary pitches, he should continue to be a reliable arm in the back of the Astros bullpen.
Blake Taylor
Blake Taylor was another young arm that entered Dusty Baker's circle of trust by the end of the season. Acquired in the Jake Marisnick trade, Taylor was considered an afterthought, but by season's end he was considered a great parting gift from Jeff Luhnow.
Taylor pitched his way into the hearts of Astros fans with a 2.18 ERA in 20.2 IP. He also had a 1.59 ERA in 5.2 postseason innings. Taylor's 2.99 xERA suggests his 2020 performance was legit, while his 4.55 FIP suggests he may have gotten lucky. Regardless, he's an interesting case.
Taylor's success comes from an ability to miss barrels. He induced tons of weak contact, as his Average Exit Velocity Against, xBA, and xSLG were all in the 94th percentile or better. He induced tons of weak contact, as he was 30th amongst relievers in soft hit % and 12th in hard hit %.
It is a little perplexing how he does it. Taylor is roughly average in fastball velocity, and he's exactly average in fastball spin. Same with his breaking pitches. Taylor doesn't have unique pitch usage either. He threw his fastball 76.5% of the time and his slider 22.6% of the time, essentially making him a one pitch guy. Most hitters are eliminating his slider and changeup (he threw it 0.9%) before they step into the box. Most hitters would salivate over an at-bat with those odds at average velocity, but hitters didn't have success.
Taylor doesn't do it with pinpoint control either. He walked 5.23 per 9, and he certainly didn't live on the edges.
He didn't experience success in a stereotypical Astros way, as they usually rely on velocity and spin, but his ability to induce soft contact is impressive. Similar to Paredes, there are reasons to believe Taylor can develop and continue to get better.
Andre Scrubb
Andre Scrubb is yet another arm that didn't figure to factor into the Astros 2020 plans, but by the end of the postseason, was one of the more trustworthy relievers on the roster.
Scrubb is closer to the mold of the stereotype Astro pitcher. While he doesn't have overwhelming velocity -- he was exactly average -- he does have slightly above average fastball spin and well above average curveball spin. The lower fastball velocity and spin probably stems from the fact that he doesn't throw a true four-seam fastball, opting for a cutter instead.
Scrubb is heavy on curveball usage, and he was nearly 50/50 between his cutter and his curveball. The cutter and curveball play well off of one another, as one pitch has some glove side run to it while the other is essentially a true 12-6 curveball.
Scrubb didn't rack up lots of strikeouts, yet another league average category for him, but he did rack up a ton of soft contact. He was in the 99th percentile in Hard Hit % and 92nd percentile in Barrel %.
The .195 xBA and .298 xSLG against him explain his 1.90 ERA. He limited damage so well that, despite being average in totally missing bats and walking batters left and right, he usually left the game having not allowed anyone to score.
Both xERA and FIP agree that Scrubb got lucky, as xERA has him at 4.06, while FIP has his at 4.25. Regardless, those two numbers aren't even all that terrible for a middle reliever, especially one that had never pitched above AA prior to 2020. He has to lock in on his command, as a pitcher that walks 7.61 per 9 will never have a long track record of success. If he can learn to be around the plate more, he's another arm the Astros can count on for the long haul, as he is 25-years-old like Taylor and Paredes.
Brooks Raley
Brooks Raley entered the 2020 season with the Cincinnati Reds before being DFA'd after just 4.0 IP. The Astros liked what they saw enough to trade away a PTBNL for the DFA'd left-hander, and he performed well enough that the Astros will likely exercise his $2M club option for 2021.
What did the Astros see that they liked so much? Well… what if I told you he spins the ball well?
Raley was in the 93rd percentile in fastball spin and 94th percentile in slider spin. Brooks Raley doesn't throw hard, as he only averaged 90.1 MPH on his fastball, but he does command the ball well, as he had a 2.70 BB/9.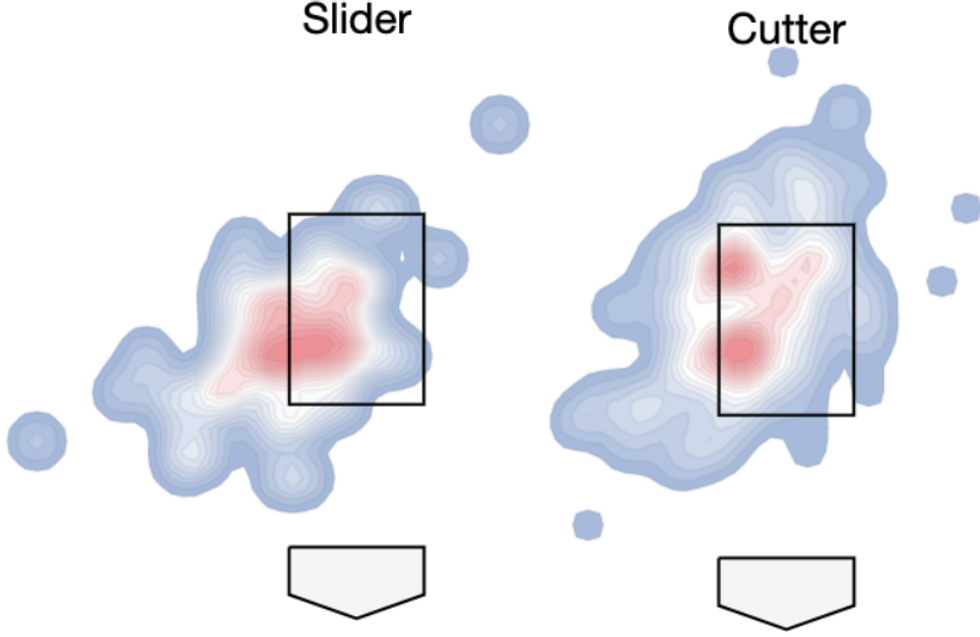 Raley relies most heavily on his slider and cutter, and he does a good job at hitting that outside corner to lefties. In fact, lefties batted .121 with a .194 SLG off of Raley. That's an impressive platoon advantage. Raley induces a ton of soft contact. He actually had the best Average Exit Velocity Against in all of MLB. He was in the 99th percentile in Hard Hit % Against. He was in the 95th percentile in xBA. He was in the 84th percentile in xSLG. Guys just didn't hit the ball hard off of him.

The other impressive part is that, despite barely throwing 90 MPH, he missed a lot of bats too. He was in the 87th percentile in MLB in K%. His 12.2 K/9 was the same as Kenley Jansen's.
While Raley's 4.95 ERA is far from elite, four of the 11 runs he gave up on the season were in a Cincinnati uniform. He had a 3.94 ERA as an Astro, and his 3.11 xERA and 3.94 FIP suggest his performance warranted better. The quick turnaround as an Astro likely stemmed from pitch usage. While he was a Red, Raley threw his cutter 59.1% of the time and his slider 1.5% of the time. In August, when he was an Astro for the full month, he threw his cutter 38% of the time and his slider 18.7% of the time. Brent Strom loves spin, and when you spin it and command it as well as Raley does, he is going to tell you to throw it more.
Look ahead
The Astros found five relievers worthy of roster spots in 2021. Josh James had a poor season in 2020, and his time to put it together is running out, but he still has an intriguing combination of velocity and spin. James battled injuries in 2020, and the poor performance could be tied to that.
On top of those five arms and a possible sixth in James depending on health, the Astros will add Joe Smith back to the fold in 2021. Smith is a reliable veteran arm. While the sidewinder doesn't bring the typical velocity or spin to the table like the rest of the Astros arms, he does bring something to the table that James Click will bring with him from Tampa Bay...funky looks.
Here were the release points of Rays pitchers from the catcher's point of view versus the Astros in the playoffs (Chart via MLB.com).
Now...here's the Astros bullpen pitchers discussed in this story.
There's not exactly a ton of difference. Now look at the element Smith brings to the table.
Houston does need to add a couple of bullpen arms in the offseason, but they already have six or seven they can rely on. Look for Click and Co. to add arms with diverse release points, plus velocity, and plus spin.
One of the big factors that led to the Texans' loss to the Jaguars on Sunday was the secondary. Multiple flags for pass interference gave Jacksonville more opportunities to pick up first downs and score points.
Can confirm #Texans backup CB Shaq Griffin was cut.

Griffin started 6 games this year when Derek Stingley was out with a hamstring.
— DJ Bien-Aime (@Djbienaime) November 29, 2023
So it's no surprise that DeMeco Ryans is making some changes to his defense this week. According to several reports, Texans corner Shaq Griffin has been cut.
Nickel corner Tavierre Thomas was flagged for PI more than once on Sunday, and was burned badly by Jaguars receiver Calvin Ridley for a touchdown.
DeMeco was asked after the game if he considered replacing Thomas with Desmond King or Shaq Griffin. Ryans didn't give a definitive answer, but it looks like we got one today.
One has to wonder if Desmond Kings' experience playing nickel was the reason for his promotion to the active roster and why Griffin was released. If Thomas continues to struggle, King looks like the next man up to replace him.
#Texans activate Denzel Perryman, promote Desmond King to active roster, release Shaq Griffin, sign Matt Ammendola and Garret Wallow to practice squad, released Gerrid Doaks from practice squad and placed Tytus Howard (knee-patellar tendon surgery pending) on injured reserve https://t.co/knyyoqo7yC
— Aaron Wilson (@AaronWilson_NFL) November 29, 2023
The Texans also made some other adjustments to their roster on Wednesday, per Aaron Wilson. Linebacker Denzel Perryman returns from suspension, kicker Matt Ammendola and linebacker Garret Wallow join the practice squad. They also released Gerrid Doaks from the practice squad.
The other big piece of news involves left guard Tytus Howard. He heads to injured reserve, ending his season after hurting his knee against Jacksonville.
SportsMap Emails
Are Awesome