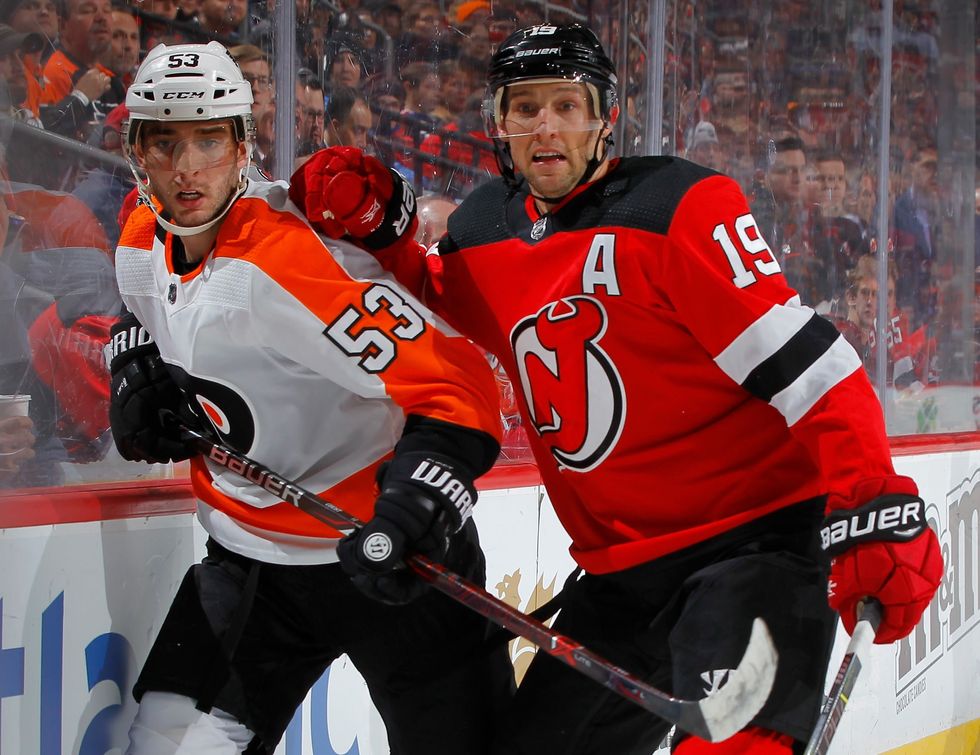 Either the Flyers or Devils would be a good choice to root for. Jim McIsaac/Getty Images
If you're like any number of Houstonians this past weekend, you've probably reached the end of your rope with the Texans. If I'm mistaken, and you enjoy watching Bill O'Brien continue to waste three and a half hours of your fall Sundays then by all means disregard this exercise, go Texans. If I've piqued your interest then allow me to pose a few questions.
What if there was something else out there you could watch? What if there was another sport that - like football - seamlessly blended athleticism and brutality? What if - dare I suggest - we watched something besides a Texans team that has proven beyond a shadow of a doubt its inability to properly coach in critical moments or evaluate free agents and draft talent beyond the first round?
Houston football has been mired in mediocrity for years now, and it seemed each year there was a justifiable excuse. This year is different. This was supposed to be the year that the stars aligned with a vaunted defense and an electric offense finally coming together at the same time. Instead, it looks like just another disappointing year, but this time there are no excuses to lean on.
So I've decided as a result that this is the year I give hockey its due diligence. As a native Houstonian I've had little reason to immerse myself in the sport seeing as there has never been a local (professional) team, but at 32 I believe that excuse has lost enough tread and it's time to expand. What better time to do so than during the NHL preseason just after the Texans have all but verified another upcoming season of futility? But how to go about picking a team?
I figured I'd start by eliminating cities I simply can't root for. A few fall off immediately:
Boston Bruins - if their fans are as obnoxious as Patriots fans then I can't associate with that.
Detroit Red Wings - Lazy pick, too bandwagon. Also, they're bad.
New York Rangers - Won't root for anything New York, so I guess the Islanders are gone as well
Los Angeles Kings - Won't root for L.A. either. Third Coast all the way baby.
Chicago - Not only because it's Chicago, but also because they've won a few cups recently, so it would be a lazy trendy pick. Also, I don't want to get sick of hearing Chelsea Dagger.
Washington Capitals - I like the team and I like Ovechkin, but they just won the whole thing and I can't hop on the bandwagon.
Pittsburgh Penguins - Way too trendy. As one hockey enthusiast claims "They're like the Yankees of hockey." So yeah. No.
Every Canadian team because I don't want to go through customs to see a home game.
Dallas Stars - It's Dallas. It is Texas, but it's also Dallas.
OK, plenty of teams eliminated already. The next easiest way to get rid of a few teams is to eliminate based off of logo or uniform. Because if you're not forced to pick something as dumb as Houston's Texas Flag Bull amalgamation, then don't. A few more fall off as a result:
Anaheim Ducks - They were cool before they rebranded.
St. Louis Blues - It's a music note.
Colorado Avalanche - Just a goofy pairing of steel blue and burgundy that I can't sign off on.
Minnesota Wild - It's probably cool in Minnesota, and I get what they're doing with the hunter green motif, it's just not my thing.
Carolina Hurricanes - The logo and jerseys look like they were lazily created in a video game.
Now let's eliminate some of the worst teams, because if we're watching hockey to avoid watching bad football, there's no point in replacing it with bad hockey. They don't have to be world beaters for me, but I'd like to be less frustrated. That filters out the Buffalo Sabres and Arizona Coyotes.
Eight candidates left. I'm not very keen on the idea of my hockey team being from Nashville, Columbus, or Florida, so those are gone.
That leaves the New Jersey Devils, Philadelphia Flyers, San Jose Sharks, and Las Vegas Golden Knights.
I actually would like to watch whatever team I choose, and any Astros fan worth their salt knows how much fun it is to catch those West Coast road trips. A 9 p.m. start time for home games doesn't excite me one bit so that knocks out San Jose and - unfortunately -Vegas.
That leaves Philly and Jersey.
Now New Jersey has an awesome logo and mascot, but Philly has a great jersey. Both had fairly even decent seasons last year as well but two things stand out for Philly to me that win me over:
First, from what I've gathered, they're a young, up and coming team, a la 2015 Astros.
Second, it seems like everyone not from Philly hates them. Being from Houston, my teams rarely move the needle for anyone. You never hear "How can you be fans of Houston?!" No one hates the Texans, they just don't care about them. No one hates the Astros, they're too much fun to watch and they haven't done anything to anyone except LA. Some people grumble about the Rockets but that moreso directed at James Harden's playstyle than anything.
Let's go with the polarizing team for once. Let's be hated. Go Flyers.
And there it is. What you have laid out for you is a foolproof procedure for choosing your very own hockey team to root for. Tinker with the eliminations as you see fit and see what you come up with. Then join me hand in hand into a wonderful new sports territory; a land scarcely explored by fellow Houstonians, yet fully embraced by her transplants.
Or hold fast and watch the Texans ship sink to the depths of the AFC South once again. Your call.
***NOTE: This article is null and void in the event of Houston landing its own NHL team.***
Trevor Lawrence went down with an ankle injury in a loss to the Bengals, which puts the Texans within reach. Can they overcome the injury to Tank Dell and win the AFC South?
Watch the video above to learn more!
SportsMap Emails
Are Awesome