How to keep your sports betting techniques sharp while on lockdown
Mar 24, 2020, 12:32 pm
At some point, this halt in the sports world will end, and we will be back to betting on games. Now is a good time to explore some new theories, tools and web sites.
Today we will focus on the Rockets via SBD Sharp, a trend-based site that takes a different approach. Basically, it acts as a data tool that looks at teams and leagues performances over time, and tracks how much money could have been made based on different plays, including ATS, money line and over/unders.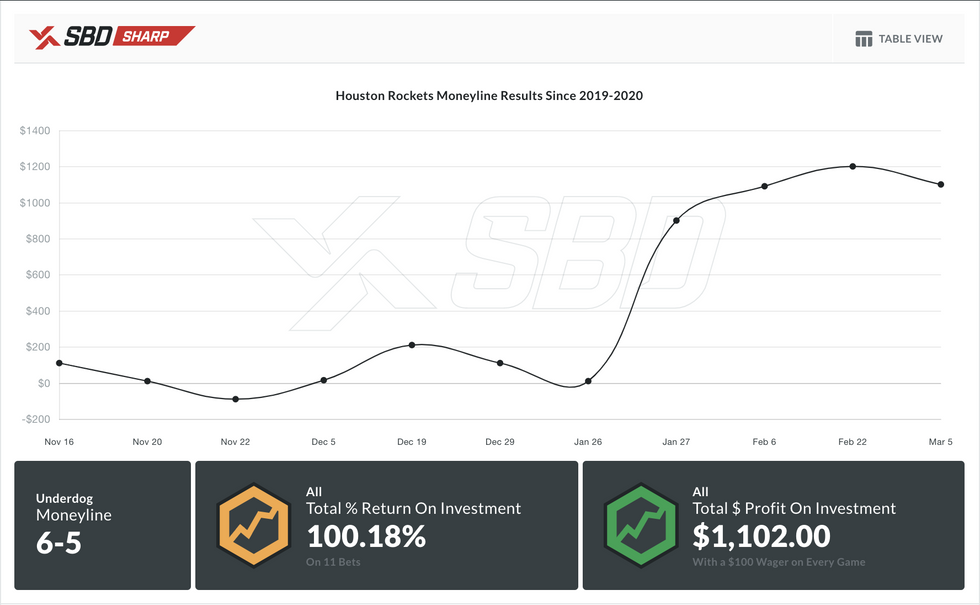 SBD Sharp
For instance, this breakdown shows how the Rockets fared in money line wagers. As underdogs, they were 6-5, which would have brought a positive ROI of 100.18 percent. So by simply playing the Rockets only as underdogs, you would have a nice profit.
Keeping track
Analyzing results is a must for anyone who is trying to make a longterm profit. Finding trends is the key to successful betting, because in the end you are trying to make your best possible guess. Taking as much of the guesswork out is critical to success. While we are on lockdown, finding new tools is essential, and this is a very good one.
Winning over time is not easy, so arming yourself with as much intel as possible is a good thing. It is even more important now, because with nothing to bet on, plugging the leaks in your wagering can really pay off in the long run when the action does return. The NBA had developed some definitive trends during the 2019-20 season, and it will be interesting to see how those play out when basketball returns.
Every bit of knowledge helps, and this is a good site to play around for when the games return.