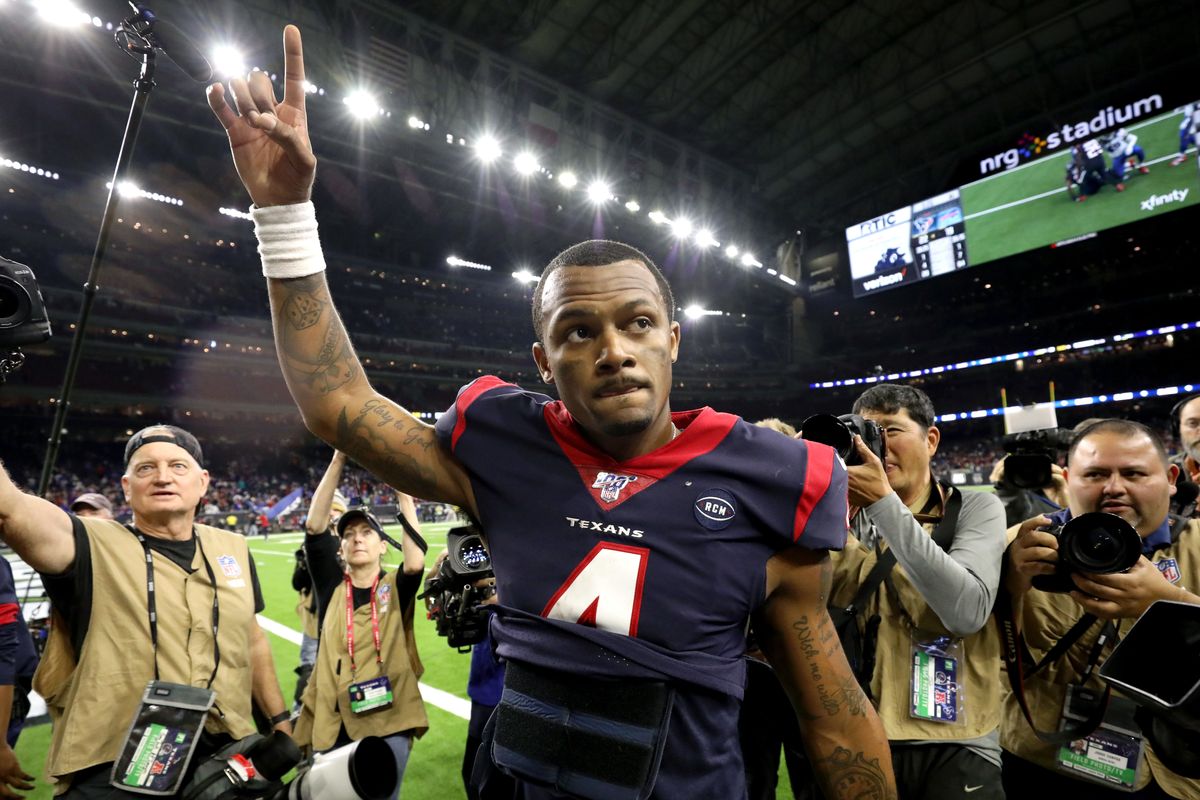 The fallout of the disaster that was the DeAndre Hopkins trade continues to resonate in the Texans organization. Besides universal disdain for the deal locally, the national media has vilified Bill O'Brien and the Texans as well, going so far as to call it one of the worst trades in the history of the NFL. No amount of media leaks from O'Brien's side can change the narrative. It was simply a stupid move.
Ripple effects
Already, one free agent reportedly passed on the Texans because of O'Brien. Laremy Tunsil still has not signed an extension. Neither has Deshaun Watson. And if the Texans lose those two, the franchise is pretty much doomed. Watson in particular is the biggest problem. First, he tweeted out a cryptic Drake lyric, then liked a tweet about the Patriots calling him. There is already speculation he will be the Pats next QB.
The sounds of silence
Other than that, Watson has been quiet on the trade. There is no way he can be happy about it, nor should he. The tyrannical way in which O'Brien and Jack Easterby are running the franchise is wrong on so many levels. If Watson wants out, could anyone blame him?
Emerging star
Watson is a rarity in the NFL; a young, emerging star quarterback with tons of upside. Imagine what he could do with a real offensive mind? All O'Brien has done is fail to protect him with a patchwork offensive line, trade away an elite, No. 1 WR target for nothing and burden him with predictable play calling and now another inexperienced O'Brien "guy"as an OC.
Not to mention the small fortune in draft picks he has traded away, making it even more difficult to build around Watson.
Even by fixing the offensive line, O'Brien could easily make things worse by not-resigning Tunsil.
Playing hard ball
If the Texans want to be tough on Watson, they could let him play out next year on his rookie deal, then franchise him, assuming the tag is still in play. But if Watson has no interest in being here anymore, that will just make a tattered relationship even worse. He could easily demand a trade, which the Texans would not have to do. But it should never get to that point.
It should not have gotten this far.
Uncertain future
Watson is 24 years old with perhaps another 10 years ahead of him. Why would he want to spend it in an organization that has zero clue about how to use him? Giving O'Brien GM power is destroying the fabric of the organization. At some point, Cal McNair has to step in and stop this. If not, the money-motivated Texans may finally find out what it is like when people don't fill a stadium. The Hopkins trade has likely chased away a lot of loyal fans already, and who knows what the economy is going to look like when this mess is over? Empty seats and suites could be common. If fans do not want to be a part of this, why would Watson? By all indications, he likes the city and fans. But anyone who has been in an untenable work environment can relate. Many of us have left jobs for that very reason.
I truly feel for Texans fans, who have supported this franchise from the beginning. Now they are watching what should have been a Super Bowl contender dismantled, all to satisfy the ego of a man not qualified for the job he has been given. Many will continue to support the team no matter what, but at some point, even the most hardcore fan will get fed up.
In the real NFL world outside of Kirby, coaches can be replaced. Franchise quarterbacks can't. Someone other than O'Brien needs to step in right now and fix this. And the only person who can is McNair. If he doesn't and Watson is the one to eventually leave?
There will certainly be empty seats and suites. And then maybe he will take notice. Of course then it will be too late.
And sadly, maybe it already is.
By the way...
If you need to be cheered up in these trying times and want something to read, please email me at faour975@gmail.com and I will send you a collection of short stories. Asking for a minimum $10 donation to help Gow employees who are struggling. If we do well enough we will expand the reach. If you can't donate and just want something to read, I will send it free of charge. There are two gambling related stories, two vampire tales and another weird one. All are fiction.
I hope everyone stays safe.
The Houston Astros were in need of some serious help in the bullpen with Phil Maton, Hector Neris, and Ryne Stanek likely leaving this year in free agency.
While some fans were getting concerned about the quiet offseason, the club has made two moves this week to get the ball rolling.
First the team signed Victor Caratini to be the backup catcher, and now they have added some relief pitching.
The Astros traded pitching prospect Carlos Mateo to the Royals for RHP pitcher Dylan Coleman.
Coleman appeared in 96 games in the past three seasons for KC, including 68 games in 2022 and 23 games last season. He has a career 3.88 ERA and 1.37 WHIP. He's fastball (95 mph), slider (81) and cutter (90) and walked 57 batters and struck out 99 in 92 2/3 innings.
— Brian McTaggart (@brianmctaggart) December 6, 2023
Coleman is under club control for the next several years, and made just over $700,000 in 2022. With the Astros right up against the tax threshold, this is a good way to add to the bullpen without having to hand out a large contract.
The Royals had a tough roster decision to make with Coleman, and the Astros made the decision easy for them by making the trade.
Something to note
There's a reason Kansas City wasn't determined to protect Coleman from the Rule 5 Draft. Despite his decent numbers over the last three seasons, 2023 was a rough year for him, posting an 8.84 ERA over 23 games.
In fact, Coleman pitched more innings (30.2) for the Royals AAA team than he did for the big league club (18.1) in 2023.
Hopefully, the Astros can get him back on track this season with some help from their highly touted player development program.
You can watch some of his 2022 highlights above.
SportsMap Emails
Are Awesome