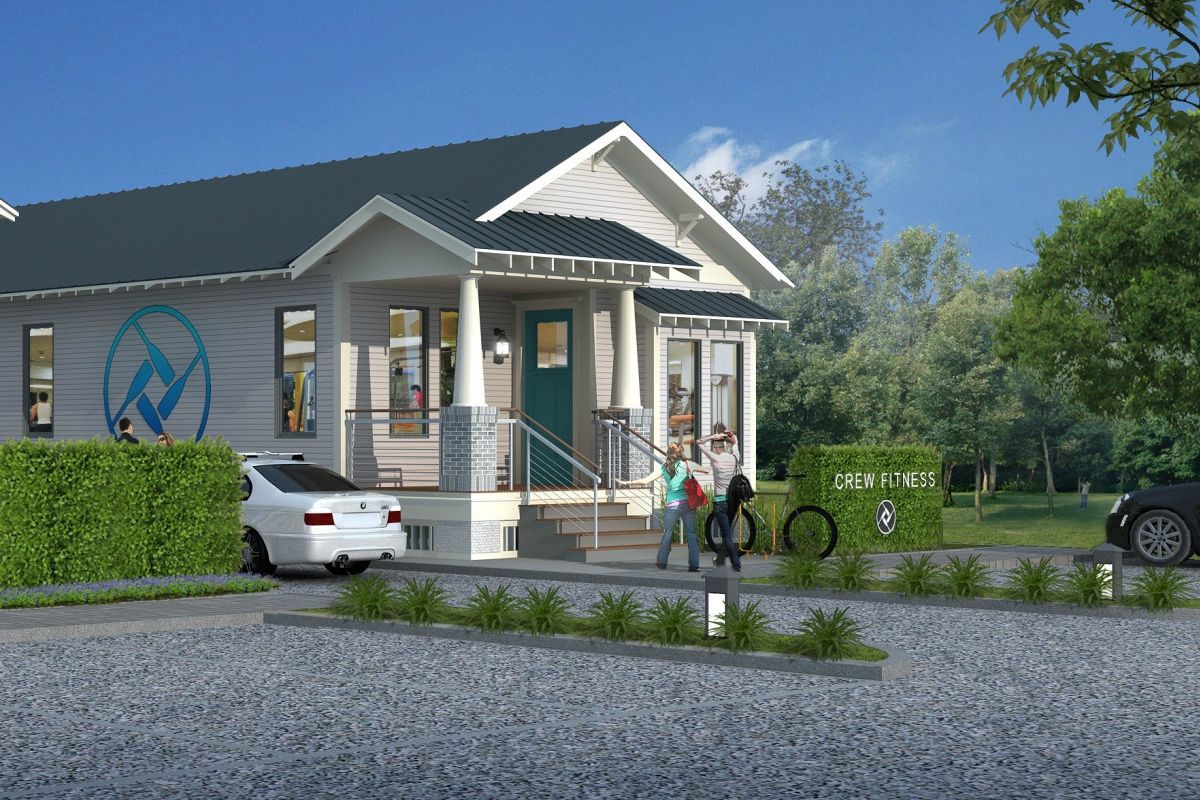 The new Heights Crew Fitness is reminiscent of a classic boathouse. Rendering courtesy of Crew Fitness
This article originally appeared on CultureMap.
Houstonians clinging to those New Year's resolutions to get in shape have backup with a bevy of out-of-state gyms such as Barry's Boot Camp coming to town. Joining that list of newcomers is Crew Fitness — an indoor rowing group fitness program developed in Mobile, Alabama — now debuting in The Heights.

Crew drifts into 715 W. 22nd St., anchoring Bungalows on 22nd Street, a new, boutique retail development between Shepherd and Durham, just steps from Kraftsmen Baking and the just-unveiled (and wildly packed) H-E-B.

To get locals into the rowing mood, owner/operators Dan and Marcia Strange will host a February 23 open house with free classes on February 23, in advance of the February 25 grand opening.
Class options include Launch, an introductory class that covers the basics of rowing and functional movement. There's also the Crew Fitness, a signature, low impact offering with individualized intensity that incorporates challenging pieces on the rower, alternating with body-sculpting movements off of the rower. Attendees can also choose the Regatta, a competitive, endurance-based class that offers rowers the chance to race each other in varied sprint and endurance rowing-based workouts. Each 45-minute class classes are orchestrated to be supportive and motivational, set to high-energy music.
Continue reading on CultureMap to learn more about the floorplan.
The Houston Astros were in need of some serious help in the bullpen with Phil Maton, Hector Neris, and Ryne Stanek likely leaving this year in free agency.
While some fans were getting concerned about the quiet offseason, the club has made two moves this week to get the ball rolling.
First the team signed Victor Caratini to be the backup catcher, and now they have added some relief pitching.
The Astros traded pitching prospect Carlos Mateo to the Royals for RHP pitcher Dylan Coleman.
Coleman appeared in 96 games in the past three seasons for KC, including 68 games in 2022 and 23 games last season. He has a career 3.88 ERA and 1.37 WHIP. He's fastball (95 mph), slider (81) and cutter (90) and walked 57 batters and struck out 99 in 92 2/3 innings.
— Brian McTaggart (@brianmctaggart) December 6, 2023
Coleman is under club control for the next several years, and made just over $700,000 in 2022. With the Astros right up against the tax threshold, this is a good way to add to the bullpen without having to hand out a large contract.
The Royals had a tough roster decision to make with Coleman, and the Astros made the decision easy for them by making the trade.
Something to note
There's a reason Kansas City wasn't determined to protect Coleman from the Rule 5 Draft. Despite his decent numbers over the last three seasons, 2023 was a rough year for him, posting an 8.84 ERA over 23 games.
In fact, Coleman pitched more innings (30.2) for the Royals AAA team than he did for the big league club (18.1) in 2023.
Hopefully, the Astros can get him back on track this season with some help from their highly touted player development program.
You can watch some of his 2022 highlights above.
SportsMap Emails
Are Awesome