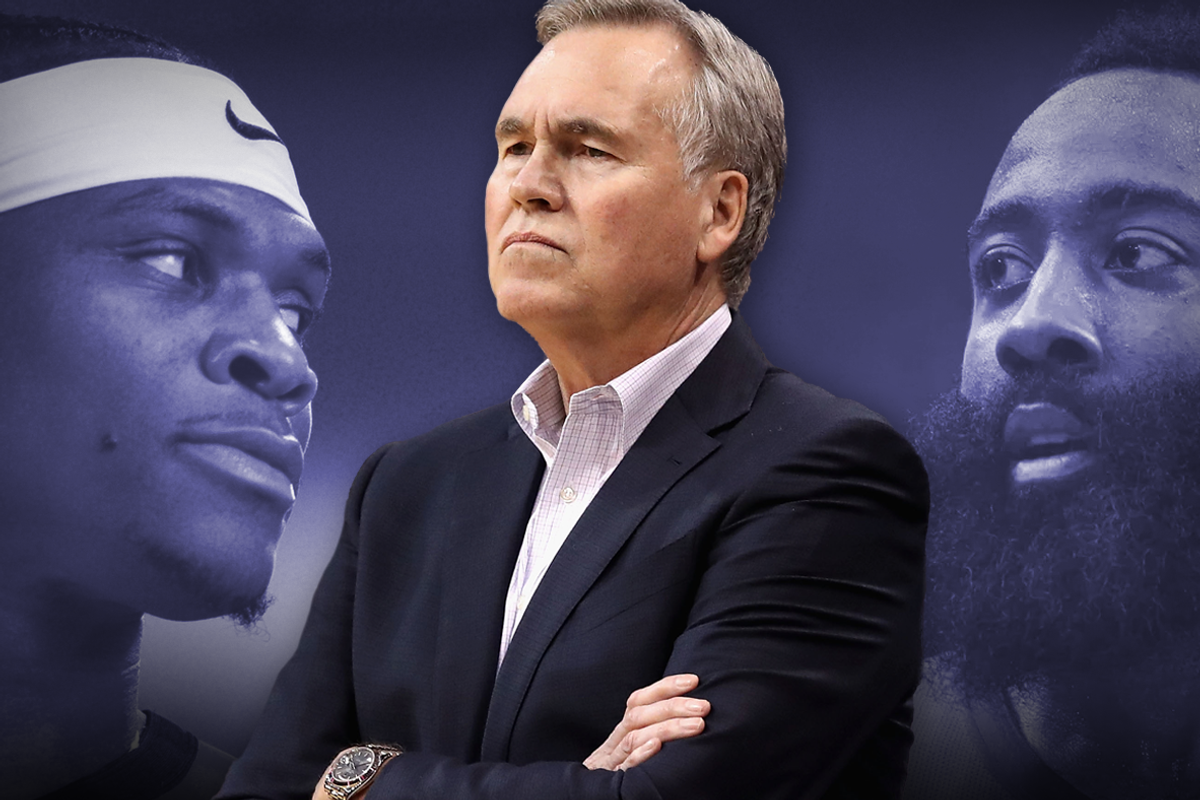 Composite image by Brandon Strange
The NBA is doing it right with their restart inside the Orlando Bubble at the Disney resort. A centralized location for the 22 teams picked to finish out the regular season and vie for the playoffs. A nice twist of a play-in for the eighth and final spot in each conference adds some intrigue. With teams not having to travel as extensively as they would under normal circumstances, this could have a positive effect on players and teams by them being more rested between games.
When I say it could benefit players and teams, I'm specifically talking about the Rockets. Head coach Mike D'Antoni typically employs a tight rotation when it comes playoff time. He's notorious for only playing a strict seven or eight man rotation. This usually overworks his starters who play close to 40 minutes per game or more. Meanwhile, guys that have gotten a decent amount of minutes are relegated to being cheerleaders with jerseys on. Given the current conditions, is small-ball sustainable in the bubble?
Yes: the extra rest will help
As previously stated, I believe the rest will help. James Harden and Russell Westbrook aren't spring chickens. Neither is P.J. Tucker or Eric Gordon. All four of these guys are keys to the Rockets being able to make a run. Given the lack of travel allowing for extra rest, I think the older guys who've played significant minutes and have overcome injuries will be better rested. Better rest and time to heal should give them a boost.
No: can't win being out-rebounded
In their impressive win over the East leading Bucks in their second game of the restart, the Rockets were out-rebounded by 29! Now the possession gap was tightened via the 23 turnovers they got from the Bucks, including several down the stretch. But you can't expect to be consistently out-rebounded and win.The last NBA champion to be out-rebounded by their opponents was the '12-'13 Miami Heat team who were loaded. This team isn't suprememly talented like that team was so I doubt they can overcome shortcomings on talent alone.
Yes: threes are more than twos
Three is greater than two. That is a fact that can't be debated. The fact that the Rockets shoot more threes than any team in the league isn't debatable either. Their shooting percentage on those threes (34.9%) ranks them 22nd in the league. But when you shoot roughly 45 a game and make about 16 of them yielding 48 points off threes, it makes the risk worth the reward. Not to mention long distance shots often give way to long rebounds which can help a team that doesn't play a regular player taller than 6'9.
No: defense is too inconsistent
The inconsistency at which this Rockets team plays defense could be their downfall. The way they played down the stretch against the Bucks is the way you'd hope they play all game. They stepped up when it counted in that game, but don't play that way consistently enough to be considered a real threat. When you score 118.7 a game, but give up 114.9 a game, you will always be in close games. Add the rebounding desparity, and that's a recipe for too many close games which they could end up losing if they aren't shooting well. When you can't get stops, you can't win. It's that simple.
Overall, this team has a shot to do sometihng special, but will need lots of things to go right for them. Do I think they have a shot at a title? Yes. Do I think the road will be tough? Yes. All it takes is 16 wins once the playoffs start. Being the best team in a best of seven series four times in a row is more daunting than it sounds. The confines of the NBA bubble make it a little more advantageous to the Rockets' style of play. But will their deficiencies impede their progress? That remains to be seen. Until then, let's enjoy the ride.
The Houston Astros were in need of some serious help in the bullpen with Phil Maton, Hector Neris, and Ryne Stanek likely leaving this year in free agency.
While some fans were getting concerned about the quiet offseason, the club has made two moves this week to get the ball rolling.
First the team signed Victor Caratini to be the backup catcher, and now they have added some relief pitching.
The Astros traded pitching prospect Carlos Mateo to the Royals for RHP pitcher Dylan Coleman.
Coleman appeared in 96 games in the past three seasons for KC, including 68 games in 2022 and 23 games last season. He has a career 3.88 ERA and 1.37 WHIP. He's fastball (95 mph), slider (81) and cutter (90) and walked 57 batters and struck out 99 in 92 2/3 innings.
— Brian McTaggart (@brianmctaggart) December 6, 2023
Coleman is under club control for the next several years, and made just over $700,000 in 2022. With the Astros right up against the tax threshold, this is a good way to add to the bullpen without having to hand out a large contract.
The Royals had a tough roster decision to make with Coleman, and the Astros made the decision easy for them by making the trade.
Something to note
There's a reason Kansas City wasn't determined to protect Coleman from the Rule 5 Draft. Despite his decent numbers over the last three seasons, 2023 was a rough year for him, posting an 8.84 ERA over 23 games.
In fact, Coleman pitched more innings (30.2) for the Royals AAA team than he did for the big league club (18.1) in 2023.
Hopefully, the Astros can get him back on track this season with some help from their highly touted player development program.
You can watch some of his 2022 highlights above.
SportsMap Emails
Are Awesome