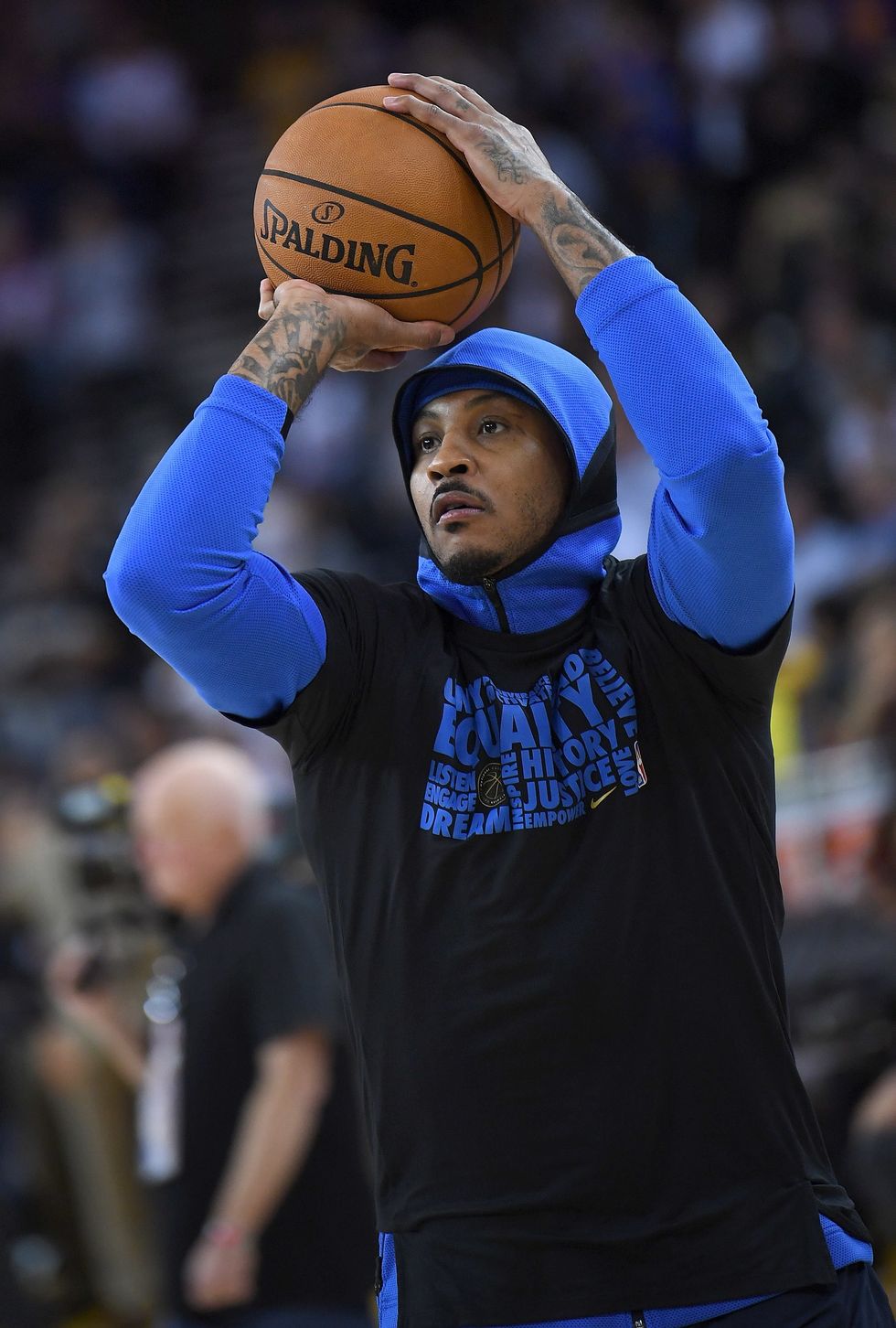 Carmelo Anthony (and James Harden) are focal points in a bad defense. Thearon W. Henderson/Getty Images
After a polarizing offseason, most experts expected the Houston Rockets to take a significant step back defensively this season. This analysis was swiftly met by backlash from fans of the team and even Rockets brass. However, after just three games into the regular season, it does indeed look like there may have been truth to the criticism.
The Rockets, simply put, look disastrous on defense.
According to NBA.com, Houston is giving up an exorbitant 114.2 points per 100 possessions - good for 24th in the league. The same level of communication and execution that led to a seventh ranked defense last year has simply fallen off the face of the planet.
What once was an efficient system of clean switching and rim protection has eroded before our very eyes.
While it's not totally fair to pin the blame on individuals when the collective output is this bad, James Harden and Carmelo Anthony stick out as roots of the problem. You don't have to look at the numbers to draw this conclusion, but when you do, it's staggering how bad they've been.
Houston Rockets Defensive RTG:
With James Harden: 118.6
Without James Harden: 92.5
Houston Rockets Defensive RTG:
With Carmelo Anthony: 118.0
Without Carmelo Anthony: 102.2
It's one thing if these were players that weren't integral to what the Rockets want to do this year or barely play any minutes. However, James Harden and Carmelo Anthony combine for 65 minutes per game, with usage rates of 29.9% and 17.6% respectively. The Rockets heavily rely on them for offensive production, particularly Harden. As a result, they have to be on the floor even with their defensive warts.
However, if the Rockets want to have any chance at true title contention this year, both have to get their act together defensively and they have to do it fast.
Watching game tape only highlights how bad both of them have been, especially Harden. To Harden's credit, he had turned things around these past couple years and become an average defender. This year, it seems he's reverted to old habits of falling asleep on weak side help, back-cuts, and ball-watching.
Take a look at this video of Harden letting Tobias Harris cut to the basket for an easy layup or  a similar play just a quarter later.
There are endless examples of Harden's defensive lapses littered throughout the first three games of the season and it's unfortunate, given the strides he'd made in that arena.
Anthony's defensive issues come into form with reckless closeouts on shooters, a general lack of aggression, and the same issues with ball-watching Harden has.
As an example of this lack of force, here's Anthony refusing to meet Elfrid Payton at the rim in transition, leading to the easy, uncontested layup.
Here's are couple of plays of Anthony falling asleep on his man, one on Nikola Mirotic, leading to the easy two and one where Anthony half-heartedly defends Anthony Davis at the basket.
The bottom is line is both Harden and Anthony have been abysmal early on and the effort just doesn't seem to be there. You can attribute the drop-off in defense to the losses of Trevor Ariza and Luc Mbah a Moute, but you would only be half right. James Ennis has done an adequate job of replacing Ariza as the Rockets are defending 10 points per 100 possessions better when he's on the floor. Losing Mbah a Moute compounded with adding the negative defense of Carmelo Anthony and James Harden this season is really what's hurting the Rockets.
Houston was able to get the very best out of negative defenders like Harden and Ryan Anderson last season and the fact that they haven't been able to do that yet this year points to a possible institutional decline. Perhaps this is where losing Associate Head Coach Jeff Bzdelik just weeks before the season hurts. It could also be a general lack of interest after topping out at 65 wins last season and making it to the Western Conference Finals. It's tough to quantify.
Whatever the case, the Rockets will need to turn it around fast if they want to be taken seriously. It's still very early so this all may be presumptuous. However, the early returns aren't encouraging and Houston can only fall so far behind if they want to obtain homecourt advantage throughout the playoffs like they did last year.
Rockets' Alperen Sengun recently was a guest on Paul George's podcast and spoke about a conversation he had with James Harden.
He said Harden told him he was proud of him. This led George to saying he thinks this means the torch has been passed from Harden to Sengun.
Which made us wonder, is this now Sengun's team? Or is that a little premature and the true leader of the team is head coach Ime Udoka or Fred VanVleet?
Plus, Jalen Green has responded positively from being benched. Is this proof that Ime Udoka has the team taking more accountability and heading in the right direction?
Be sure to watch the video above as we break it all down!
If you enjoy the videos, subscribe on YouTube for our latest content.
Related Articles Around the Web
SportsMap Emails
Are Awesome