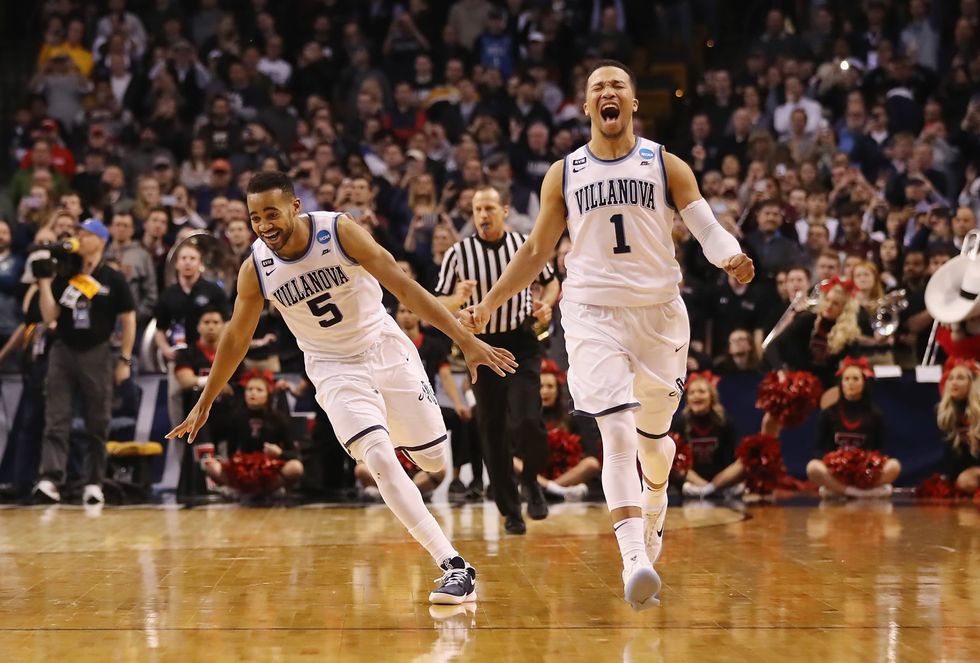 Villanova is fun to watch and will be tough to stop. Elsa/Getty Images
Over the past week plus, we've seen some great basketball being played in the NCAA Tournament. In the Final Four, one side is chalk as two number one seeds in Villanova and Kansas made it; the other side has a Cinderella eleven seed Loyola-Chicago and a three seed in Michigan that has been on a hot streak since their conference tournament. We even saw sixteen seed University of Maryland- Baltimore County beat one seed Virginia! In that same time span, the Houston Rockets have secured a franchise-best 60-win season and all but locked up the NBA's best record overall, as well as James Harden locking up the MVP race. But have we truly appreciated the great basketball being played? I don't believe we have.
In Kansas and Villanova, some will say they are where they should be since they're both number one seeds from Power Five conferences and both programs have a rich basketball tradition. The same can be said for Michigan. Kansas lost by 18 points a couple weeks ago to an Oklahoma State team that saw its bubble burst and not making the tournament. Villanova lost two out of three games in early February against subpar teams in St. John's and Providence. Michigan started the season 19-7 before getting into a groove and is now riding a thirteen game win streak. Loyola-Chicago is the Cinderella only the utmost hardcore college basketball aficionados knew anything about.
Each of these teams has faced some sort of adversity to get here, and each one plays good brand of basketball. Villanova has a player of the year candidate in Jalen Brunson and has won each NCAA Tournament game by double digits because of its high-powered offense and smothering defense. Kansas has five guys averaging at least 12.1 points per game and can beat you inside or from the outside. Michigan is led by versatile big man Moritz Wagner and point guard Muhammad Ali Adbur-Rahkman (aka The Muslim Mamba) and is quite arguably the hottest team in the country. The only other team that has a win streak to rival Michigan as the hottest team in the country are the Ramblers of Loyola-Chicago who haven't lost since January 31 and won their first three tournament games by a combined four points!
I really would love to see Loyola-Chicago win it all because I appreciate their style of play. They rotate well on defense, make the extra pass, and don't rely on one guy as a go-to guy. Plus their use of screens and backdoor cuts, mixed with good perimeter shooting and solid rebounding despite being at a size disadvantage makes them fun to watch. Their defense will smother you because they switch everything and don't give in to the inevitable mismatches. When the mismatch is discovered by the other team, their defensive rotations and traps come into play and that's where they create the turnovers and generate extra possessions. If not them, it would be a bit of poetic justice for Michigan to win it all. Only a few years removed from NCAA sanctions and removing Final Four banners won by the Fab Five, a title here would fully restore that program to glory. Villanova and Kansas are the most talented two teams of the bunch. Watching either of them is pleasing to the eye because of the quality of play you get from two talented teams. Oh, and the fact that they both score in the 80s every game on the collegiate level isn't too shabby either.
When it comes to the Rockets and Harden however, we seem to criticize them and harbor bad vibes for past failures, instead of taking time to appreciate what we're witnessing. No, I'm not saying forget what has taken place because "Elimination James" is in fact a real thing. Harden is the runaway MVP candidate this year. He's the leading scorer and third in assists per game. The additions they've made are more complimentary than in the past. Chris Paul is the respected veteran leader teams need if they're going to go on a run. Sure, he's never been past the second round of the playoffs, but he's also never played with a dynamic scorer such as Harden. A couple weeks ago, I wrote about the idea of them actually toppling the Golden State juggernaut. Now that the Warriors are experiencing some injuries and setbacks while the Rockets look to be maintaining their level of play, I'm more convinced. Call it blind faith, or being a sucker for love (shout out to Craig Shelton for coining that phrase), but I'm all in on this team being able to do what some feel is impossible.
This is one of my favorite times of the year. While most see it as a down time because the NFL is in the offseason, I happen to enjoy the chaos of free agency and the draft talk. NFL offseason is often just as exciting as the regular season. But the thing that truly gets my blood pumping this time of year is the stretch run in the NBA while the NCAA Tournament is ongoing. The best, or hottest, team will always win in basketball. Whether you're watching the hottest team in the NCAA and can win six straight in the tournament, or you're witnessing the NBA team that can put together a good stretch run followed by winning 16 games in the postseason, it's still exhilarating to watch. Sometimes, we should just stop and smell the roses this time of year instead of complaining about it.
Follow me on Twitter, or catch me on The Sideline podcast to get your fair share of my opinions and general jackassery.
"Another one!"- DJ Khaled
That's the first thing that came to mind when I heard the news of Tytus Howard being shut down for the season because of a knee injury. They've had more injuries on the offensive line this season than Nick Cannon has Father's Day cards. Almost every member of the offensive line has spent time on the injury report. Howard went down in the same game in which Juice Scruggs was finally on the active roster. He missed the first 10 games due to a hamstring injury. The irony of next man up has never been so in your face.

The other thing that came to mind was the soap opera As the World Turns.
Howard had just signed an extension this offseason. So did Laremy Tunsil and Shaq Mason. They drafted Juice Scruggs, and signed a few guys too. Those moves, along with other holdovers, were expected to fill out the depth chart. Then a rash of injuries struck. At one point, only one of the original five guys expected to start was playing! In fact, they beat the Steelers 30-6 with that backup offensive line!

One can't have the expectation of backups to perform as good as the starters. They're professionals and are on an NFL roster for a reason. However, the talent gap is evident. One thing coaching, technique, and preparation can't cover is lack of ability or talent. The Texans have done a good job of navigating the injury minefield this season. While the Howard injury will hurt, I have faith in the guys there still.
As of this writing, the Texans are in the eighth spot in the AFC playoff picture. The Steelers, Browns, and Colts are all in front of them at the fifth through seventh spots respectfully. They've beaten the Steelers already. They play the Browns on Christmas Eve and their starting quarterback is out for the season. The Colts are relying on the ghost of Gardner Minshew to steer their ship into the last game of the season vs. the Texans with a possible playoff trip on the line. The Broncos and Bills are the two teams immediately behind them. They play the Broncos this weekend. Even though they're on a hot streak, this is the same team that got 70 put on them by the Dolphins. The Bills are the old veteran boxer who still has some skill, but is now a stepping stone for up & comers.
To say this team should still make the playoffs would be an understatement in my opinion. I believe in them and what they have going on more than I believe in the teams I listed above. That includes teams around them in the playoff race that aren't on their schedule. The one thing that scares me a little moving forward is the sustainability of this line. When guys get up in age as athletes, it becomes harder to come back from injuries. The injuries also tend to occur more frequently when it's a knee, foot, ankle, shoulder, elbow, or another body part critical to blocking for C.J. Stroud.
I know they just re-signed three of those guys and drafted one they believe can be a starter, but depth and contingency plans are a way of life in the NFL. We see how important depth was this season. Why not plan ahead? Don't be surprised if the Texans spend valuable draft capital on the offensive line. By valuable, I'm talking about first through third or fourth rounders. Those are prime spots to draft quality offensive lineman. Whether day one starters or quality depth, those are the sweet spots. The only guy on the two deep depth chart for this offensive line that wasn't drafted in one of those rounds was George Fant, who was an undrafted rookie free agent. While I highly doubt they spend any significant free agency dollars on the group, I'm not totally ruling it out.
The bottom line is, this team will be okay on the line for the remainder of this season. The only way that doesn't happen, more injuries. Stroud is clearly the franchise guy. Protecting that investment is a top priority. I don't care about a number one receiver, or a stud stable or singular running back if the quarterback won't have time to get them the ball. If the pilot can't fly the plane, you know what happens. So making sure he's happy, healthy, and has a great crew is of the utmost importance.
SportsMap Emails
Are Awesome