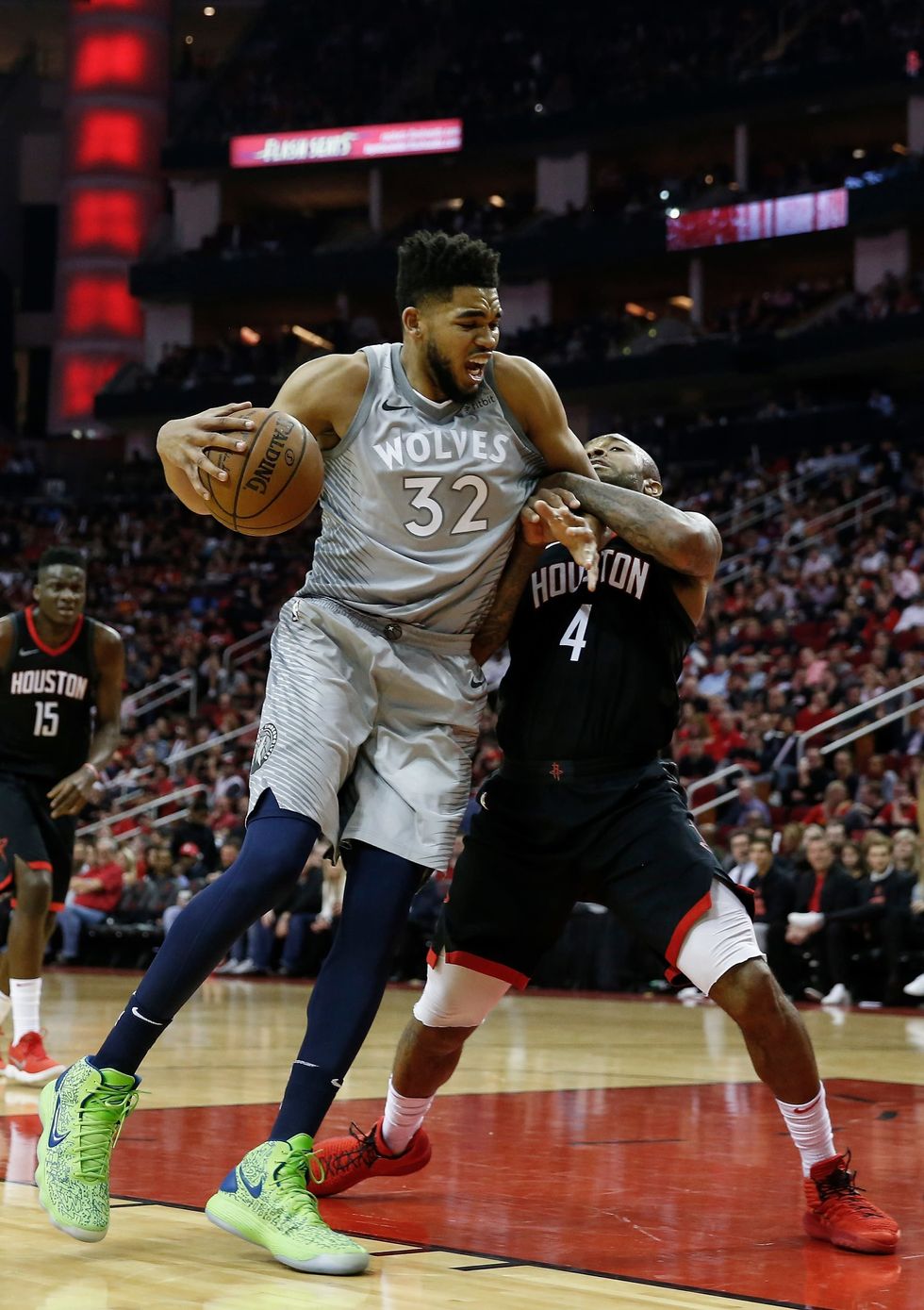 Karl Anthony Towns did not play well in Game 1, but he is a matchup nightmare. Tim Warner/Getty Images
Before all the Kool Aid drinking Rockets fans get their underwear in a wad, I'm not predicting a Timberwolves upset in this opening round match up with the Rockets. What I am telling rational Rockets fans that will listen and be objective is that this Minnesota team is better than most No. 8 seeds that come about each year in the NBA Playoffs, and Game 1 of the series bore that out.
 This is a team of talented veterans that were sitting in the top 4 of the Western conference for most of the year until their All-NBA G/F Jimmy Butler missed 17 straight games during the heat of the playoff race. In that time,the team started a free fall that took them all the way to 8th spot, where they needed a win on the final night of the regular season just to get in. Without that injury, this team probably would have had home court in the first round and been a formidable opponent and sure fire contender in the West.
With all that said, they still can rock the boat if they can find a way to upset the top seeded Rockets. That was then, this is now and Minnesota has a good mix of talent and coaching that can still put it together before it's too late. Also keep in mind that the Rockets road to the conference finals is much tougher than that of the Warriors, even as the #1 seed. If Houston can find a way to get past Minnesota, they will play the winner of the Thunder/Jazz series and be in for a physical and demanding test against two of the hottest second half teams in the West. Portland plays uptempo and that plays right into the Warriors' hands and the Pelicans, should they upset the Blazers, are beat up and missing Boogie Cousins. Regardless of what's ahead, let's take a look at what the T-Wolves bring to the table in round 1. 
It begins and ends with Jimmy Butler, a native of Tomball, Texas who lives in Houston in the off season. He would like nothing better than to put on a show in his home town and shock the world. For most of the season he was an MVP candidate until he went down with that knee injury that forced him to miss those 17 games. He averaged 22 points a game shooting 47% from the field and is their end-all, be-all. He has a good relationship with head coach Tom Thibeodeau, having played for him in two seprate cities, knows how to score and has a wealth of playoff experience. It's his team and if they are to show up and play well, it has to start with Bulter.
Karl Anthony Towns is one of the best young centers in the league. More importantly, he is one of the best all around players in the NBA.  In just his third year in the league he averaged 21 points and 12 rebounds per game, which were totals on par with his career averages. KAT also shot 42% from 3 point range, which means he will constantly force Clint Capella away from the basket and out on the perimeter to guard him. This will open up the lane for penetration and cause the Rockets to have to rotate and help from the weak side in the paint, lmiting the teams' rim protection.
Andrew Wiggins is a very talented young player that has yet to maximize his abilities on the highest level of competition.  He has all the tools to be a star in  In this league, but whether you blame it on the system or his inability to adapt to the more physical style of the NBA, he has yet to achieve the lofty goals set by basketball experts who scouted him when he entered the draft. With that said, he averaged 18 points a game and 5 rebounds and will be a formidable opponent for Trevor Ariza or any of the other Rockets "wings" who are forced to guard him on the perimeter. The biggest drawback to Wiggins' game, maybe his head coach who does not let his team play fast. Thibodeu insists on calling plays and sets on almost every offensive trip down the floor. If Minnesota is able to hang with Houston in a game or in this series, look for it to be because they are playing fast and maximizing their talents on the offensive end. 
Minnesota is a talented roster of players playing for a bit of a control freak. If Thibodeau could just take it down a notch and just let his young "Timberpuppies" run like it was an iditarod, they might have a better chance againt the high scoring Rockets. Slowing the ball down on every offensive posession stifles the athleticism and talent of Butler, Wiggings and Towns, as well as the rest of the veteran squad and in the process plays right into Houston's hands.
Aside from the Wolves version of a Big 3, the Timberwolves have a few other players that are worth noting in this series. 
Jamal Crawford is consistently one of the best sixth men in the league and Rockets fans know him well. "J-Crossover" has killed Houston over his career and has filled it up off the bench for many opponents that the Rockets have struggled with, especially in the playoffs. Most recently he came off the pine for the Clippers and provided a spark  in the Western Conference Semi Finals in 2016.
Jeff Teague  Is a savvy, veteran point guard that has been an All Star and runs the Wolves system on both ends of the floor. Teague average 14 points and 7 assists on the season and only turned the ball over 2 and a 1/2 times per contest. He is a 37% 3 point shooter and makes 85% of his free throws. He is steady and he is proven. Taj Gibson is another savy veteran who is counted on to stabilize the offense and energize the defense. He almost single handely led the Wolves to the post season with his defense against the Nuggets in the win or go home final game of the regular season. He made key play after key play while getting multiple stops against a much bigger and more physically gifted player in Nikola Jokic. Look for him to lead the low post defense against any Rockets players attacking the rim. In short these three guys won't make mistakes and could be key if Minnesota is to make it a series.
One other factor for Minnesota has to be their head coach. Thibodeau is a defensive minded coach that directed the Celtics "D" when they won it all in 2008. He is a desciple of Jeff Van Gundy and therefore, he knows how to scheme and make adjustments from game to game in a seven game series. He is one of the best X's and O's coaches in the NBA and will look to throw defensive wrinkles at the Rockets, especially in how and when they double team Harden and Paul. The biggest drawback for Thibodeau and company may be the lack of personnel capable of executing his game plan as the series wears on.
In the end, this series should come down to defense and the Rockets have a huge advantage. As good as Minnesota is on offense, and they are good, averaging over 109 points per game, they are not nearly as effective on defense.
Towns is lazy and seemingly loses interest and picks up silly fouls. Butler and Taj Gibson are quality defenders but can't do it alone. The rest of the Minnesota team is either undersized, older, or less talented when it comes to getting stops at critical times and keeping up with Houston. The Rockets have younger legs and too much talent to be slowed down or stopped by this Timberwolves team. I look for the Rockets to take the series in five games, but don't be surprised if the Wolves put up a decent fight.
Over the course of the last few years, I've noticed a marked change in my writing. It coincided with the ebbs and flows of the sports culture here in Houston. Namely, the Rockets and Texans falling off while the Astros tried to keep the city's hopes afloat. Even with winning titles, going to consecutive American League Championship Series, and staying a top contender, the Astros couldn't hold the city's collective attention (in some realms) as much as the Texans.
I don't care what you say. Football is king here in Texas. The Astros winning helped the city get over the debacle that was on Kirby and Polk. What they truly desired was a respectable football team. Having gone without for years, finally getting one, it not being up to par, being okay for a while, then taking a nosedive, it made fans feel like they were in a Twilight Zone of sorts.
Enter DeMeco Ryans. Not only has he changed the culture in the organization, but they're winning too! Who'd have thought the Texans would be in the Wildcard position this late in the season? Absolutely NOBODY! Well, I won't say nobody. There were some overzealous fans wearing Battle Red and Deep Steel Blue-tinted glasses who would say this same thing no matter what happened in the offseason. This is why DeMeco Ryans is the NFL's Coach of the Year right now, and there's no debate to be had.
The first reason was already listed above. He came to the Texans organization and changed the culture. From top to bottom, the expectations and thought processes have changed for the better. Gone are the days of people feeling like they're walking on eggshells around an arrogant jerk who had no reason to be such a blowhard. No longer are the sidelines patrolled by one and done coaches who were more of a placeholder than a purse on a church pew on Sunday morning. He brings a presence, an aura if you will. When he walks in a room, people genuinely are excited to see and talk to him. He obliges willingly and fully engages by talking directly to people and making eye contact. Never heard him yell or be condescending.
Secondly, and perhaps most notably, he's winning. Last year at this same time, the Texans were 1-8-1 and in last place in the AFC. They finished the year 3-13-1 and picked second overall in the draft. As of this writing, they're 6-4, second place in the AFC South, and sixth place in the AFC as one of the Wildcard teams. They're scheduled to play the Jags this weekend with sole possession of first place in the division on the line. No other team in the league has made as big a jump in the standings from last season to this one than the Texans. NRG Stadium was the loudest some have heard it the last couple wins against the Bus and Cardinals. Craziest part: it wasn't even full to capacity.
Changing the culture and winning goes a long way. Perhaps the biggest influence DeMeco has had is his commitment to player development. When he was with the 49ers, they raved about how he turned them into better players. Fred Warner was emotional over losing DeMeco as a coach for what he's done for Warner's career. Pairing a coach like him with players like C.J. Stroud, Will Anderson Jr, and others with the same level of commitment has this team in place to not only win, but be a factor for years to come.
I've seen coaches make some unreal turnarounds in my lifetime. It usually comes with a ton of other sweeping changes. While he did have the number two and number three picks in this past draft, this team was in shambles. The salary cap was a mess, draft capital was abysmal, and the team was devoid of talent. General manager Nick Caserio came in and cleaned up a lot of it before DeMeco was hired, so he should get some credit. However, he set a table for DeMeco to come in and work his magic. It's hard for a GM to make those moves and not have a coach to help finish the job. He bought the groceries, but had no chef. DeMeco came in and not only cooked a great meal, but he set a nice table and cleaned the kitchen when he was done.
If this man doesn't win Coach of the Year, fire everybody who has a vote. No coach in the league has done what he's done over the course of this season from last season. Improving the winning of a franchise and changing their culture to the point where the fan base did a complete 180-degree turnaround means the award should already have his name on it. The trophy should be in Houston in a lock box at a secure location. There should be plans already made, but flexible enough for their impending playoff run. If you can name a better candidate, I'd love to hear your argument. Send it to me on November 33rd. Promise it'll be the first thing I read that day.
SportsMap Emails
Are Awesome