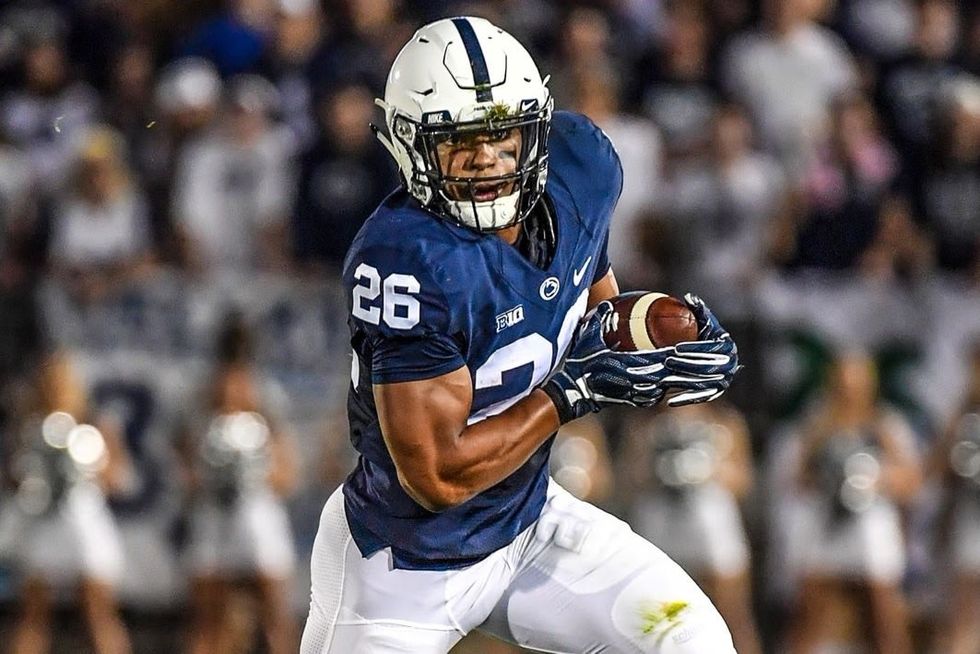 Here is my final mock draft and I have made several changes this week, to say the least. I think I have a better feel now for how the middle of the 1st round will play out, but we'll find out for sure tonight. Now, I certainly don't have the resume of Mike Mayock or Mel Kiper, but I do have the luxury of talking football with guys like NFL.com's Lance Zierlein, and have co-hosted draft shows in the Houston market the last few years. I watch as many players as I can, look at the needs and tendencies of every team, and get information from people I trust. So here we go. The NFL Draft is like Christmas morning for me, and I can't wait for this thing to get started. 
1. Cleveland Browns- Oklahoma QB Baker Mayfield
The Browns finally get their franchise QB. There's a lot of buzz about Baker Mayfield being selected here, so I'll trust what I'm hearing. 
2. New York Giants- NCST DE Bradley Chubb
The Giants find a replacement for JPP, or they trade back.
3. New York Jets- UCLA QB Josh Rosen
I'm hearing that the Jets prefer Rosen over Darnold.
4. Cleveland Browns- Penn St. RB Saquon Barkley
Cleveland selects the best player in the draft. They could trade this pick to Arizona, Buffalo, or even Denver.
5. Denver Broncos- USC QB Sam Darnold
I can't believe it, but I think the Broncos can stay put and take Darnold at #5.
6. Indianapolis Colts- Virginia Tech OLB Tremaine Edmonds
The Colts add an incredible playmaker to their defense.
7. Tampa Bay Buccaneers- Ohio St. CB Denzel Ward
The Bucs get the best corner in the draft.
8. Chicago Bears- Notre Dame OG Quenton Nelson
The Bears get one of the best players in the draft and protect their young QB.
9. San Francisco 49ers- Georgia LB Roquan Smith
I'm going with Lance's advice and keeping Roquan Smith in my Top 10. If you missed Lance Zierlein shaming me, you can check it out here. 
10. TRADE--------- Buffalo Bills via Raiders- Wyoming QB Josh Allen
The Bills trade with the Raiders to jump in front of Miami and grab their QB. Adam Gase and the Dolphins are rumored to be interested in a QB, so the Bills make their move.
11. Miami Dolphins- Washington DT Vita Vea 
 The Dolphins replace Suh, and give Tannehill another year.
12. TRADE--------- Oakland Raiders via Bills- Alabama DT  Da'Ron Payne
The Raiders get some help on the d-line and add some picks.
13. Washington Redskins- Florida State S Derwin James
Washington gets a steal and adds to the secondary.
14. Green Bay Packers- UTSA OLB Marcus Davenport
The Packers are excited to get their pass rusher. Some compare Davenport to Lions DE Ziggy Ansah, but I see a lighter lowercase Jadeveon Clowney. 
15. Arizona Cardinals- Alabama DB Minkah Fitzpatrick
Arizona gets great value and upgrades the secondary.
16. Baltimore Ravens- Notre Dame OT Mike McGlinchey
Now the Ravens have bookend tackles with McGlinchey and Ronnie Stanley. I was lucky enough to watch some coaches tape of McGlinchey, and this dude looks legit.
17. Los Angeles Chargers- Boise St. LB  Leighton Vander Esch
The Chargers bolster their defense. This guy can PLAY.
18. Seattle Seahawks- Iowa CB Josh Jackson
Pete Carroll and John Schneider get their replacement for Richard Sherman. Jackson posseses size and terrific ball skills. He has Seahawk written all over him.
19. Dallas Cowboys- Florida DT Taven Bryan
The Cowboys could go Rahaan Evans or Calvin Ridley, but I'm betting they would take Bryan if he's available.
20. Detroit Lions- Boston College DE Harold Landry
The Lions get some help on their defensive line. Ziggy Ansah is playing on the franchise tag.
21. Cincinnati Bengals - Alabama LB Rahaan Evans 
Evans fills a need and he's a terrific player.
22. TRADE---------Oakland Raiders via Bills- Louisville CB Jaire Alexander
The Raiders take the extra pick from the Bills and get some much-needed help at corner.
23. New England Patriots-  UCLA OT Kolton Miller
The Pats need both tackle and corner, but this draft is thin at tackle. They can grab a corner at pick #31.
24. Carolina Panthers- Alabama WR Calvin Ridley
They get Cam a much-needed weapon outside.
25. Tennessee Titans- Texas A&M WR Christian Kirk
Kirk can help Mariota get the ball out fast, and that will help keep their QB healthy. They just took Corey Davis in the 1st round last year, but there aren't any LBs or pass rushers worth taking here. They may look to trade down.
26. Atlanta Falcons- Michigan DT Maurice Hurst
Dontari Poe left in free agency, so the Falcons add a DT.
27. New Orleans Saints- UTEP OG Will Hernandez
The Saints know the running game was a difference maker for them last year. 
28. Pittsburgh Steelers- Stanford S Justin Reid
This dude can run and has Pro Bowl potential. 
29. Jacksonville Jaguars- Louisville QB Lamar Jackson
Blake Bortles will have competition.
30. Minnesota Vikings- Texas OL Connor Williams
The Vikings spent a ton of money on Kirk Cousins, so they add some help on the line to protect him.
31. New England Patriots- UCF CB Mike Hughes
The Pats get lucky and grab Hughes to replace Malcolm Butler. Hughes should go sooner , but several of the teams in front of the Pats have bigger needs than corner.
32. Philadelphia Eagles- SMU WR Courtland Sutton
The Super Bowl champs add another toy for Carson Wentz, and Alshon Jeffery is recovering from a shoulder injury.
Luka Doncic had 41 points, nine rebounds and nine assists, and the Dallas Mavericks prevented the Houston Rockets from advancing to the quarterfinals of the NBA In-Season Tournament with a 121-115 victory on Tuesday night.
Kyrie Irving added 22 of his 27 points in the second half for the Mavericks, who had already been eliminated. Their victory allowed the New Orleans Pelicans to win Group B in the Western Conference with a 3-1 record.
Doncic fell just short of his 59th career triple-double. That would have tied him for ninth place all-time with Larry Bird. He shot 15 of 29, 3 of 10 on 3-pointers.
"Sometimes we take him for granted, and we shouldn't," Mavericks coach Jason Kidd said. "He's about winning, but it just so happens he's a walking triple-double.
"The Mavericks, who trailed by nine points in the third quarter, grabbed the lead for good at 99-98 with 6:25 to play on a drive by Irving. Leading 103-100 with 5:25 left, they went on an 8-2 run that included three free throws by Derrick Jones Jr. when he was fouled by Dillon Brooks on a 25-footer with the shot clock about to expire.
Jabari Smith Jr.'s 3-pointer with 8 seconds left pulled the Rockets within 119-115 before Dallas closed it out.
Doncic played after sustaining a low-grade sprain of his left thumb on his non-shooting hand early in Saturday's game. He wore a wrap on the thumb.
Doncic made a hook shot from the free throw line after recovering a loose ball near the baseline.
"I'm 2 for 2 in my career on the hooks," Doncic said, saying the other came while playing for the Slovenian national team against Sweden.
Irving shot 2 for 11 in the first half, 1 for 5 on 3-pointers, with no free-throw attempts. He was 6 for 11 in the second half, hitting 1 of 2 behind the arc, and sank all nine free throws.
"I told the team, 'Played well enough to win, not smart enough to win,'" Rockets coach Ime Udoka said. "We were extra-aggressive, especially at the end of the third quarter. Had multiple players make a few dumb fouls, put Kyrie at the line and got him going when he didn't have a lot going. You can be aggressive, obviously, but slapping somebody on a 3-point shot on the arm is an unintelligent play. It has nothing to do with aggression."
Alperen Sengun had a season-best 31 points for the Rockets, who had six scorers in double figures. Fred VanVleet had 10 points and 12 assists.
The Rockets have lost all six of their road games this season. They went into play leading the NBA by allowing an average of 104.4 points per game.
The Mavericks didn't use the specially built court for either of their home tournament games, citing dissatisfaction with the quality.
UP NEXT
Rockets: Will finish a back-to-back at Denver on Wednesday.
Mavericks: Host Memphis on Friday.
SportsMap Emails
Are Awesome