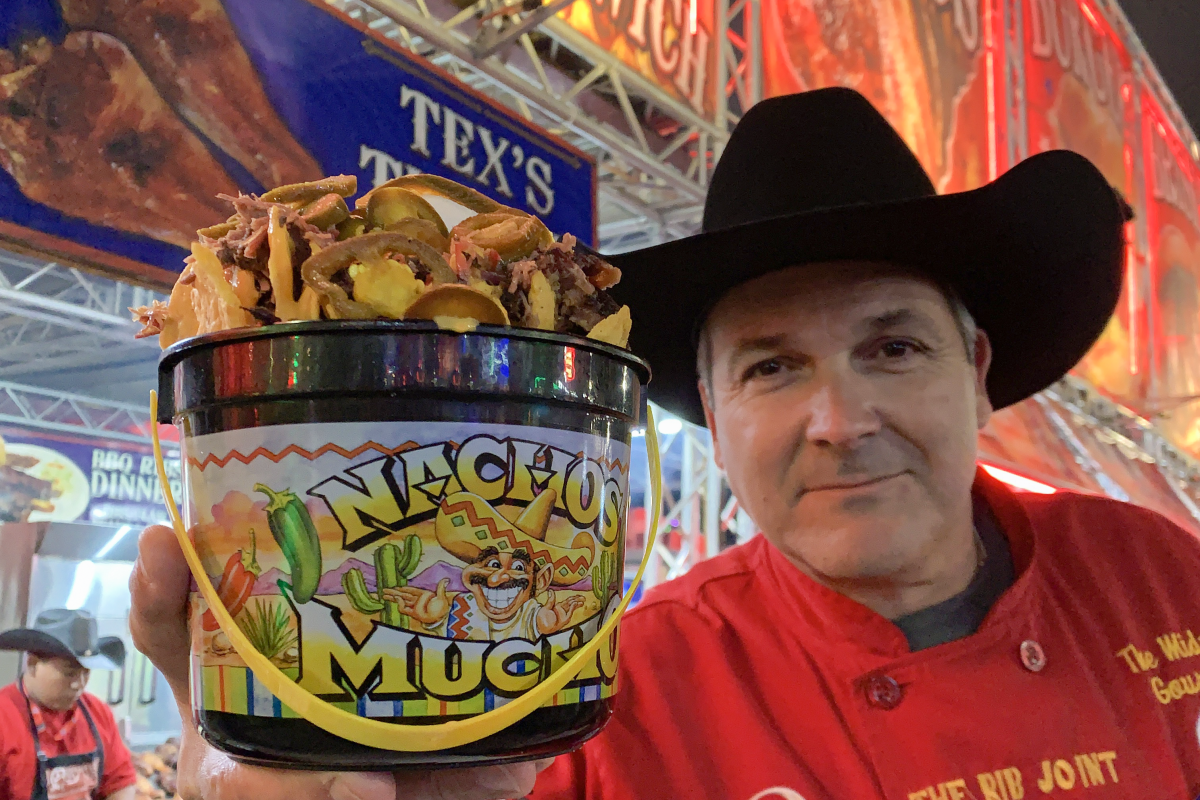 Dominic Palmieri, mastermind of the rodeo's carnival food. Photo by Brandon Strange
This article originally appeared on CultureMap.
Eight years ago, after stuffing myself — by myself — on my traditional lap around carnival food shacks at the Houston Livestock Show and Rodeo, I invited a gang of high school freshman to gorge along. I considered this my corndog consumption intern program. Oh, they could eat and eat. And come back for thirds.
So this year, I rounded 'em up again — six seniors at Texas A&M — and we hit the carnival. They've shown no let up in appetite. Let's get this show on the road.
Dominic Palmieri, famed "Midway Gourmet" at the rodeo, met us in his swanky Ray Cammack Shows administration office smack in the middle of the carnival. "Fellas, let's eat!" Palmieri is the boss man over all the Carnival sweets, meats and treats — 39 booths in all. He's the mad scientist who thought, "Sure turkey legs are fantastic, everybody loves them, they're nature's original food on a stick … but what if we wrapped bacon around turkey legs?"
If only Palmieri used his powers for good instead of evil.
Rodeo taste testing
He told the taste testers, "Tonight, I'm going to have you try some traditional carnival favorites and some new things we've created for this year's rodeo. Our job at RCS is to push the envelope with carnival food, to be innovators. We're not looking for one hit wonders, we're striving for treats that will endure several years. When you hear about other fairs introducing something popular, in many cases we've had that item for four or five years."
The Aggies probably were thinking, enough with the lecture, let's get in some lab work … we were told not to eat all day for this.
Over the next three hours, the fellas ate Deep Fried Oreos, rode a couple of rides, ate some Texas Brisket Nachos, played a few games, ate some Hot Cheetos Corn, ate some warm Chocolate Chip Cookies, loosened our belts a notch, dined on Steak Dinner on a Stick, and learned how -325-degree liquid nitrogen takes churros to a whole new level from Professor Palmieri.
This is Palmieri's 26th years running the Midway's restaurant loop at the carnival and he hasn't lost a step of enthusiasm for his craft. He's a fixture on the carnival pavement, that's him in the red chef's jacket adorned with the names of midway food shacks … and a cowboy hat. Palmieri wears his signature jacket at nine major carnivals and fairs throughout the country each year. The cowboy hat is just for us in Houston.
Deep-fried delights
Our first stop was for Deep Fried Oreos. Palmieri brought us plenty, with the warning that he didn't want to see any leftovers. "If you're going to enjoy it, you've got to destroy it." History lesson: long ago, carnival sweets were basically limited to cotton candy and candy apples. About 20 years ago, funnel cakes showed up, and Rodeo fans saw that they were good. In fact, delicious.
Then tough times hit, the low-carb craze. "But after a few years of depriving themselves, people wanted to roll around in a bath tub filled with sugar and carbs again," Palmieri said. "That's when we introduced Deep-Fried Twinkies at the Los Angeles County Fair. We sold 10,000 Twinkies that year. That's a lot of Twinkies."
The next year, Deep-Fried Oreos hit big. Now they're a staple at fairs everywhere. Soon there were Deep-Fried _______ (fill in the blank) and they're all still very popular. The last thing we enjoyed-destroyed on our way out was Deep Fried Cheesecake.
Palmieri said deep-frying boosts the character and flavor of an Oreo, which already does quite nicely for itself straight off the supermarket shelf. Dipped in batter, fried and sprinkled with powdered sugar, the Oreo becomes gooey, the chocolate cookie and cream filling blending into molten joy. The batter turns golden brown and glistening. You can ask for your Deep Fried Oreo dipped in a variety of sweet sauces, but Palmieri said he likes his straight with just powdered sugar. "I'm a purist," he said.
Cheetos, meet pizza
Last year, Palmieri introduced a cup of corn topped with Flamin' Hot Cheetos. That happened to be my favorite new item. This year, he's added mayonnaise and shredded cheese to the Cheetos Corn. The real secret, he whispered, is the broth in which the corn is cooked. The Corn Shack also sells fresh roasted corn on the cob.
Palmieri brought out a giant pepperoni pizza with Cheetos tossed on top. It was gone is in 60 seconds flat, maybe faster. "We were looking for a something different in a pizza topping. We figured, there's no traditional topping that's crunchy. So we tried putting Cheetos on top and the reaction has been huge. People love it. We have Cheetos on a few things now. We will sell a truckload of Cheetos at this Rodeo."
On to Puffy Tacos, a Half-Pound Burger, Steak Dinner on a Stick, Churros frozen in liquid Nitrogen (smoke pours from your mouth when you bite one), Deep Fried Butter Balls with Vermont Maple Syrup (tastes like and inside-out waffle), Hot Cheetos Caramel Apples, and Hot Dogs Wrapped in Bacon and Spiral French Fries.
No wonder none of us could sink a free throw at the basketball game.
Continue reading on CultureMap to learn about the winners of the Gold Buckle Foodie Awards and see more photos of the food.
Luka Doncic had 41 points, nine rebounds and nine assists, and the Dallas Mavericks prevented the Houston Rockets from advancing to the quarterfinals of the NBA In-Season Tournament with a 121-115 victory on Tuesday night.
Kyrie Irving added 22 of his 27 points in the second half for the Mavericks, who had already been eliminated. Their victory allowed the New Orleans Pelicans to win Group B in the Western Conference with a 3-1 record.
Doncic fell just short of his 59th career triple-double. That would have tied him for ninth place all-time with Larry Bird. He shot 15 of 29, 3 of 10 on 3-pointers.
"Sometimes we take him for granted, and we shouldn't," Mavericks coach Jason Kidd said. "He's about winning, but it just so happens he's a walking triple-double.
"The Mavericks, who trailed by nine points in the third quarter, grabbed the lead for good at 99-98 with 6:25 to play on a drive by Irving. Leading 103-100 with 5:25 left, they went on an 8-2 run that included three free throws by Derrick Jones Jr. when he was fouled by Dillon Brooks on a 25-footer with the shot clock about to expire.
Jabari Smith Jr.'s 3-pointer with 8 seconds left pulled the Rockets within 119-115 before Dallas closed it out.
Doncic played after sustaining a low-grade sprain of his left thumb on his non-shooting hand early in Saturday's game. He wore a wrap on the thumb.
Doncic made a hook shot from the free throw line after recovering a loose ball near the baseline.
"I'm 2 for 2 in my career on the hooks," Doncic said, saying the other came while playing for the Slovenian national team against Sweden.
Irving shot 2 for 11 in the first half, 1 for 5 on 3-pointers, with no free-throw attempts. He was 6 for 11 in the second half, hitting 1 of 2 behind the arc, and sank all nine free throws.
"I told the team, 'Played well enough to win, not smart enough to win,'" Rockets coach Ime Udoka said. "We were extra-aggressive, especially at the end of the third quarter. Had multiple players make a few dumb fouls, put Kyrie at the line and got him going when he didn't have a lot going. You can be aggressive, obviously, but slapping somebody on a 3-point shot on the arm is an unintelligent play. It has nothing to do with aggression."
Alperen Sengun had a season-best 31 points for the Rockets, who had six scorers in double figures. Fred VanVleet had 10 points and 12 assists.
The Rockets have lost all six of their road games this season. They went into play leading the NBA by allowing an average of 104.4 points per game.
The Mavericks didn't use the specially built court for either of their home tournament games, citing dissatisfaction with the quality.
UP NEXT
Rockets: Will finish a back-to-back at Denver on Wednesday.
Mavericks: Host Memphis on Friday.
SportsMap Emails
Are Awesome