Even through injuries and the adversity that can come with them, Houston keeps one thing consistent, winning!
Key reasons the Astros just keep winning
Jun 4, 2019, 9:49 am
Ronald Martinez/Getty Images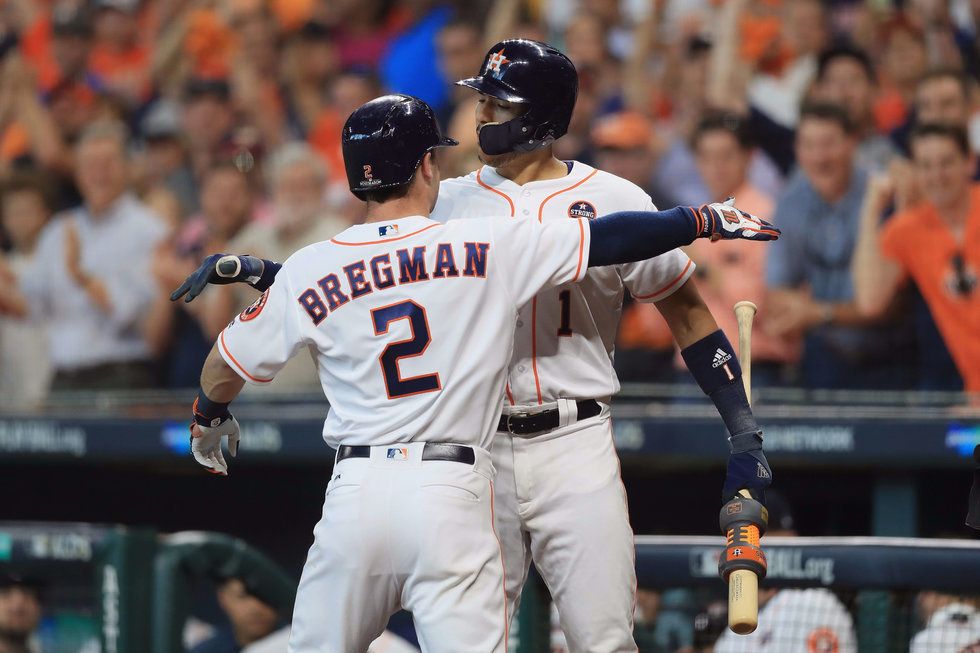 Photo by Ronald Martinez/Getty Images
The Astros have had a rash of injuries lately that have caused Manager AJ Hinch to piece together a lineup card every night with tape and glue to keep his first-place team winning. Instead of Springer, Altuve, Correa, and Diaz putting crooked numbers on the board and producing league-leading offensive numbers, they have been replaced by young, unfamiliar faces in new places that are being called on to keep the train moving and the team winning. The pitching staff has not been immune to the injury bug either, as Colin McHugh has struggled with an elbow issue and before that, control problems as Hinch and General Manager Jeff Luhnow have scrambled to find a reliable 5th starter to fill out the rotation. Remarkably the one constant in the midst of all the chaos and change has been the team's ability to keep putting victories in the win column while building their lead in the AL West. Let's take a look at the main reasons injuries have not been able to slow the 'Stros down as the title contenders continue to construct a season that has all the makings of another special campaign.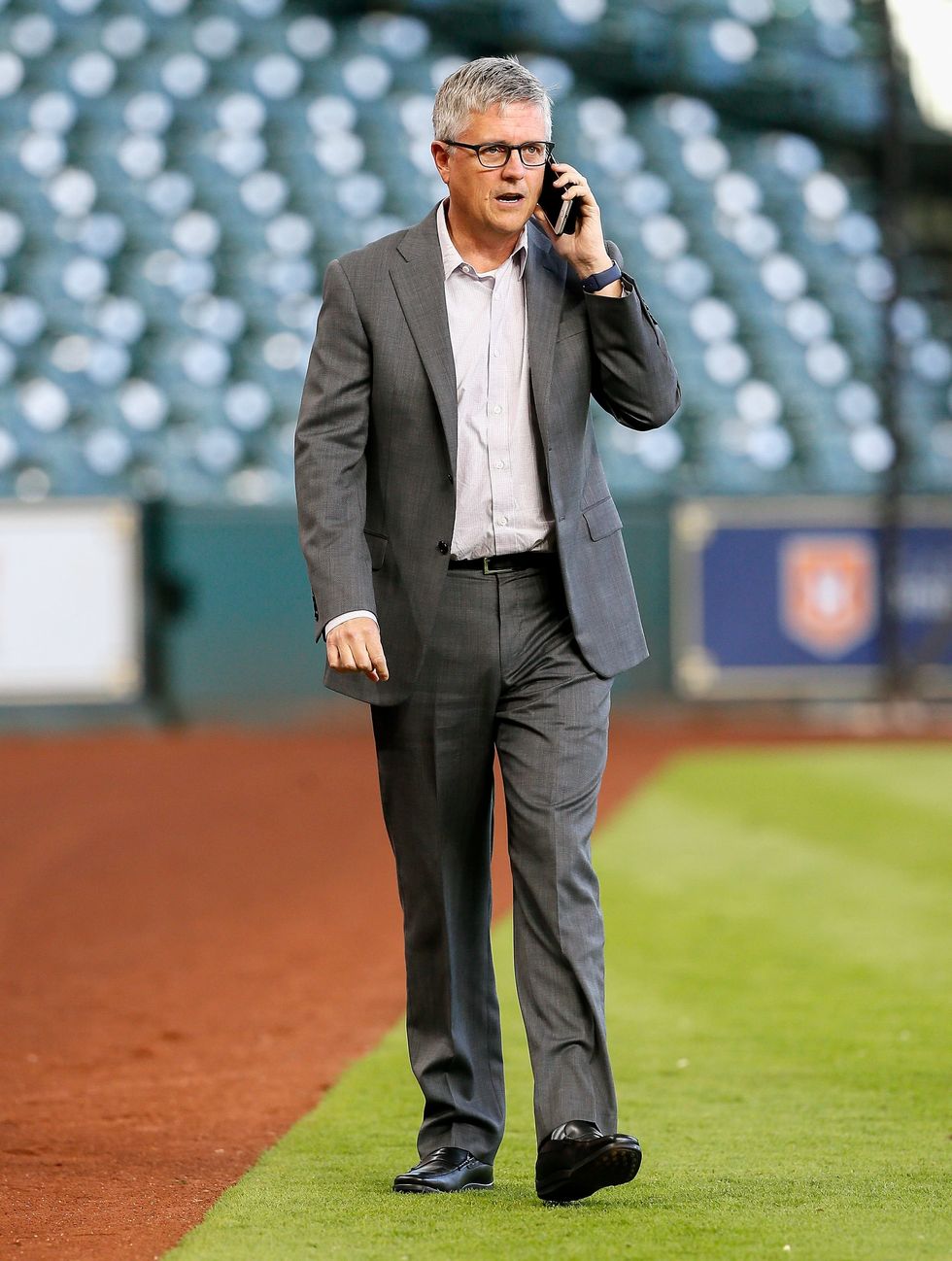 Photo by Bob Levey/Getty Images
Jeff Luhnow is one of the best GM's in all of baseball and never has that been more noticeable than in the last few weeks since three of his "Core 4" best players went down with injuries. Jose Altuve has been banged up all season and what started out being a hamstring issue quickly expanded to a leg issue during a rehab stint in the minor leagues, thus leaving his return date up in the air. George Springer was next to hit the IL after a back strain was quickly followed up by a hamstring pull that took the leading candidate for AL MVP out of the lineup along with his huge offensive numbers and stellar outfield defense. Carlos Correa was the third member of the Astros All-Star brigade to be put on the shelf after suffering a freak injury while getting a massage at his home. He went on social media to say that he heard a crack and later found out that he had suffered a broken rib. The injury-prone shortstop seemed to finally be completely healthy after several injury-filled seasons and was putting up big numbers offensively, living up to all his potential and the high expectations he has created by being a mainstay in the success of the team over the last several years. When one of the players Luhnow brought in for specific situations like this, Aledmys Diaz, went down with his own hamstring issues, it looked like dark days ahead and all kinds of trouble for Houston's favorite baseball team.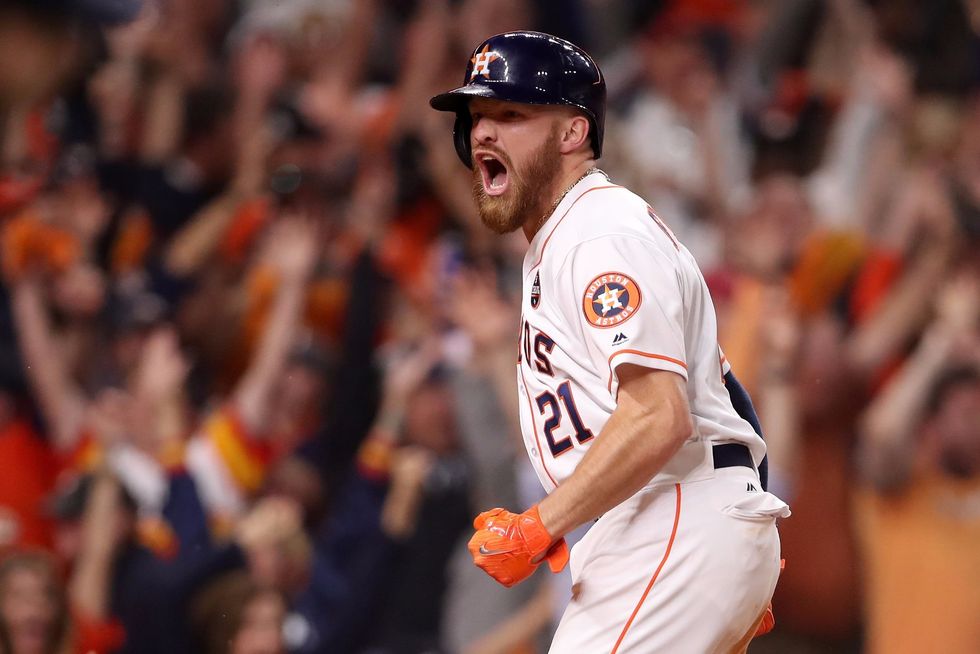 Christian Petersen/Getty Images
Thanks to Luhnow and his staff, no trades have been needed and the team hasn't missed a beat as they have tapped into the farm system and everyone that has been called up and called on has stepped up and done their job to keep the team on track. The names may not be familiar to casual Astros fans and the faces look better suited to fill out a high school yearbook than an MLB lineup, but the results speak for themselves. Miles Straw, Garrett Stubbs, Jack Mayfield, and Derek Fisher have all been huge both offensively and defensively as they have been the Super Glue and duct tape that have kept the squad from falling apart and instead find a way to keep on rolling along. Throw youngster Corbin Martin in that mix as well as he has had one great outing in his Major League debut and a few more serviceable starts as he has filled in for McHugh in the starting rotation.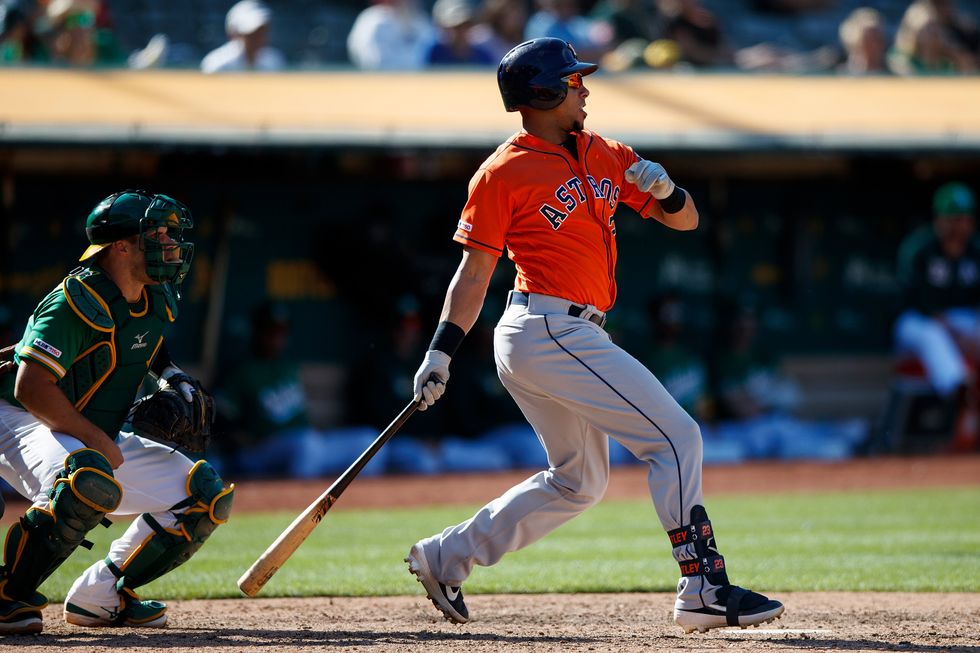 Photo by Jason O. Watson/Getty Images
Luhnow knows talent and he knows who to hang on to and who to use as trade bate for veteran support when thinking about the long and short term future of the franchise. He has rebuilt and added to one of the best minor league talent pools in the sport and made savvy decisions on free agents and fan favorites to keep the team from over committing money that will come in handy at the trade deadline and moving forward as he does everything in his power to keep this team a contender for years to come. He let Marwin Gonzalez and Dallas Kuechel walk and replaced them with Diaz and the inexpensive, yet highly effective, Wade Miley who has not only stepped in but stepped up in a big way to continue the organization's winning ways. He passed on the big price tag of a Bryce Harper and instead brought in the less expensive and more productive Michael Brantley to add punch to the middle of his lineup and leadership in his clubhouse.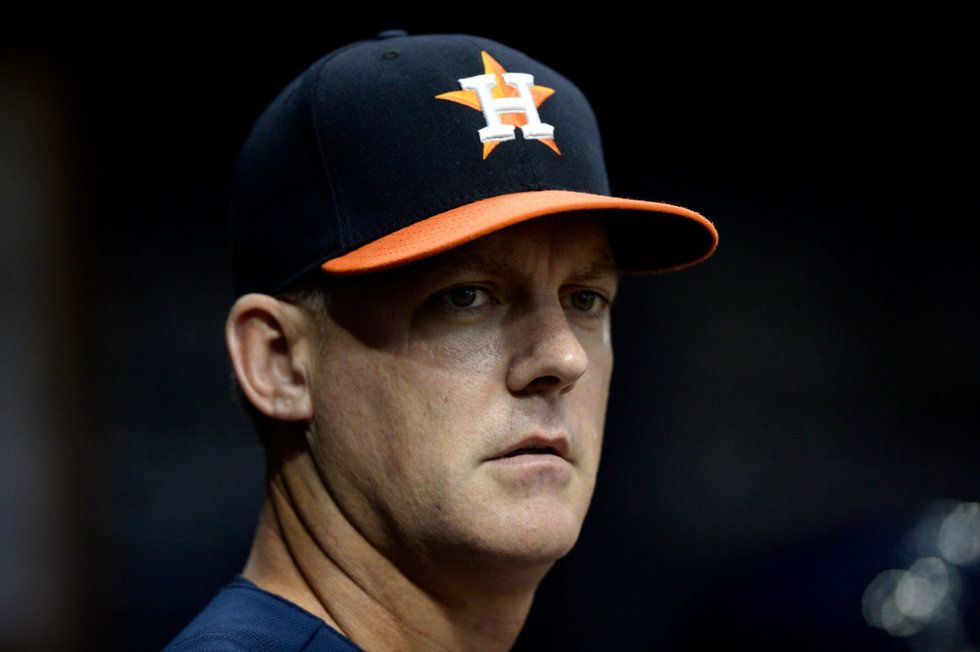 Jason Behnken / Getty Images
Manager AJ Hinch also deserves a ton of credit in this recent run of series victories over contending teams as he has been McGyver using every tool and resource in his bag of tricks to make sure the team keeps winning while still being able to get days off for veterans that log a ton of innings over the course of a 162 game season. He has changed his strategy mid-stream and has proven he can play small ball with the best of them when the situation presents itself. Without his potent and powerful regular starting lineup and batting order, Hinch has utilized the speed of Straw and Fisher and timely production and spot starts from Mayfield and Stubbs to grind out wins while playing a far different way than his normal, wall banging brigade of offensive production. A stolen base here, a timely two-out hit there, a sacrifice fly or an important bunt are all in play and more than possible while the MASH Unit remains a who's who of MLB's best. Hinch not only does it with his lineup, but he and pitching coach Brent Strom also do the same with the pitching staff as they attempt to keep the innings down while maintaining the high level of production and effectiveness of both the starting rotation and the bullpen. Houston has one of the best managers in the game and may not have ever been more evident than this last run of victories with so many key players sidelined by injury.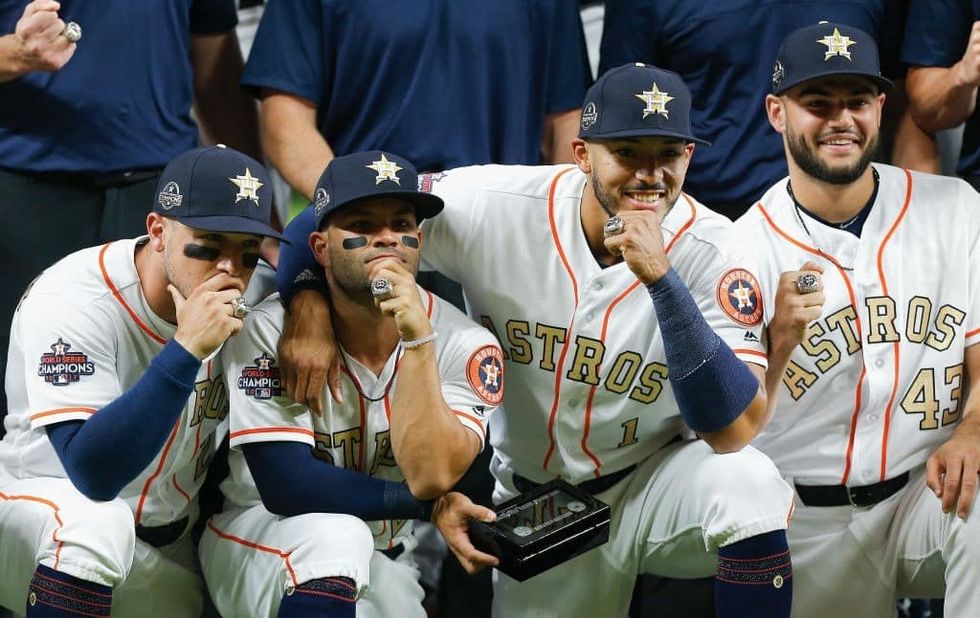 photo by Bob Levey/Getty Images
Even as the manager has pushed all the right buttons and the GM has pulled all the right strings, the players still need to perform to assure the results the fans have grown accustomed to and the owner has come to expect. Alex Bregman and Brantley are steady bats that continue to produce at an all-star level at the plate, while Justin Verlander and Gerrit Cole do the same for the starting rotation. The back end of the bullpen has been lights out with Ryan Pressly and Roberto Osuna and Diaz and veteran catcher Robinson Chirinos have been better than anyone could have expected as offseason additions. The clubhouse remains tight and together and there is a strong level of support and comradery for the players in the lineup, especially from those who are out with injury. No one is looking over their shoulder and everyone is looking for a way to contribute to another win, which is exactly how it's supposed to be on a title contending team.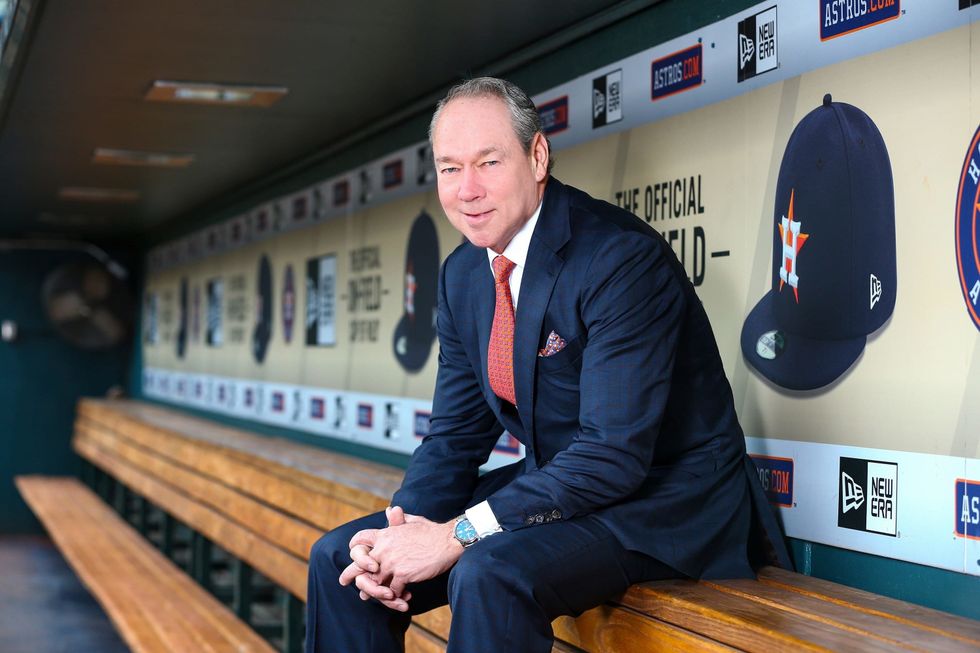 Photo by Alex Bierens de Haan
One final point that needs to be made is that it helps immensely to have an owner that gets it, and supports his employees with the finances when needed as well as the emotional backing that allows them to have confidence doing their jobs. Jim Crane has been the owner Houston desperately needed when it comes to having a successful baseball franchise. He has been generous with his checkbook and smart with his hiring and leadership style. Crane lets his staff do their job and provides support and guidance when necessary. He doesn't meddle too much or talk to the media on a regular basis, but he makes his presence felt in many ways, including his competitive fire that fuels his desire to win and lends itself perfectly to the way he willingly offers up the resources and strong foundation at the top that many top squads in professional sports lack. It all adds up to a winning formula that keeps finding ways to succeed, even during trying times like when injuries hit.