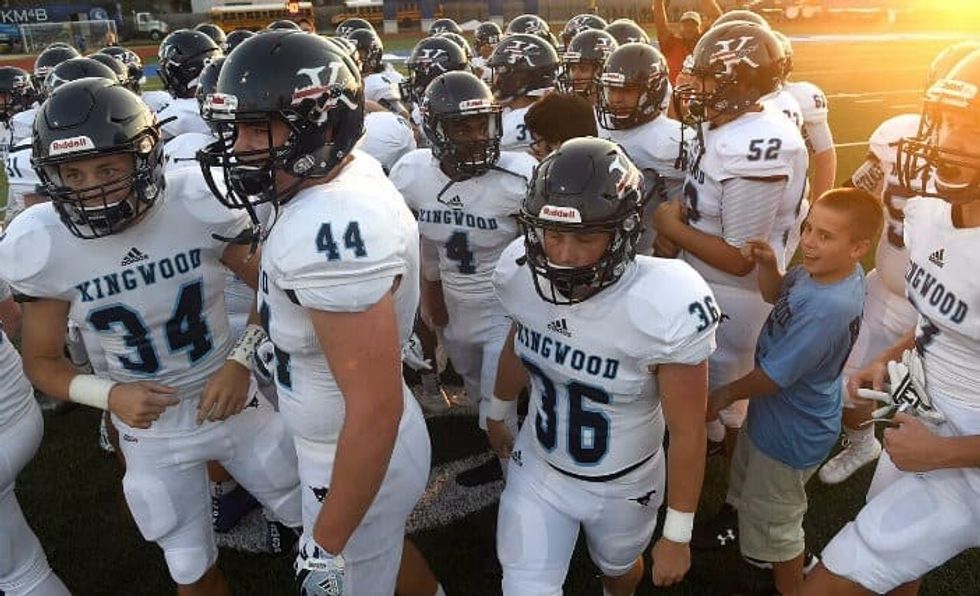 Kingwood is moving on to the Regional Semifinals. Vype
Originally appeared on Vype.com.
That was the last time Barry Campbell, the then-Fort Bend Clements offensive coordinator, strolled the sidelines during a regional semifinal game as a coach.
Fort Bend Clements beat Stratford 31-27 that season and went on to the quarterfinals to fall to Katy.
Campbell, who eventually moved on to take his first head coaching job at Kingwood in 2012, wanted to bring that same success to the Mustangs.
With a 38-30 victory against Clear Lake on Saturday inside NRG Stadium, Campbell got Kingwood back to a place it hadn't been in 27 years – playing December football.
"Once you reach a goal it's time to start reaching for the next one," Campbell said. "We finally got to a point where we wanted to play on Thanksgiving, we got to do it. We wanted to play in December and here we are. We're going to be playing in December.
"Now we want to win in December. That's the next goal."
Kingwood's last appearance in the regional semifinals came in 1990 under former coach Mike Unger. The Mustangs defeated Alief Elsik 24-12 in the third round that year and didn't fall out of the playoffs until losing to Converse Judson in the state semifinals.
To get to this point, Kingwood had to knock off a team on its own memorable playoff run.
Clear Lake prior to this season hadn't been to the playoffs or won a playoff game since 2008. Both of those streaks were snapped last week with a win against George Ranch in the bi-district round.
Kingwood led 14-10 heading into the second half. The third quarter is where the Falcons found their spark off a blocked punt returned for a touchdown by Preston Schaulin.
That paired with a 50-yard touchdown run by quarterback Shae Suiaunoa less than a minute earlier provided a 13-point swing for the Falcons. Once trailing 14-10, Clear Lake was suddenly leading 23-14.
"That really changed the momentum of the game," Campbell said about the blocked punt. "It was still back and forth at that point but when they got that that's when they really pulled ahead and made it more than a one-score game."
Kingwood quarterback Matt Slayton – who finished 10 of 19 for 104 yards, a touchdown and also rushed 15 times for 103 yards and two scores – would get them back in striking distance.
Slayton hit Nolan Powell for a 23-yard touchdown, making it 23-21 with five minutes left in the third.
Suiaunoa made it 30-21 at the end of the third quarter with his second and final rushing score of the game. Suiaunoa finished 12 of 25 for 147 yards, two interceptions and a touchdown and rushed for 111 yards and two scores on 17 carries.
In the fourth quarter it was all Kingwood.
An Aaron Finch one-yard rush, Connal Fisher 37-yard field goal and 25-yard touchdown run by Blake Parr sealed the victory for the Mustangs. Parr's score came with 1:30 left in the game.
"I don't know if there is really one thing you can say this is why we won the game," Campbell said. "Both teams made great plays. We just made one more play than they did. That's what the playoffs are all about."
Since falling to Summer Creek 34-7 on October 27, Kingwood has won four-straight games. In each of those, Kingwood either trailed or had just a one-touchdown lead at halftime.
Just like the Mustangs have during this run, they have either held on or come back to win and keep its playoff run alive.
"When you go through the season you've got a small amount of time to either dwell on the losses or celebrate the victories," Campbell said. "Right now we're letting our emotions go and it's enjoyable to celebrate these victories."
Kingwood will face Langham Creek on Saturday at Noon at TDECU Stadium in the regional semifinals.
This is the first time Kingwood has faced a team from Cy-Fair ISD in the playoffs since taking on Cy-Fair in 1987.
"We got to watch them Friday night when they played Katy Taylor," Campbell said. "They're going to be spread out. Offensively they scored a lot of points over the course of the season. They've got guys that can play anywhere. So it's going to be a big test for our kids."
Nico Collins had the best game of his career, and the Texans' defense came up huge to help Houston hand Denver its first loss since mid-October.
Collins had a career-high 191 yards receiving and a fourth-quarter touchdown, and Jimmie Ward intercepted Denver's Russell Wilson in the end zone with 9 seconds left to left to help the Houston Texans hold on for a 22-17 win over the Broncos on Sunday.
Ward leapt in front of intended receiver Lucas Krull to secure the fourth victory in five games for Houston (7-5) and snap a five-game winning streak for Denver (6-6).
Wilson was intercepted a season-high three times, all of them after halftime. Derek Stingley Jr. had the first two picks for the Texans. The Broncos had forced 15 turnovers in their winning streak but did not have a takeaway Sunday.
Houston rookie C.J. Stroud threw for 274 yards to end a streak of four straight games with at least 300 yards passing. Star rookie receiver Tank Dell injured his ankle in the first half and was carted off the field.
Texans rookie defensive end Will Anderson Jr., the third overall pick in the draft, had the best game of his young career. The former Alabama star had two sacks, four quarterback hits, deflected one of the balls that Stingley intercepted and deflected a punt.
Wilson threw for 186 yards with a touchdown in Denver's first loss since Oct. 12.
Early in the fourth quarter, Wilson's 41-yard pass to Jerry Jeudy got Denver to the 1, and the QB ran for the touchdown on the next play to cut Houston's lead to 22-17.
The Broncos got a stop and were driving on the ensuing possession when Stingley hopped in front of a pass intended for Courtland Sutton to give Houston the ball back.
Stroud was shaken up on a run on the next drive and left the game for two plays while he was examined in the medical tent on the sideline. He returned and was sacked before the Texans punted.
Sutton grabbed a 45-yard touchdown pass from Wilson that cut the lead to 16-10 with about five minutes remaining in the third. It was the 329th career TD pass for Wilson, who moved past Dan Marino for second-most in a player's first 12 seasons.
Stroud was sacked and fumbled on third down on Houston's next possession, but the Texans got the ball back. They punted, but Stingley intercepted Wilson on Denver's first play on a ball that was deflected by Anderson.
The Texans cashed in on the miscue when Collins scored on a 3-yard reception on the second play of the fourth quarter. The 2-point conversion failed to leave Houston up 22-10.
The Texans forced a three-and-out on the first possession of the second half when Anderson sacked Wilson on first down and Jonathan Greenard took him down on third down. Houston pushed the lead to 16-3 on Matt Ammendola's 38-yard field goal.
The Texans led by three in the first quarter when they went for it on fourth-and-2. Houston was called for a false start on the play, but Alex Singleton hit Stroud late to draw an unnecessary roughness penalty and give the Texans a first down at the Broncos 3.
Two plays later, Pierce bulled in for the touchdown to make it 10-0. Dell was injured when he got rolled up at the end of Pierce's run.
INJURIES
Broncos G Quinn Meinerz left in the fourth quarter with a shoulder.
Texans receiver Tank Dell suffered a fractured fibula, per NFL media.
UP NEXT
Broncos: Visit the Los Angeles Rams next Sunday.
Texans: Visit the New York Jets next Sunday.injury.
SportsMap Emails
Are Awesome