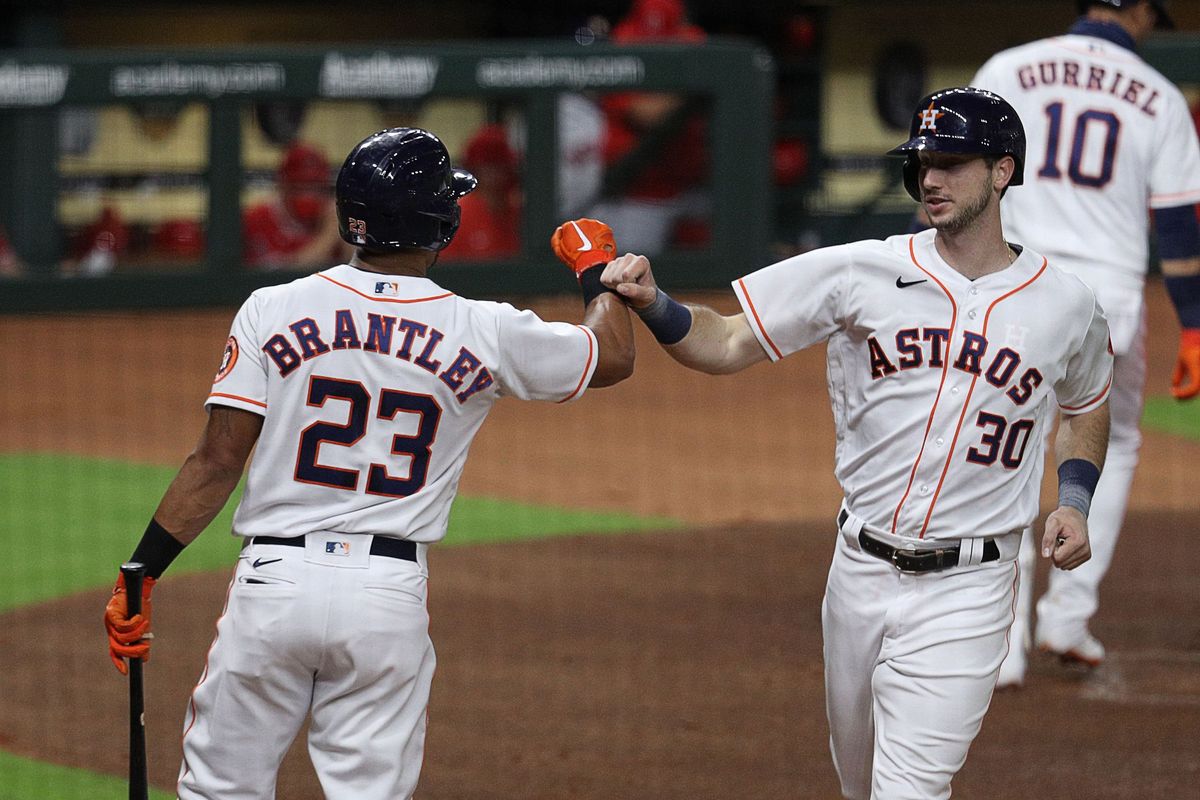 Kyle Tucker had a big day at the plate on Sunday. Photo by Bob Levey/Getty Images
After splitting the first two games of the series, with one team or the other putting on a solid offensive performance in each, the Astros tried to win their fourth series in their last five by taking the rubber game on Sunday against the Blue Jays. Thanks in part to a big day from Kyle Tucker, who played a significant role in the early offense they used to power to the win, they would accomplish their mission.
Final Score: Astros 7, Blue Jays 4

Astros' Record: 18-16, second in the AL West

Winning Pitcher: Bryan Abreu (2-1)

Losing Pitcher: Nate Pearson (0-1)
Kyle Tucker helps lead the offense to seven unanswered runs
Houston did not go easy on Nate Pearson in his 2021 debut. After a scoreless first, the Astros loaded the bases on two walks and a single, then brought the first run of the day home on an RBI walk by Michael Brantley. Another walk opened the door in the bottom of the third, and Kyle Tucker capitalized with an RBI triple to make it 2-0, followed by an RBI single by Robel Garcia to make it a three-run lead, ending Pearson's day one out into the bottom of the third.

Things didn't get easier for Toronto's pitching in the next inning, as Jose Altuve would lead off the bottom of the fourth with a solo homer. A single and a walk then set up another big hit for Kyle Tucker, a three-run dinger to make it seven unanswered runs and giving Tucker four RBI on the day.
Blue Jays pound Greinke in the fifth
After four shutout innings to start his day on the mound, working around a few hits along the way, Zack Greinke tried to cash in on his team's offense to get another win on his record. He wouldn't be able to get it done, though, as Toronto would get after him in the top of the fifth. They would score four times amongst five batters that came to the plate, with a solo homer by Rowdy Tellez, a two-RBI double by Bo Bichette, and an RBI single by Vladimir Guerrero Jr.

That made it a 7-4 game, and with Greinke still not having recorded an out in the frame, Dusty Baker would lift him at 88 pitches in favor of Bryan Abreu, who would get a pop out and a double play to end the inning and keep the lead at three runs. Greinke's final line: 4.0 IP, 9 H, 4 ER, 0 BB, 4 K, 1 HR, 88 P.
Houston takes the series
No more runs would come on either side the rest of the way, with Kent Emanuel working around a single for a scoreless sixth, Ryne Stanek getting a 1-2-3 seventh, and Andre Scrubb doing the same in the eighth to set up Ryan Pressly for the save. Pressly would get the job done, sending the Blue Jays down in order, including two strikeouts to wrap up the win and giving Houston the series victory.
Up Next: The Astros will stay at home to continue this homestand, welcoming in the Angels for three games starting Monday at 7:10 PM Central. The opener will feature a pitching matchup of Alex Cobb (1-2, 5.48 ERA) for Los Angeles and Luis Garcia (0-3, 3.28 ERA) for Houston.
Rockets' Alperen Sengun recently was a guest on Paul George's podcast and spoke about a conversation he had with James Harden.
He said Harden told him he was proud of him. This led George to saying he thinks this means the torch has been passed from Harden to Sengun.
Which made us wonder, is this now Sengun's team? Or is that a little premature and the true leader of the team is head coach Ime Udoka or Fred VanVleet?
Plus, Jalen Green has responded positively from being benched. Is this proof that Ime Udoka has the team taking more accountability and heading in the right direction?
Be sure to watch the video above as we break it all down!
If you enjoy the videos, subscribe on YouTube for our latest content.
Related Articles Around the Web
SportsMap Emails
Are Awesome