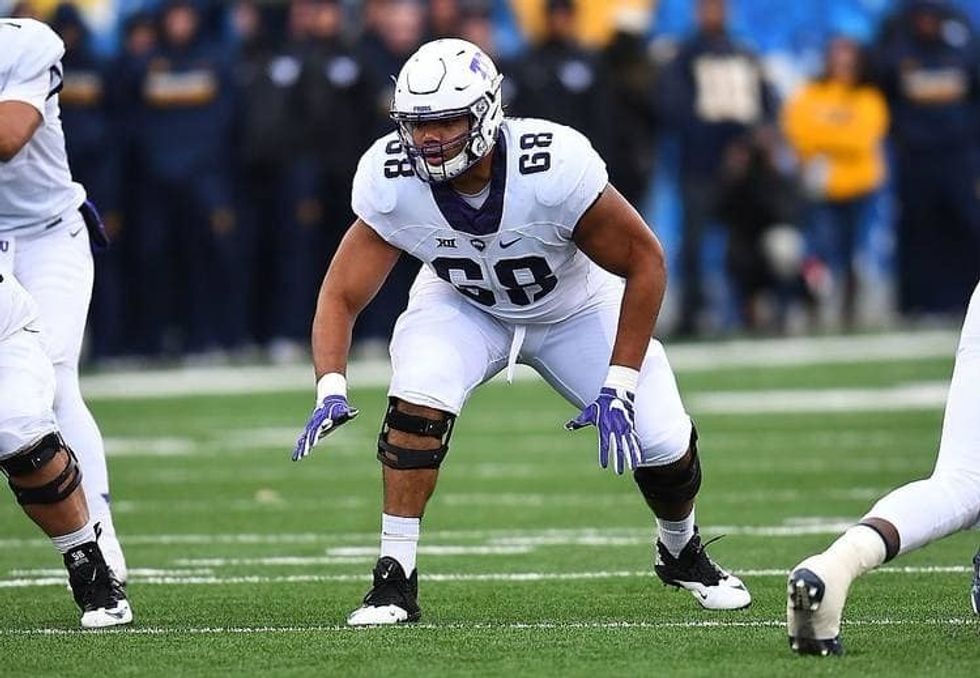 Tick-tock. Tick-tock. Tick-tock. It will be a long wait for Texans fans as they look for the newest group of reinforcements for a team that has some very clear holes to try to fill without the benefit of a 1st or 2nd round pick. However, there are plenty of starters around the league who have come from the third and even the fourth round.
We all know that the offensive line, tight end, and the secondary are the positions most in need of help, so let's take a look at players the Texans could be considering with their three picks in the third round and their lone pick in the fourth.
Third Round: (68), (80), (98)
Fourth Round: (103)
Joe Noteboom, OT, TCU: Noteboom has the physical traits the Texans will covet and his Senior Bowl and Combine were much better than his 2017 tape. He's a fast-riser in a weak tackle class and the Texans may have to trade into the second round to land him. It's also worth noting that the Texans coached him at the Senior Bowl. (Round 2)
Brian O'Neil, OT, Pitt: Athletic, but lacking in strength, O'Neil is an "upside" tackle who would have been a better fit for Gary Kubiak's zone scheme running game. The Texans could view him as a future starter if they believe he can carry more weight and strength. (Rounds 2-3)
Jemarco Jones, OT, Ohio State: Jones isn't always pretty, but he gets guys blocked. His workout was really disappointing which could cause the Texans to question whether or not they take him. (Rounds 2-3)
Orlando Brown, OT, OU: Brown's Combine performance was atrocious, but he was a little better at his pro day. He's massive and finds ways to get guys blocked, but will the Texans take a chance on such a marginal athlete? Brown understands how to use his long arms and is a nasty guy as a blocker. (3rd)
Braden Smith, OG, Auburn: Built like a weight room warrior, Smith is a big, strong guard who has heads-up power but can be inconsistent against athletic defensive tackles. I feel like he's a third or fourth round type, but he's more likely to be drafted late second or early in the third. He could challenge for a role early on.
Will Richardson, OT/OG, N.C. State: He's got a history of some character issues off the field which is likely to hurt his stock, so he might still be there for the Texans in the fourth round, but I'm not sure he would be on their board. Richardson is well-coached, but does have some holes to work on his pass protection. (4th)
Jamil Demby, OT/OG, Maine: While the Texans didn't coach him, Demby was at the Senior Bowl and did a very nice job. He played tackle at Maine but will need to bump inside to guard. What makes Demby appealing in the fourth round is that he has experience at tackle and will be an above average pass protector at guard. (4th)
Wyatt Teller, OG, Virginia Tech: Tremendous muscular build, but he played much better in 2016 than 2017. He's got good body control and hands and can control players in front of him, but he's a little limited as a run blocker in space. (4th)
Tarvarius Moore, S, USM: Moore was a one-year wonder at USM, but he has some very good tape and ran a 4.32 with outstanding quickness and explosiveness at his workout. He wasn't invited to the Combine which was a joke. He could be there in the third round a safety who can be moved around the field. (3rd)
Duke Dawson, CB, Florida: Dawson would potentially fill Kareem Jackson's role as a slot cornerback with the ability to handle the run support. Dawson is a good man cover guy and plays with a little bit of a chip on his shoulder. I'm a fan. (3rd)
Kyzir White, S, West Virginia: White is the brother of Kevin White who was a first round pick of the Bears in 2015 and he plays the game with a professional approach already. He's big and very physical but limited in coverage. He's more of a box safety, and some see him as a hybrid safety/linebacker. (3rd/4th)
M.J. Stewart, CB,  North Carolina: Card-carrying tough guy who makes life miserable for receivers when he's jamming them off the line of scrimmage. He lacks speed which will hurt his draft stock, but I also think he could be a quality safety if he converts over.
Tremon Smith, CB, Central Arkansas: One of the hot names in the draft at cornerback. Smith has great speed and pulled down 15 career interceptions. He will take his fair share of chances which could get him beat early in his career. Might have some similarities to a young A.J. Bouye. (4th)
Dalton Schultz, TE, Stanford: Stanford tight ends usually play a long time in the NFL and Schultz is no exception. He's limited as a pass-catcher, so he may not see the targets that Fiedorowicz saw, but he's a junkyard dog as a run blocker. He would be an early starter. (3rd)
Ian Thomas, TE, Indiana: Ascending talent who is still unpolished. He has plus blocking potential, very good size and is a decent athlete who should get better as a blocker. He could slip into the third round, but it wouldn't shock me to see him go in second. (2nd/3rd)
Durham Smythe, TE, Notre Dame: Smythe is another good run blocker who helped to fortify the Notre Dame rushing attack, and he could compete for a starter's job early on. Like Schultz, he will have some limitations as a pass catcher. (4th)
"Another one!"- DJ Khaled
That's the first thing that came to mind when I heard the news of Tytus Howard being shut down for the season because of a knee injury. They've had more injuries on the offensive line this season than Nick Cannon has Father's Day cards. Almost every member of the offensive line has spent time on the injury report. Howard went down in the same game in which Juice Scruggs was finally on the active roster. He missed the first 10 games due to a hamstring injury. The irony of next man up has never been so in your face.

The other thing that came to mind was the soap opera As the World Turns.
Howard had just signed an extension this offseason. So did Laremy Tunsil and Shaq Mason. They drafted Juice Scruggs, and signed a few guys too. Those moves, along with other holdovers, were expected to fill out the depth chart. Then a rash of injuries struck. At one point, only one of the original five guys expected to start was playing! In fact, they beat the Steelers 30-6 with that backup offensive line!

One can't have the expectation of backups to perform as good as the starters. They're professionals and are on an NFL roster for a reason. However, the talent gap is evident. One thing coaching, technique, and preparation can't cover is lack of ability or talent. The Texans have done a good job of navigating the injury minefield this season. While the Howard injury will hurt, I have faith in the guys there still.
As of this writing, the Texans are in the eighth spot in the AFC playoff picture. The Steelers, Browns, and Colts are all in front of them at the fifth through seventh spots respectfully. They've beaten the Steelers already. They play the Browns on Christmas Eve and their starting quarterback is out for the season. The Colts are relying on the ghost of Gardner Minshew to steer their ship into the last game of the season vs. the Texans with a possible playoff trip on the line. The Broncos and Bills are the two teams immediately behind them. They play the Broncos this weekend. Even though they're on a hot streak, this is the same team that got 70 put on them by the Dolphins. The Bills are the old veteran boxer who still has some skill, but is now a stepping stone for up & comers.
To say this team should still make the playoffs would be an understatement in my opinion. I believe in them and what they have going on more than I believe in the teams I listed above. That includes teams around them in the playoff race that aren't on their schedule. The one thing that scares me a little moving forward is the sustainability of this line. When guys get up in age as athletes, it becomes harder to come back from injuries. The injuries also tend to occur more frequently when it's a knee, foot, ankle, shoulder, elbow, or another body part critical to blocking for C.J. Stroud.
I know they just re-signed three of those guys and drafted one they believe can be a starter, but depth and contingency plans are a way of life in the NFL. We see how important depth was this season. Why not plan ahead? Don't be surprised if the Texans spend valuable draft capital on the offensive line. By valuable, I'm talking about first through third or fourth rounders. Those are prime spots to draft quality offensive lineman. Whether day one starters or quality depth, those are the sweet spots. The only guy on the two deep depth chart for this offensive line that wasn't drafted in one of those rounds was George Fant, who was an undrafted rookie free agent. While I highly doubt they spend any significant free agency dollars on the group, I'm not totally ruling it out.
The bottom line is, this team will be okay on the line for the remainder of this season. The only way that doesn't happen, more injuries. Stroud is clearly the franchise guy. Protecting that investment is a top priority. I don't care about a number one receiver, or a stud stable or singular running back if the quarterback won't have time to get them the ball. If the pilot can't fly the plane, you know what happens. So making sure he's happy, healthy, and has a great crew is of the utmost importance.
SportsMap Emails
Are Awesome