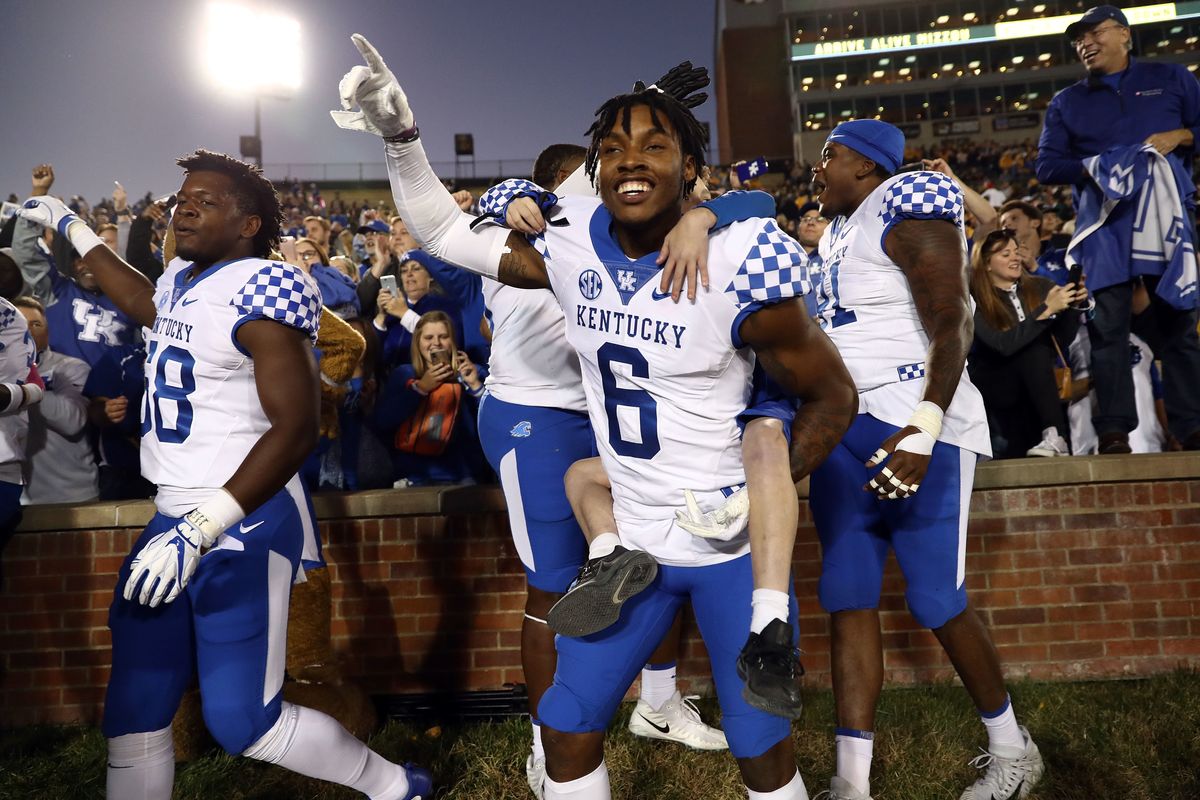 Lance Zierlein's breakdown of the Texans second-day draft picks:
​Lonnie Johnson, CB, Kentucky
Round: 2 Pick: 54
Strengths
Exceptional size for the position
Long arms dangle down his side
Offers up a stiff jab to stall receiver's release near goal line
Fluid feet in early stages of mirror-and-match from press or off-man
Lateral transitions are fluid
Adequate eye balance between high/low routes from zone
Shows flashes of aggression to become better in run support
Dangerous off the edge as kick blocker
Weaknesses
Lacks consistent competitive nature
Motor runs hot and cold in run support
Content to allow catches in front of him without squeezing the route
No interceptions and only eight passes defensed over two years
Rarely finds football once back is to the passer
Slow to gather feet and trigger on throws from off coverage
Lacks top-end makeup speed to run down mistakes
Below-average route anticipation to stay connected
Who he is:
Long and tall with physical traits galore, Johnson looks the part but lacks the consistency and ball skills expected of a starting NFL cornerback at times on tape. He has had issues with allowing catches and touchdowns when his back is to the ball and his ball production was very disappointing over the last two years. Some position coaches believe that his issues can be corrected with coaching. If it's not corrected, it will require changes in coverage scheme.
On the other end of the spectrum, he's extremely long and strong from press. At the Senior Bowl he suffocated receivers from press coverage rep after rep and pushed himself way up with evaluators. He is willing as tackler in run support. Johnson's combination of size, strength and speed could create an opportunity to step right into a starter's role opposite Johnathan Joseph, but the going will likely be bumpy when the ball is in the air for at least the first season as he adjusts and learns.
Max Scharping, OT, Northern Illinois
Round: 2 Pick: 55

Strengths
Has experience at both left and right tackle
High achiever in the classroom and said to pick up info quickly
Tall with well-proportioned mass and thickly muscled arms
Adequate ability to mirror
Changes pass-set depth and landmarks based upon opponent's speed
Plays to his length with consistent arm extension to neutralize edge
Inside post-hand stabs and thwarts inside moves
Possesses mass potential and power to become grinder as run blocker
Fits and drives through down blocks to clear the run lane of debris
Choppy steps and good base width as base blocker

Weaknesses


Pass-protection fundamentals in need of improvement
Comes out of stance with weight too far outside
Quick to open outside shoulder in pass sets, exposing an inside path
Pass slides feature long gallops rather than choppy, controlled feet
Fear of edge speed could make him succeptiable to inside counters
Needs to eliminate hitch before striking with his wide, outside hand
Late hands get challenged and discarded, forcing re-sets
Has a tendency to linger too long on first block on combos and twists
Doesn't sustain run blocks like he should
Who he is
He played left tackle this season but will bump over to right tackle where he is more comfortable. Scharping has a good combination of size and functional athletic ability, but there is work to be done in his pass protection. While he's shown the ability to handle bull rushers with a stiff inside hand and quality recovery talent around the edge, He tends to open his outside shoulder too early and his pass sets become hurried and unfocused against edge speed.
However, keep this in mind…. in his matchup against Florida State's Brian Burns, Scharping was outstanding at keeping Burns away from his quarterback and stymieing Burns' edge speed while preventing any inside counters. Scharping has potential in the running game but need more reps with his hand in the ground and firing out into opponents. He could compete for early reps, but I'm expecting him to learn in practice for the better part of the year. Then again, when is the last time Seantrell Henderson stayed healthy?
Kahale Warring, TE, San Diego State
Round: 3. Pick: 86
Strengths

Chiseled, athletic frame with very good size
Has blocking toughness and just needs to improve technique
Snaps hands and hips into engagement
Good radar in space as move-blocker
Races off snap and into seam with plus acceleration
Early speed to lose linebackers
Nifty, quick feet for sharp directional change in routes
Talented to work all three levels as receiver
Former basketball player and it shows
Able to post up defenders and win body positioning
Sudden leaper with springs to win at the high-point
Makes mid-air ball adjustments
Ability to run past or drag tacklers after catch
Weaknesses
Needs to improve his landmarks as run-blocker
Slow-starter getting into lateral blocks and loses positioning
Inconsistent hands as base-blocker
Needs to improve timing on work-up blocks
Still relatively inexperienced with modest career production
Not as clever in setting up route breaks as he could be
Will need to work quicker and be more sudden with red zone work
Dropped too many easy catches in 2018
Charles Omenihu, DL, Texas
Round 5: Pick: 161.
Strengths
NFL-ready frame with long limbs, broad shoulders and muscular legs
Has punch to rattle the pads when he gets off first
Length to lock out on tackles and tight ends when setting an edge
Above-average play strength should translate into NFL improvement vs
the run
Explodes with some twitch out of his stance
Usually one of the first defenders off the ball and up the field
Better edge attack than expected once he commits
Ankle flexibility allows for rip-and-bend edge move
Batters the tackle's outside hand with angry two-hand swipes
Has leg drive to plow through redirection by tackles.
Weaknesses
Movement tends to be mechanical and rigid
Below-average tackle radius
Change of direction is chopped and exaggerated
Unable to hold ground with sturdy inside post against most angle blocks
Body control and balance are blow par for interior action
Inconsistent hand usage, limiting ability to control point of attack
Limited gas tank hinders pursuit effectiveness on extended plays
Pass rush is more telegraphed than instinctive
Struggles to alter his rush path in response to mobile quarterbacks.
Xavier Crawford, CB, Central Michigan
Round: 6. Pick: 195.
Strengths
Patience from press
Can shadow release or pedal out
Waits out release declaration and opens on time
Smooth to turn and run
Route magnet with agile feet and swivel hips
Able to withstand sharp, complex routes
Usually in position to challenge the catch
Allowed under 40 percent completion rate this year
Sticky feet able to collect and squeeze the comebacks and shallow crossers
Shows pace in cover-3 bail to retain proper spacing near receiver
Not fast, but has a makeup gear
Weaknesses
Slightly built frame
Plays strength to challenge NFL size in question
Missed seven games in 2017 due to back injury while at Oregon St
Good ball skills short, but average when deep
Average long speed
Slow to turn head and find the football Can be stacked and shunned by big boys targets
Loss of coverage leverage can be exploited in pros
Sits back in run support and takes passive angles
Blocks tend to stick to him
Cullen Gillaspia, RB, Texas A&M
Round: 7. Pick: 220.
Strengths
Plays like his hair is on fire at all times
Doesn't come off field as core special teamer
Impressive speed to get out in front of wide stretch plays
Has athletic tools to improve as a blocker
Showed better radar as blocker by South Carolina game
Soft hands out of the backfield
Able to add yards after catch
Stands in and gets after it in pass protection
Weaknesses
Instincts as lead blocker need a ton of improvement
Slow to process moving pieces and pick out his target
Play can be scattered and out-of-control
Poor gather and strike in open field
Struggles to adjust to moving targets
Lacks thump in the hole
Loses leverage with elevated pad level into contact
Doesn't bring feet under him at contact and bounces off blocks
Editor's note: Lance's analysis of all the Texans picks first appeared on NFL.com, where you can find all of his terrific draft coverage.
"Another one!"- DJ Khaled
That's the first thing that came to mind when I heard the news of Tytus Howard being shut down for the season because of a knee injury. They've had more injuries on the offensive line this season than Nick Cannon has Father's Day cards. Almost every member of the offensive line has spent time on the injury report. Howard went down in the same game in which Juice Scruggs was finally on the active roster. He missed the first 10 games due to a hamstring injury. The irony of next man up has never been so in your face.

The other thing that came to mind was the soap opera As the World Turns.
Howard had just signed an extension this offseason. So did Laremy Tunsil and Shaq Mason. They drafted Juice Scruggs, and signed a few guys too. Those moves, along with other holdovers, were expected to fill out the depth chart. Then a rash of injuries struck. At one point, only one of the original five guys expected to start was playing! In fact, they beat the Steelers 30-6 with that backup offensive line!

One can't have the expectation of backups to perform as good as the starters. They're professionals and are on an NFL roster for a reason. However, the talent gap is evident. One thing coaching, technique, and preparation can't cover is lack of ability or talent. The Texans have done a good job of navigating the injury minefield this season. While the Howard injury will hurt, I have faith in the guys there still.
As of this writing, the Texans are in the eighth spot in the AFC playoff picture. The Steelers, Browns, and Colts are all in front of them at the fifth through seventh spots respectfully. They've beaten the Steelers already. They play the Browns on Christmas Eve and their starting quarterback is out for the season. The Colts are relying on the ghost of Gardner Minshew to steer their ship into the last game of the season vs. the Texans with a possible playoff trip on the line. The Broncos and Bills are the two teams immediately behind them. They play the Broncos this weekend. Even though they're on a hot streak, this is the same team that got 70 put on them by the Dolphins. The Bills are the old veteran boxer who still has some skill, but is now a stepping stone for up & comers.
To say this team should still make the playoffs would be an understatement in my opinion. I believe in them and what they have going on more than I believe in the teams I listed above. That includes teams around them in the playoff race that aren't on their schedule. The one thing that scares me a little moving forward is the sustainability of this line. When guys get up in age as athletes, it becomes harder to come back from injuries. The injuries also tend to occur more frequently when it's a knee, foot, ankle, shoulder, elbow, or another body part critical to blocking for C.J. Stroud.
I know they just re-signed three of those guys and drafted one they believe can be a starter, but depth and contingency plans are a way of life in the NFL. We see how important depth was this season. Why not plan ahead? Don't be surprised if the Texans spend valuable draft capital on the offensive line. By valuable, I'm talking about first through third or fourth rounders. Those are prime spots to draft quality offensive lineman. Whether day one starters or quality depth, those are the sweet spots. The only guy on the two deep depth chart for this offensive line that wasn't drafted in one of those rounds was George Fant, who was an undrafted rookie free agent. While I highly doubt they spend any significant free agency dollars on the group, I'm not totally ruling it out.
The bottom line is, this team will be okay on the line for the remainder of this season. The only way that doesn't happen, more injuries. Stroud is clearly the franchise guy. Protecting that investment is a top priority. I don't care about a number one receiver, or a stud stable or singular running back if the quarterback won't have time to get them the ball. If the pilot can't fly the plane, you know what happens. So making sure he's happy, healthy, and has a great crew is of the utmost importance.
SportsMap Emails
Are Awesome