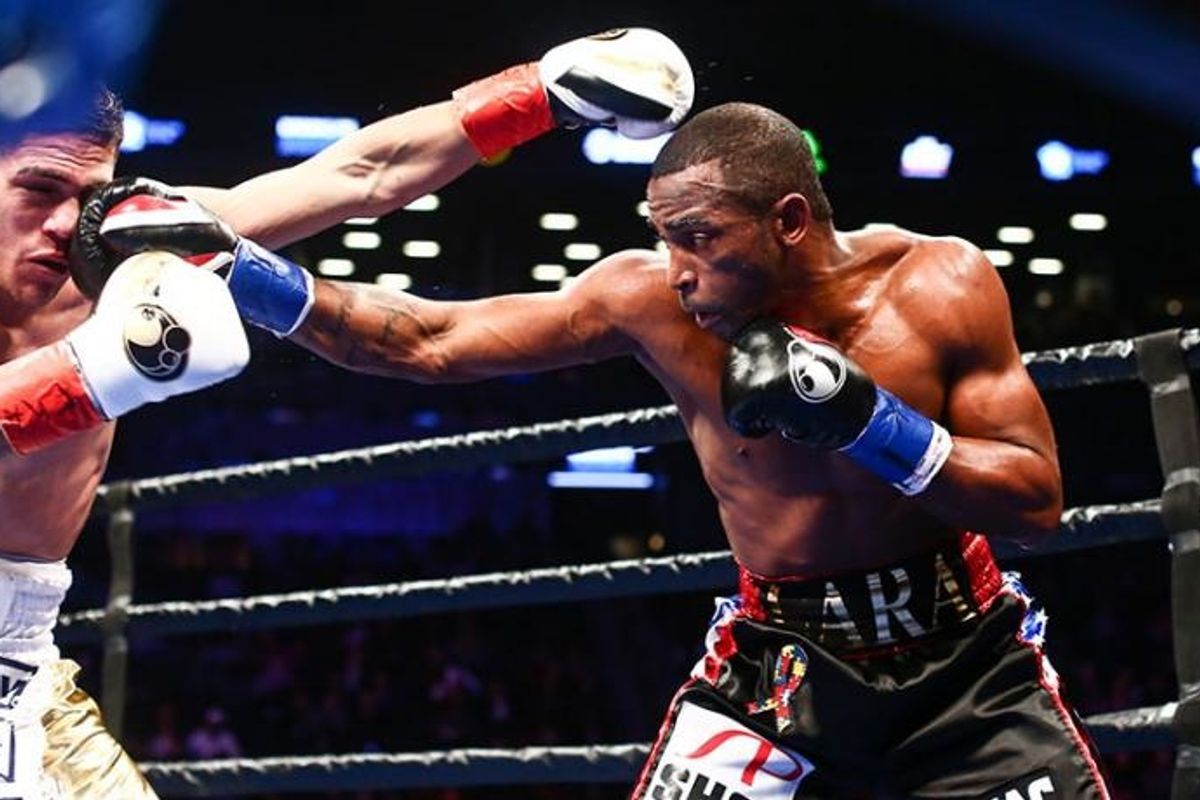 Erislandy Lara lands a jab against Brian Castano. (Photo courtesy of Premier Boxing Champions.)
It was too close to call in Brooklyn as junior middleweights Erislandy Lara and Brian Castano battled to a split draw in the main event of Saturday night's fights at the Barclays Center. The judges turned in scores of 115-113 for Lara, 115-113 for Castano and a 114-114 draw. SportsMap.com scored the fight 115-113 for Castano, who retained his secondary world title belt with the draw.
Nearly every round of the fight was extremely close. Lara, (25-3-3, 14 KO) a Cuban defector who makes his home in Houston, scored by successfully using his longer, rangier frame to land one-two combinations off of his back foot. Castano (15-0-1, 11 KO) employed pressure throughout the night, cutting the ring off and trapping Lara into the corners. Castano looked less effective at the beginning of the fight, but started to score with force once he found a home for multiple punch combinations and thudding body shots through the middle rounds of the action.
Lara, who is now 35 years old, appeared to fade as the match went on. Castano's pressure seemed to relegate Lara to standing and trading in the final rounds of the fight rather than moving around the ring and landing potshots as he has done throughout the majority of his career. One has to wonder if the length of Lara's career has had an effect on his style. The slick Cuban boxer seems to be more willing to stay in the pocket and crack rather than circle the ring and look for easy points.
The night proved to be a missed opportunity for Lara, who couldn't reclaim his share of the WBA title. Lara held the WBA title for six defenses before losing the belt to Jarrett Hurd in a close split decision in April of last year. After the fight Lara told Showtime's Jim Gray that he was robbed, as he has done after every loss throughout his career, and demanded an immediate rematch. Castano also expressed interest in a rematch.
ORTIZ WINS BUT CAN'T CLOSE THE SHOW AGAINST HAMMER
In the co-feature bout heavyweight Luis Ortiz (31-1, 26 KO) won a wide decision against Christian Hammer. Ortiz was in control throughout the fight, in an entertaining albeit lopsided bout. The judges scored the fight 100-90 and 99-91 (twice) for Ortiz. SportsMap.com scored the fight 99-91 in favor of Ortiz.
Ortiz peppered Hammer (24-6, 14 KO) with head shots to start the action. The shots scored points for Ortiz, but didn't appear to have a big effect on Hammer's senses. Ortiz moved to the body as the fight went on, leaving Hammer gasping for breath and guarding his midsection as Ortiz continued to score. Hammer hasn't been knocked out in nearly nine years, so the fact that he made it to the final bell was not a surprise despite Ortiz's heavy hands.
Ortiz told Gray post-fight that he was not disappointed he didn't get the knockout. He said through a translator that he wanted to work on his boxing rather than his punching. Ortiz's only loss in his career is his knockout loss to Deontay Wilder in one of the best fights of 2018. Following his win Saturday Ortiz said he would be interested in fighting Wilder again or a fight with unified heavyweight champion Anthony Joshua.
Luka Doncic had 41 points, nine rebounds and nine assists, and the Dallas Mavericks prevented the Houston Rockets from advancing to the quarterfinals of the NBA In-Season Tournament with a 121-115 victory on Tuesday night.
Kyrie Irving added 22 of his 27 points in the second half for the Mavericks, who had already been eliminated. Their victory allowed the New Orleans Pelicans to win Group B in the Western Conference with a 3-1 record.
Doncic fell just short of his 59th career triple-double. That would have tied him for ninth place all-time with Larry Bird. He shot 15 of 29, 3 of 10 on 3-pointers.
"Sometimes we take him for granted, and we shouldn't," Mavericks coach Jason Kidd said. "He's about winning, but it just so happens he's a walking triple-double.
"The Mavericks, who trailed by nine points in the third quarter, grabbed the lead for good at 99-98 with 6:25 to play on a drive by Irving. Leading 103-100 with 5:25 left, they went on an 8-2 run that included three free throws by Derrick Jones Jr. when he was fouled by Dillon Brooks on a 25-footer with the shot clock about to expire.
Jabari Smith Jr.'s 3-pointer with 8 seconds left pulled the Rockets within 119-115 before Dallas closed it out.
Doncic played after sustaining a low-grade sprain of his left thumb on his non-shooting hand early in Saturday's game. He wore a wrap on the thumb.
Doncic made a hook shot from the free throw line after recovering a loose ball near the baseline.
"I'm 2 for 2 in my career on the hooks," Doncic said, saying the other came while playing for the Slovenian national team against Sweden.
Irving shot 2 for 11 in the first half, 1 for 5 on 3-pointers, with no free-throw attempts. He was 6 for 11 in the second half, hitting 1 of 2 behind the arc, and sank all nine free throws.
"I told the team, 'Played well enough to win, not smart enough to win,'" Rockets coach Ime Udoka said. "We were extra-aggressive, especially at the end of the third quarter. Had multiple players make a few dumb fouls, put Kyrie at the line and got him going when he didn't have a lot going. You can be aggressive, obviously, but slapping somebody on a 3-point shot on the arm is an unintelligent play. It has nothing to do with aggression."
Alperen Sengun had a season-best 31 points for the Rockets, who had six scorers in double figures. Fred VanVleet had 10 points and 12 assists.
The Rockets have lost all six of their road games this season. They went into play leading the NBA by allowing an average of 104.4 points per game.
The Mavericks didn't use the specially built court for either of their home tournament games, citing dissatisfaction with the quality.
UP NEXT
Rockets: Will finish a back-to-back at Denver on Wednesday.
Mavericks: Host Memphis on Friday.
SportsMap Emails
Are Awesome