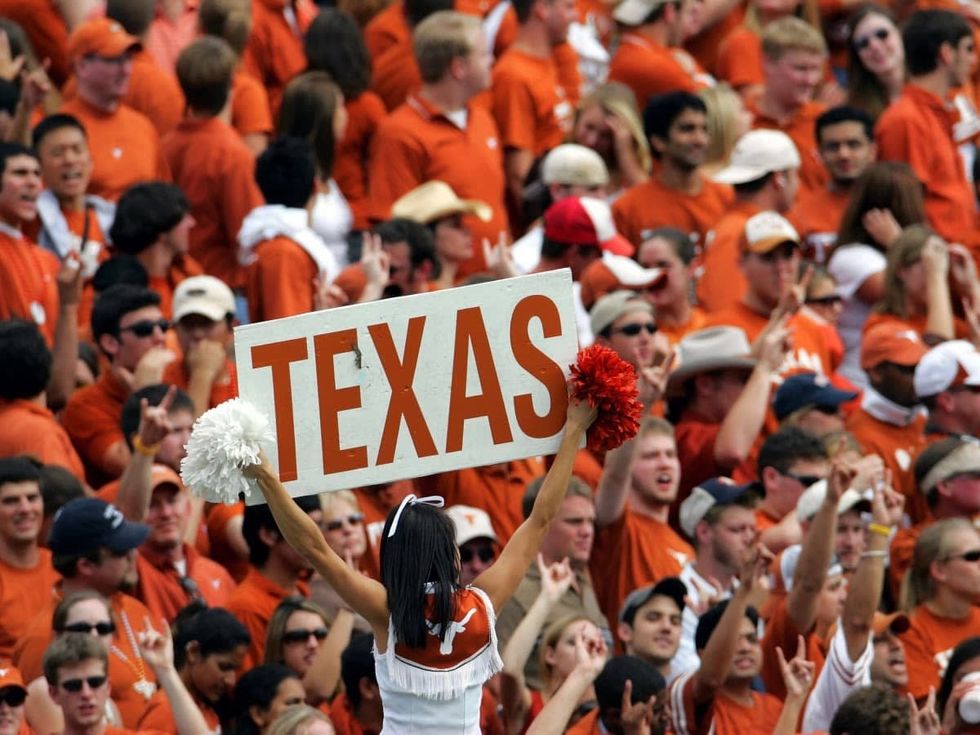 Texas continues to rule the state. Ronald Martinez/Getty Images
No. 12: Rice
The Owls took yet another beating on Saturday when they were defeated 42-10 by LSU. Rice will have one more chance to break their 11-game losing streak when they face-off against an Old Dominion team who has won three of their last four games.
No. 11: UTEP
Despite a big performance by quarterback Brandon Jones, in which he threw for 340 yards and two touchdowns, the Miners could not keep up with Western Kentucky in Week 12. UTEP will look to end the season on a positive note by claiming their second win of the season vs. an average Southern Mississippi team.
No. 10: UTSA
UTSA has struggled mightily to score points during their five-game losing streak. Through those five losses the Roadrunners have scored just 30 points compared to their opponents 178. Things are not looking good heading into their final game of the season where they will go against a North Texas team who has averaged 37 points per-game this season.
No. 9: Texas State
The Bobcats fell just five points short of securing their fourth win of the season against the 9-2 Troy Trojans. Texas State will have their hands full in week 13 against the Arkansas State Red Wolves who have scored an average of 41 points in their last five games.
No. 8: TCU
The Horned Frogs secured a win over Baylor in Week 12 to give themselves some momentum heading into their end of the season matchup with Oklahoma State. While winning two of their last three games is an encouraging sign, TCU has failed to score more than 17 points in any of those last three games. This means the Horned Frogs could have a hard time keeping up with the explosive and offensive dominant Oklahoma State Cowboys.
No. 7: Baylor
Despite going up against a wounded TCU team, Baylor was unable to get their sixth win of the season. While their defense held the Horned Frogs to just 16 points, the Bears offense could not find their groove. Baylor will have a tough matchup against the talented Red Raiders to wrap up the season. The Bears should not be counted out of this matchup considering the inconsistency shown by Texas Tech all season.
No. 6: Texas Tech
The Red Raiders drop out of the top five after suffering their fourth straight defeat. Texas Tech looked lost last weekend against a Kansas State team who most people expected them to handle with ease. With head coach Kliff Kingsbury's job is possibly on the line Tech will have a lot to play for when they take on a dangerous Baylor team to finish the season.
No. 5: SMU
SMU climbs up three spots in this week's rankings to land a spot in the top five for the first time this season. After starting the year with three losses, the Mustangs have been fighting to regain respect and relevance. SMU will be optimistic heading into their final game against a Tulsa team who has only won two games all season.
No. 4: UNT
After a surprise loss in Week 11 the Mean Green bounced back with a strong win over Florida Atlantic this past weekend. Running back DeAndre Torrey set the tone for the North Texas offense as he gashed the Owls defense for 184 yards rushing and completed his third game in a row of at least 130 yards rushing and 1 touchdown. UNT should be able to pat their stats to finish the season when they go up against the 3-8 UTSA Roadrunners.
No. 3: Houston
Coming off an upset loss to Temple where the Cougars defense was non-present, Houston torched Tulane and only allowed 17 points. With an 8-3 record the Cougars are leading their half of the conference and will play for the West title against Memphis. If Houston can take care of their business for one more week, the season should be deemed a success.   
No. 2: Texas A&M
While UAB put up a good fight, the Blazers ended up being no match for Texas A&M. The Aggies led the entire game on their way to a 41-20 victory which gave them their seventh win of the season. A&M will finish their season with a big matchup vs. No. 7 LSU. The Tigers have had a dominant season and have an exceptional 4-1 record in their last five games with their only loss coming to No. 1 Alabama. With this said, LSU has been proven to be inconsistent offensively at times this season, so if the Aggies can jump out to an early lead, they might just have enough firepower to knock off their top 10 opponent.
No. 1: Texas
With their 8-3 record the Longhorns hold onto their No. 1 spot for the eighth week in a row. After a close call vs. the Red Raiders, the Longhorns left no doubt in their final home game of the season when they defeated Iowa State 24-10. It was an emotional senior night in Austin as players saw their dreams of a shot at the Big 12 championship come to life. Texas is in line to face off against either Oklahoma or West Virginia in the Big 12 title game if they can close out their season with a win over Kansas in week 13. There is no doubt that Texas is the more talented team, but the Jayhawks put up an impressive fight against Oklahoma in week 12 and will be looking for a chance to knock off the Longhorns.
After a quiet offseason the Houston Astros finally made some moves this week to bolster their roster by adding backup catcher Victor Caratini in free agency.
The club also acquired some bullpen help by trading for Royals reliever Dylan Coleman.
Astros GM Dana Brown also garnered a lot of attention this week by proclaiming Jake Meyers will get an opportunity to be the everyday starter in center field.
And while the Astros have been connected to several free agent relief pitchers by various media outlets, it appears Houston isn't looking to spend much money.
On the other hand, the Yankees went out and traded for superstar outfielder Juan Soto, and have shot past the Astros when it comes to World Series odds.
Which begs the question, have the Astros done enough to compete with the Yankees in 2024?
To be fair, we've seen this movie before. The Yankees historically out spend every team, but they've been a little more conservative over the last few years.
But now, they look like the Yankees of old when it comes to payroll.
Plus, we heard rumors a few weeks ago that the Astros might be looking to trade Jake Meyers. And now all of a sudden he's getting the first crack at the starting job in center?
Could this be a smoke screen from Dana Brown to try to elevate his trade value? We've seen the Astros value defense in center field before, they let George Springer walk and replaced him with Myles Straw.
Be sure to watch the video above as we decipher what the Astros are really trying to accomplish this offseason, and successful they can be in the AL in 2024.
SportsMap Emails
Are Awesome