TEAM COMES TO JAKE'S DEFENSE AND BRINGS SQUAD CLOSER TOGETHER
Marisnick collision and aftermath could be turning point in season
Jul 23, 2019, 7:12 am
Photo via: Astros/Facebook
Every season has a turning point and a moment or two that becomes a catalyst as to whether or not the team makes a long run and has playoff success or fails to live up to expectations and goes home early. There is still plenty of the season still to be played, but this year's version of that defining moment could very well be the collision at home plate between Jake Marisinick and Angel's catcher Jonathan Lucroy and the aftermath both on the field and on social media. From the minute it happened the court of public opinion had plenty to say and lots of venom to spew Jake's way. From members of the media to current players like Yadier Molina and plenty of cowardly keyboard warriors on Twitter and Instagram, everyone took the time to rip Marisnick and detail the punishment they felt like he deserved. Through it all Jake handled it all with remorse and honest commentary as he tried to explain his thought process and what he planned to do going forward. Never once did he lash out or get into a war of words with his critics as he answered the numerous questions from the media and expressed his deep regret to Lucroy. Jake handled everything with class and in the process, we found out just how tight a bunch this Astros team really is.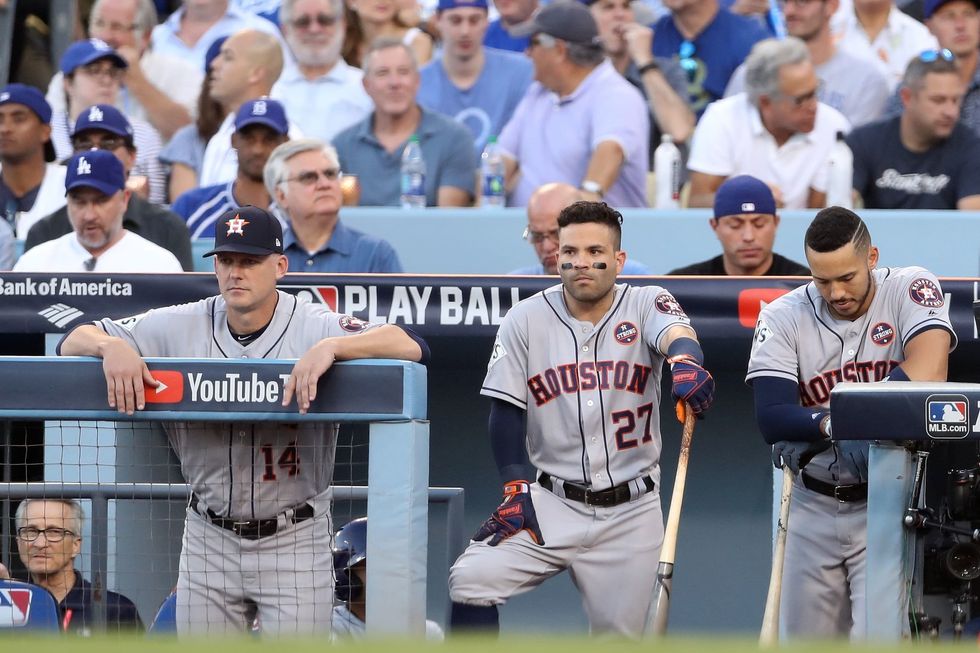 Photo by Christian Petersen/Getty Images
The greatest thing to come out of this horrible situation was the support Jake received from his teammates and the way his manager and some of the biggest names on the roster were outspoken in defending him and vouching for his character. From Lance McCullers and Justin Verlander, Alex Bregman and Jose Altuve, everyone had Jake's back as they told anyone that would listen what a great person Jake was and how he would never purposely try and hurt another player in any game situation. George Springer was telling the TV audience right after the game ended and that was the first of many examples of a team that would not let one of their own be hung out to dry and left to fend for himself. A lot of players in the same situation would rather run and hide for fear of damaging their own image and yet here were the Astros providing strength in numbers as they protected their brother. Manager AJ Hinch, a former catcher, was quick to explain the split second a player has to decide his path and route to the plate while attempting to avoid the defender. He added that Jake was not a dirty player, the contact was not intentional and that Marisnick felt awful and was deeply concerned for Lucroy. It was a very unexpected outcome stemming from a very unfortunate situation.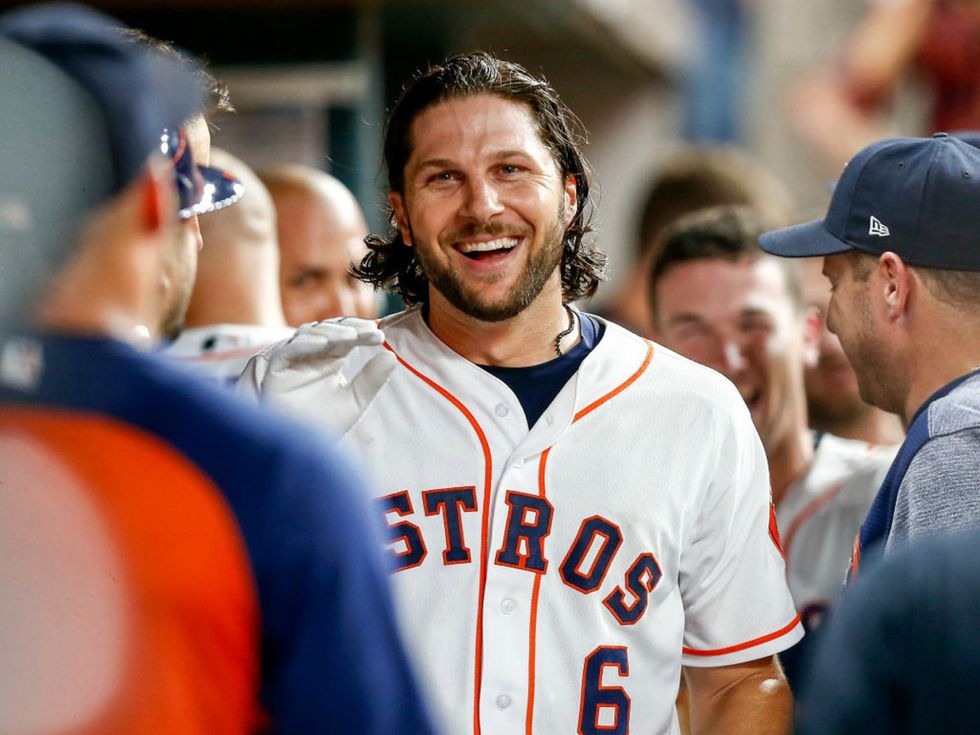 With all that unfolded surrounding the collision, there was more adversity to come and it would get worse before it got better. Marisnick received word from the office of Major League Baseball that he would be suspended for two games for his role in the play. He quickly said he would appeal, but that would mean that he would have to play in Anaheim, against Lucroy's Angels with all of their fans chomping at the bit to give Jake a piece of their mind. They didn't hold back and certainly got more than their money's worth as the attacks were relentless and most had no boundaries or filter. Eventually, the Angles themselves would look for payback as pitcher Noe Ramirez would not only hit Jake but come dangerously close to his head and neck, drawing the ire of many of the Astros who witnessed it from the dugout. That would spur heated dialog between first baseman Albert Pujols and the Houston bench, so much so, that both benches would clear. Throughout it all, the one player that played peacemaker and attempted to get order restored was none other than Jake. He waved his guys back into the dugout as he calmly discussed everything with Pujols. He never once looked to fight or stir the pot, he only wanted to put everything behind him so he and the team could move on and move forward. The team was off to a slow start after the all-star break and they really needed to re-focus and get back to baseball.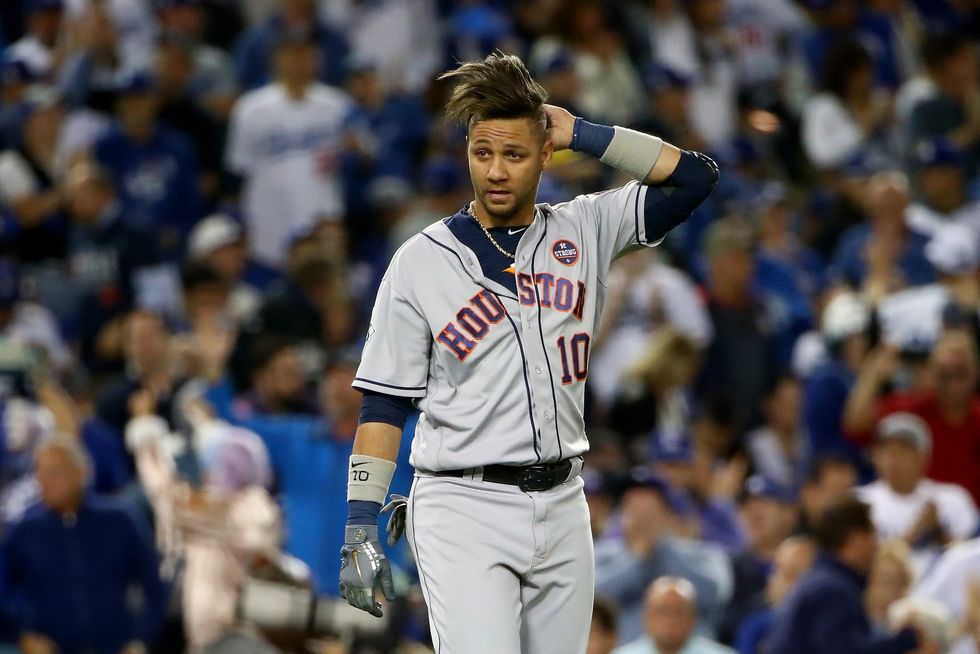 Ezra Shaw/Getty Images
It's funny how things work out and how a team can get closer and play better when faced with its darkest moments in the middle of a swarm of adversity. Turmoil and stressful situations can splinter a team and tear it apart if not handled correctly. On the flip side, a group that stays together no matter how bad a particular incident may seem can actually benefit from it and gain momentum from having stuck together in the face of the negativity. The latter has been the case for the Astros who seem to have used the Marisnick incident to get even tighter, closer together and focussed on moving forward winning as many games as possible to get closer to their ultimate goal of another World Series title. The team won the final 2 games in Anaheim after rallying around Jake and haven't looked back or lost since. They just swept the hated Texas Rangers in a 4 game series and broke out the heavy lumber in opening up a double-digit lead on their way to taking the first game of a huge series against the A's at Minute Maid Park Monday night. They have won 7 in a row and are getting healthier with each passing day as they are playing some of their best baseball of the year. The results speak for themselves as they have taken a licking and just keep on ticking. They say winning is contagious and together everyone achieves more, but this team found out the hard way that character is a powerful tool and if used by an entire team in unison, it can move mountains and build a culture. Jake has always been a fan favorite and one of the most beloved players in the Astros clubhouse, but he may be even more entrenched in this Houston lovefest after how he handled a very difficult situation and came out of it a better man for having gone through it. Let's hope that when the season is over and we look back on its biggest moments and turning points we can point a finger at those moments in mid-July that started with a collision and ended with a bang.