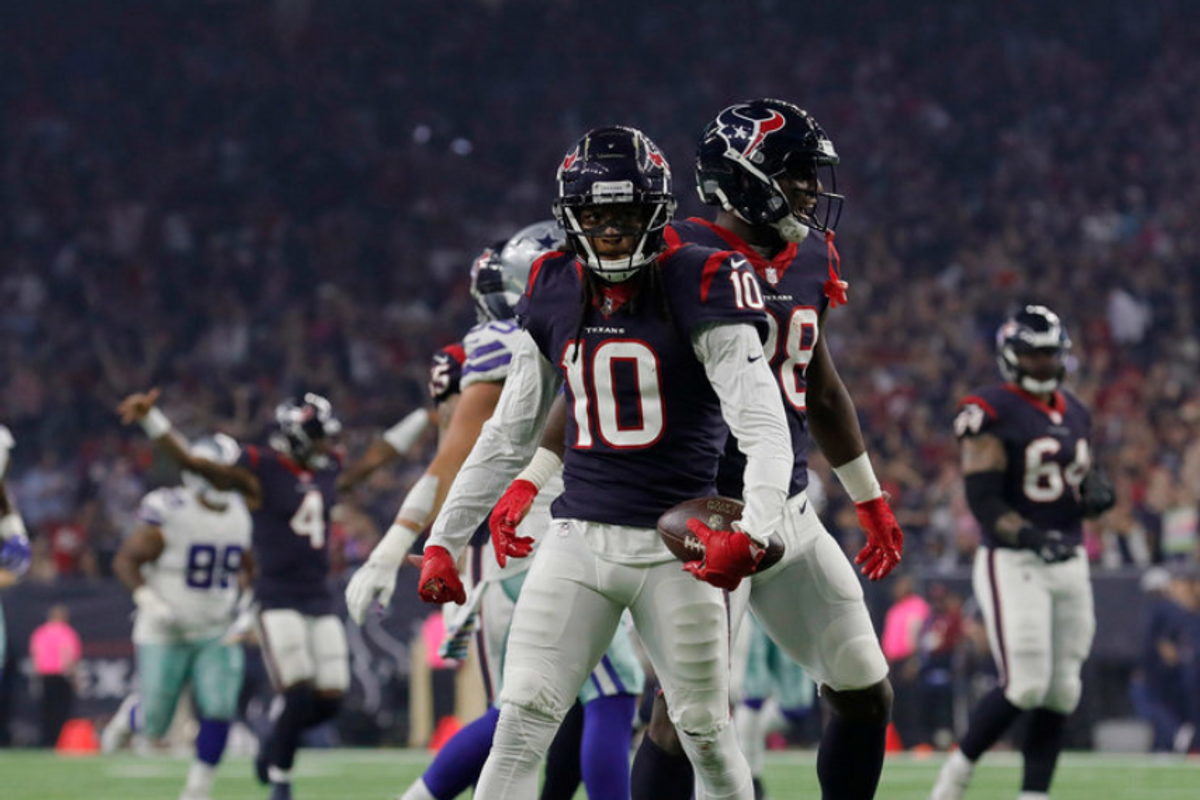 Photo by Tim Warner/Getty Images
Fantasy football draft season is upon us, so we know what that means. It's time to do some mock drafts to prepare us for the drafts that really matter, and can put cash in our pockets. I wrote this column last year and it seemed to get a lot of good feedback, so why mess with a good thing?
Here's how this works. Each week I will draft a different fantasy team and I will change my draft position to highlight the types of teams one can build depending on where they are drafting. For this week's exercise, I participated in a mock draft in which I drafted with the No. 7 overall pick. Later this week I'll draft at the end of the round. If you missed my article last week when I drafted with the No. 1 overall pick, you can read it here.
I always advise people to participate in as many mocks as they can before drafting, but not everyone has the time. If that's the case for you, I'll do all the leg work participating in dozens of mock drafts, and you can sit back and learn the positives and negatives of each draft slot. These are PPR drafts, by the way. Let's get started.
I did a few drafts selecting from the No. 7 overall position, but I chose to write this one up because it's a great example of how different each draft can be. I was expecting to take a RB here, but Le'Veon Bell and David Johnson were shockingly already taken. For the record, I'm out on David Johnson, but I have no problem taking Bell as early as pick No. 4. With Ezekiel Elliott still holding out, things are volatile in Round 1. If Elliott returns before the preseason is over, I have no problem with him going No.1.
Okay, now that we got all that out of the way let's get to my pick. I took Texans WR DeAndre Hopkins at No.7 and it was only between him and Davante Adams, for me. I love Adams, but with a new coaching staff in Green Bay, I felt more comfortable with Hopkins.
With my second pick things got interesting. I typically one RB and one WR with my first two picks, but Travis Kelce fell to me in Round 2. I was hoping Nick Chubb would make it back to me, but he was taken right before I picked. I considered Mike Evans and Dalvin Cook, but instead I went with Kelce. I worry about Cook's health and the addition of RB Alexander Mattison. With Gary Kubiak involved in the offense in Minnesota, I know all about his affinity for bigger backs like Arian Foster, and Mattison has some similar traits coming in at over 220 pounds. I think Cook will still be the starter, but he may share some carries.
To be honest, I was terrified at what my RB group would look like waiting until Round 3 to pick my first one, but Damien Williams fell right in my lap, so I was thrilled. Some may be concerned about having two players on the same team, but not when both players are on an offense like the Chiefs.
I truly believe Williams has Top 5 upside, and that's what you have to shoot for when taking a RB in the first three rounds. The other players I would have considered in Round 3 were T.Y. Hilton and Amari Cooper, both players have concerns. Like Cooper's foot injury and Hilton's dependence on the health of Andrew Luck.
With my pick in the fourth round I was happy to take the best WR or RB available, and I went with Seahawks grinder Chris Carson. Seattle is one of the most run-heavy teams in the NFL, and Carson should get a ton of opportunities. Some of the other players I was considering were Cooper Kupp, Mark Ingram, and Tyler Lockett. Since I already had an elite WR, I decided to take another RB.
Moving on to the fifth round I was extremely happy to see Tevin Coleman available. He has Top 10 upside in Kyle Shanahan's offense and Jarvis Landry and Tyler Boyd weren't that appealing to me.
Next up, I decided to roll the dice on Josh Gordon in the sixth round. I was definitely targeting a WR here, and I knew I could grab another WR in Round 7 if Gordon flames out again. Just like my last mock draft, I'm waiting on QB until the double digit rounds, and I already have my TE. This allows me to keep piling up WRs and RBs.
In Round 7 my plan really came together. I was thrilled to draft Panthers WR Curtis Samuel, who has been the talk of camp in Carolina. I'm really feeling the Panthers offense this year.
Round 8 I decided to add more depth at WR with Lions pass-catcher, Marvin Jones. Round 9 I drafted some insurance for Damien Williams when I selected Chiefs RB Darwin Thompson. There are rumors that Carlos Hyde won't make the team, so I like Thompson to be the guy if Williams doesn't pan out. Running backs in Andy Reid's offenses have been pure gold regardless of where he was coaching. Brian Westbrook, Jamaal Charles, Kareem Hunt. Need I say more?
In Round 10 I grabbed yet another WR with Marquez Valdes-Scantling. The Packers are high on him, and his speed excites me a lot more than Geronimo Allison's possession receiver skill set.
I finally grab my QB in Round 11. I don't love Jameis Winston, but as a fantasy QB, the guy puts up numbers and has great weapons to throw to. Plus, their defense is beyond terrible, so I expect him to be chasing points almost every week. I finished my draft grabbing some depth at RB with Dolphins RB Kalen Ballage and Bills RB Devin Singletary. I also added Jimmy Garoppolo in Round 14 just in case Winston doesn't work out.
Takeaways
I really like this team. This squad doesn't have the star power that many covet, but taking a TE early will give your roster a different look. Here's what my starters will look like.
QB Jameis Winston (Round 11)
RB Damien Williams (Round 3)
RB Chris Carson (Round 4)
WR DeAndre Hopkins (Round 1)
WR Josh Gordon (Round 6)
TE Travis Kelce (Round 2)
FLEX Tevin Coleman (Round 5) or I can go with Curtis Samuel (Round 7)
I have tons of depth and some excellent starters. I waited until Round 3 to take my first RB and I still think I'm pretty strong at the position.
A lot of my team's success may depend on Josh Gordon, but I added a lot of depth behind him just in case he goes 'Josh Gordon' on me.
Final thoughts
Fantasy owners are still getting a feel for the first and second rounds. Guys like Le'Veon Bell, Travis Kelce, and even Todd Gurley are being drafted in Round 1 and Round 2 depending on who you're drafting against. Be prepared to see some curveballs in the first few rounds. For my final Mock my Mock, I will draft at the end of Round 1, and I will not take a TE early. We'll see what my roster looks like when I wait on TE until the bitter end. Or who knows, maybe I'll grab one in the middle rounds.
Be sure to check out my radio show MoneyLine with Jerry Bo on ESPN 97.5. We're on every Sunday from 10-noon, and we'll talk a lot of fantasy football and NFL gambling. Also, be sure to follow us on Twitter.
The Houston Rockets dropped their third straight game on Monday night, losing to the Golden State Warriors, 121-116. And the big story from the game was Jalen Green being benched in the fourth quarter.
Which brings up a big picture question about Green moving forward. Should the Rockets consider trading him, or just ride it out?
It's hard to believe, but Jalen Green is actually younger than Texans rookie QB CJ Stroud. At 21 years old, Green still has plenty of time to take the next big step, and trading him when his value is down doesn't make a ton of sense.
Plus, how much blame does Stephen Silas deserve for Green's lack of development?
And will Green respond to Ime Udoka benching him in a positive fashion like Jabari Smith?
Don't miss the video above as we break it all down!
SportsMap Emails
Are Awesome